Getting more protein into your diet is a great way to support a healthy weight and lean muscle mass. It also keeps you full and helps repair damaged cells and tissues in the body.

Naked Nutrition offers a wide variety of no-nonsense, high-quality protein powders and supplements designed to fit every diet.

We had the pleasure of trying their Naked Collagen Peptides Protein Powder and Keto Fat Bombs. Check out our review below.
About Naked Nutrition
Naked Nutrition is a nutrition company that specializes in protein supplements and powders with the purest ingredients only.

They offer a wide range of protein supplements that include both plant-based and keto-friendly ingredients.

None of their products contain additives or artificial flavors, sweeteners, or colors. This means that your body gets more of what it needs (essential amino acids) and nothing harmful.
What Do They Offer?
The following is a list of products that Naked Nutrition offers:

Protein powders: including various chocolate, vanilla, matcha, and strawberry-flavored grass-fed whey, pea protein, peanut butter, collagen peptides, micellar casein, organic brown rice, egg white, and goat whey powders
Weight-gainer protein powders, including vegan weight gainers
Meal replacement shakes and drinks
Super greens and sweet potato powder with grass-fed whey protein
Protein powder blend: egg, whey and casein
Creatine
Protein bars
Glutamine
Pre-workout supplements
Branched chain amino acids
Variety packs
Naked Nutrition's Keto Review
We tried the Naked Collagen Peptides Protein Powder and the Keto Fat Bombs. Here's what we thought!
#1. Naked Collagen Peptides Protein Powder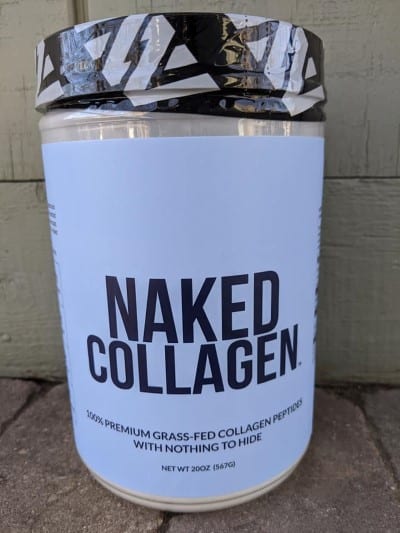 The Naked Collagen Peptides Protein Powder is sourced from 100% grass-fed collagen peptides and nothing else.
A one-scoop serving contains 35 calories, 15 mg of sodium, 0 grams of carbs, 9 grams of protein, and 464 mg of calcium (46% RDV).

It also contains eight essential amino acids, including isoleucine, leucine, valine, histidine, lysine, methionine, and threonine.

One serving also contains all three branched-chain amino acids (BCAAs), including isoleucine, leucine, and valine.

Why Use Naked Collagen Peptides Protein Powder

Naked Collagen Peptides do not contain any artificial flavors, colors, or preservatives. You can expect the cleaned collagen possible from this product.

This product also contains collagen from grass-fed bovine, which contains a highly-bioavailable source of types I and III collagen (1).

Collagen has been shown to improve joint health and boost the health of your hair, skin, and nails. It can also improve bone health and help support muscle mass.

Ingredients

The only ingredient found in Naked Collagen Peptides Protein Powder is 100% grass-fed bovine collagen. This product is free from gluten, soy, dairy, and artificial ingredients.

When and How To Use It

Collagen can be added to both hot and cold foods and liquids. Many people use it first thing in the morning by putting it in their coffee.

You can also add it to baked goods, desserts, or smoothies in place of traditional protein powders. Here are some recipes you can try it in:

#2. Naked Keto Fat Bomb Powder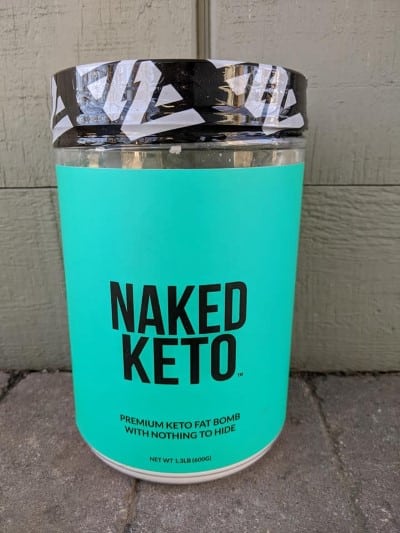 Naked Keto is a powdered fat bomb supplement that can be used to help boost your ketone production, which helps you stay in ketosis where you can burn more fat and stay energized.

It contains powdered high oleic sunflower oil and powdered MCT oil. A two-scoop serving contains 260 calories, 30 grams of fat, 7 grams of carbs (1 gram net carbs), 6 grams of fiber, and 2 grams of protein.

Why Use Naked Keto Fat Bomb Powder

Fat bombs are designed to help instantly increase your fat intake, which helps boost ketone production.

Many people make fat bombs as snacks, but this can be time consuming and may require access to a kitchen. You can buy packaged fat bombs, but these may contain unwanted ingredients and they don't always taste good.

Naked Keto fatbomb powder is simple to use. All you have to do is add two scoops to water and shake or stir. It's the most convenient way to instantly add fat or calories to your diet.

Additionally, Naked Keto powder does not contain sweeteners that may cause digestive upset. We also like that this product contains MCT oil, which has been proven to boost ketones (2).

Ingredients

Here is a list of the ingredients in Naked Keto:

Powdered high oleic sunflower oil (inulin, sodium caseinate, contains 2% or less of sunflower lecithin, silicon dioxide, and mixed tocopherols)
Powdered MCT oil (soluble corn fiber, sodium caseinate, contains 2% or less of choline chloride, silicon dioxide, and sunflower lecithin)
We think this product could be more superior if it only contains MCT oil powder as many strict keto dieters tend to avoid sunflower oil.
When and How To Use It

You can use Naked Keto anytime you need an instant boost of energy. It's a great snack in between meals to help sustain your appetite and keep your fat levels up.

Add two scoops of Naked Keto to cold water and shake or stir. You can also use it as a base in your favorite low-carb baking and smoothies recipes to increase the fat intake.

If you're baking, then use Naked Keto as part of your breading. Here are some recipes you can try it in:

Conclusion
Naked Nutrition offers no-nonsense protein powders and supplements that feature the highest-quality ingredients with no artificial ingredients, sweeteners, or additives.

You can choose from a variety of protein powders that include grass-fed collagen, whey, pea, egg white, brown rice, and more. They also offer nutrition shakes, bars, and more.

Their collagen peptides powder is derived from 100% grass-fed bovine and nothing else. We recommend adding it to your morning coffee to support hair, skin, nail, and joint health.

The Naked Keto fat bomb powder is a great way to boost your fat levels, which helps boost ketone production. We like the simplicity of a fat bomb powder that can be added to water.