Hey meat lovers, how would you like to have responsibly-raised meat and sustainably-sourced seafood with no hormones or antibiotics ever – all from the United States – delivered right to your door? If that sounds good to you, then read on.
We had the pleasure of trying Good Chop meat delivery service and we'll tell you all about it here, including how much it costs, how a subscription works, and whether or not it's worth it.
What is Good Chop?
Good Chop is an online butcher shop and meat delivery service that allows you to buy meat and seafood online. All orders arrive at your door frozen, packaged in insulated boxes with dry ice.
The company stands out from other online meat delivery services because all of their products are sourced from American farms and fisheries, free from antibiotics, hormones, additives, and food coloring, and are sustainably sourced.
Currently, you can shop from 25 different cuts of pork, beef, chicken, and wild-caught seafood, including:
Various cuts of high-quality steak
Stew beef and ground beef
Burger patties
Pork chops, tenderloin, thick-cut bacon, boneless pork butt, pork loin roast, and pulled pork
Italian ground sausage
Boneless skinless chicken thighs and boneless skinless chicken breasts
Wild-caught Sockeye salmon, cod, and rockfish.
Not all of the beef sold online at Good Chop is grass-fed. However, the higher end products are labeled as grass-fed or premium cuts so that you can easily identify them.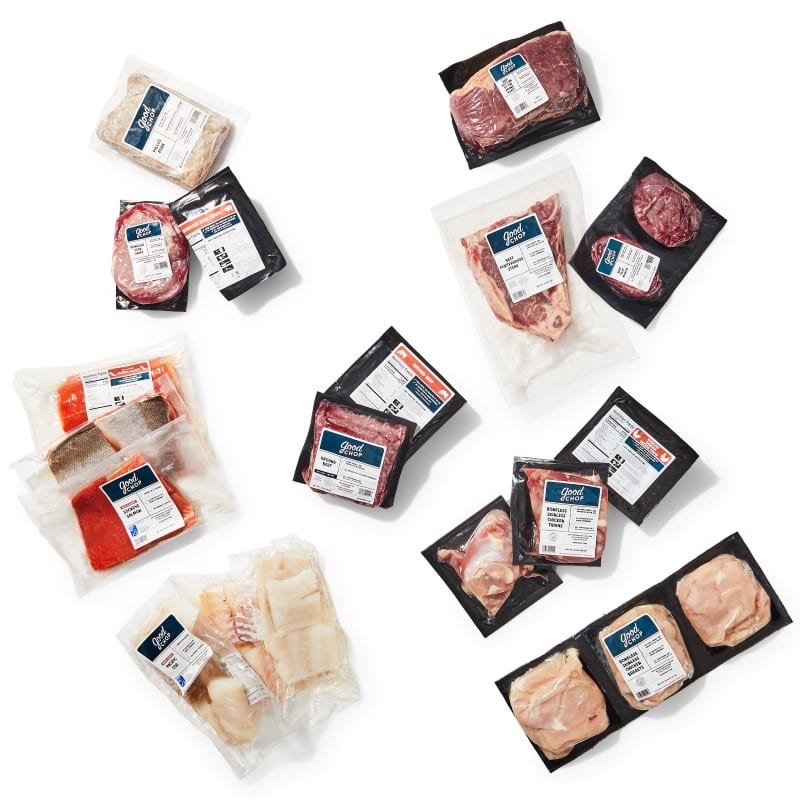 Why Is Antibiotic and Hormone Free Meat Important?
If you're trying to eat cleaner or protect your health, then it's important to buy animal products that are free from harmful additives, such as hormones, antibiotics, and food coloring and dyes.
Many farmers give their animal stock antibiotics to prevent them from getting sick, often due to poor living conditions. However, some research shows that eating animal foods that contain antibiotics may contribute to antibiotic-resistance (*).
This occurs when your body becomes so used to the antibiotics found in your food that they no longer work for you when you need them to treat a life-threatening infection.
Some animals are also injected with hormones to make them grow bigger, allowing the farmer to sell more meat.
However, growth hormones used in animal farming can be dangerous for human health because they bind to receptors in the body and increase the risk of hormonal imbalances, which may lead to certain diseases and illnesses, such as reproductive and childhood cancers (*).
Additionally, some fisheries add food dyes and coloring to their fish to make them appear fresh and healthier. Food dyes are especially dangerous for children because they have been linked to hyperactivity disorders (*).
Good Chop makes sure all meats and seafood sold online from their store are free from all of these potentially dangerous additives.
Our Experience With Good Chop
We were extremely satisfied with our experience with Good Chop. The website is very user-friendly and it was easy to shop online for meat and seafood.
Here is what we ordered:
4 pounds of 100% grass-fed ground beef
2 pounds of boneless pork chops
30 ounces of wild-caught Pacific cod
1.5 pounds of beef flat iron steak
1.25 pounds of beef ribeye steak
12 ounces of 100% grass-fed beef filet mignon
Once our order was shipped, we received a confirmation email with a tracking number that allowed us to see exactly when our shipment would arrive.
Our package arrived on time as scheduled in an insulated box with dry ice. All meat and seafood inside was frozen at the time of delivery and we couldn't believe how easy it was to get high-quality meat and seafood delivered right to our door!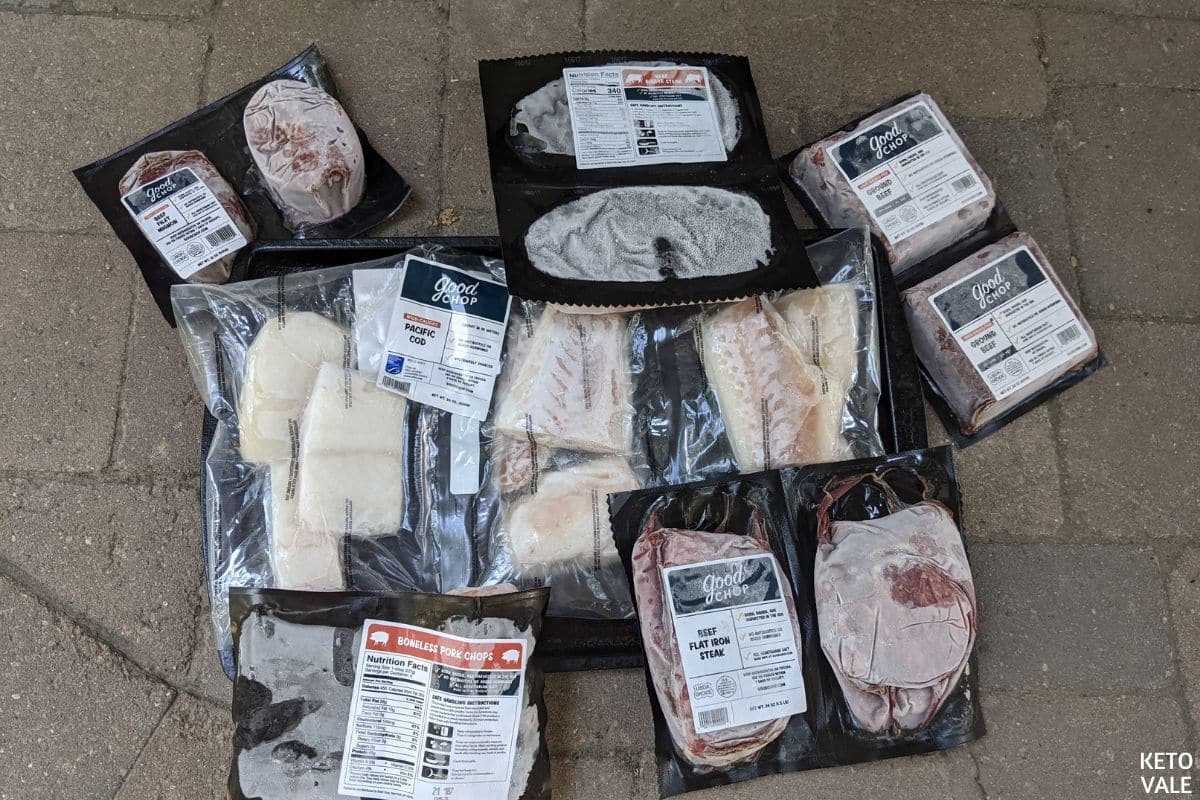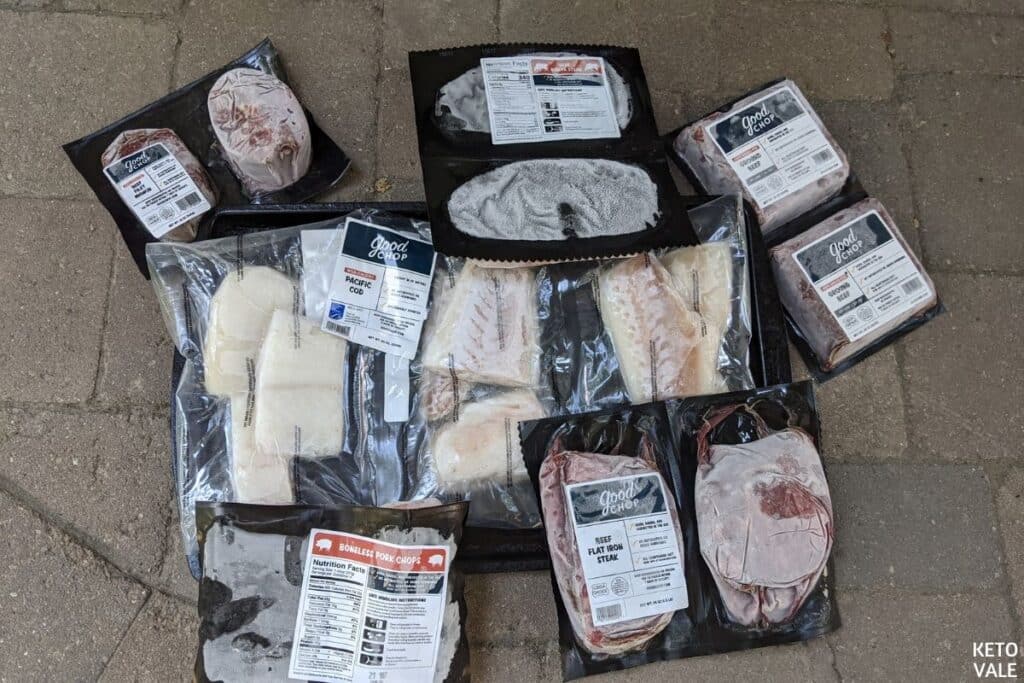 How Does Good Chop's Subscription Service Work?
Good Chop operates by using a monthly subscription service, meaning that you will be charged and receive a box automatically based on the delivery timeframe that you decide on when you set up your account and enter your billing information.
They do not appear to sell one-time boxes, but you can pause, skip, or cancel your membership anytime. You can also pick what cuts of meat you want in each box or change out your order size as long as you make your requests by Sunday at 11:59 PM PT before your next delivery.
All orders are sent directly to your door and you do not need to be home to sign for them or receive them. Our order was left at our front door and was completely frozen when we received it. Good Chop delivers to all of the lower 48 states of the U.S.
Most deliveries are made on Wednesday, Thursday, or Friday, and boxes are usually good when left outside for up to six hours, per the website. However, you will want to bring them in as soon as possible and store them properly.
How Much Does Good Chop Cost?
At the time of this writing, there are two pricing plans you can choose from: the medium box and the large box. We ordered the medium box.
The medium Good Chop box costs $149 and includes the following:
Six different items from the menu
As many as 36 potions of meat starting at $4.14 per meal
Feeds individuals and smaller families
The large box costs $269 and comes with the following:
12 items from the menu
As many as 72 portions of meat starting at $3.74 per meal
Feeds larger families and can be stored in freezer
Keep in mind that an item on the menu usually includes more than one serving of meat. For example, one of the menu items we ordered was ground beef and it came with two packages of meat that were two pounds each.
We found that even the medium sized box contained a lot more meat than we expected!
Is Good Chop Worth It?
Investing in an online grocery delivery service is just that – an investment. You will need to determine if the price and convenience of ordering meat online is something you can afford.
For many families, getting to the grocery store is not easy. The busy professional life has made it even harder to do so. Now is a great time to explore your meat subscription boxes with having food delivered to you. 
Most people find that services like Good Chop are a great way to cut back on physical trips to the grocery store, which can keep you and your family safe. Plus, it can be hard to find high-quality meats in stores, leaving you to pick from whatever is available that day.
Good Chop provides an excellent meat subscription box that we feel is worth the investment, especially if you are busy, don't have access to healthy meats in your area, or you are looking for a way to make food shopping easier. You don't have to be present when the boxes arrive, and Good Chop offers a 100% money back guarantee. You have nothing to lose when you try their service!
Should You Try Good Chop?
If you're looking for a high-quality meat and seafood delivery service, then we recommend checking out Good Chop. It does not appear that they sell organic meats, but you can use this to your advantage because it will keep the cost of the service down.
Plus, their meats are free from antibiotics, hormones, additives, food dyes and other additives that you'd normally find in organic meat. So, even though the meat is not organic, it still ensures that you're eating clean food.
Do yourself a favor – order from Good Chop today and make the grocery shopping process one less thing you have to worry about!