If you miss the convenience of pre-packaged baking mixes on the keto diet, then you may want to check out Birch Benders.
The company makes several keto baking mixes, including a pancake and waffle mix (regular and chocolate chip flavors), a brownie mix, and two flavors of keto cake (chocolate and classic yellow). They also make keto frosting, but are their products really keto-friendly?
In this guide, we'll review Birch Benders keto products and whether or not they are suitable for a low-carb diet.
Birch Benders Nutrition Facts Table
The following is a breakdown of the nutrition facts in a one-third cup serving of the keto pancake and waffle mix (about two 4 inch pancakes):
160 calories
11 grams of fat
10 grams of carbs (5 grams of net carbs)
5 grams of fiber
9 grams of protein
Two of the chocolate chip keto pancakes contain:
210 calories
14 grams of fat
15 grams of carbohydrates (6 grams net carbs)
6 grams of fiber
9 grams of protein
The keto ultimate fudge brownie mix contains the following per brownie: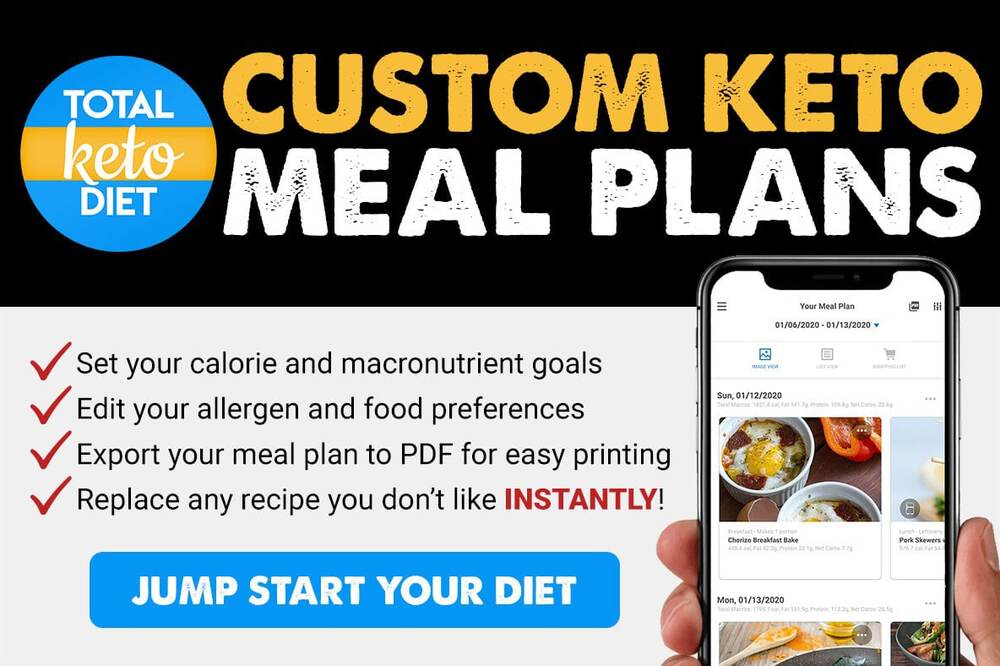 70 calories
4.5 grams of fat
17 grams carbs (3 gram net carbs)
3 grams of fiber
11 grams sugar alcohols
2 grams of protein
One slice of the keto chocolate cake mix contains:
120 calories
8 grams of fat
23 grams of carbs (5 grams net carbs)
4 grams of fiber
4 grams of protein
The classic yellow cake has 130 calories, 9 grams of fat, 27 grams of carbs (5 grams net carbs), 3 grams of fiber, and 4 grams of protein per slice
They also offer keto frosting on their website. The chocolate flavor (currently sold out) has 130 calories and 0 grams of net carbs per two-tablespoon serving while the vanilla has 120 calories and 1 gram of net carbs.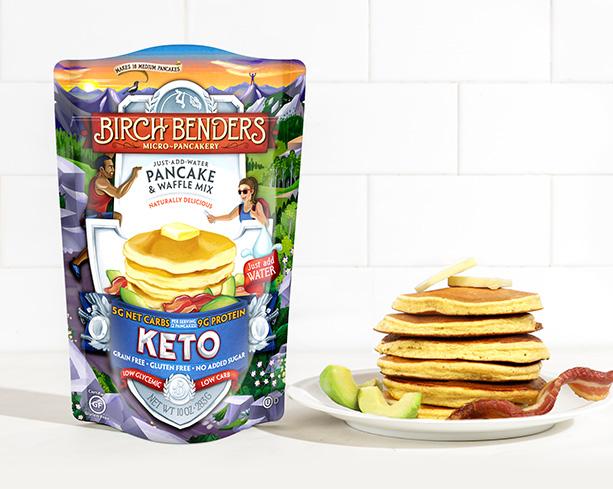 How Many Carbs In Birch Benders Products?
The pancake and waffle mixes are most popular because it's easy to use (just add water) and is available at most popular grocery stores. Two pancakes contain about 5 grams of net carbs.
In addition to the above-mentioned pre-packaged mixes, Birch Benders also advertises the following keto products on its website:
Pancake cups (classic, chocolate chip, and strawberry shortcake flavors): 5 grams net carbs
Double chocolate brownie cup: 3 grams net carbs
Chocolate chip cookie cup: 4 grams net carbs
Birthday cake cup: 4 grams net carbs
Blueberry muffin cup: 6 grams net carbs
Toaster waffles: 6 grams carbs per two waffles
Chocolate chip toaster waffles: 6 grams net carbs per two waffles
Birch Benders Ingredients
The ingredients in the keto pancake and waffle mix include eggs, almond flour, organic coconut flour, tigernut flour, cassava starch, buttermilk, leavening (monocalcium phosphate, sodium bicarbonate), salt, and spices.
Most of these ingredients are keto-friendly. However, tigernut and cassava are made from root vegetables and tubers, and although they're low in carbs, they are technically not derived from a keto-friendly food.
The same goes for buttermilk. It's used in small enough quantities to keep the carbs down in this product, but it's not something you want to use when you make keto food at home.
Is Birch Benders Healthy?
These products are a much healthier option than the majority of premade baking mixes that contain gluten, vegetable oils, refined sugar, cow's milk, and other inflammatory ingredients.
Birch Benders uses almond flour and other high-fiber flours in its mixes, which is ideal for keeping the net carbs down and promoting immune and digestive health.
Research shows that fiber helps promote a healthy weight and can fight obesity. It also helps reduce belly fat – a problematic area for many people, especially as we age (*, *).
Birch Benders also uses healthy alternatives to refined sugar and artificial sugar alcohols, such as monk fruit and stevia. These sweeteners are healthy options because they are naturally derived from plants and contain antioxidant properties to reduce inflammation and flush toxins.
They are a great replacement for traditional frostings and cake mixes that are full of sugar and may lead to weight gain, insulin resistance, and mood disorders in both kids and adults alike.
We also like that these products are allergy-friendly, meaning they do not contain artificial colors, dyes, or tons of preservatives to keep the product shelf-stable – some of which have been linked to neurological and behavioral problems in children (*).
Overall, the Birch Benders product line is a tasty way to eliminate gluten and grains from your diet while still enjoying the convenience of pre-made mixes and sweets.
Is Birch Benders Keto-Friendly?
Yes, the Birch Bender pancake and waffle mix can be incorporated into a keto diet as long as you plan your macronutrients accordingly. Remember that you need to stay below 20 to 25 grams of net carbs per day to stay in ketosis. One serving of this mix contains 5 grams of net carbs.
Other products contain even fewer net carbs, such as the keto frosting (0 to 1 gram net carbs per serving), and these are even better suited for your low-carb needs.
You may want to stay away from the higher carb products, such as the toaster waffles, as these contain 6 grams of net carbs per serving.
Remember that if you use keto syrup on these, it may contribute to your net carb content, and this might put you over the limit for what a low-carb meal should look like for you.
Final Thoughts 
Birch Benders makes a keto line of products that range from 0 to 6 grams of net carbs. They can be incorporated into your keto diet if you stay within the serving range and plan your macros accordingly.
You may want to save these mixes for special occasions when you're a little more relaxed about your net carb intake, such as on a higher carb day. Keep in mind that not all of the ingredients used are keto-friendly.
However, if you're on a low-carb diet and you aren't worried about staying in ketosis – or you're just looking for a healthier brand of pre-made mixes – then these products would be a great staple in your pantry!