Do you love eating bagels? Have you been missing them since you started the keto diet? Well, here's the great news: you can have bagels too. In fact, we have just found an amazing low carb bagel recipe that you can try today.
This recipe and photo is shared by SheNorth. We were amazed by how good these bagels turned out so we'd love to share it with our community. Enjoy and feel free to check our other Keto Bagel Recipe too!
---
Let's Ketofy It!
Set your oven to 400 F to preheat while making the dough.
Mix the xanthan gum with the eggs. Fold the almond flour into the mixture as well.
Combine the mozzarella and cream cheese in a pot and allow them to melt over low heat
Gently incorporate the melted cheese into the bowl with almond flour mixture.
Using your hands, knead the ingredients together. When the mixture becomes too hard to knead because of the flour, xanthan gum, and eggs, continue mixing with an electric mixer.
When the dough is fully combined, form them into long logs and place them on the donut pan. Add any toppings of your choice. If you don't have any available donut pan, you can simply stick both ends of the log to make a circle with a hollow center, similar to a donut.
For around 18 minutes, bake them in the oven. Once they are nicely browned, remove.
Serve with any fillings or butter of your choice.
Use any available topping and have fun experimenting.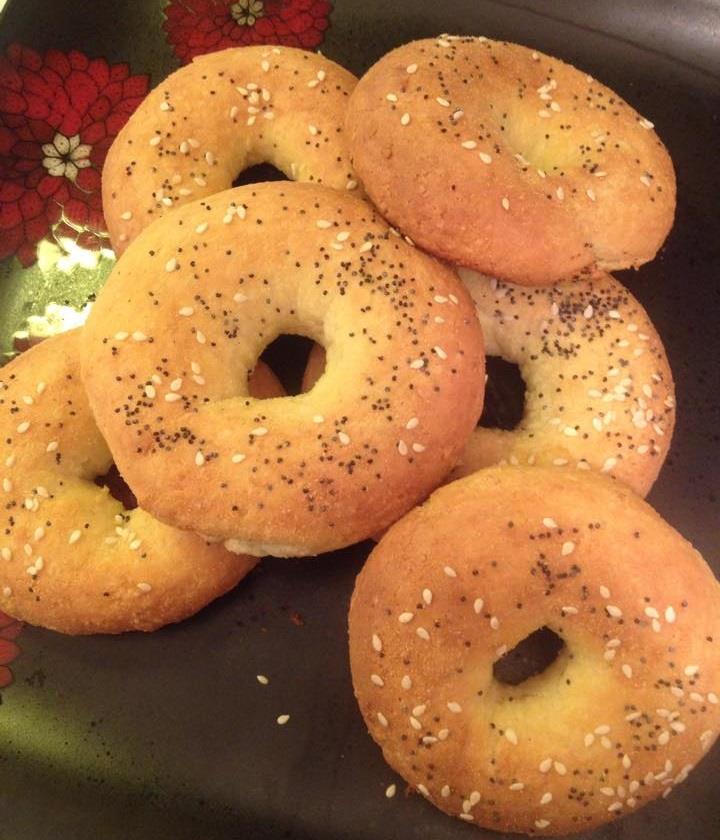 Related:
Low Carb Bagels with Almond Flour
A keto-friendly bagel recipe for ketogenic diet.
Instructions
While preparing the dough, preheat the oven to 400°F.

Crack the eggs in a bowl and beat it well with the xanthan gum and almond flour.

Melt the cream cheese and mozzarella together in a pot set over low heat.

Pour the melted cheese in the almond flour mixture.

Knead the dough thoroughly. After a while, use a mixer to combine the ingredients since the xanthan powder, flour, and eggs can become difficult to mix.

Mold the dough to form log shapes then arrange them on the donut pan. Dust with your favorite toppings. Since I did not use a donut pan for this, here is what they look like after I shaped them and before I baked them in the oven. Use this as a reference for shaping the dough.

Brown them in the oven for 18 minutes.

Serve on a plate.

Experiment with the toppings such as the one below (photo shared by gmwrnr, a reddit member):
Notes
This makes about  6 bagels. The macros is per bagel.
Nutrition/Macros
Nutrition Facts
Low Carb Bagels with Almond Flour
Amount Per Serving
Calories 384
Calories from Fat 279
% Daily Value*
Fat 31g48%
Cholesterol 109mg36%
Sodium 432mg18%
Potassium 76mg2%
Carbohydrates 8g3%
Protein 21g42%
Vitamin A 590IU12%
Calcium 359mg36%
Iron 1.6mg9%
* Percent Daily Values are based on a 2000 calorie diet.
Pin To Save This Recipe