While Mexican cuisine is generally not very low carb, eating keto at Del Taco is a lot easier than we thought it would be.
Our favorite low carb Del Taco menu items include bunless burgers, the double cheese breakfast taco, and grilled chicken or steak and guac (without the tortilla).
It is very important to custom order your meal since most dishes include sneaky sauces and hidden ingredients that aren't strictly keto.
For those occasions when you can't cook your own Mexican feast at home, here's how to satisfy your cravings at Del Taco while keeping you on track with your dietary goals. We scoured the menu at Del Taco to bring you the best tips and menu options.
Tips For Ordering Low Carb at Del Taco
To achieve the best results on a keto diet, following a meal plan and eating at home are desirable, because you'll have total control over the ingredients you use.
If you crave Mexican food, these keto-friendly recipes can be helpful:
However, if Del Taco is your next best option, here's what to keep in mind and how to stay on track.
The menu at Del Taco appears to be slightly healthier than Taco Bell because they use homemade pico de gallo, fresh avocado and guacamole, and freshly grilled meats.
As the name implies, you'll find lots of taco options on the menu. This isn't ideal if you're trying to eat low-carb, but there are ways to work around this. Eating the insides only out of a taco shell is a good place to start.

You'll also need to stay clear of the traditional taco additions and sides, such as beans, rice, sauces, and tortilla or burrito shells. The good news is that Del Taco offers some good ketogenic-friendly add-ons, such as avocado, bacon, sour cream, and lots of cheese. You can use these in place of sauce to add flavor to your meal.

Here are some tips for ordering keto at Del Taco.

#1. Go with a burger or salad
Unlike Taco Bell and some other taco places, Del Taco offers burgers. This is great if you're in need of a quick low-carb meal and don't want to deal with eating the insides only out of a taco.
We recommend going with a bacon double Del Cheeseburger, which features two 100 percent USDA beef patties, two bacon strips, American cheese, lettuce, tomatoes, and onions. You'll want to hold the bun and burger sauce or ask for a lettuce wrap.
Del Taco also offers a chicken, bacon, and avocado salad that you can get with ranch dressing. According to the nutrition information, this salad contains 550 calories, 40 grams of fat, 27 grams of carbs (22 grams net carbs), 5 grams of fiber, and 23 grams of protein if you get it with ranch.
If you order this salad as a Caesar salad, it will contain 620 calories, 48 grams of fat, 25 grams of carbs (19 grams net carbs), 6 grams of fiber, and 23 grams of protein (we assume – the protein content was left blank on the website).
Both salads come with tortilla chips. You can omit most of the carbs by ordering your dish without them.
#2. Avoid the platos
Del Tacos has a platos section on their menu that we recommend avoiding. Most of the plates come with two tacos or burritos and unhealthy side dishes, such as rice, beans, and chips and salsa.
This might be a good deal if you're not trying to eat low-carb, but ordering one of these on the ketogenic diet just means that you'll have to throw half of it away. The same goes for the combo dishes. If you go with a combo, you'll want to stick with an unsweetened iced tea and throw away the side. Stick with ordering individual tacos instead and hold the starchy sides.

#3. Use sour cream, cheese, and guacamole in place of sauce

We noticed that almost every dish at Del Taco has some type of sauce on it. Most of these sauces are hidden sources of sugar, which is always a good thing to stay away from even if you're not following a low-carb diet. Always be sure to ask for no sauce even if the food you're ordering doesn't come with it anyway. It's a good habit to get into!

To make up for the lack of flavor, try adding some low-carb friendly toppings to your food, such as freshly sliced avocado, bacon, cheese, or sour cream. These would go great on a taco without the shell. You might need to grab a fork to eat it, but at least you'll be able to enjoy a meal without as many carbs!

#4. Look up the nutritional information

A good way to determine whether your meal is truly low-carb or not is to look it up on the Del Taco website. It's also a good way to determine if sauce comes on your food. We recommend paying attention to the ingredients over the nutritional breakdown because you'll be custom ordering your meal anyway, so this information will change.

For example, a crunchy Del Taco contains a taco shell, turkey taco meat, lettuce, cheddar cheese, and tomatoes. A crunchy taco shell contains 7 grams of net carbs (a soft taco has 13 grams). So you can subtract this number from your total calorie and carb intake when you eat the insides only.

If you look further down the menu, you'll see that the turkey taco seasoning contains a whole bunch of junk that you're better off not eating, such as hydrolyzed corn gluten, wheat and soy protein, sugar, caramel color, and lots of preservatives. This is a good reminder to only order at Del Taco every once and awhile.

Bonus tip: If you're not sure about how many carbs you need to stick with on the ketogenic diet, then try using our free keto calculator here. All you need to do is enter your personal information, such as your BMI, weight, height, etc., and answer a few questions about your goals.

The calculator will break down your macronutrient needs and display them in a graph form. Compare these results with anything you order on the Del Taco menu to make sure you're on the right track.

#5. Ask for crunchy tacos

If you order a taco at Del Taco, they'll probably ask if you want a crunchy or soft taco. Always go with crunchy taco shells as these are easier to dispose of if you need to eat the insides only out of the taco.

Soft tacos tend to be heated, which causes the flour shell to mix in with the ingredients of the taco. They are harder to separate from the meat and cheese and you'll be more likely to ingest some of the shell. For this reason, you'll also want to stay away from burritos and quesadillas. Alternatively, why not make keto quesadillas at home?
What To Order at Del Taco on Keto Diet
Most Del Taco locations are open 24 hours a day, which is great because this means you can always get something to eat whenever you need it. They even offer a breakfast menu if you need an early morning snack.
You'll want to adhere to the same tips that we listed above when ordering breakfast. Remember to hold the red sauce that comes on any taco and eat the insides only.
If you hit the drive-through, make sure you don't try to eat and drive. Tacos are messy, especially when you're eating the insides only. Pull over if you must, but never try to eat and drive.

Here's what to order at Del Taco to keep it low-carb. Keep in mind that some options might not be strictly-keto.

Breakfast
Breakfast tacos (order these with carne asada instead of chorizo meat; hold the tortilla)
Epic scramblers (hold the red sauce and hash brown sticks; get bacon or carne asada instead of chorizo; hold the shells)
Breakfast burritos (hold the zesty red sauce and try to get these without the flour tortilla)
Coffee
Platos

The Del Taco Plato (hold the rice, beans, and chips and salsa, or just order two individual tacos and toss the shells)
Two street tacos plato (eat the insides only out of the tacos; ask for no sauce; hold the rice, beans, and chips and salsa)
Tacos
For all tacos, skip the shell and ask for no sauce on the taco; add sour cream, guacamole, or extra cheese if needed:

The Del Taco (choose a crunchy shell or no shell at all)
Turkey Del Taco (choose a crunchy shell or no shell at all)
Street tacos (order these without the roasted chili salsa)
Flatbread tacos (hold the chipotle or secret sauce)
Salsa chicken taco (hold the salsa as it contains sugar and preservatives)
Grilled chicken taco (hold the savory secret sauce)
Value taco
Queso crunch taco (hold the creamy queso blanco)
Salads

Chicken bacon avocado salad (hold the tortilla chips and ranch dressing)
Mexican chopped chicken salad (hold the black beans, tortilla chips, and salsa casera)
Signature taco salad (hold the black beans, tortilla chips, and salsa casera)
Burgers

Double Del cheeseburger (hold the bun and burger sauce)
Bacon double Del cheeseburger (hold the bun and burger sauce)
Fresco bowls
Pollo asado with avocado (hold the black beans and rice; ask for double meat and avocado)
Avocado veggie (you could order this without the black beans and rice and ask for meat; or just order the pollo asado)
Buck and under menu

Egg and cheese breakfast taco (hold the shell)
Bacon breakfast taco (hold the shell)
Chorizo breakfast taco (hold the shell)
Foods To Avoid at Del Taco
Although there are some decent options for low-carb eating at Del Taco, you should avoid the majority of the foods on the menu.
The following foods are either too hard to try to customize or we think you can do better by ordering individual tacos or Del Taco burgers instead.
Carne asada wet burrito plato
Chicken verde wet burrito plato
Beer battered fish tacos and plato
All burritos
Carne asada fries
Chili cheddar fries and deluxe chili cheddar fries
Crinkle cut fries
Queso loaded fries
All quesadillas and nachos
All desserts, shakes, and fries
Huevos rancheros epic burrito
Breakfast and chicken rollers (we think these would be too hard to eat the insides only out of because they are so small)
Hash brown sticks
Orange juice
Iced coffee
Donut bites
Milk
Chicken quesadilla snacker
Jacked up value bean, cilantro lime rice and cheese burrito
Mini cheddar quesadilla
Crunchtada tostada
Bean and cheese cup
All sweetened drinks
Conclusion
Any time you eat out on the ketogenic diet, you'll be compromising your diet. That's because you can get better ingredients at your local grocery store than you can at most restaurants. The meat at Del Taco contains seasoning that has sugar and lots of preservatives in it.
If you happen to find yourself in need of food and Del Taco is the only place within miles, then we recommend going with a cheeseburger. You can get it with bacon, cheese, avocado, and lettuce. Be sure to hold the bun and burger sauce.
If you go with a taco, order a crunchy taco and discard it immediately or ask for no taco shell. You'll also want to hold the sauce on your tacos as well and stay away from combos or special deals that come with fries or a sweetened drink that you don't need.
Enjoy this post? Share to save for later!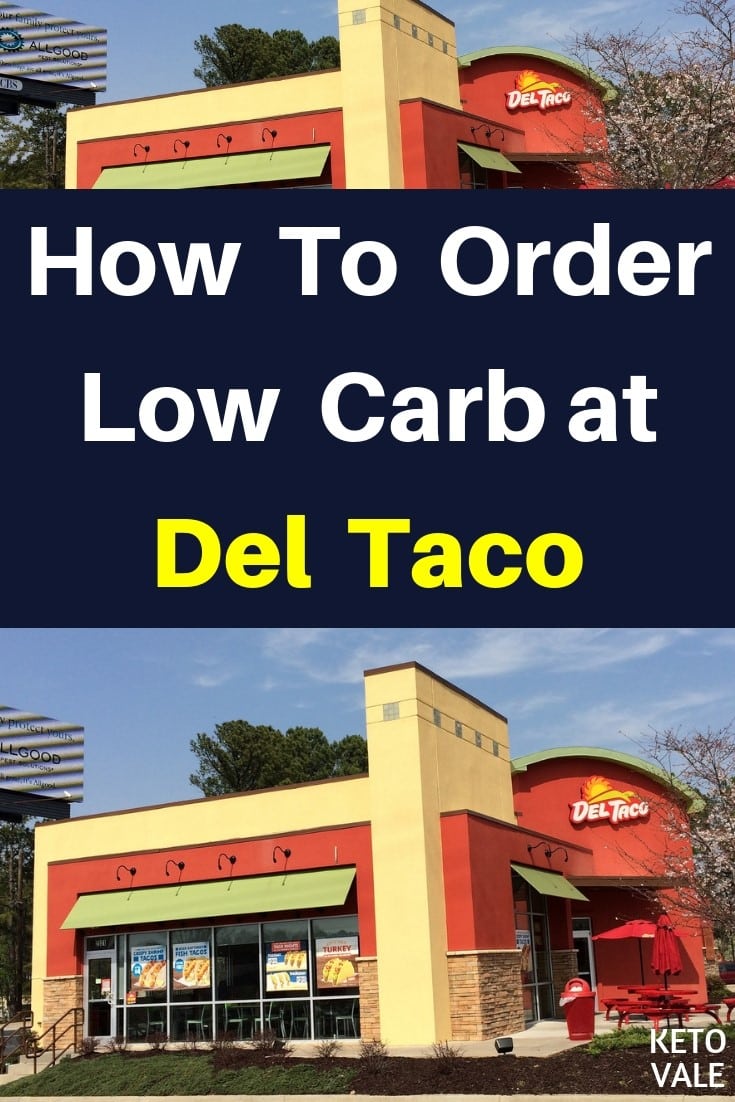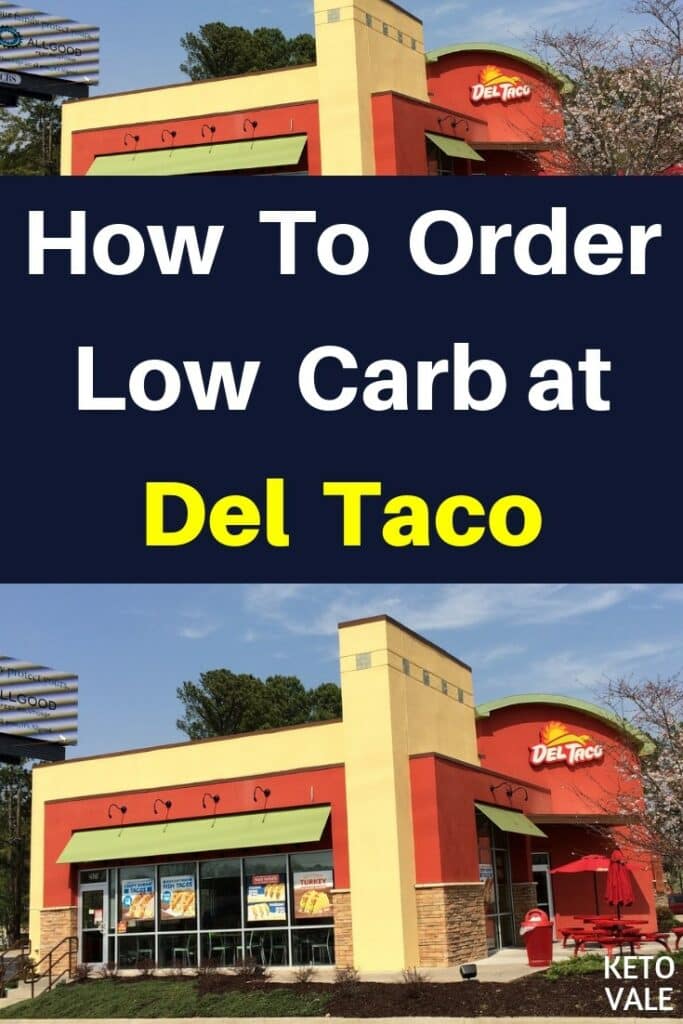 Photo credit: Mike Kalasnik/flickr.com