Casseroles are the perfect dish to make for any occasion. They are effortless, quick to make, and have lots of wiggle room for forgiveness if you're a newbie in the kitchen!
All you have to do is prep your ingredients, put them in a casserole dish, and let your oven do the work! Your chicken spinach mushroom bake will be ready in no time!
However, many casseroles tend to contain rice, potatoes, pasta, or some other ingredients that are not keto-approved.
Our recipe features a light dish for a nutritious and healthy meal. It contains an assortment of ingredients that supply vitamins, minerals, flavor, and taste.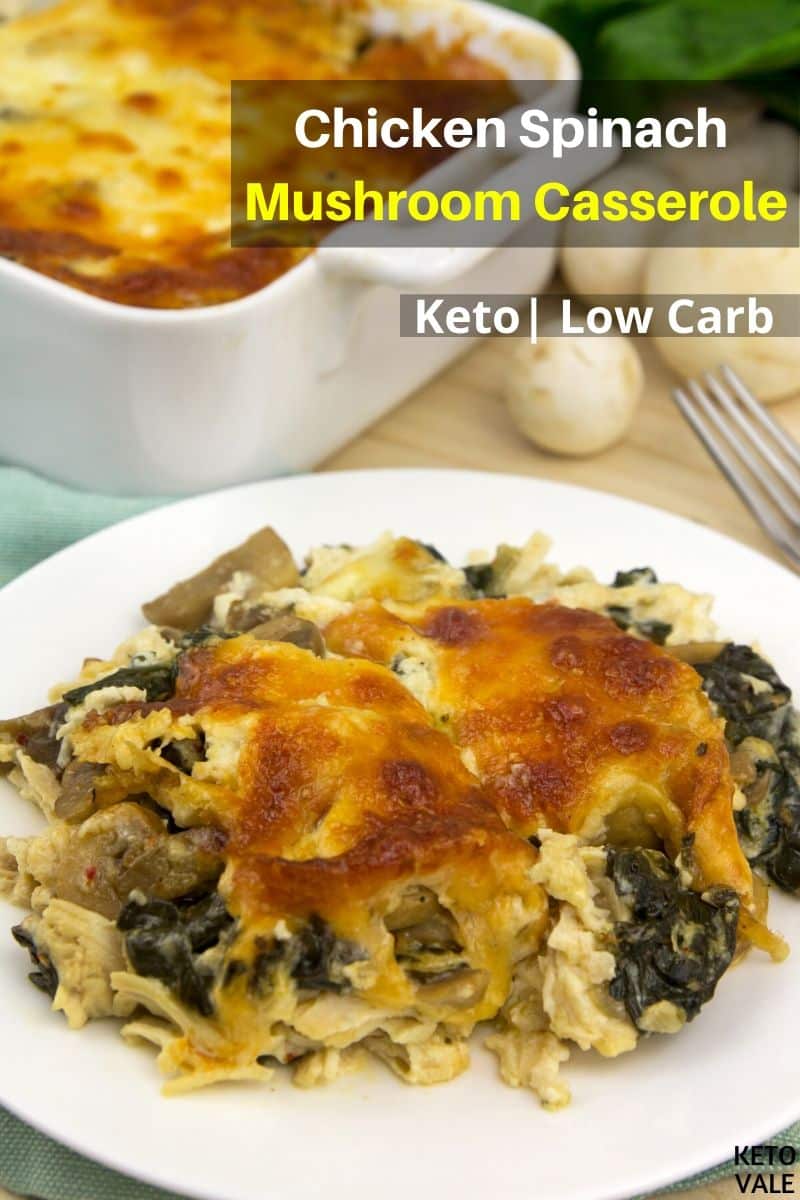 The primary ingredients are cooked chicken, mushrooms, Mozzarella cheese, baby spinach, onions and garlic. You'll want to cook your chicken ahead of time to cut down on your prep.
Go with an organic, antibiotic-free brand of chicken. Research shows that poultry meat, when eaten as part of a vegetable-rich diet, is linked to a lower risk of obesity, type 2 diabetes, and heart disease. White poultry meat may also have a protective effect on cancer (1).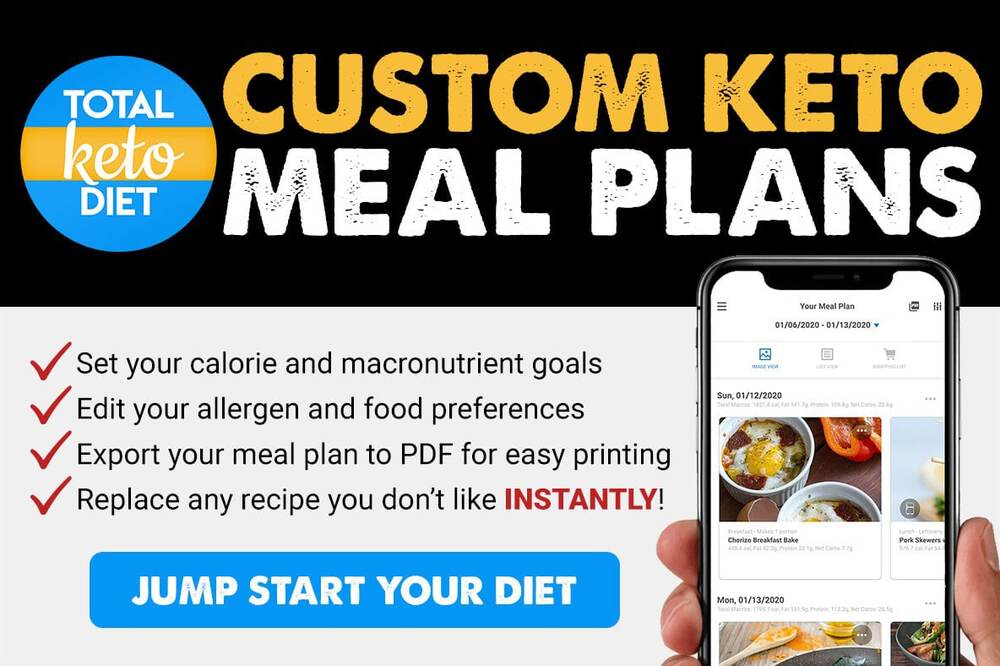 This dish is low in cholesterol and carbs and high in protein and insoluble fiber. Mushrooms are often overlooked as a low-carb ingredient, but they contain antioxidants that help fight inflammation and protect against diseases (2).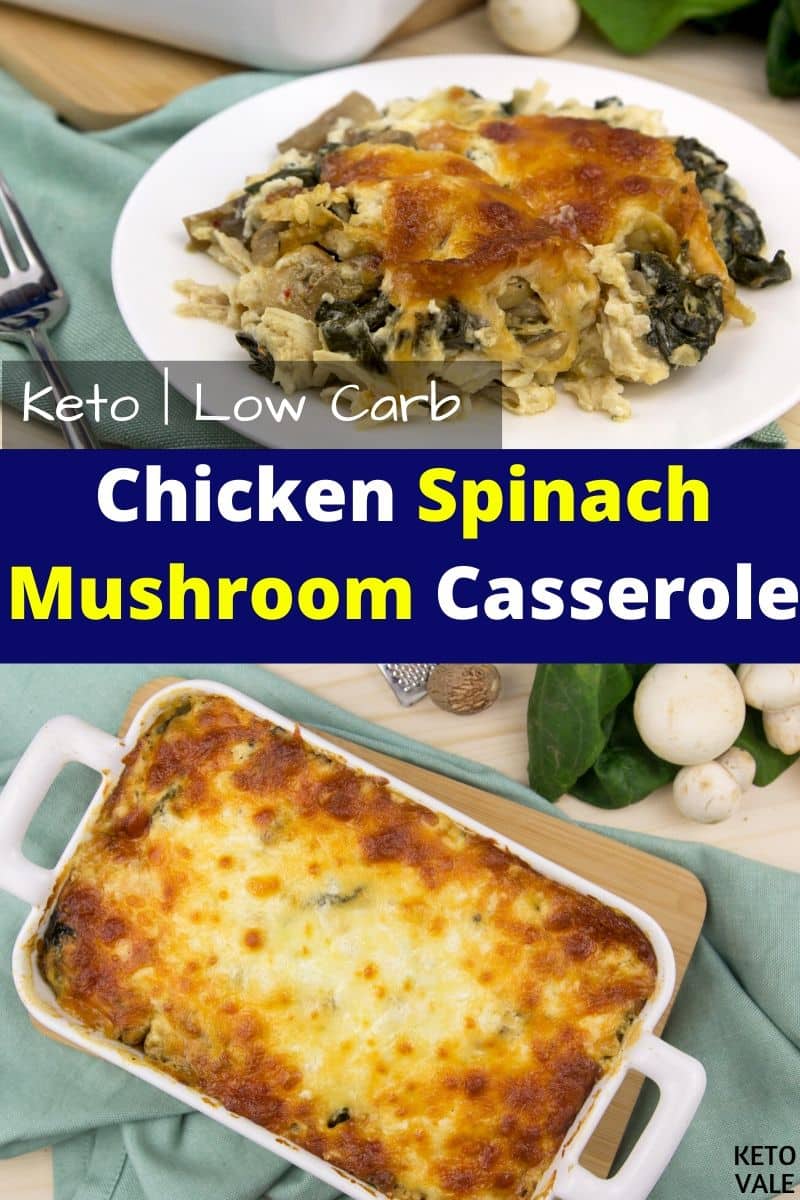 Mushrooms are unique because they are not a plant or vegetable. As a fungus, they have been shown to positively influence gut microbiota to boost immunity, aid in weight loss, and even boost oral health.
The key to any casserole is a good sauce. Ours calls for heavy whipping cream, cheese, and a pinch of nutmeg for a sweet finish. Assembling the ingredients is as easy as alternating a meat layer with a sauce layer and then mushroom mixture in your dish.
Serve this dish as is or with a salad to get more antioxidant-boosting nutrients in!
---
Let's Do It!
Cook garlic, onion, and thyme for 30 seconds in a frying pan with butter. Then add the mushrooms, red pepper flakes, salt and pepper. Cook for 8 minutes.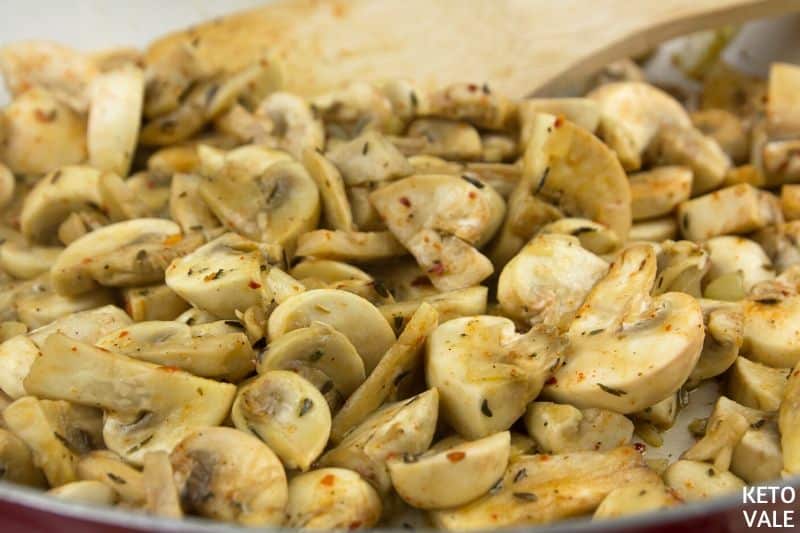 Stir in the spinach a handful at a time and allow to wilt before adding the next bunch. Cook for about 2 minutes and set aside.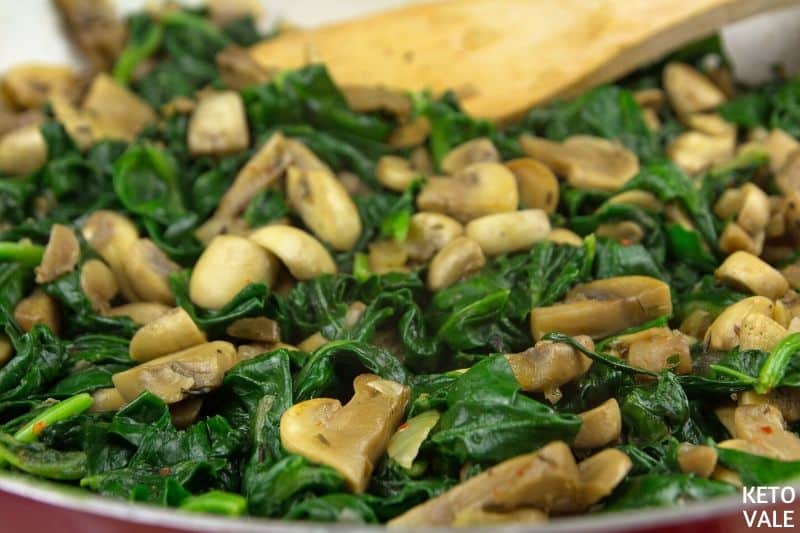 Combine all sauce ingredients in a saucepan over low heat, occasionally stirring until the cheese melts.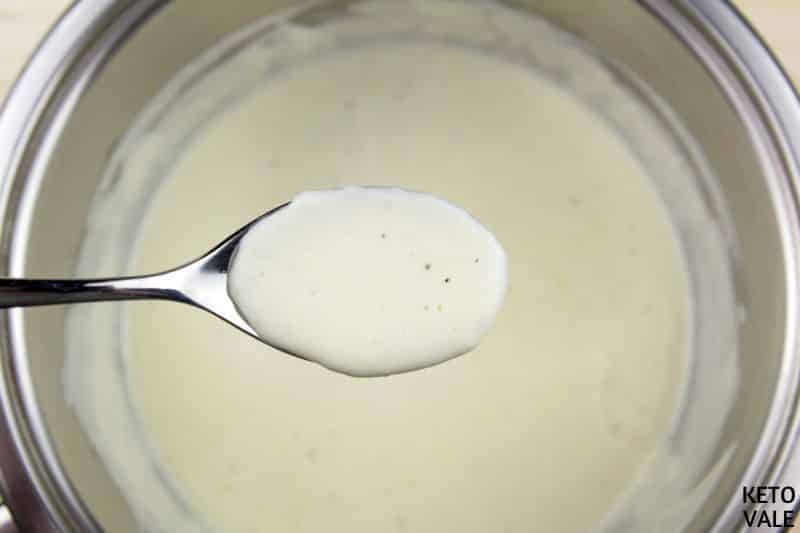 Arrange a layer of meat in the casserole dish or oven dish. We use cooked chicken. If you use raw chicken breasts or chicken thigh cubes, make sure to stir-fry in olive oil or boil in chicken broth to cook it first. Top with a layer of sauce and then a layer of the mushroom mixture.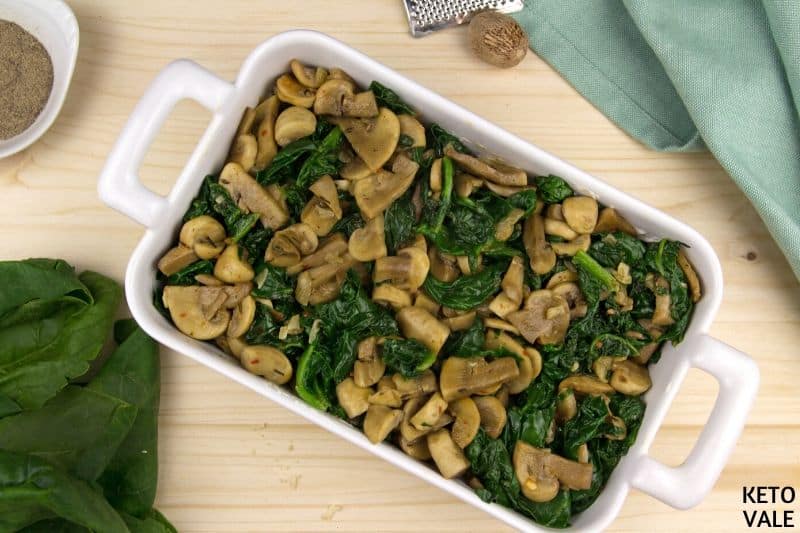 Repeat until all ingredients are used.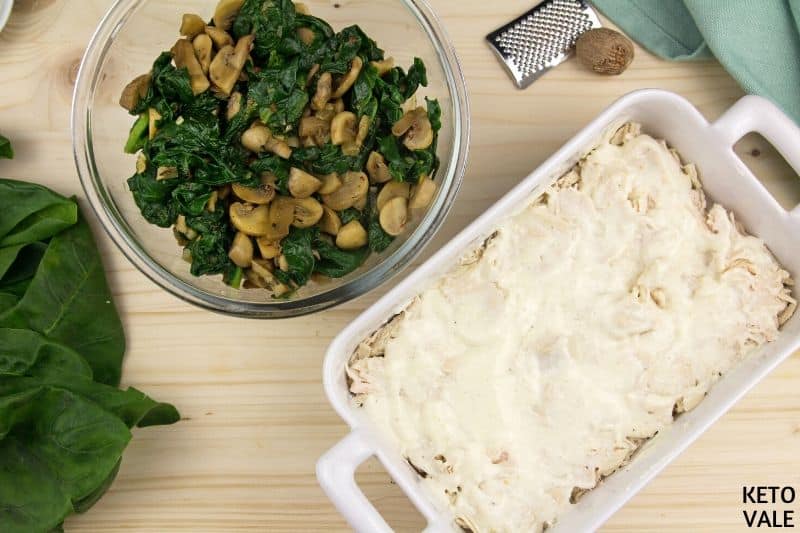 Sprinkle with more cheese.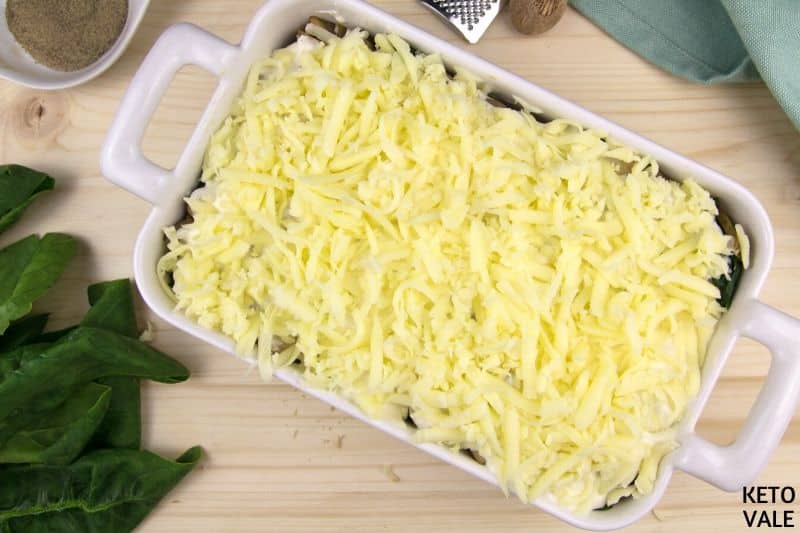 Bake for 20 minutes. Let sit for a few minutes and your chicken spinach and mushroom bake will be good to go!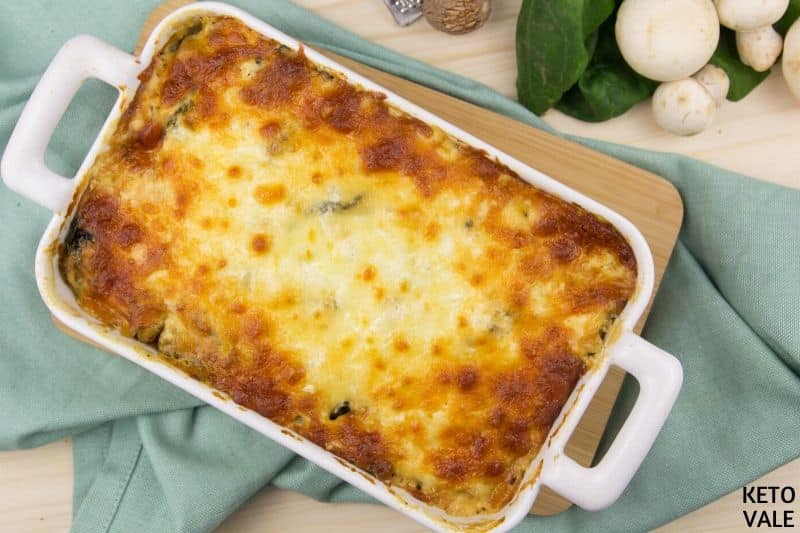 More keto chicken casserole recipes you can make:
Keto Chicken, Spinach, Mushroom Casserole
An easy-to-prepare, low-carb and keto-friendly chicken casserole recipe with spinach, mushroom and cheese, perfect for weeknight dinners.
Ingredients
For sauce:
¾

cup

heavy cream

3

oz

cream cheese

2

oz

mozzarella

shredded

¼

cup

Parmesan

grated

pinch

nutmeg

salt and pepper

to taste
Instructions
Preheat the oven to 350F.

Melt butter in a frying pan over medium-high heat. Add onion, garlic and thyme. Cook for 30 seconds. Add mushrooms and red pepper flakes, then season with salt and pepper and sauté for 8 minutes.

Stir in spinach (a handful at a time, allowing to wilt before adding the next handful), and cook for an additional 2 minutes or until spinach wilts. Set aside.

In a small saucepan, combine all sauce ingredients. Heat on low, stirring occasionally, until cheese melts and the sauce becomes smooth and homogeneous.

In a casserole dish, arrange a layer of shredded chicken meat. Spread over half of the cheesy sauce then arrange a layer of mushroom-spinach mixture. Spread remaining sauce on top, sprinkle with mozzarella and bake for 20 minutes or until browned and bubbly on top.

Let stand for 5 minutes before serving and enjoy.
Nutrition/Macros
Nutrition Facts
Keto Chicken, Spinach, Mushroom Casserole
Amount Per Serving
Calories 450
Calories from Fat 351
% Daily Value*
Fat 39g60%
Cholesterol 139mg46%
Sodium 448mg19%
Potassium 598mg17%
Carbohydrates 8g3%
Protein 19g38%
Vitamin A 5369IU107%
Vitamin C 15mg18%
Calcium 314mg31%
Iron 2mg11%
* Percent Daily Values are based on a 2000 calorie diet.
Pin To Save This Recipe