If you're tired of the regular keto foods you keep on eating, then why not try an Asian cuisine to spice up your diet? Today, we'll introduce you to the beef and spinach stir-fry with shirataki noodles. It's a good low-carb alternative to Chinese Lo mein dish.
The main ingredient is the special shirataki noodles. You would be surprised by how this noodle contains every keto dieter's dream: it's super low in carbs, calories and no gluten or lactose, a perfect ingredient to start losing those extra pounds.

The great thing about shirataki noodles is that it's pretty flexible in the kitchen. You can either use it in salads, no-carb sushi or substitute it in most noodles recipes if you prefer.
The protein source in this dish comes from beef. Aside from the multitude of vitamins and minerals found in beef, it also keeps you feeling full until your next meal, eliminating those unnecessary cravings in between meals.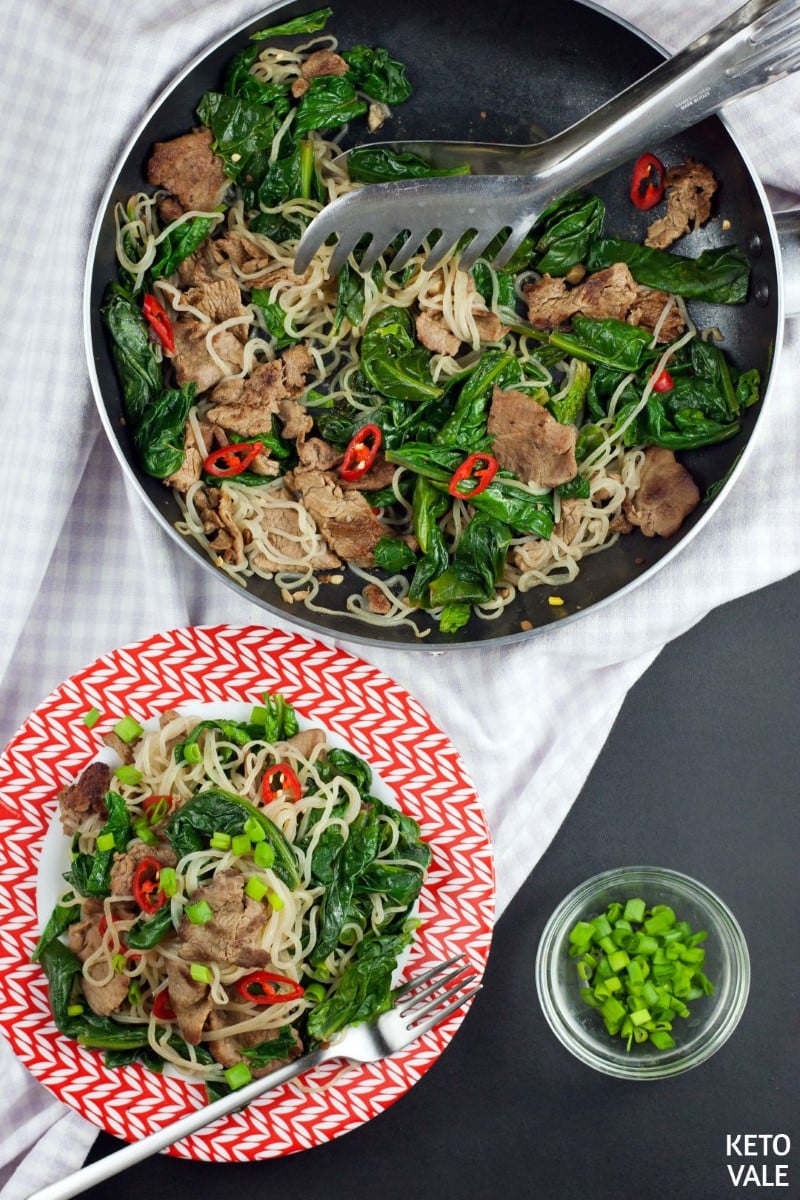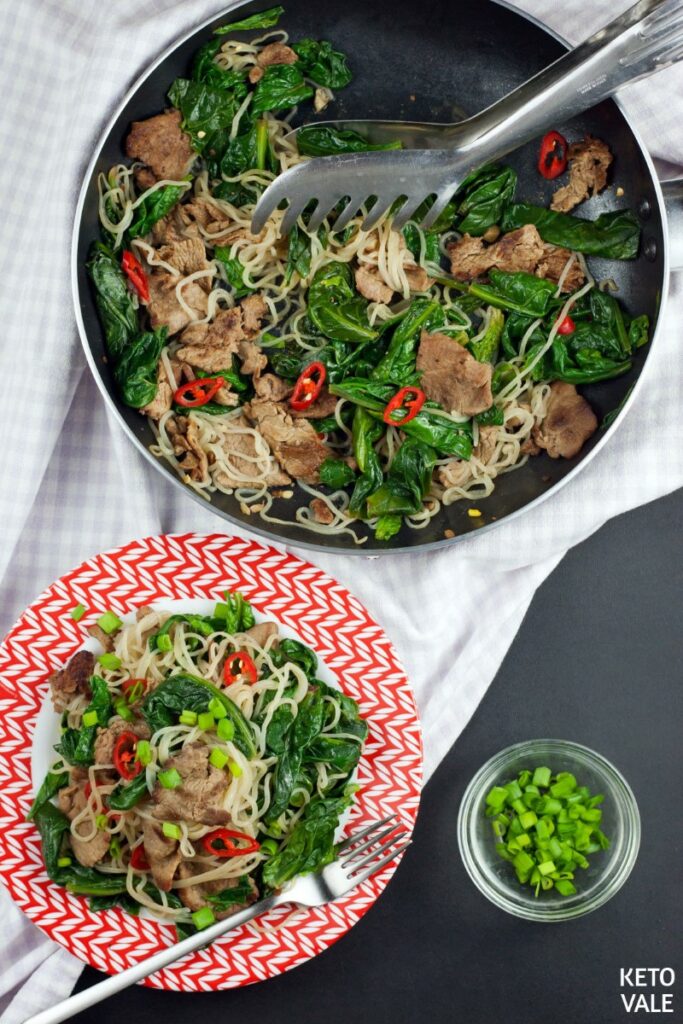 Grass-fed beef is highly recommended for keto dieters because of the natural diet of these cows. Pasture-raised cows produce leaner meat and healthier fats compared to the grain-fed ones.

We also included spinach in the dish, which is a super nutritious vegetable. This veggie is also a great source of magnesium, folic acid, vitamins A and C, and iron, folic acid, magnesium, and fiber.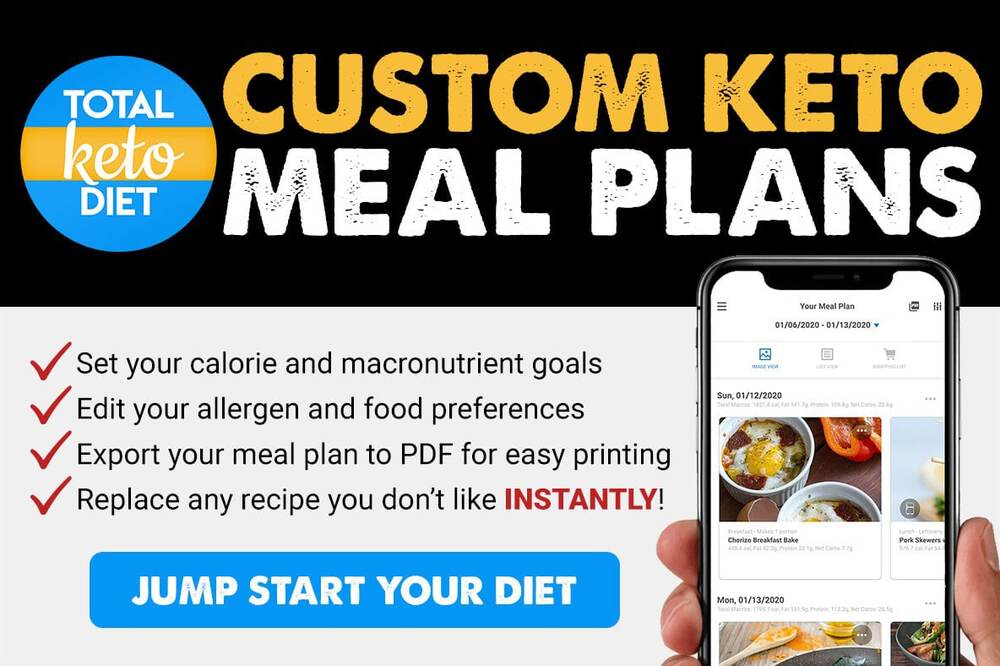 Spinach also helps in the control of blood glucose levels for diabetic people. Including spinach in the dish also makes it more appealing and adds color to your dishes.

All in all, this beef, spinach and shirataki noodles stir-fry is definitely for everybody and best served with friends and family. You will most likely have fun preparing it as you would do sharing it with your friends. Enjoy this dish!

---
Let's Ketofy It!
Place the beef on a chopping board and cut into thin slices.
Combine the beef broth with the coconut aminos and whip until mixed. Add the garlic clove, 1 tbsp of sesame oil, and the red pepper flakes. Transfer 1/4 of this mixture in a smaller bowl for later.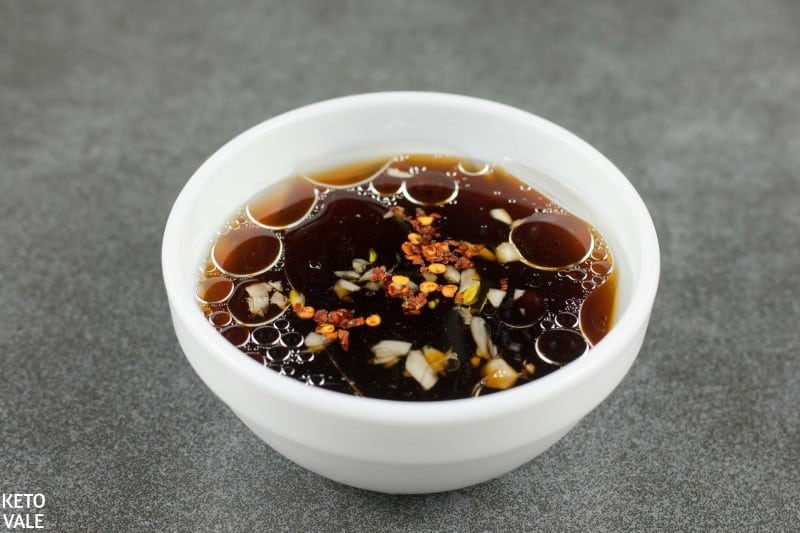 Marinating the beef slice in the bigger bowl with the remaining 3/4 mixture. Leave for 10 minutes.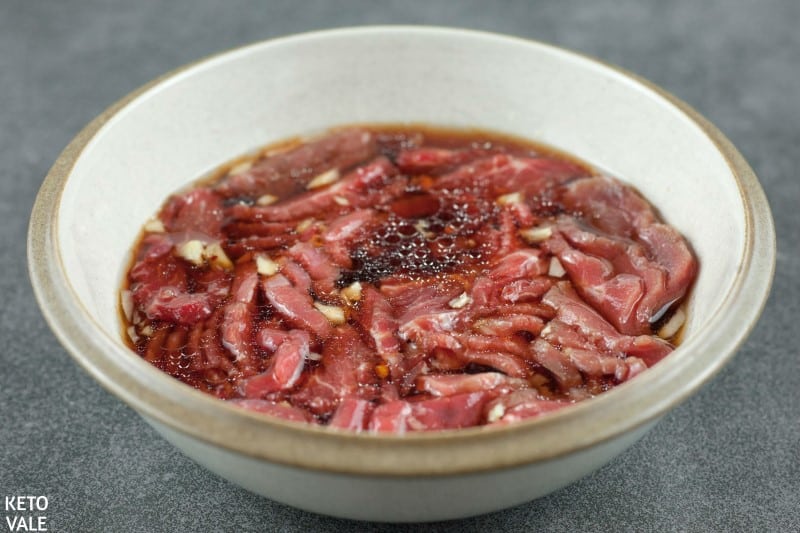 Follow the instructions on the shirataki package to prepare it.
Pan fry the beef in a skillet with sesame oil until the meat turns light brown. Remove from the heat.
Cook the spinach in the same skillet and add the 1/4 mixture reserved before to taste. Leave the veggie for 2 to 3 minutes or so.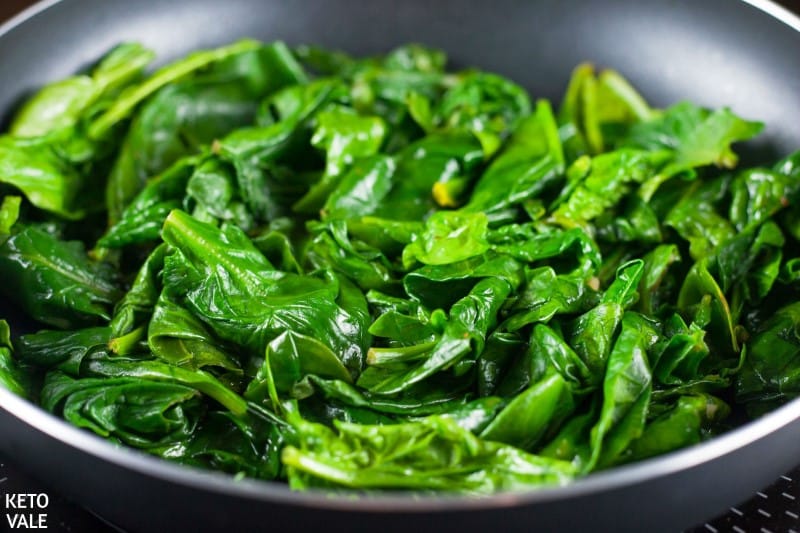 When the leaves are wilted, add the beef and mix together with the noodles. Season with salt to taste.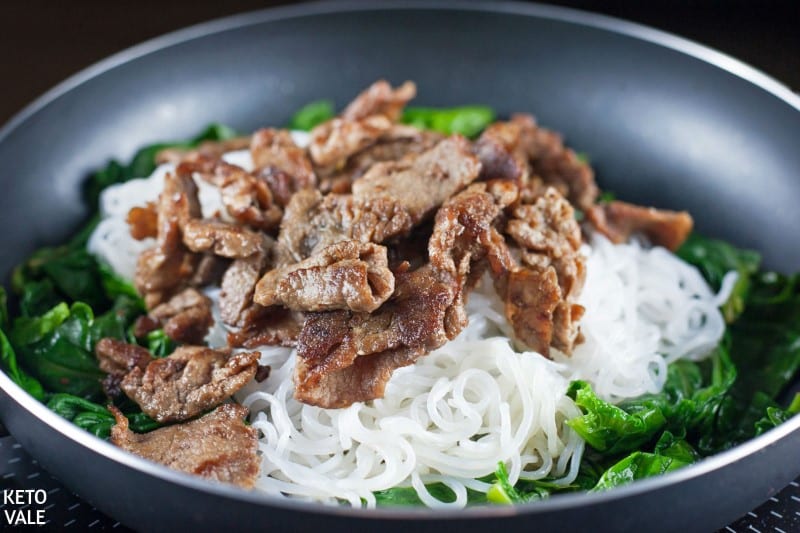 Top with chili and chopped scallions before serving.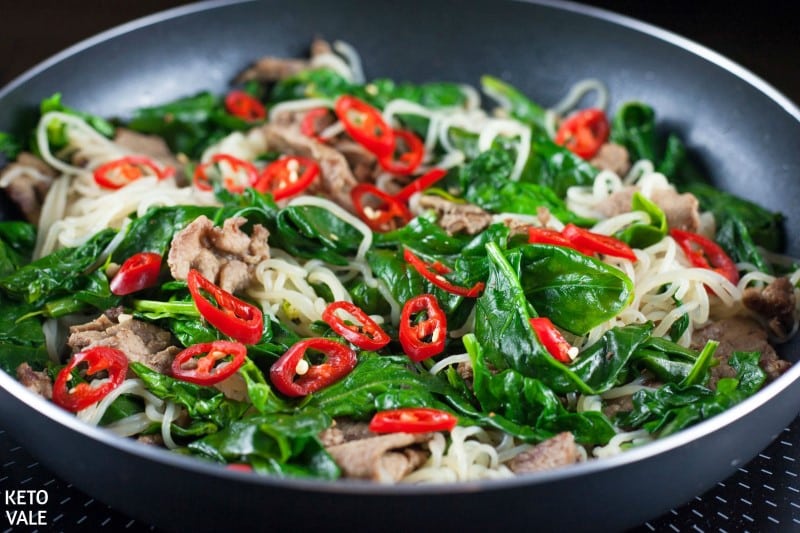 Other recipes you can try:
Save this recipe by pinning this picture to your Pinterest board for later use!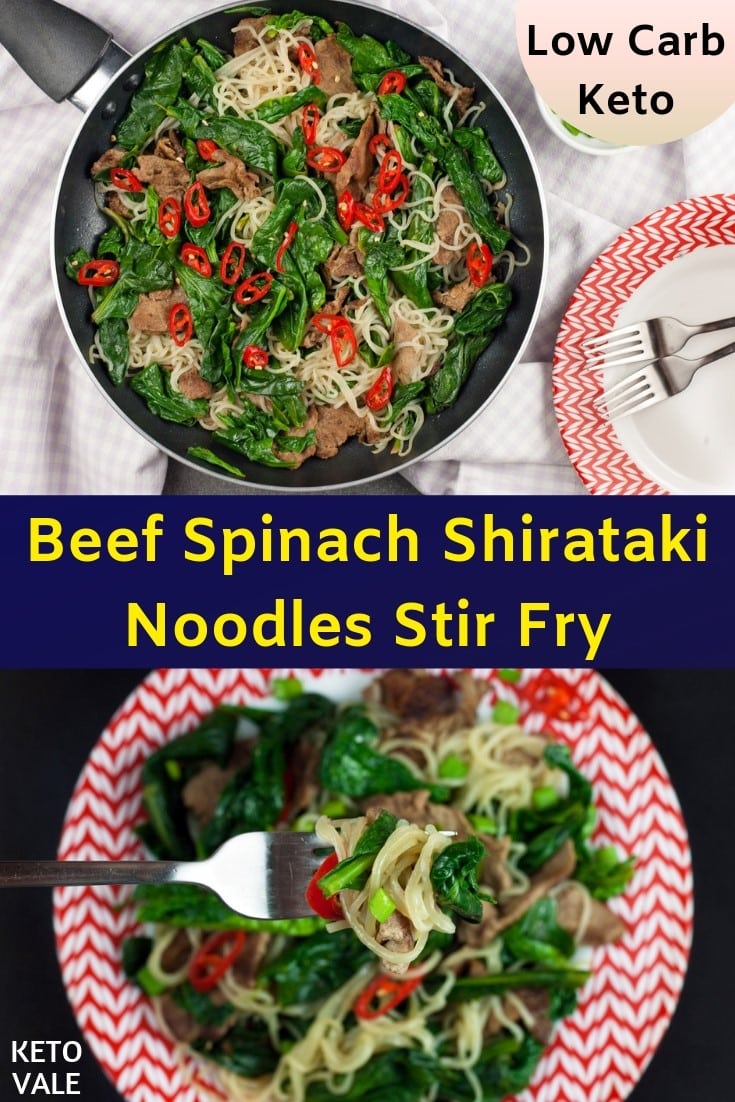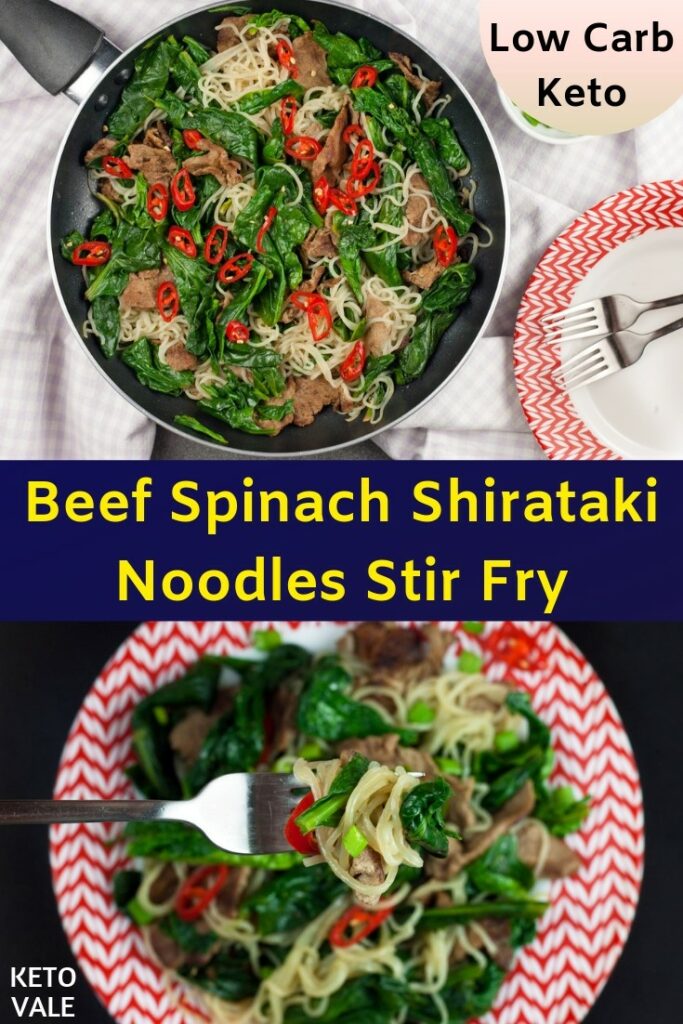 Keto Beef Spinach and Shirataki Noodles Stir Fry
Easy, low carb and keto-friendly, this Beef Spinach Noodles Stir Fry will please your family.
Instructions
Cut the meat into lean slices and set aside.

Whip the coconut aminos and beef broth with the garlic clove, red pepper flakes, and a tbsp of sesame oil. When mixed enough, take out a quarter of the mixture and place it in a separate bowl. Throw in the beef slices on the bigger bowl and leave to marinate for about 10 minutes.

Prepare the shirataki noodles as instructed in its packaging.

In a medium pan, pour 1 tbsp of the sesame oil and heat over medium-high heat. Gently toss in the beef bites and leave to fry for 2 to 3 minutes or until the meat turns lightly brown. Transfer to a plate.

Toss in the spinach to the pan and pour the reserved 1/4 beef broth mixture on top of it. Let the spinach cook for 2 to 3 minutes or wait till the leaves wilt. Place the beef slices onto the pan again. Stir continuously with the noodles and some salt to taste.

Garnish with sliced scallions and chili for more flavor. Serve and enjoy.
Nutrition/Macros
Nutrition Facts
Keto Beef Spinach and Shirataki Noodles Stir Fry
Amount Per Serving
Calories 348
Calories from Fat 180
% Daily Value*
Fat 20g31%
Cholesterol 68mg23%
Sodium 493mg21%
Potassium 930mg27%
Carbohydrates 10g3%
Protein 30g60%
Vitamin A 8240IU165%
Vitamin C 42.8mg52%
Calcium 117mg12%
Iron 4.3mg24%
* Percent Daily Values are based on a 2000 calorie diet.
Pin To Save This Recipe