Today we will show you how to prepare a delicious low carb, slow cooker taco soup using ground beef.
Tortilla soup, without a doubt, is one of the most representative dishes of Mexican cuisine. On the keto diet, we cannot eat tortillas because they are made of corn. However, we can substitute it with some delicious cheddar cheese nachos.
We use ground beef as the main meat for this recipe, but you can have chicken or your favorite choice of meat.
Since tomatoes have a decent amount of carbs, the amount of tomato and tomato puree in this recipe can be adjusted according to your macros.
The spices in this dish don't just enhance the flavor. They also provide an excellent source of antioxidants and vitamins that combat free radical damage and prevent inflammation.
For example, paprika contains carotenoids, such as capsanthin and capsorubin, that contain anti-tumor, antioxidant, and anticancer effects in the body (1)(2).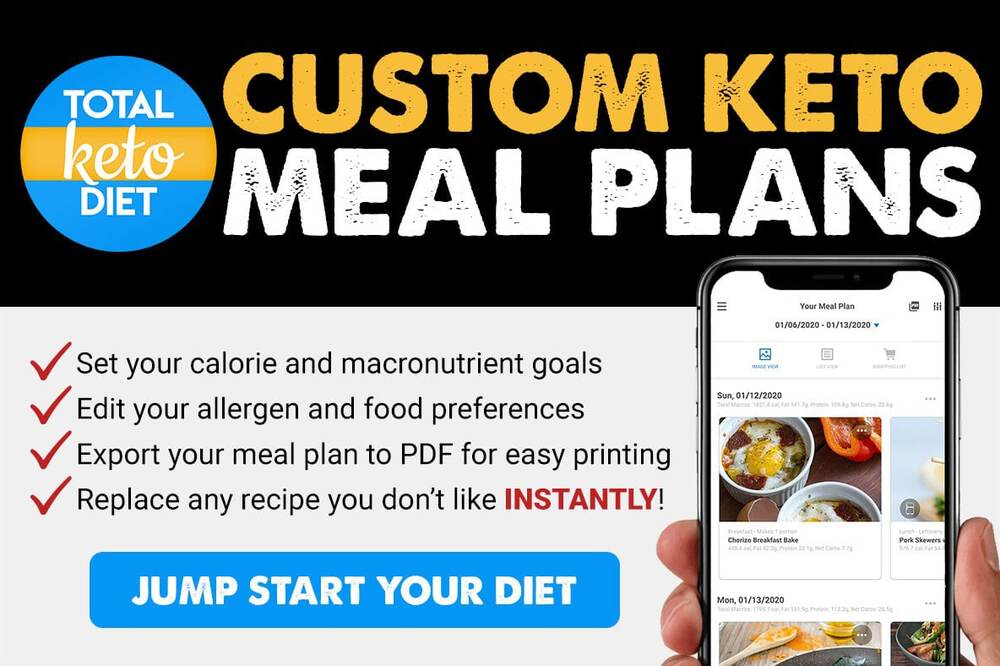 Cumin has bioactive compounds, including phenols, terpenes, and flavonoids, that have been shown to possess antidiabetic, antihypertensive, immune-boosting, antimicrobial, and gastroprotective effects, among many others (3).
Meanwhile, garlic contains allium, which has antitumor and antimicrobial effects to help support immune health (4). It has also been shown to reduce cardiovascular risks.
Beef is an excellent source of protein for this dish. Try this soup, you will not regret it.
Now, we understand that not everyone has a crockpot at home or maybe you don't have four hours to wait for the slow cooker to cook.
Some people just want it quick and easy so here's the good news: You can make this soup using a saucepan and it should take you less than 30 minutes to make, which is perfect for a quick weeknight dinner.
Here's a quicker taco soup recipe for you to try:
30 Minute One Pot Taco Soup
Step 1: In a medium saucepan, add one tablespoon of olive oil and fry the onion and garlic until the onion is transparent. Add the ground meat and gently stir for five minutes until cooked. Add the chopped tomatoes, tomato puree, all the spices, and chicken broth. You can use homemade taco seasoning for this, too. Boil for about five minutes then let it simmer for 10 minutes.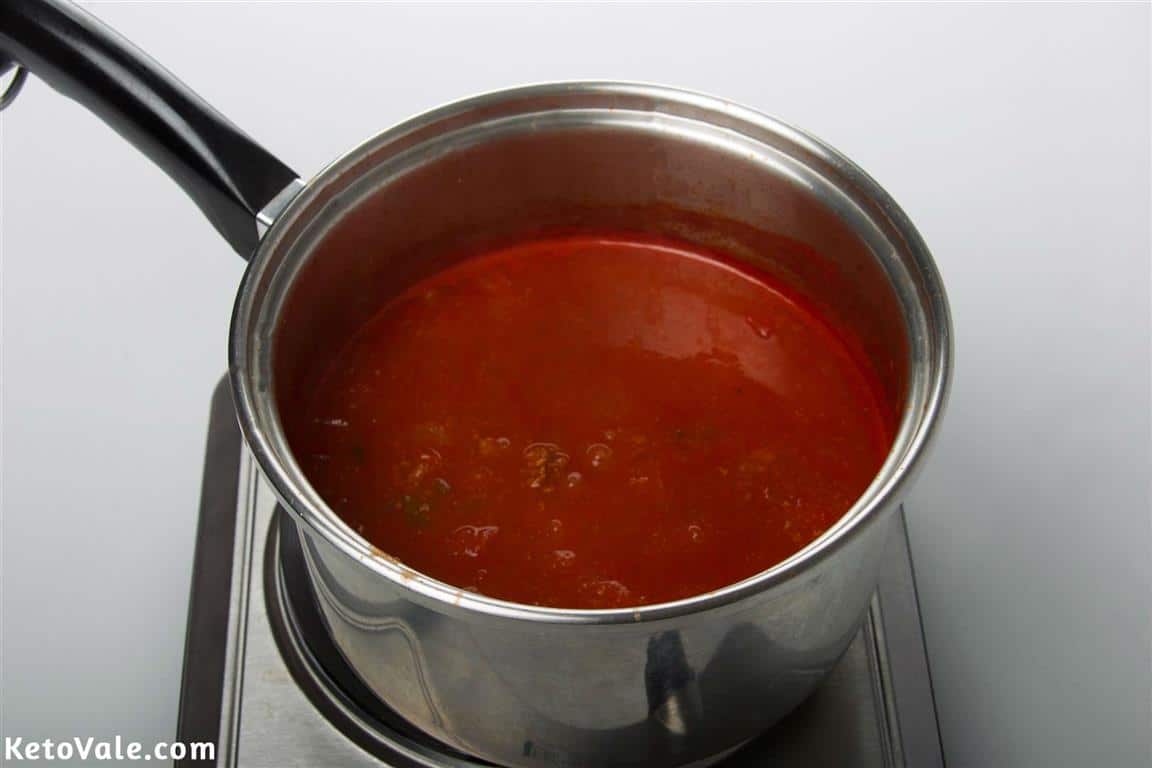 Step 2: Finally, add the cream cheese and cheddar cheese. Once they're dissolved, remove from heat. Serve with coriander and cheddar crisps.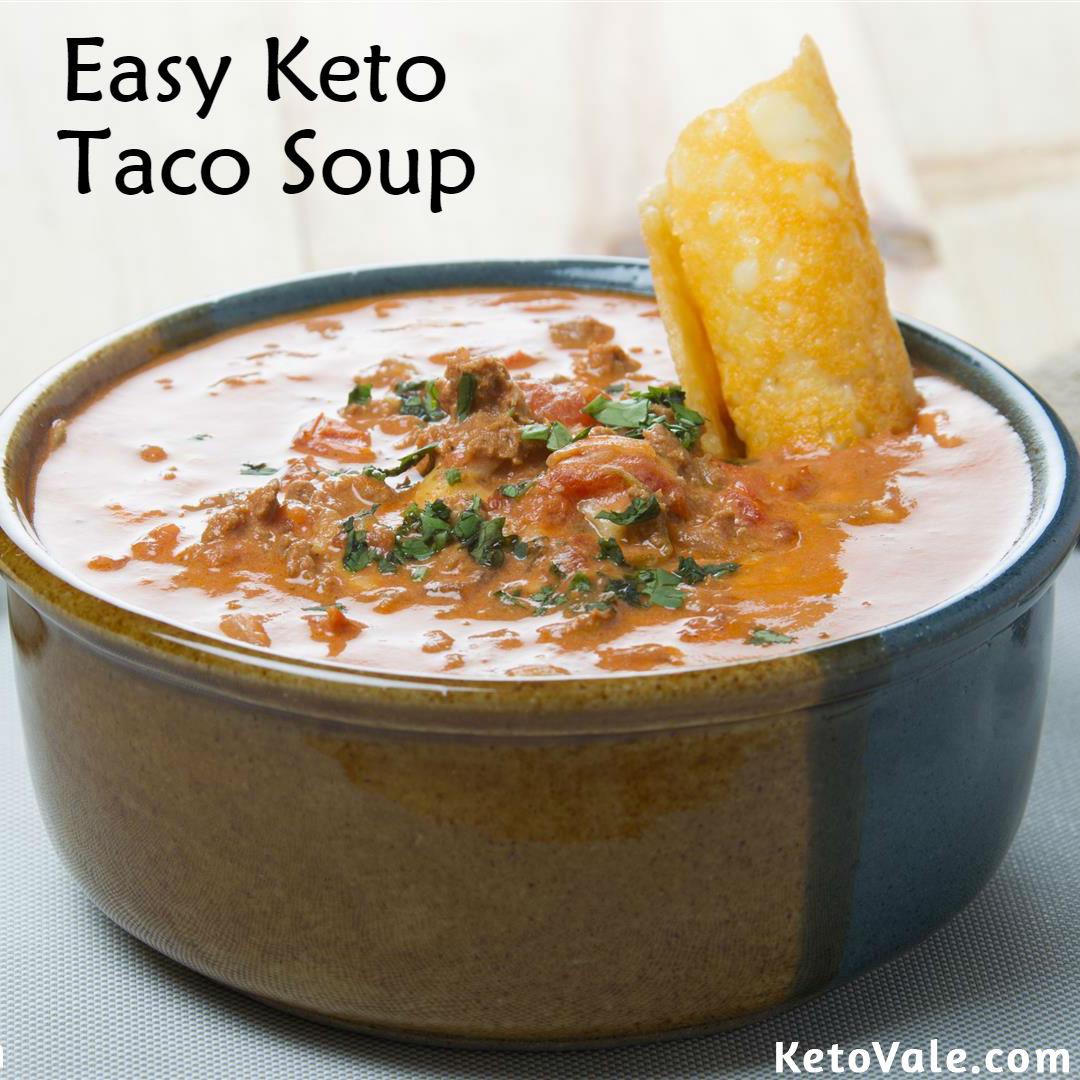 Note: The easiest way to make cheddar cheese crisps is by baking cheddar cheese on parchment paper in the oven for 10-15 minutes until you see a golden brown color around the edge.
Save this recipe by pinning this picture to your Pinterest board for later use!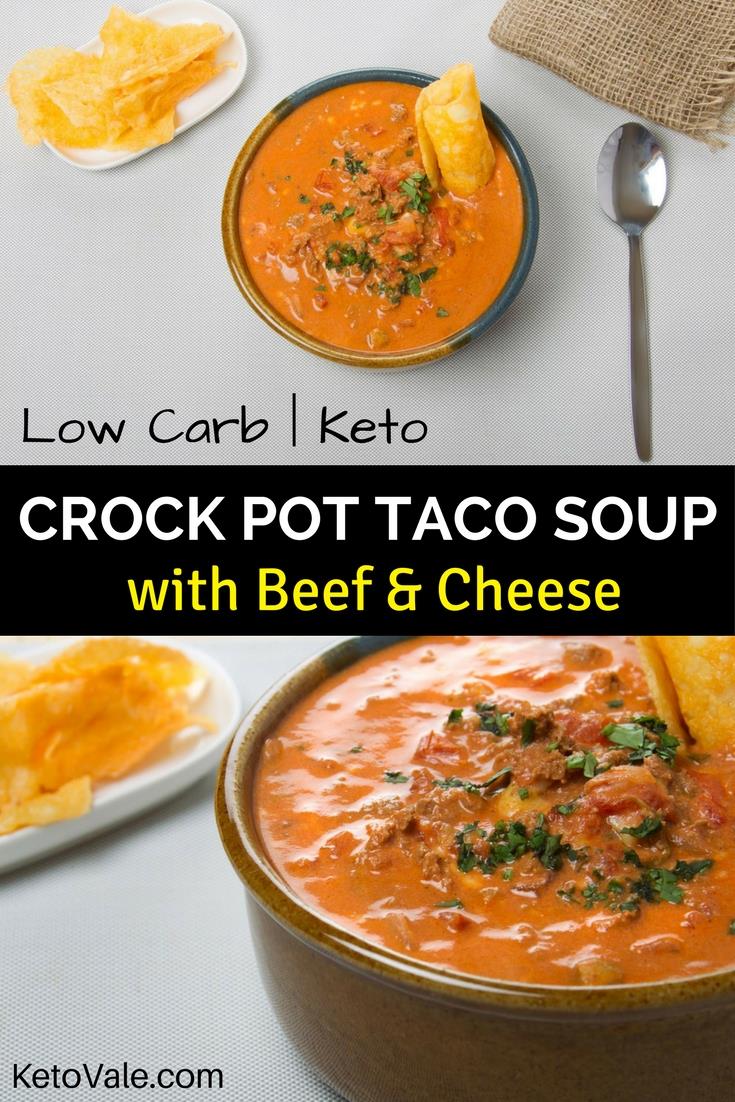 Related:
Easy Keto Crock Pot Taco Soup with Beef
An easy, low-carb Mexican taco soup recipe using ground beef.
Ingredients
Garnish
2

tbsp

coriander

finely chopped

2

slices

cheddar cheese

(optional)
Instructions
Pan sear the ground beef in a hot pan with olive oil, onion, and minced garlic. Wait until the meat is cooked completely.

Move the meat to a crock pot. Toss in the chopped tomato and herbs (pepper, cumin powder, and paprika) or taco seasoning. Pour the tomato pureé and chicken broth into the pot. Salt to taste.

Set the crock pot to low and cook for four hours or set for two hours on high.

To create a thicker soup, stir in the cheddar cheese and cream cheese in the soup 30 minutes before serving. Cook for an additional 30 minutes before transferring to a serving bowl.

Garnish the soup with some coriander on top. Serve with two slices of toasted cheddar cheese. Best enjoyed hot.
Nutrition/Macros
Nutrition Facts
Easy Keto Crock Pot Taco Soup with Beef
Amount Per Serving
Calories 676
Calories from Fat 495
% Daily Value*
Fat 55g85%
Cholesterol 179mg60%
Sodium 909mg38%
Potassium 797mg23%
Carbohydrates 7g2%
Protein 37g74%
Vitamin A 1296IU26%
Vitamin C 19mg23%
Calcium 294mg29%
Iron 5mg28%
* Percent Daily Values are based on a 2000 calorie diet.
Pin To Save This Recipe