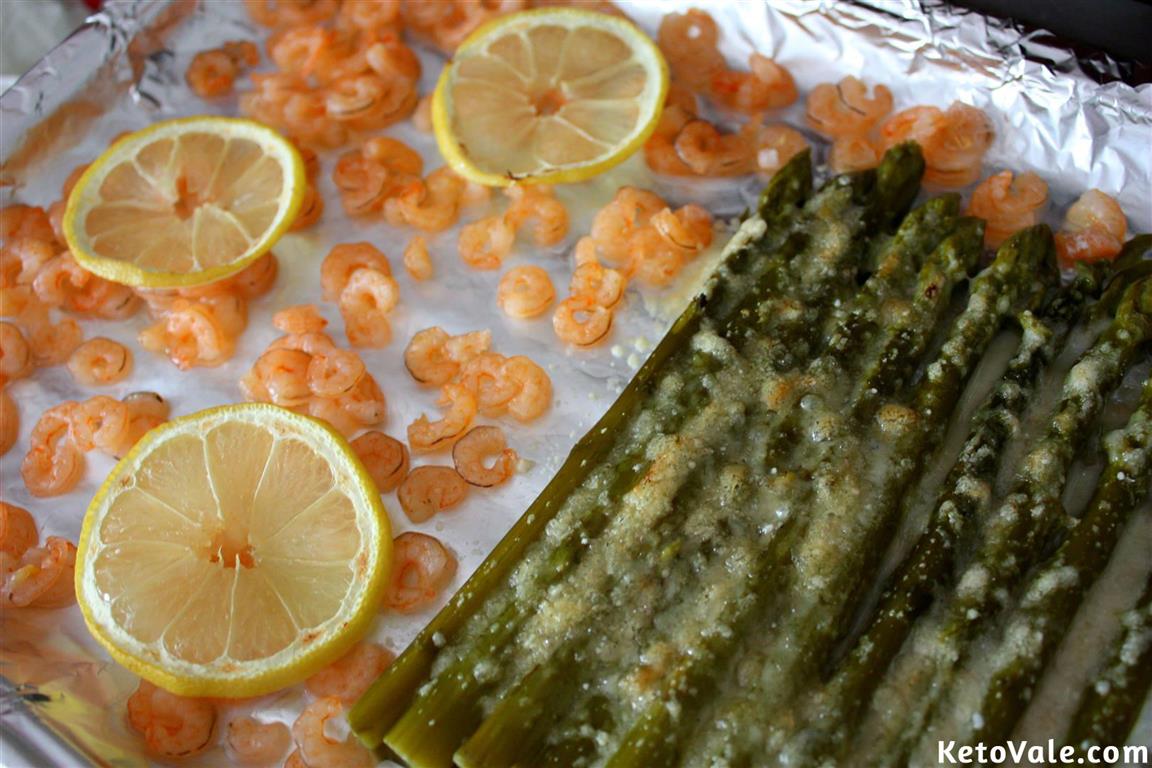 Baked Shrimp with Asparagus and Parmesan
This recipe for baked shrimp with asparagus is extremely easy and quick to make and contains a very small amount of net carbs (only 2.62 g) in addition to containing two very healthy ingredients. Shrimp is an excellent source of selenium and vitamin B12, as well as of Omega-3 fats. Asparagus, on the other hand, contains a high amount of vitamin K, folate and copper.
Receive Our Free 7-Day Keto Meal Plans + Weekly Recipes
Related: Broccoli and Shrimp Sautéed in Butter
Baked Shrimp with Asparagus
Ingredients
250

g

shrimp

cleaned

100

g

asparagus

fresh or canned

2-3

slices

lemon

optional

1

tsp

lemon juice

2

tbsp

butter

melted

3

tbsp

parmesan

grated

salt to taste
Instructions
Let the oven preheat at 200°C.

Arrange the asparagus and shrimp in an adapted container. Lay some slices of lemon on top if desired. Leave in the oven for 10 minutes to bake.

Check if the shrimp has turned pink and opaque. If so, drizzle the melted butter on top of the shrimp and sprinkle the grated parmesan on the asparagus.

Rebake for 5 more minutes. Wait till the cheese has melted.

Transfer the shrimp and asparagus on a plate and enjoy.
Notes
Macros (per serving): Calories: 278 kcal – Fat: 15.88 g – Net carbs: 2.62 g (total carbs: 3.62 g, dietary fiber: 1 g) – Protein: 29.5 g You can use fresh or canned asparagus, depending on the season. Canned asparagus does not need to cook for a long time, so you can add it just before putting the parmesan and the butter. You can substitute the parmesan for another type of hard cheese, i.e. cheddar. Again, you need to let it melt for approx. 5 minutes. If you'd like to lower the amount of fat in the recipe, you can simply put less butter (or skip it entirely).