With a little bit of creativity, you don't have to eat the same thing every day on keto. There are so many keto-friendly ingredients that you can experiment with to make a keto-friendly dish.
Today we'll show you how to make delicious keto protein bars with coconut, almonds, and collagen protein. Can we all agree that it sounds delicious?
A protein bar is a great low-carb snack to satisfy hunger and recharge, especially when you're busy and always on the go.
The problem with most of the protein bar products on the market is that they contain higher carbs, food additives, and artificial ingredients that won't fit into your keto lifestyle.
The great thing about this protein bar recipe is that you will need very little time to make them.
So why use collagen protein?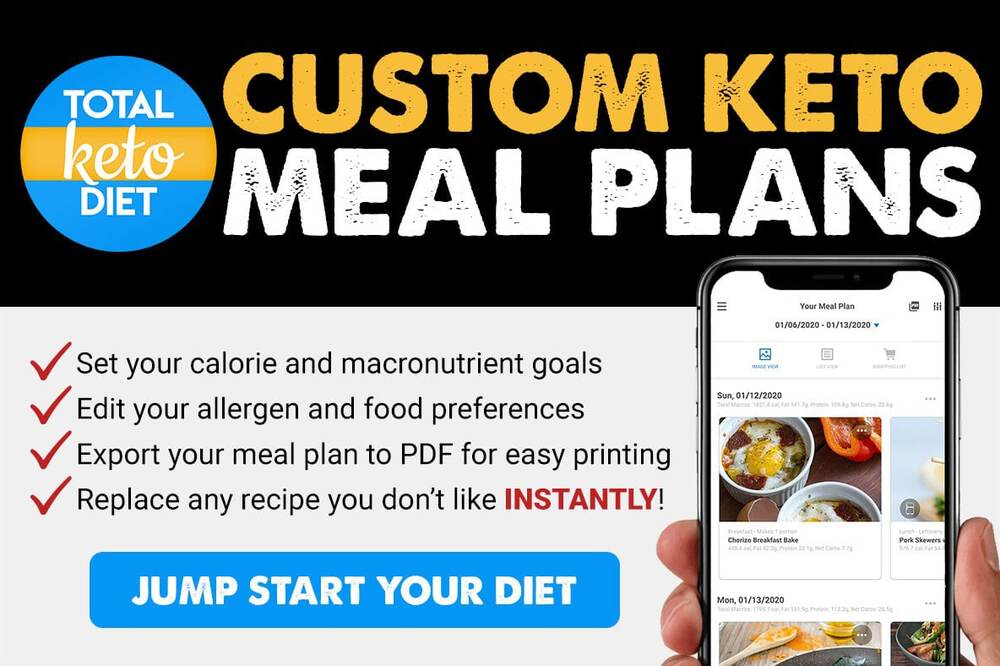 Collagen is the most abundant type of protein and your body needs it to build and strengthen joints, cartilage, tendons, skin, hair, and nails, as well as many other organs.
The problem is that most people don't get enough of this type of protein in their diets.
We published an article about the 10 Reasons Why You Should Add More Collagen to Your Diet Daily. Please check it to learn more about this amazing ingredient!
When it comes to choosing collagen for the keto diet specifically, Perfect Keto's Collagen is our number one choice as it is a completely clean and premium quality product that also has MCTs, which helps increase your ketone production.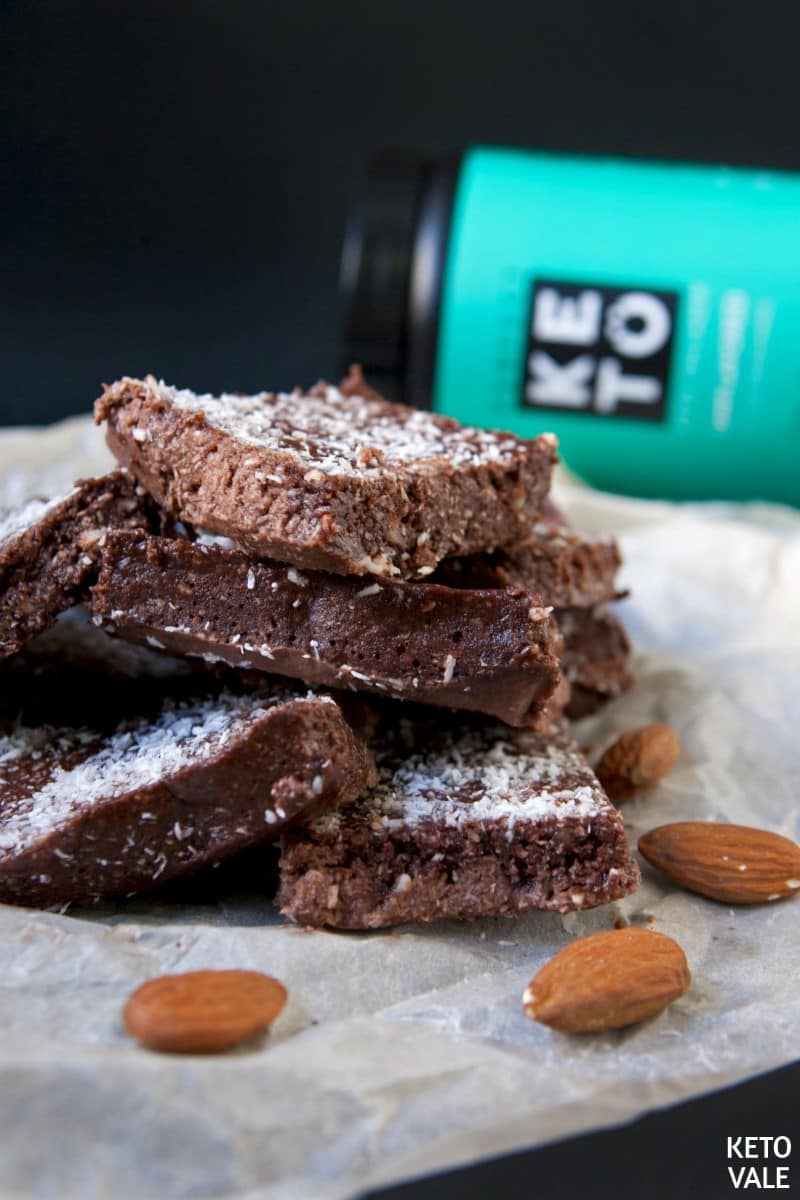 These protein bars only require a few simple ingredients and easy instructions to make. They are suitable for people who are engaged in physical activities in order to make up the proteins and fats after or during the training.
In this recipe, only nutritious ingredients are combined, such as keto protein powder, coconut and almond, as well as crushed nuts for a crunchy taste. You can also add other nuts such as macadamia or pecans, according to your taste.
Coconut oil has many proven health benefits and deserves to have a permanent spot in your low-carb pantry. It contains healthy fats called medium chain fatty acids, which have been shown to provide relief for gastrointestinal disorders and raise HDL or "good" cholesterol to protect heart health (1)(2).
Coconut oil is also a helpful way to aid weight loss. One study found that using coconut oil as part of a weight-loss diet was more effective at reducing weight than olive oil (3).
It also helps support a healthy immune system due to its antiviral and antibacterial properties, which can help fight off potentially harmful agents in the body (4).
This recipe also calls for cocoa powder, which is a great source of antioxidant flavonoids. Be sure to buy raw cacao powder because it has not been processed or heated to high temperature, which can kill off many of the heat-sensitive antioxidants.
Enjoy these bars in between meals as a snack or make some ahead of time and grab one for breakfast when you're running late!
---
Let's Do It!
Combine all the dry ingredients in a small bowl. We used Perfect Keto's Unflavored Collagen with MCT – it gives a really nice texture and an energy boost from MCTs. You can choose different flavors or use the product that you are currently using.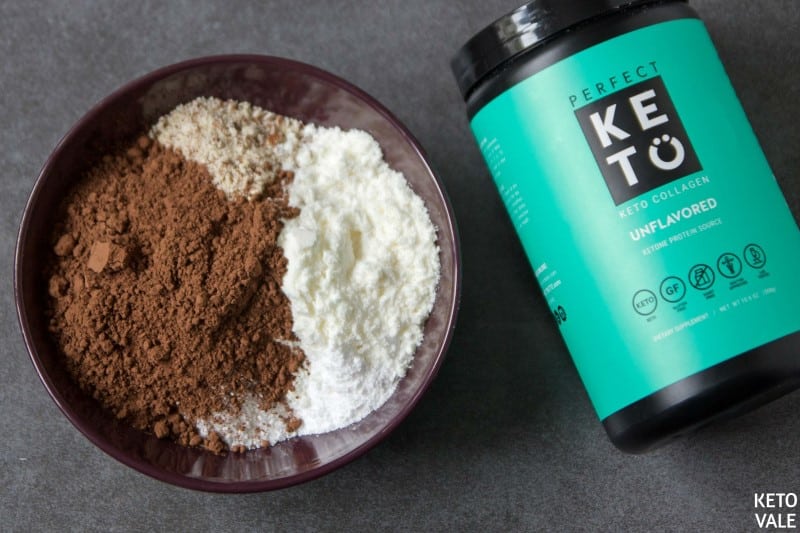 In another bowl, mix melted coconut oil with almond butter.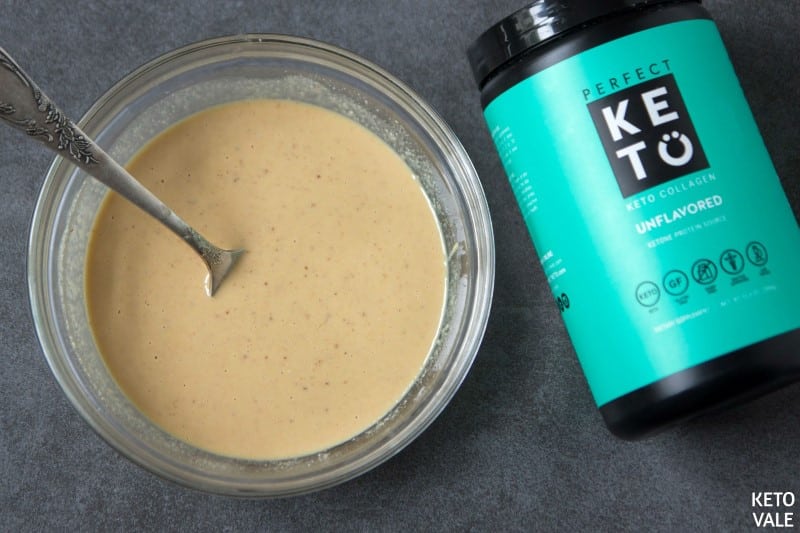 Pour the dry ingredients into the almond-coconut mixture and mix well. Transfer the mixture into a baking tray with parchment paper. Top with shredded coconut. Chill in the fridge overnight.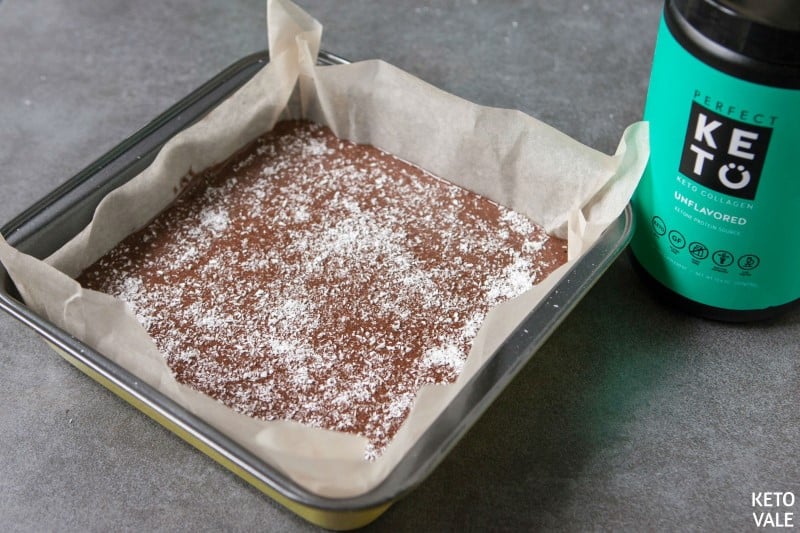 Once done, cut into your desired size bars and enjoy. This should last for a week in the fridge.
Save this recipe by pinning this picture to your Pinterest board for later use!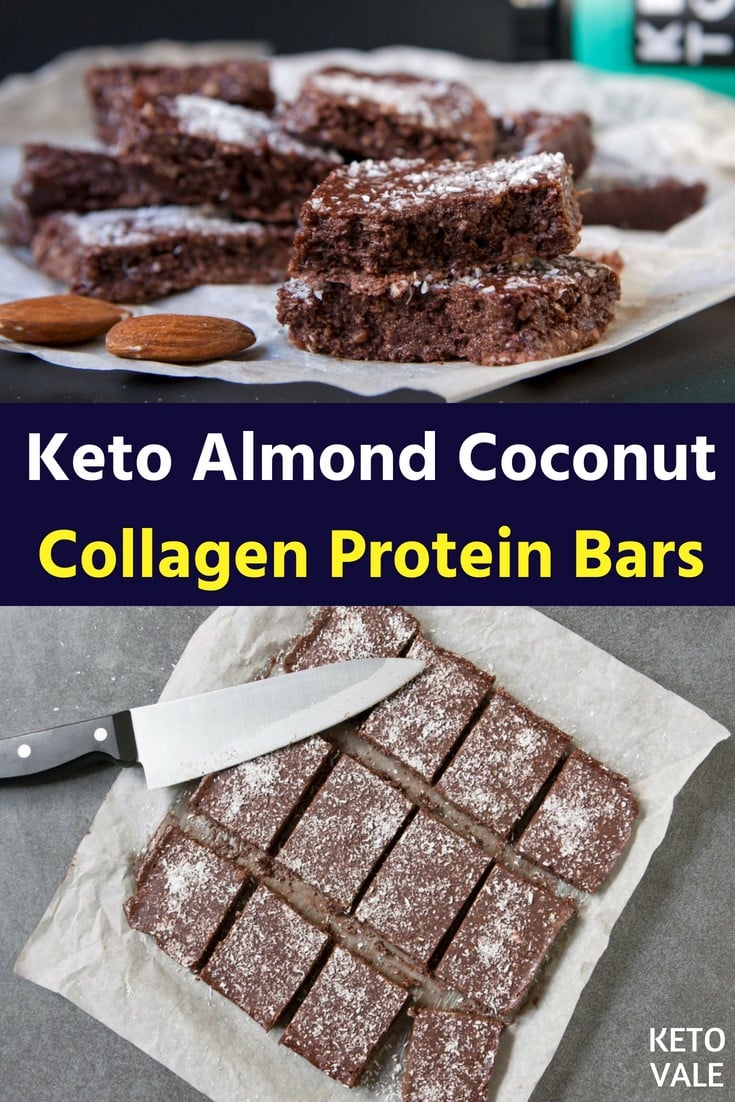 Related:
Keto Almond Coconut Collagen Protein Bars
These collagen protein bars with almond and coconut are the perfect and nutritious low-carb and keto-friendly protein bars for a ketogenic diet.
Instructions
Melt coconut oil and almond butter together. Mix well until combined and allow to cool 3-4 minutes.

In a bowl, combine keto collagen, cocoa powder, crushed almonds, 3/4 cup shredded coconut and erythritol.

Add dry ingredients to the almond butter and coconut oil mixture. Whisk to combine.

Line a baking tray with parchment paper. Pour the mixture and top with the rest of the shredded coconut.

Chill in the fridge overnight (or at least 6 hours). Take out and cut into bars. Pick out a piece and enjoy.
Notes
*If you want to increase the protein, add more protein powder in the recipe.
Nutrition/Macros
Nutrition Facts
Keto Almond Coconut Collagen Protein Bars
Amount Per Serving
Calories 293
Calories from Fat 252
% Daily Value*
Fat 28g43%
Sodium 13mg1%
Potassium 259mg7%
Carbohydrates 8g3%
Protein 7g14%
Vitamin C 0.1mg0%
Calcium 87mg9%
Iron 1.3mg7%
* Percent Daily Values are based on a 2000 calorie diet.
Pin To Save This Recipe