Protein bars might be something that you associate with bodybuilders and meatheads only, but you don't have to be a gym rat to benefit from getting more protein in your diet.
If you find it difficult to get more protein in your diet, then consider supplementing with a protein bar. Before you run out and buy the first one you see, it's important to know what constitutes a good protein bar. If you pick the wrong one, you'll just be indulging in a glorified candy bar.
In this guide, we will give you some tips for choosing the best protein bar. We'll also introduce you to our favorite low-carb, keto-friendly protein bar to best support your ketogenic diet.
In a rush? Check this out!
The #1 Protein Bar for Ketosis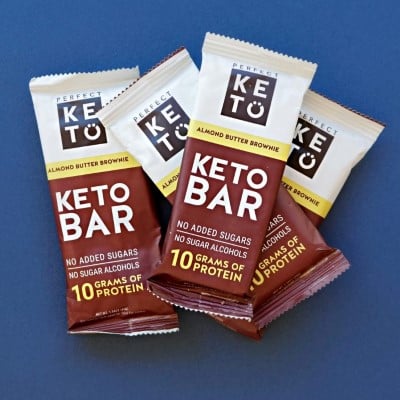 Here's Why This Is Our #1 Choice:
Doctor formulated product
No fillers, chemicals, additives or bad ingredients
Lowest carb content
Tasty and satisfying sweet tooth
Perfect macros for keto dieters
What To Look For When Choosing Protein Bars
Protein has been shown to help you help keep you full, curb cravings, and boost your metabolism by increasing the thermogenic process in your body (1, 2).
It also plays an important role in your mental health by improving your concentration and warding off depression. This is because many neurotransmitters in your brain are made of amino acids (3).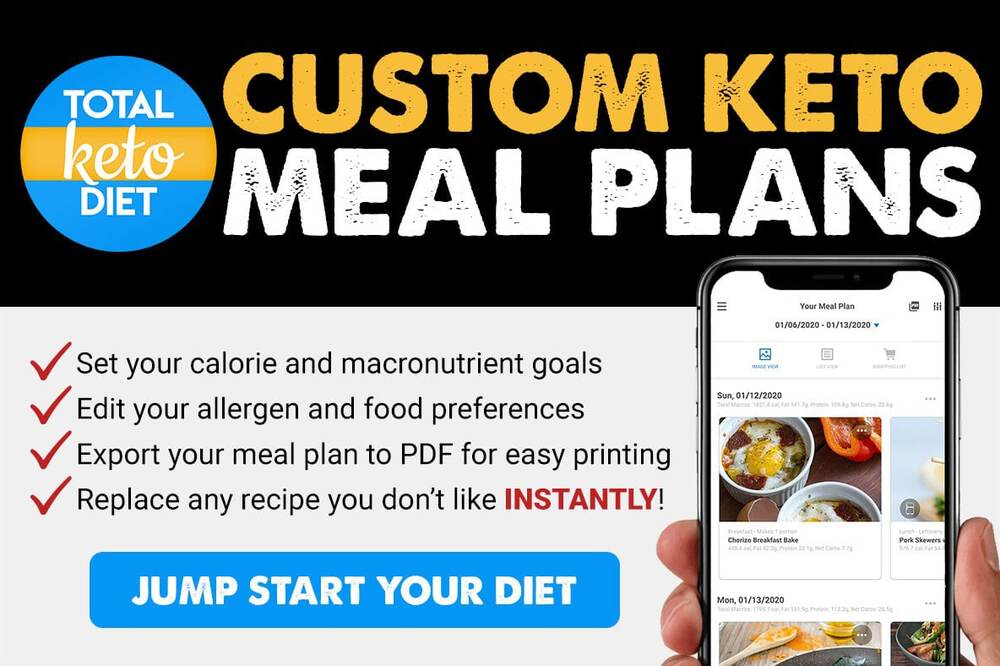 Finally, you need protein to help build lean muscle and help your body repair itself after injury or illness. As you can see, protein is one macronutrient you don't want to become low in (4).
Protein bars are great because of their convenience. They come prepackaged and can be taken just about anywhere. You might not be able to smuggle a T-bone steak into the movie theater the next time you want to enjoy a snack, but no one is going to complain if you open a protein bar.
Additionally, many protein bars are fortified with vitamins and minerals, which can make them a great way to get some added nutrients in.
The problem with most protein bars is that many of them are no different than your favorite candy treat in terms of nutrition. They're highly processed, loaded with copious amounts of sugar or artificial sweeteners, and contain partially hydrogenated oils. Indulging in most commercial protein bars can send your glucose levels soaring and kick you right out of ketosis.
To prevent this from occurring, we're put together a list of tips to help you pick out the best one.
#1. Become a label reader
Before you purchase a protein bar, check the label to make sure it fits your macronutrient needs. Don't just assume that it's healthy just because it's labeled as a protein bar. A good protein bar should only contain a few net carbs, which is the amount of total carbs minus the grams of fiber.
Additionally, if you're on the keto diet, you'll need a bar that contains a good amount of fat, too. Remember that if you want to stay in ketosis, your carbohydrate intake should be limited to five percent of your total daily calories.
You could easily blow it on a protein bar that contains too many carbs and not enough fat, so be sure to check the label.
#2. Focus on ingredients
Most nutritionists will tell you to pay attention to quality over quantity. There's a lot of truth to this. It's more important to worry about eating foods that contain high-quality ingredients as opposed to worrying about how much you're eating. If you're on the ketogenic diet, then you'll want to pay attention to both.
Look for a protein bar that does not contain garbage ingredients or fillers, such as refined sugar, high fructose corn syrup, partially hydrogenated oils, artificial flavors, preservatives, and food dyes or colorings. These ingredients are highly inflammatory and will make you feel worse than you did before you needed a snack.
#3. Stay away from artificial sweeteners
Most commercial artificial sweeteners such as aspartame and sucralose are disastrous for your gastrointestinal system. If you want to have an upset stomach all day long, then treat yourself to a "sugar-free" protein bar that lists an artificial sweetener as one of its first ingredients.
Instead, stick with keto-friendly non-calorie sweeteners such as monk fruit, stevia, and erythritol, which are naturally derived from plant sources and won't give you the tummy troubles like the chemically processed ones do.
For more information on which sweeteners and sugar substitutes are best, check out our article here.
What Are The Best Tasting, Healthy and Sugar-free Protein Bars?
We've done the research and come up with a list of the top best low-carb protein bars out there, starting with our number one pick first.
For strict-keto dieters, try item number 1 and 2 in the list below. Here are our reviews:
#1. Perfect Keto
Our #1 Choice for Ketogenic Diet!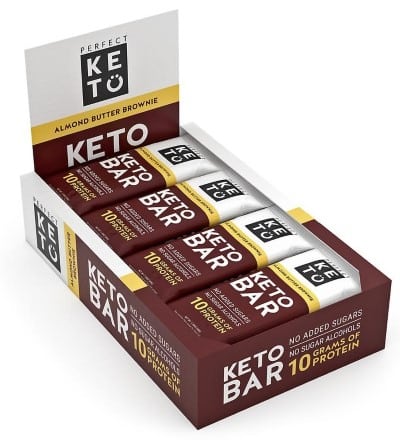 Where to buy: Check Best Price!
You can't go wrong when you buy a Perfect Keto Protein Bar.
After all, it's a protein bar designed by a keto company, so you know it was created with ketosis in mind. It is the lowest carb and the most keto-approved product.
Perfect Keto protein bars contain 19 grams of fat, 10 grams of protein from collagen, and only 3 grams of net carbs.
Notice that the ratio between fat, carbs, and protein is ideally suited for a person on the keto diet. You won't find this in too many bars on the market.
It also includes all natural ingredients with no junk or fillers, such as organic almond butter, collagen protein (learn why that's good for you here), organic coconut oil, and stevia.
It even has soluble tapioca fiber to help maintain a healthy digestive system. Most companies use low-quality binders such as honey, dates, sugar syrups, or corn fiber.
In place of traditional preservatives, Perfect Keto uses sunflower lecithin and natural flavors to help keep your bar shelf stable so you can travel with it safely without worrying about added chemicals.
Here are some pros and cons of this bar.
Pros
Only 3 grams of net carbs
No artificial flavors, preservatives, or junk ingredients
Contains 19 grams of fat and 10 grams of protein (the perfect keto ratio)
Provides a good source of grass-fed collagen protein and MCTs
Contains no gluten, dairy, sugar alcohols, or sugar
Tastes amazing!
5 flavors to choose from (cinnamon roll, chocolate chip cookie dough, almond butter brownie, salted caramel, and lemon poppyseed)
Supports healthy hair, skin, nails and a properly functioning digestive system
Provides you with another keto snack option that isn't a fat bomb!
Won't spike blood sugar
Doctor formulated
Helps curb cravings by satisfying your sweet tooth without provoking an insulin response
Fully supports the ketogenic diet
Cons
Little bit pricey compared to others
Quick note: If you're on a strict keto diet, Perfect Keto is our #1 choice. It's the only product in the market that meets all the strict keto requirements that we've found so far. Other low carb brands usually have a few ingredients that aren't keto-friendly.
Where to Buy: Get Special Price Here!
---
#2. Keto Bars
Keto Bars claims they have the best keto bars. Period. With a name like Keto Bars, we'd like to believe them. Here are the 3 current flavors they offer:
Choice #1: Dark Chocolate Coconut Almond Keto Bars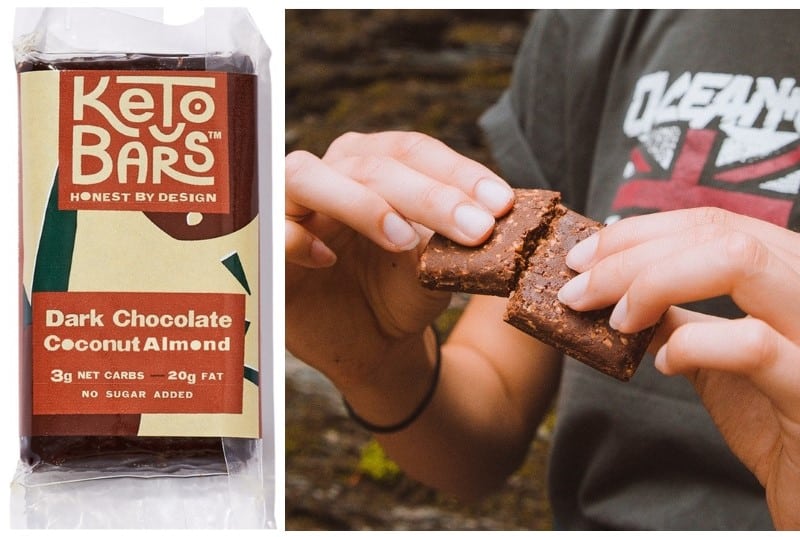 You can't beat the clean ingredients in this dark chocolate coconut almond keto bar, which includes chocolate, almonds, cocoa processed with alkali, erythritol, water, coconut oil, salt, and stevia.
Unlike most bars, these keto bars are made with unsweetened chocolate to keep the sugar and carb content low. It also uses coconut oil and water to give this bar a smooth yet dense and filling texture.
The bar is sweetened with two of the most popular non-calorie keto-friendly sweeteners, erythritol, and stevia. These two sweeteners compliment each other to enhance the flavor of the bar without being overwhelming.
One bar contains 227 calories, 12 grams of fat, 3 grams of net carbs, 7 grams of fiber, and 6 grams of protein. It has the texture of your favorite fat bomb or a no-bake energy bar, but without the carbs and sugar.
Pros
Contains 3 grams of net carbs only
227 calories to help keep you full in between meals
No sugar alcohols, which can be harsh on your gut
Easily digestible
Provides 12 grams of high-quality fat in the form of cocoa, almonds, coconuts and coconut oil
Sweetened only with the popular keto sweeteners, erythritol, and stevia
Dense, rich and filling flavor
Contains all keto-friendly ingredients and no fillers
The bar is vegan, gluten-free, sugar-free and plant-based
Can be used as a snack to curb hunger or as a dessert bar
Portable and can travel or be stored anywhere
No preservatives
Cons
Short shelf life- because there are no preservatives in this bar (that's a good thing!), they won't last for months like other bars – but you don't want them to last long anyway since they are so good!
Where to Buy: Get Special Price Here!
---
Choice #2: Chocolate Peanut Butter Keto Bars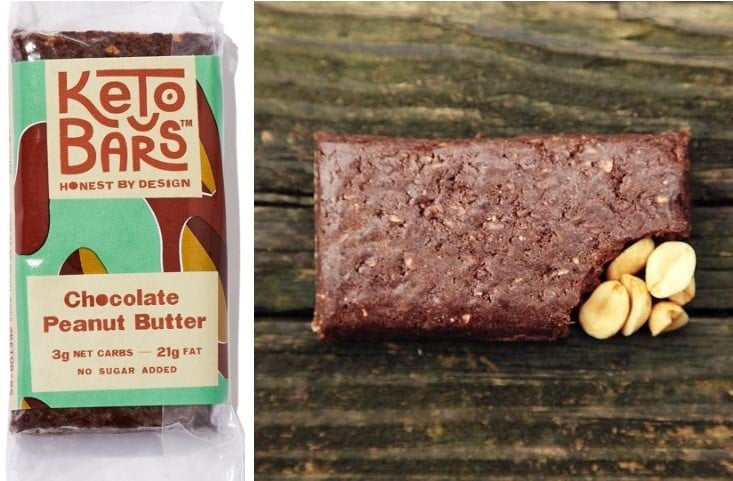 Most people would agree that there is no better food combination than chocolate and peanut butter, but it's hard to turn these ingredients into a tasty ketogenic-friendly bar.
Most chocolate and peanut butter bars contain some kind of sugary sweetener. Keto Bars uses erythritol and stevia to sweeten its bars, which are no-calorie sweeteners that are naturally derived from plants. The only other ingredients you'll find in this far are peanut butter, chocolate, coconut, water, and salt.
One bar contains 250 calories, 21 grams of fat, 13 grams of carbohydrates, 3 grams of net carbs, 6 grams of fiber, and 8 grams of protein.
It is higher in fat and calories than other keto bars, which means that it can help keep you fuller for longer periods between meals.
It's an excellent choice if you have a sweet tooth to crave and want a decadent treat without the carbs.
Pros
Contains 250 calories, 21 grams of fat, and 3 grams of net carbs per bar
Easy to travel with and stick in your purse, gym bag, or desk
Satisfies you were craving for chocolate and peanut butter minus the carbs
Makes an excellent substitute for desserts
Can be eaten in between meals for instant energy
Should not cause digestive issues
Great taste
No preservatives or additives
Gluten-free, sugar-free, and vegan
Contains more fat than most keto bars to help keep you full
Cons
It's made with peanut butter which some people might not appreciate it on a strict keto diet. Other nuts such as Macadamia, Brazil, pecans, or almonds are better suited for the ketogenic diet.
Where to Buy: Get Special Price Here!
---
Choice #3: Mint Chocolate Keto Bars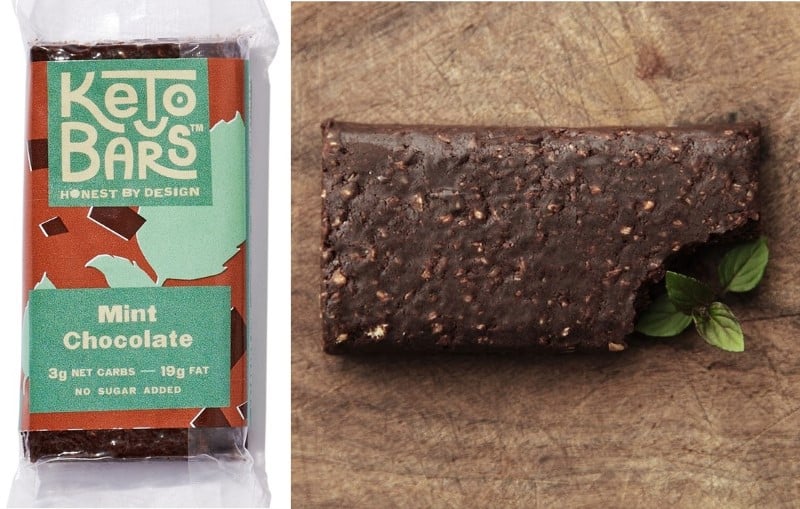 These mint chocolate keto bars contain real peppermint oil, which gives it an incredibly delicious taste with nothing fake added to it.
Along with making your bar tastes great, peppermint oil is beneficial for digestive health. Research shows that peppermint can help ease a troubled tummy and soothe nausea.
Ingredients include unsweetened chocolate, almonds, coconut, erythritol, cocoa processed with alkali, salt, stevia, and peppermint oil.
One bar contains 220 calories, 19 grams of fat, 15 grams of carbs, 3 grams of net carbs, 7 grams of fiber, and 6 grams of protein.
We like that this bar contains 7 grams of fiber as well as peppermint oil to help improve digestion. It also contains no added preservatives or artificial flavors to enhance the taste.
We recommend pairing this bar with a cup of hot mint tea or eating it in between meals to help settle your stomach. It would make a great keto substitute for mint chocolate ice cream if you have a sweet tooth to satisfy.
Pros
Contains real peppermint oil and not a chemical extract
Provides 7 grams of fiber to help aid digestion
One bar contains 19 grams of fat and 3 grams of net carbs only
All ingredients are keto-friendly
Features a rich, dense, and filling taste
Easily portable and travels well
Can be stored in your desk, purse, or gym bag for a quick snack
Supports your ketogenic needs and ketone production
Makes a great substitute for desserts
Cons
We're not sure what kind of coconut is used in this bar as a label only says "coconut." Although this isn't a big deal, it would be nice to know if the coconut used is shredded or in the form of coconut oil.
Where to Buy: Get Special Price Here!
---
The following choices aren't ideal for a strict keto diet, but they are decent for a general low carb diet and other healthy diets.
#3. Quest Protein Bars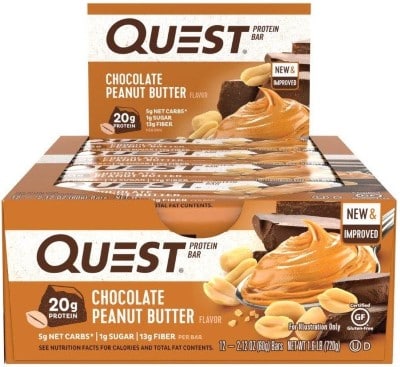 Quest Protein Bars aren't in the same ballpark as Perfect Keto, but if you need something to eat and your only other option is a candy bar, then go ahead and try one.
They contain 10 grams of fat, 20 grams of protein, 4 grams of net carbs, 1 gram of sugar, and 15 grams of fiber per bar.
We like that the bar contains so much fiber because this will help keep you full and prevent you from overeating, but the fat and protein ratio isn't as ideally suited for keto as the Perfect Keto bar. It's more suitable for low carb diets.
Additionally, Quest Protein Bars contain a milk protein blend, peanuts, and soluble corn fiber, which are cheaper ingredients than the Perfect Keto bar.
There are no sugar alcohols, which is nice because you're less likely to have stomach problems after eating it. But we'd like to see higher-quality ingredients such as coconut oil and almond butter in place of peanuts and milk.
Here's what we like and don't like about it.
Pros
Only contains 4 grams of net carbs
Provides 20 grams of protein and 10 grams of fat
Contains no sugar alcohols
Gluten and sugar free
Provides a yummy chocolate and peanut butter flavor to help satisfy your sweet tooth
Cons
Contains peanuts and milk protein isolate which some people might not appreciate on a strict keto plan
Contains soluble corn fiber, which is a good source of fiber but it's another ingredient that isn't keto-friendly
Contains sodium caseinate as a preservative instead of just sea salt
---
#4. Bulletproof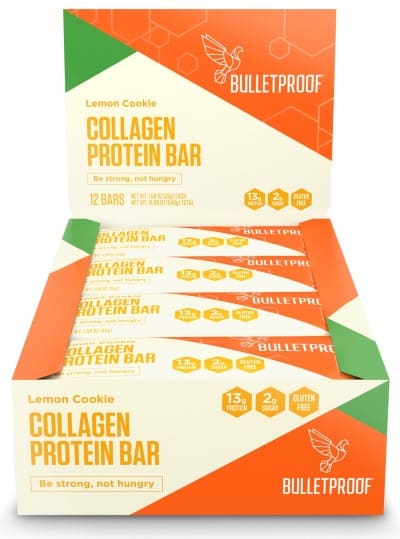 Bulletproof is a well-known company with solid products, so we expect a lot from their protein bars. These bars contain collagen protein from grass-fed cows, which is a popular keto ingredient to help give you healthy looking hair, skin, and nails.
They also contain Bulletproof's signature Brain Octane oil and XCT oil to help keep you sharp and focused without crashing. We also like the use of organic lemon oil in place of sugar and organic cashew butter in place of peanuts.
The downside is that this bar contains higher net carbs compared to other keto-friendly bars. This bar is more for a low carb diet than keto.
One bar contains 210 calories, 14 grams of fat, 8 grams of net carbs, 5 grams of fiber, and 12 grams of protein. Because the net carbs are so high, you may have to do some adjusting with the rest of your diet when it comes to counting your macros for the day.
We also don't like the use of palm oil, which doesn't contain the same nutritional profile as MCT oil. Overall, this isn't a bad bar to enjoy once and a while until Perfect Keto bars become available! Here are some pros and cons.
Here are some pros and cons.
Pros
No sugar or sugar alcohols
Features collagen from grass-fed bars and organic coconut oil
Contains a good source of amino acids to keep you sharp
Features Brain Octane and XCT oils to support ketosis
Gluten-free, non-GMO and contains no dairy
Uses lemon oil in place of sugar and cashew butter instead of peanuts
Cons
Contains 8 grams of net carbs, which is high for a keto bar
Lemon is tasty, but we like the flavor provided by the Perfect Keto bars better because they are better suited to curb your cravings for something decadent!
---
#5. Atlas Protein Bar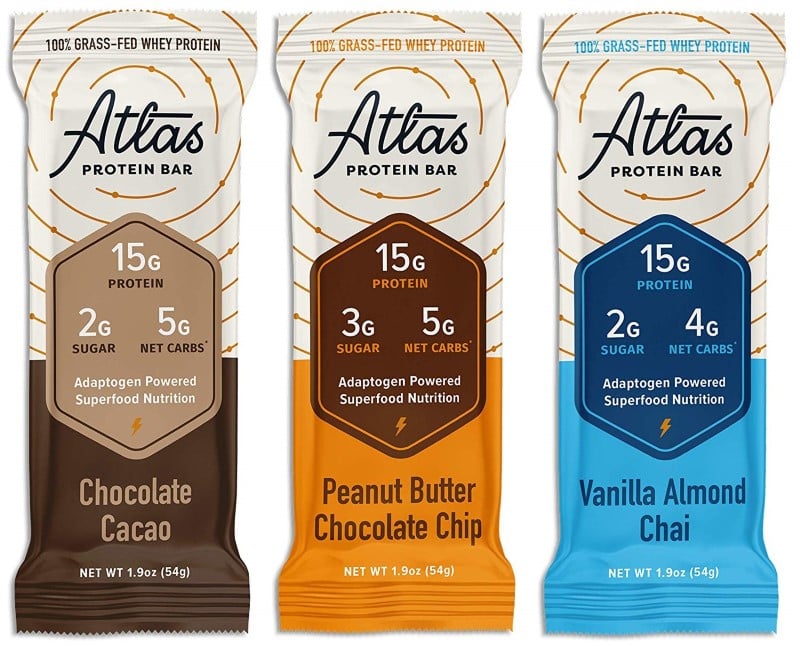 Where to buy: Shop Now!
Atlas protein bars are gluten-free, low-sugar, and keto-friendly. They contain clean ingredients, such as grass-fed whey, and are non-GMO and soy-free.
These bars come in three different flavors: chocolate cacao, vanilla chai, and peanut butter chocolate chip.
The chocolate peanut butter bar contains 200 calories, 11 grams of fat, 22 grams of carbs (3 grams of net carbs), 12 grams of fiber, 3 grams of sugar, 5 grams of vegetable glycerin, and 15 grams of protein. The other two flavors only contain 2 grams of net carbs per bar.
Ingredients in the chocolate peanut butter flavor include peanut butter, 100% grass-fed whey protein concentrate, non-GMO tapioca fiber, vegetable glycerin, water, 85% cacao chocolate chips (contains cane sugar), peanut flour, monk fruit extract, adaptogen superfoods performance blend (ashwagandha extract and maca root powder), sunflower lecithin, natural flavors, and Himalayan pink sea salt.
We like that these bars contain an adaptogen blend featuring ashwagandha and maca root. Adaptogens bind to certain receptors in the body and produce favorable effects. Ashwagandha has been shown to help reduce stress and maca root boosts energy, libido, and endurance.
These bars are sweetened with monk fruit extract and vegetable glycerin, which has the consistency of syrup with a mildly sweet taste. It can be derived from soy, palm or coconut. Because these bars are soy-free, we assume it is derived from palm or coconut.
Pros
Contains a superfood blend that contains ashwagandha and maca root powder
Promotes relaxation and energy
Each bar contains 3 grams of net carbs or fewer
Sweetened with monk fruit
Contains organic and non GMO ingredients
Uses grass-fed whey protein
Cons
Taste and texture aren't as good as other brands
---
#6. Raw Rev Glo Protein Bars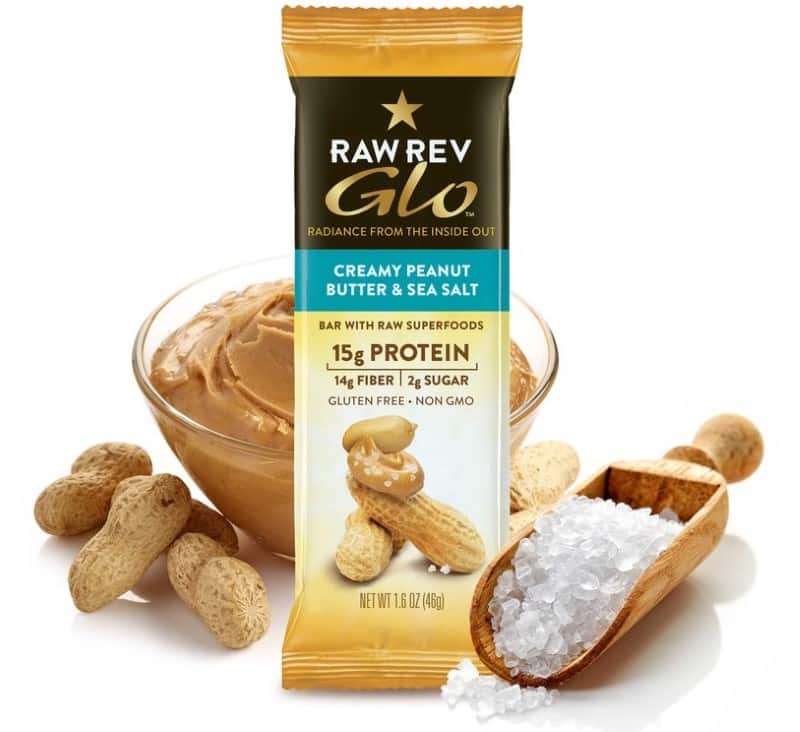 Where to buy: Shop Now!
These protein bars would be a great choice for a vegetarian or vegan keto dieter who wants to keep their net carbs down without overindulging in animal products. They are entirely plant-based and contain 14 grams of fiber per bar to assist with digestive health.
Ingredients include peanuts, pea protein, brown rice protein, raw organic hemp protein, raw organic virgin coconut oil, raw organic chia seeds, raw organic sprouted flaxseeds, isomalto oligosaccharide (a prebiotic fiber from tapioca), and sea salt.
One bar contains 180 calories, 11 grams of fat, 17 grams of carbs (3 grams of net carbs), 14 grams of fiber, and 15 grams of protein. It also contains 15 different vitamins and minerals.
We like that this bar contains raw and organic nuts and seeds, which are high in fiber, healthy fats, minerals and antioxidants. It even contains sprouted flaxseed, which is easier to digest than other nuts and seeds.
However, raw nuts and seeds might be hard to digest for some people. This bar also contains brown rice and other ingredients that are not 100% keto-friendly.
Pros
Features raw, organic sprouted flaxseeds
Makes a great low-carb option for vegan or vegetarian keto dieters
Contains 3 grams of net carbs per bar
Features 14 grams of fiber to assist with digestive health
Offers 15 different vitamins and minerals
Cons
Raw nuts and seeds might be hard to digest
Contains ingredients that are not 100% keto-friendly
---
#7. Heka Good Foods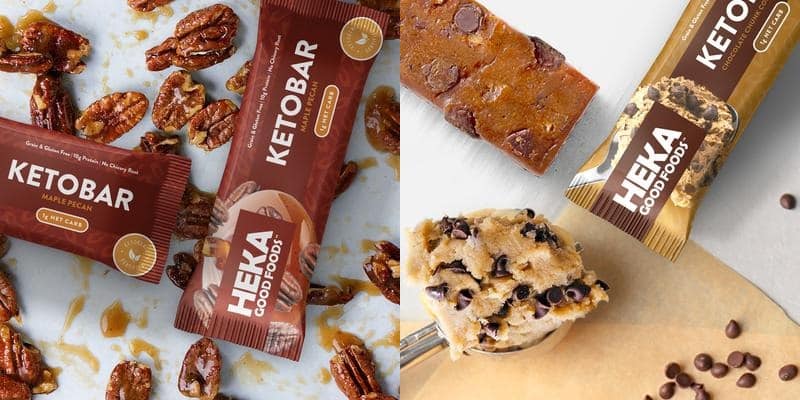 Heka bars are sweetened with allulose, a low-calorie sugar that is present naturally in fruit. These bars are made with real food ingredients such as chocolate, cocoa butter, almonds, peanuts and sea salt.

Current flavors available are blueberry muffin, chocolate chunk, chocolate sea salt, maple pecan, peanut butter, and white chocolate macadamia.
Where to buy: Shop now!
---
Conclusion
Before you write proteins bars off as something only workout fanatics use, consider that protein is necessary to help you lose weight and improve your cognitive performance.
Eating a protein bar in between meals is a great way to curb hunger while doing something good for your body.
Keep in mind that if you're on the ketogenic diet, you have special requirements for a protein bar. It needs to contain a good amount of fat while also being low-carb.
Most commercial protein bars are nothing more than glorified candy bars. They contain added sugars or sugar alcohols, and partially hydrogenated oils.
We found three low-carb proteins bars in this article to help you the next time hunger strikes and your next meal is hours away.
Our top choice for keto is the Perfect Keto Protein Bar, which contains the perfect macronutrient ratio for a keto diet. It's the best tasting and healthiest because it contains all natural, high-quality ingredients with no junk or fillers.
With tasty flavors such as almond butter brownie and salted caramel, you'll curb cravings and fuel up with fat-burning ketones. These bars are a perfect keto snack for you anytime, especially when you travel on the plane.
Up Next: Best Low-Carb and Ketogenic Protein Powders and Shakes