Do you have a craving for some kind of a wrap? These low carb egg wraps with avocado, lettuce and tuna are high in protein, healthy fats and super easy to make. Once you try to make a tuna egg wrap, it will become one of your favorite meals.
Tuna is not only high in protein, but it's also packed with loads of omega-3 fatty acids, selenium, and vitamin D. All of these nutrients are important for good heart health, brain function, and normal growth.
Tuna fish, fresh or canned, can be easily combined with leafy greens, such as lettuce leaves. Be careful when picking out canned tuna as many brands contain lots of sodium and preservatives.
Look for a brand that contains wild-caught tuna as you'll reduce your exposure to chemicals used in many farm-raised practices. Also, look for a brand of canned tuna in water or olive oil instead of canola oil as this is a healthier base.
I recommend using organic, pasture-raised eggs if possible to ensure the most nutrients. Eggs are an excellent source of protein and vitamin D, as long as you eat the yolk.
Vitamin D helps keep your immune system healthy because it regulates the inflammatory response (1). It has also been shown to protect against heart disease (2).
The avocado provides healthy fats, fiber, and potassium, which is necessary to help maintain proper hydration levels due to its electrolyte functions in the body.
The ketogenic diet is naturally diuretic. Therefore, maintaining your electrolyte levels is important and eating avocado is the perfect way to do that!
It might often be hard to come up with healthy and easy to make lunch ideas during a busy work week, but this dish has got your back!
Once you try this tuna and egg wrap, you will be amazed by its delicious and fragrant flavors.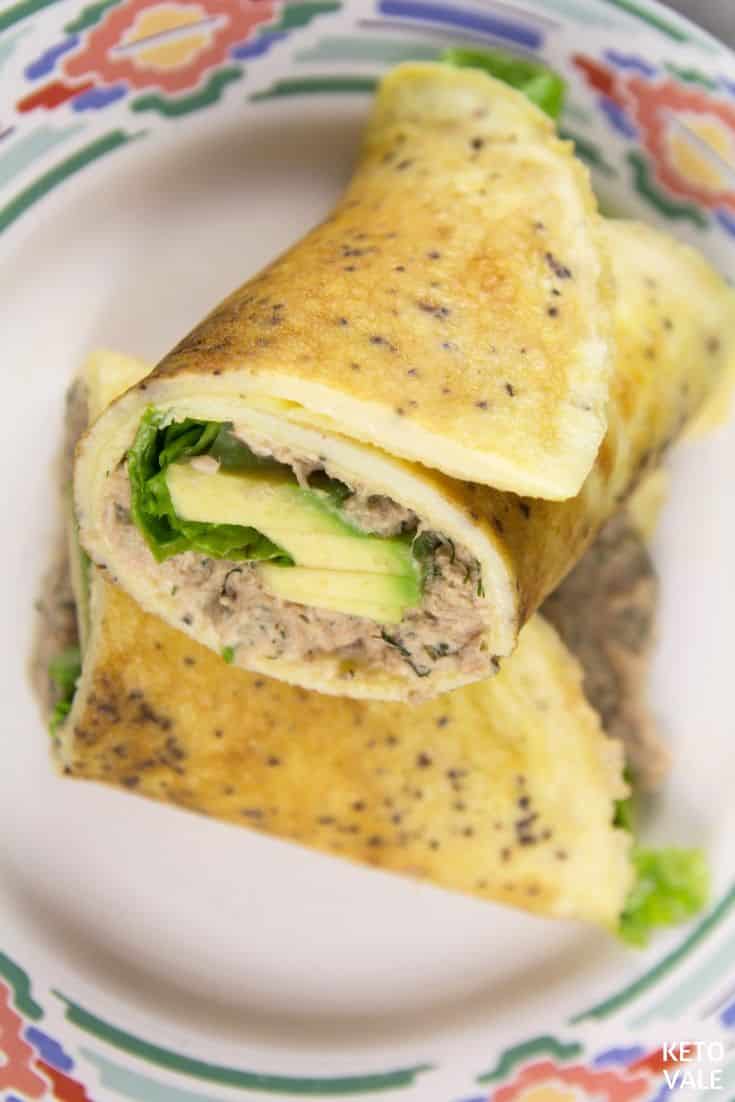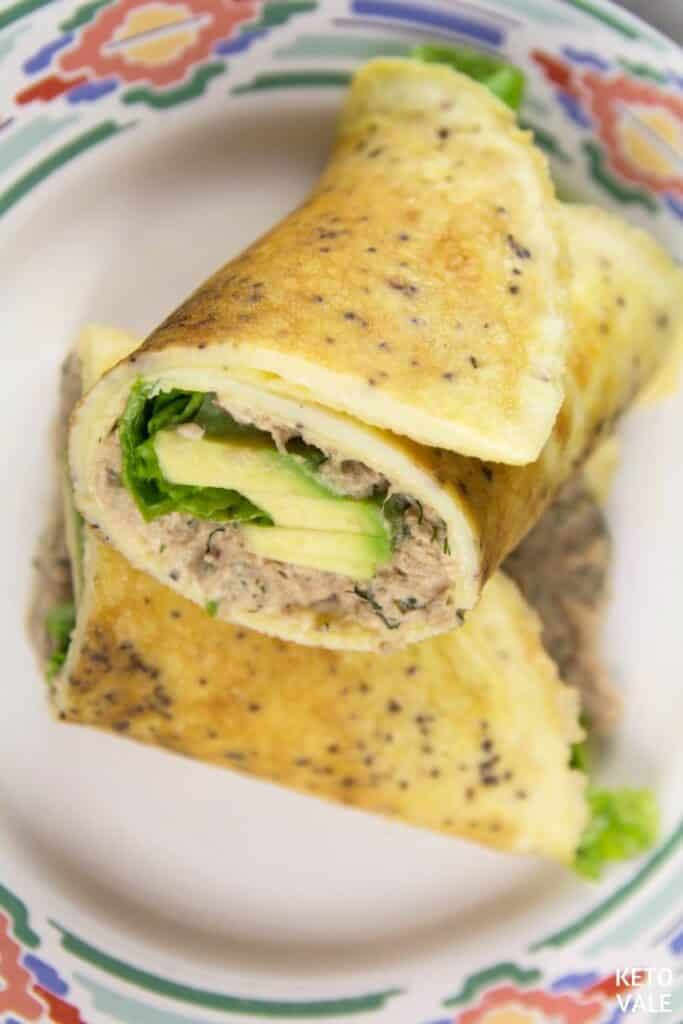 Within only 15 minutes, your lunch will be ready. By the way, this can also be your super breakfast!
---
How to Make Low Carb Tuna Egg Wraps with Avocado and Lettuce
Place the eggs in a blender or food processor. Add in the heavy cream (or cream cheese), then season with salt and pepper and mix until creamy and combined.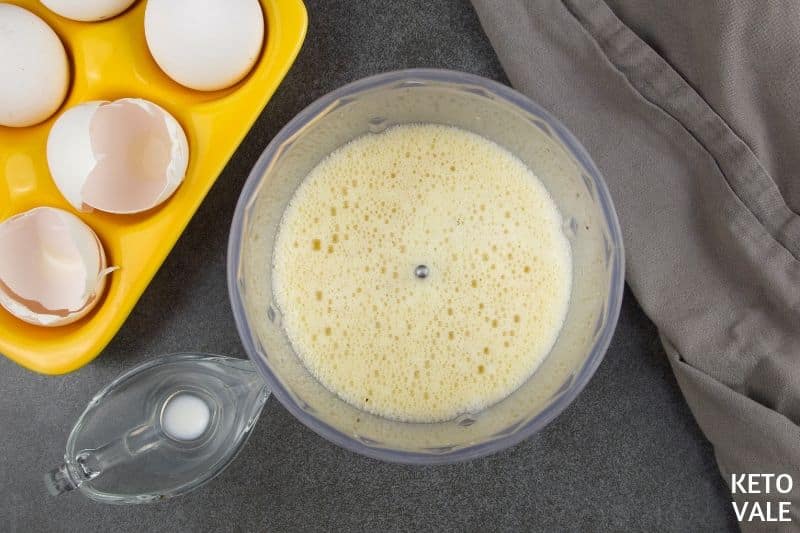 Heat the butter in a skillet and cook the egg mixture until firm and cooked through. Once done, transfer the omelet to a plate and spread with mayo.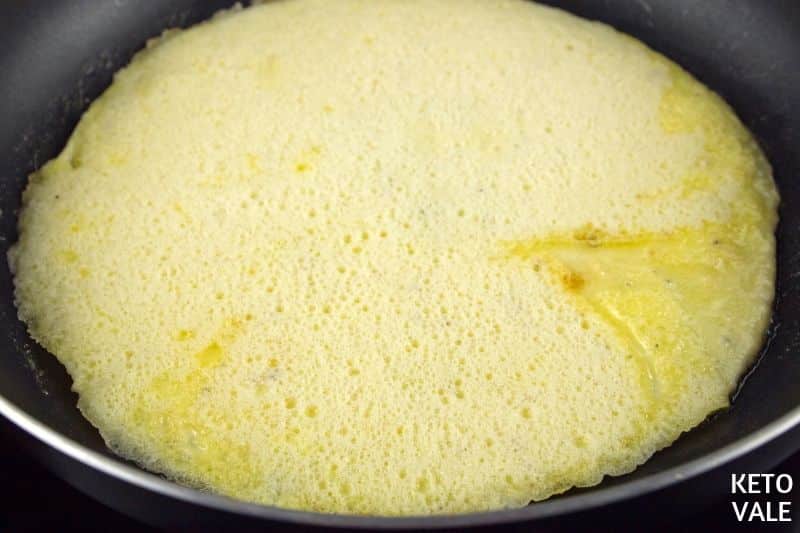 In a bowl, combine tuna, dill, mayo, and lemon juice. Season with a little bit of salt and pepper.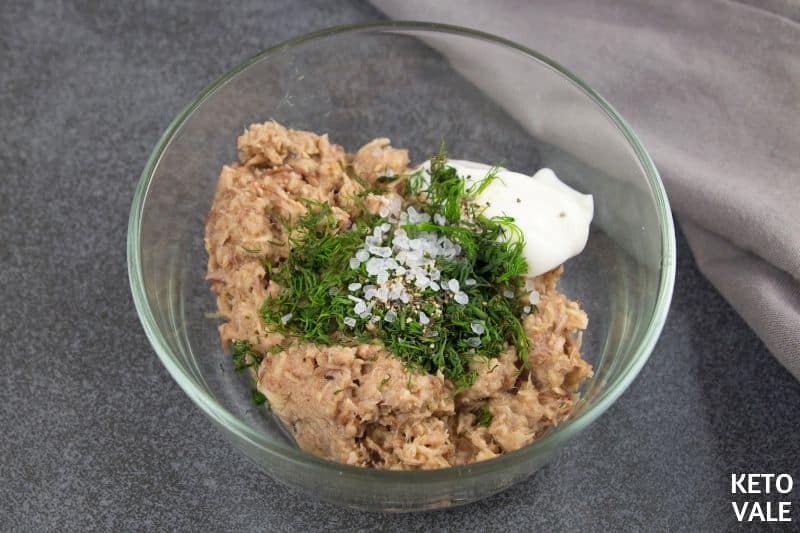 Slice the avocado, too.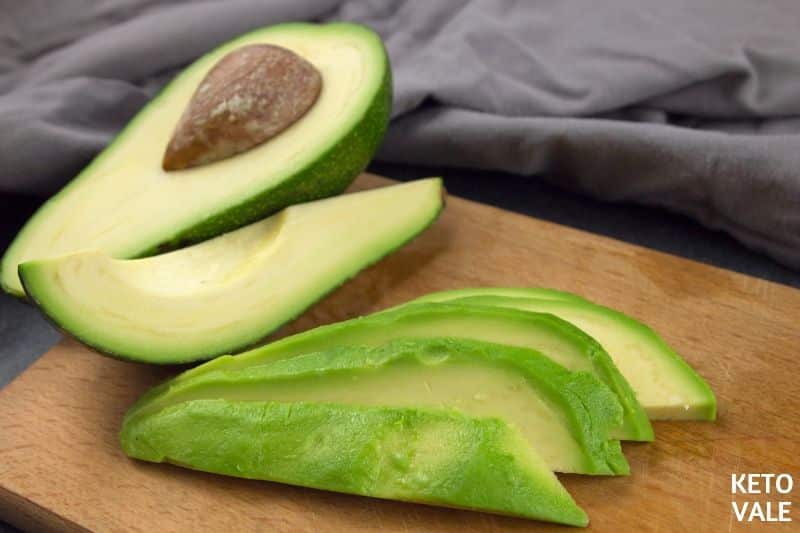 Top tuna mixture on the omelet then add lettuce leaves and avocado slices.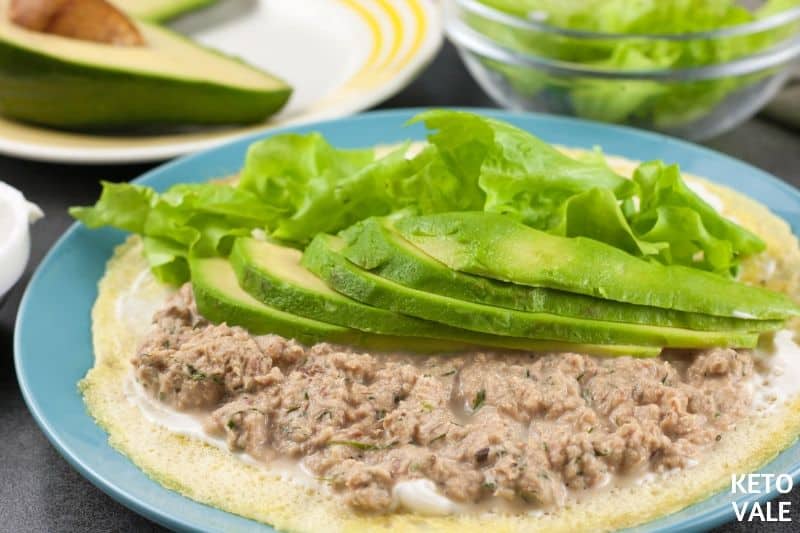 Roll the wrap and cut it in half. Enjoy!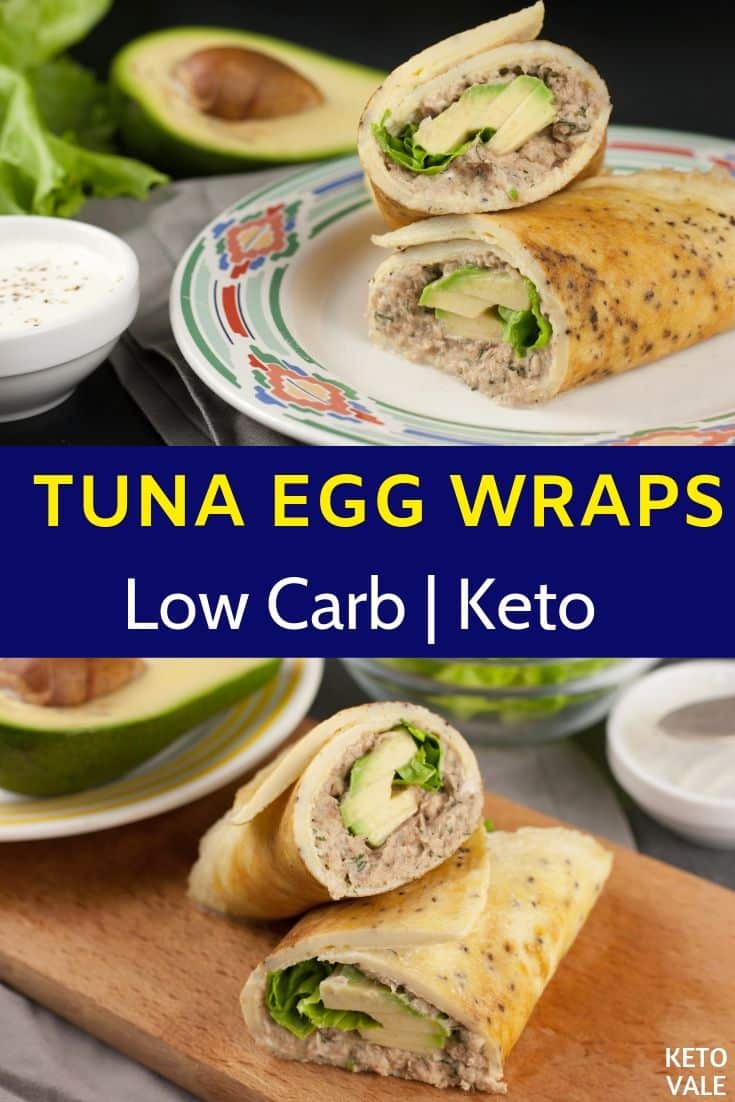 Related:
Keto Egg Wraps with Tuna
This keto-friendly tuna egg wrap is a super filling low-carb meal that is perfect for breakfast or lunch.
Ingredients
2

eggs

1

tbsp

heavy cream

2.8

oz

tuna

canned, drained

¼

avocado

sliced

½

cup

lettuce leaves

2

tbsp

mayonnaise

divided

1

tsp

dill

chopped

1

tsp

lemon juice

sea salt and black pepper to taste

1

tsp

butter
Instructions
Crack the eggs into the blender. Pour in heavy cream and season with salt and pepper. Blend everything together until homogeneous.

Melt a teaspoon of butter in a medium skillet. Gently pour blended eggs into the pan, cover with a lid and cook until firm.

In a bowl, combine tuna, mayonnaise, dill, and lemon juice. Add salt and pepper and mix well.

Transfer the omelet to a plate and spread with mayo. Arrange tuna mixture, avocado slices and lettuce leaves on top.

Roll the omelet to keep the fillings inside. Half each roll and serve while warm with your favorite sauce.
Nutrition/Macros
Nutrition Facts
Keto Egg Wraps with Tuna
Amount Per Serving
Calories 552
Calories from Fat 423
% Daily Value*
Fat 47g72%
Cholesterol 399mg133%
Sodium 542mg23%
Potassium 507mg14%
Carbohydrates 6g2%
Protein 28g56%
Vitamin A 1142IU23%
Vitamin C 7mg8%
Calcium 63mg6%
Iron 3mg17%
* Percent Daily Values are based on a 2000 calorie diet.
Pin To Save This Recipe
FAQ
Is canned tuna good for keto?
Yes, canned tuna is good for keto, being low in carbs and high in protein, much like fresh tuna, making both options suitable for the ketogenic diet.
Is egglife wraps keto friendly?
Yes, Egg Life wraps are keto-friendly as they are made primarily from eggs and xanthan gum and contain low carbs, making them a suitable choice for the ketogenic diet.
Do egg wraps have carbs?
Egg wraps, primarily made from eggs, have minimal carbs. However, the exact carb content can vary based on added ingredients such as flour and starch, so it's advisable to check the nutrition label if you buy store-bought products.
How many eggs can you eat on keto?
There isn't a strict limit on the number of eggs you can eat on keto. However, most keto dieters consume 2-6 eggs daily. It's essential to balance egg consumption with other protein and fat sources to ensure a varied nutrient intake.