Most people use canned tuna to prepare salads. Some people even eat it straight from the can. Today, I want to show you a very tasty way to cook canned tuna. It's called spicy tuna fishcakes*.
I use canned tuna in spring water for this recipe. However, you can also use fresh tuna. When you use the canned tuna, you need to drain the liquid out, otherwise the fishcake won't hold together.
I also recommend using tuna that is wild-caught and low in mercury. If you go with canned tuna, you should be able to pick out a brand with low mercury. 
For example, canned tuna that is approved by the American Pregnancy Association is a great choice because it comes from clean fish. Also make sure it does not contain added sugars, food coloring, or artificial ingredients.
For the seasoning, I'd like to use fresh ingredients such as ginger, chives, coriander, red chili and lemon juice to make the tuna cakes nice and fragrant. If you don't like spicy food, just leave out the chili.
These tuna croquettes can be served with our special lemon dip, which I will show you how to make below.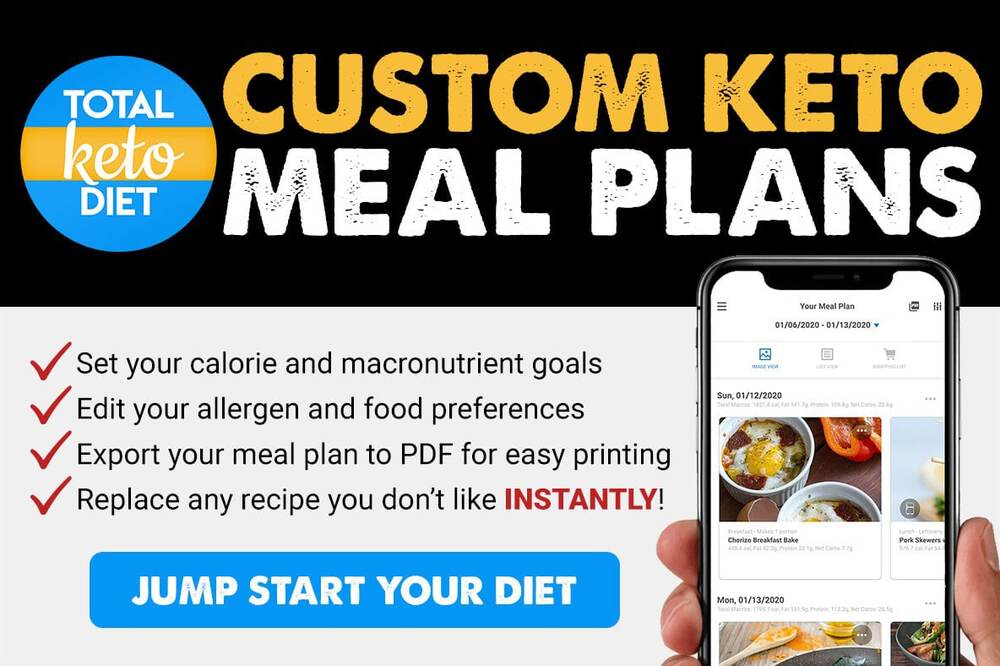 Our dip calls for olive oil, apple cider vinegar, lemon juice, coriander, and salt. It's free from inflammatory oils and refined sugars that you will normally find in store-bought brands of dip.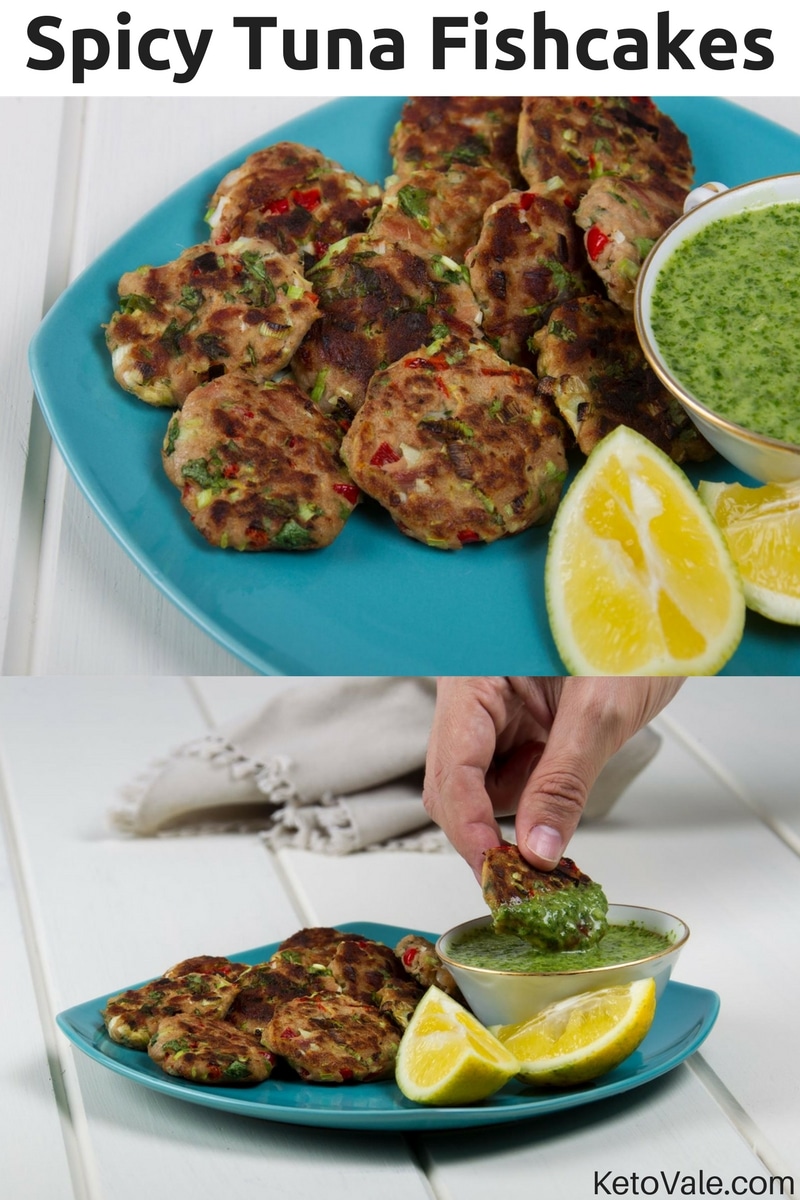 This tuna fishcakes recipe is very cheap and versatile. You can make it for lunch and dinner. It's so easy and delicious and you will want to make it again and again. Who would have thought something mouthwatering and delicious like this can come out of a can?
---
Let's Do It!
Prepare the veggies and spices: Chop the coriander and chives into fine bits. Grate the ginger. Slice the tip of the chili peppers and discard. Empty the inside of the pepper by scooping out the seeds and white portions with your hands or a knife. Rinse the pepper with water to remove any other impurities. Brunoise cut after washing.
Next, drain the liquid off of tuna and make sure it's dry.
Add all the ingredients for the fishcake (except olive oil) in a mixing bowl. Season with salt to your liking.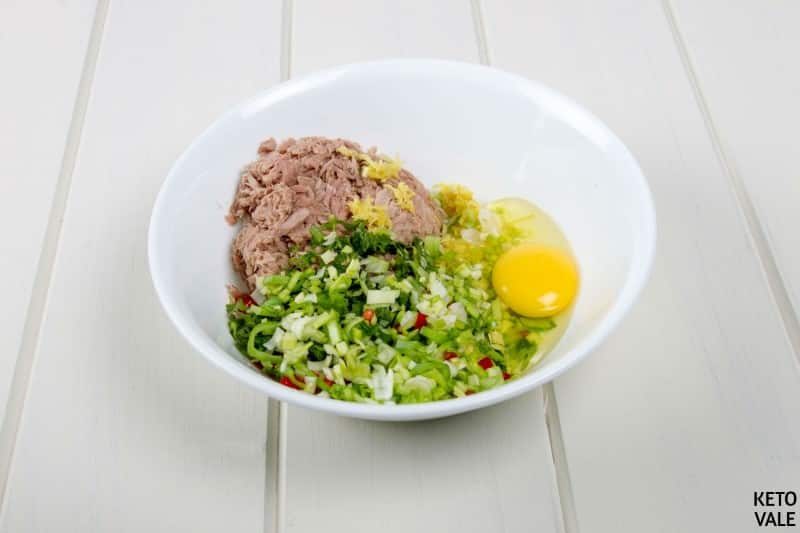 Mix the ingredients together. Mold about a spoonful of the mixture to make small balls.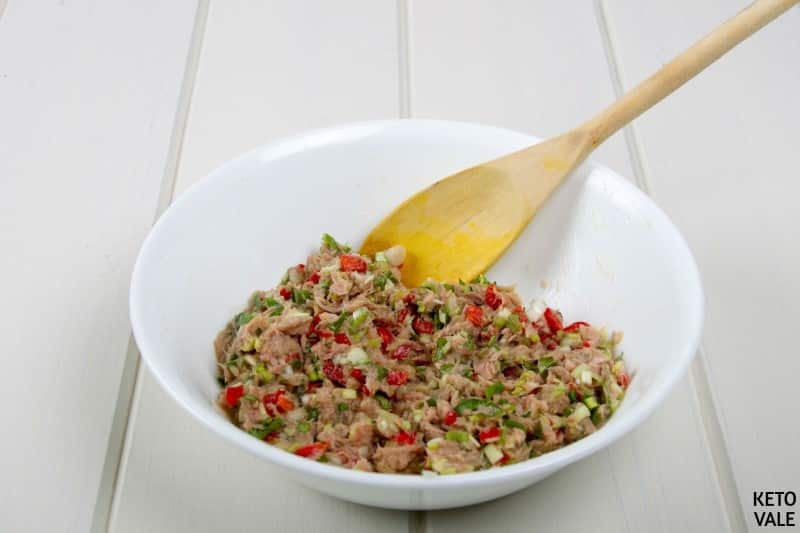 Cooking: Heat the olive oil in a non-stick frying pan. Place the balls in the olive oil one at a time then flatten them with a spoon. Brown both sides of the fishcake.
For the dip: Combine all the ingredients for the dip in a deep bowl. Stir to mix well. You can also use mayo or other low carb sauces that you prefer.
Serve the fishcakes on a plate with the dip and lemon wedges on the side. You can also include a low carb salad to make it a complete healthy meal.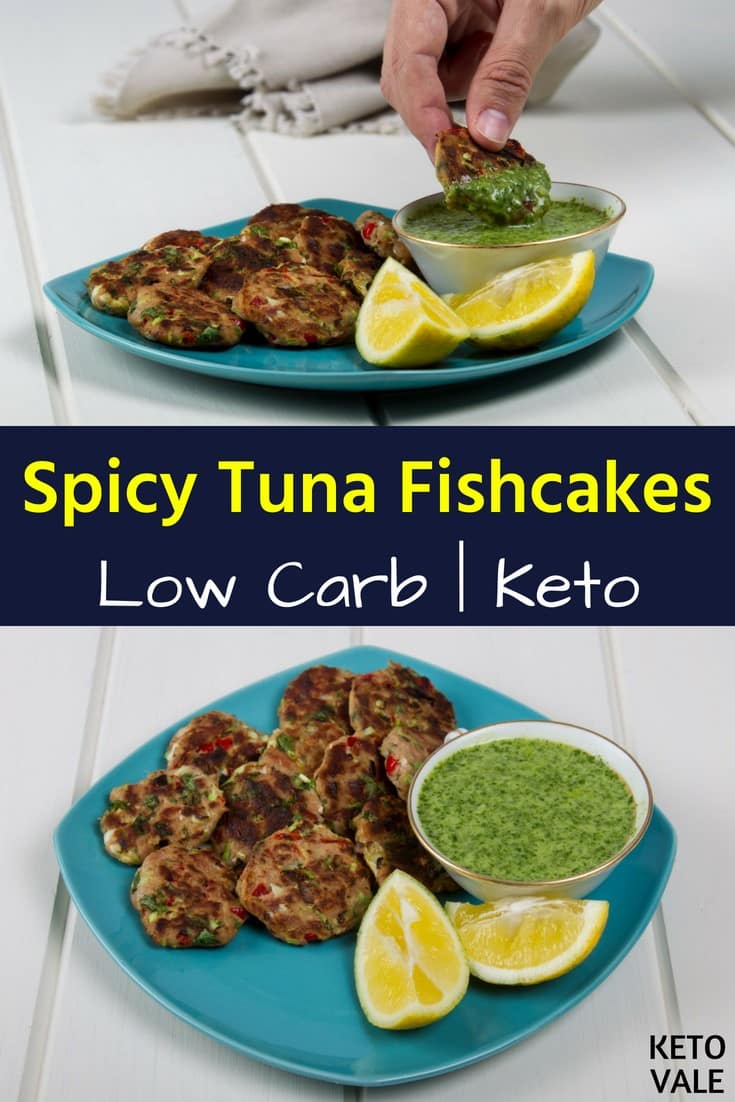 *Credit: Recipe inspired by Gordon Ramsay. You can watch him make his fishcake here.
Related:
Keto Spicy Tuna Fishcakes
A low-carb and gluten-free tuna fish cake with almond flour, red chili, ginger and spices.
Ingredients
For the FishCakes
400

g

canned tuna

1

egg

1

chives

2

tbsp

coriander

1

red chili

1

tbsp

fresh ginger

1

tbsp

fresh lemon juice

2

tbsp

almond flour

2

tbsp

olive oil

Black pepper and salt to taste
For the Dipping Sauce (optional)
Instructions
Cut the chives and coriander into small pieces. Grate ginger. Cut the tip of the chili peppers. Clean the interior of the pepper, remove all white parts and seeds. You can do this with a knife or with your hands. Then wash the pepper with water to remove the seeds and other impurities. Finally, cut the pepper into brunoise.

Drain tuna to make sure you get rid of all the liquid.

In a mixing bowl, put together: tuna, egg, coriander, ginger, lemon juice, almond flour, chives, and salt. Mix with a spoon and form small spheres. You can form 6-12 cakes (the size is up to you).

In a non-stick hot pan over medium heat, add the olive oil in and fry the cakes. You should cook until it turns golden brown on both sides.

For the dip, mix all ingredients and serve. Enjoy!
Notes
This recipe can make anywhere between 6-12 cakes, depending on the size you make. The whole recipe makes 4 servings. Macros per
serving do not include
dip.
Nutrition/Macros
Nutrition Facts
Keto Spicy Tuna Fishcakes
Amount Per Serving
Calories 288
Calories from Fat 189
% Daily Value*
Fat 21g32%
Cholesterol 77mg26%
Sodium 847mg35%
Potassium 251mg7%
Carbohydrates 3g1%
Protein 22g44%
Vitamin A 263IU5%
Vitamin C 23mg28%
Calcium 36mg4%
Iron 2mg11%
* Percent Daily Values are based on a 2000 calorie diet.
Pin To Save This Recipe