Do you love Japanese food? If so, you'll love this tasty Keto Teriyaki Chicken recipe.
Traditional teriyaki chicken is not strict keto-friendly due to soy sauce, brown sugar, vegetable oil and corn starch.
To make it keto-approved, I simply used coconut aminos, erythritol (or monk fruit as a sweetener), olive oil, and xanthan gum.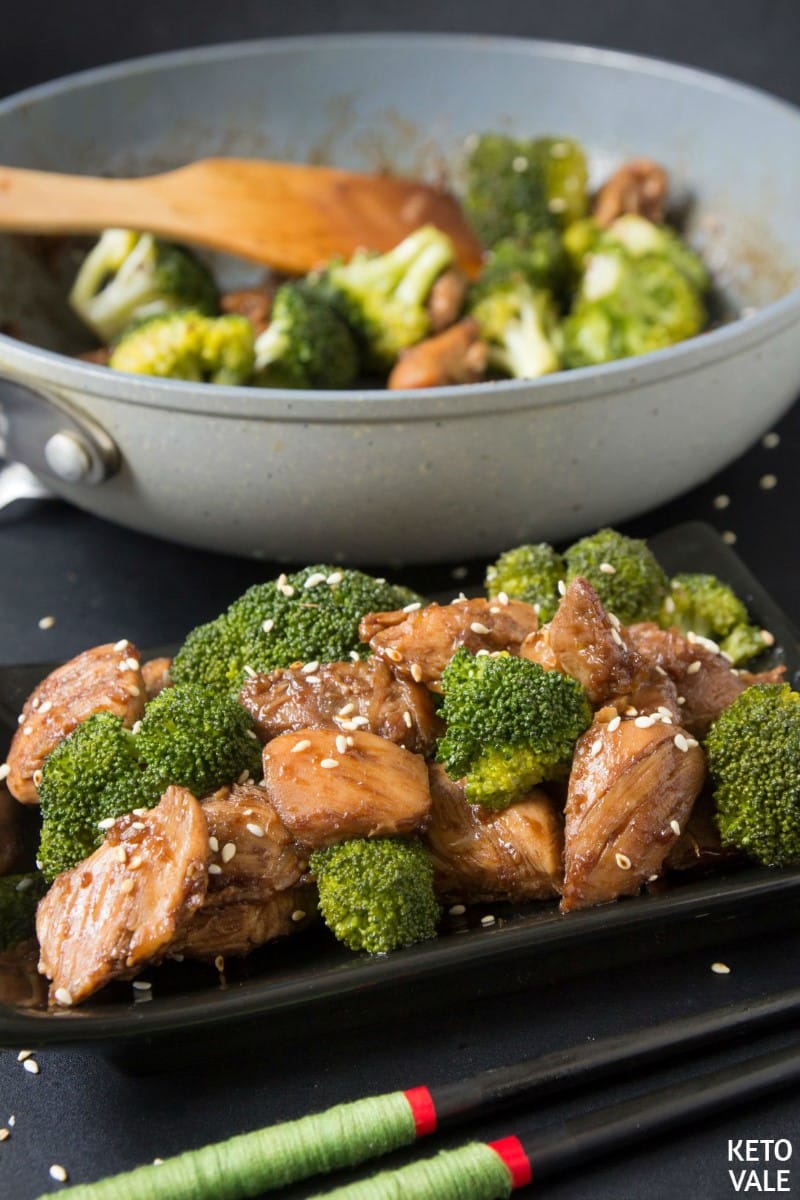 The main ingredient is chicken thighs – very tasty and juicy cut of meat that many people like.
Chicken is one of the main sources of protein on any diet. Any dish will look more beautiful and appetizing if there is green color in it, so I added broccoli. In addition, it contains proteins and very few carbohydrates, which is very important on a keto diet.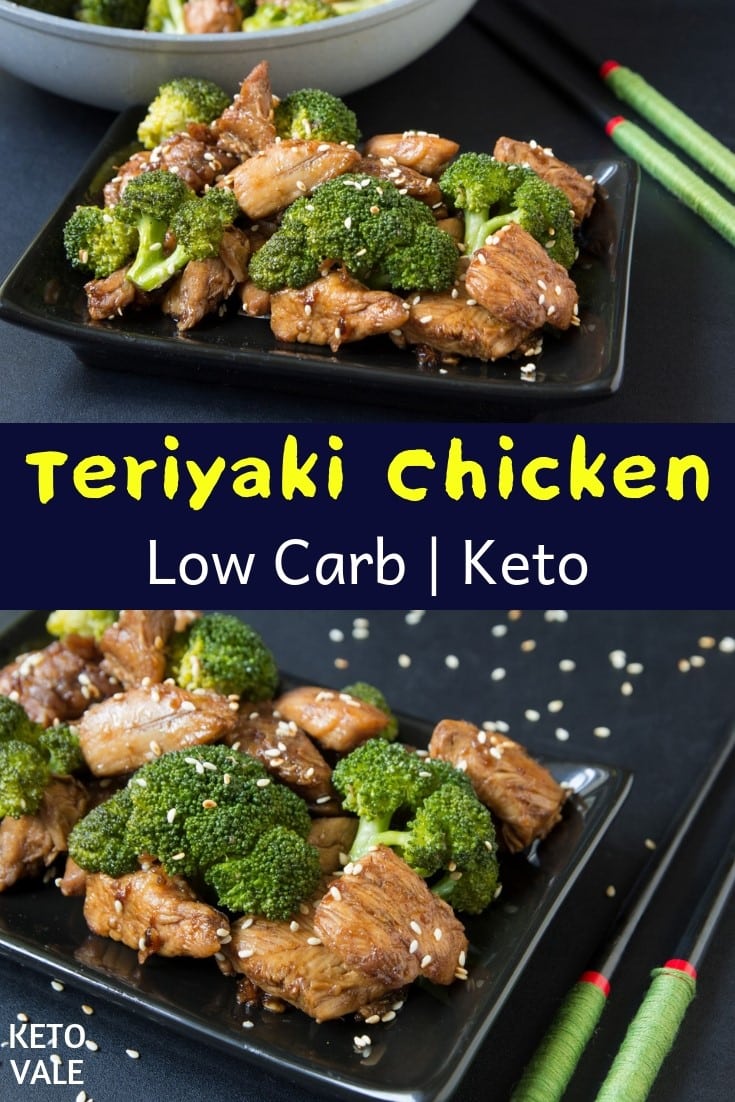 With basic salt, pepper, and seasonings and garnishing with sesame seeds, you're ready to have a tasty dish to treat your friends and family.
---
How to Make Low Carb Teriyaki Chicken
Mix coconut aminos (or gluten free soy sauce if you're ok with it), apple cider vinegar, erythritol, and olive oil in a bowl. This will be your homemade keto teriyaki sauce. Set aside.
In a skillet over medium heat, add olive oil (or sesame oil) in. Add the chicken and garlic in. Stir occasionally and cook until the meat lightly turns brown and crisp. You can use chicken breasts or chicken thighs for this dish.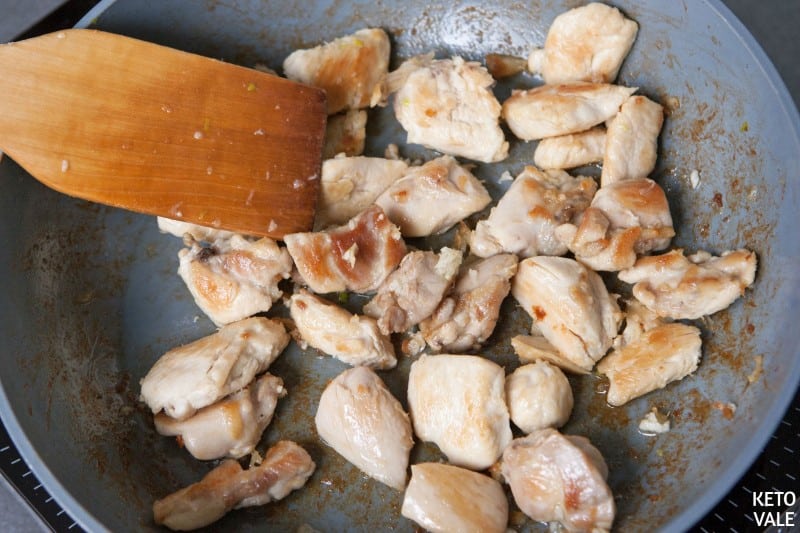 Pour the coconut aminos mixture in and stir the meat until the teriyaki sauce starts to thicken. You can also add a little bit of xanthan gum to achieve a thicker consistency.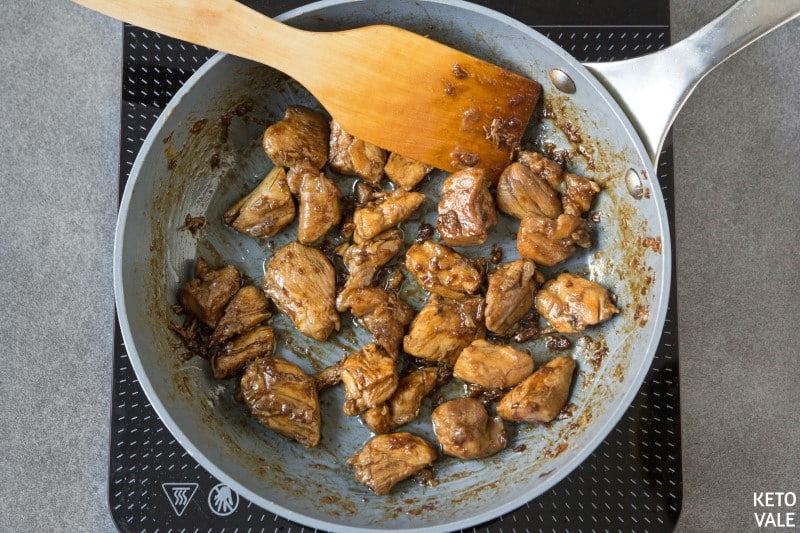 Add steamed broccoli in and stir for a few more minutes. Remove from heat and transfer to a plate. Garnish with sesame seeds and chopped green onions (optional) and serve.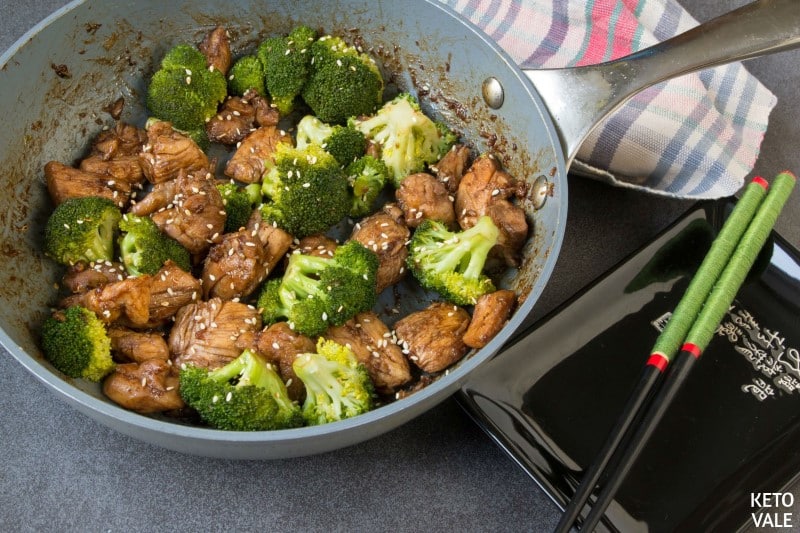 If you don't like broccoli, you can serve the chicken with cauliflower rice as a side dish.
Related:
Save this recipe by pinning this to your Pinterest board for later use!
Keto Teriyaki Chicken
The traditional teriyaki chicken is converted into a keto-friendly dish so you can enjoy a tasty meal without all the carbs and sugar.
Instructions
In a bowl whisk together coconut aminos, erythritol, apple cider vinegar and olive oil. Set aside.

Heat 1 tbsp olive oil in a skillet over medium heat. Add the chicken and fry until lightly browned and crisp, stirring occasionally.

Add minced garlic to the skillet and saute 20-30 seconds. Pour coconut aminos mixture and cook stirring until thickens. If needed, add xanthan gum dissolved in 1 tbsp of water and continue to cook stirring until sauce reach the desired consistency.

Add steamed broccoli, stir, garnish with sesame seeds and serve.
Notes
You can also serve this dish with cauliflower rice instead of broccoli.
Nutrition/Macros
Nutrition Facts
Keto Teriyaki Chicken
Amount Per Serving
Calories 301
Calories from Fat 135
% Daily Value*
Fat 15g23%
Cholesterol 106mg35%
Sodium 378mg16%
Potassium 538mg15%
Carbohydrates 7g2%
Protein 34g68%
Vitamin A 455IU9%
Vitamin C 57.9mg70%
Calcium 53mg5%
Iron 1.9mg11%
* Percent Daily Values are based on a 2000 calorie diet.
Pin To Save This Recipe
FAQ
Is Chicken Teriyaki high in carbs?
Yes, the typical Chicken Teriyaki is high in carbs due to the sugar used in the teriyaki sauce. However, a keto-friendly version can be made with low-carb sweeteners to reduce the carb content significantly. My recipe contains 5 net carbs per serving.
How to reheat teriyaki chicken
To reheat teriyaki chicken in a frying pan, place it in the pan over medium heat, add a splash of water or extra teriyaki sauce to keep it moist, and cover with a lid, stirring occasionally until heated through. For the microwave, place the chicken in a microwave-safe dish, cover with a damp paper towel to retain moisture, and heat on medium power in 30-second intervals, stirring between each, until thoroughly warmed.
What to eat with teriyaki chicken on keto
On a keto diet, you can pair teriyaki chicken with low-carb sides such as cauliflower rice, steamed or stir-fried vegetables like broccoli, zucchini, or bell peppers, a fresh green salad with a high-fat dressing, or shirataki noodles which are very low in carbohydrates.