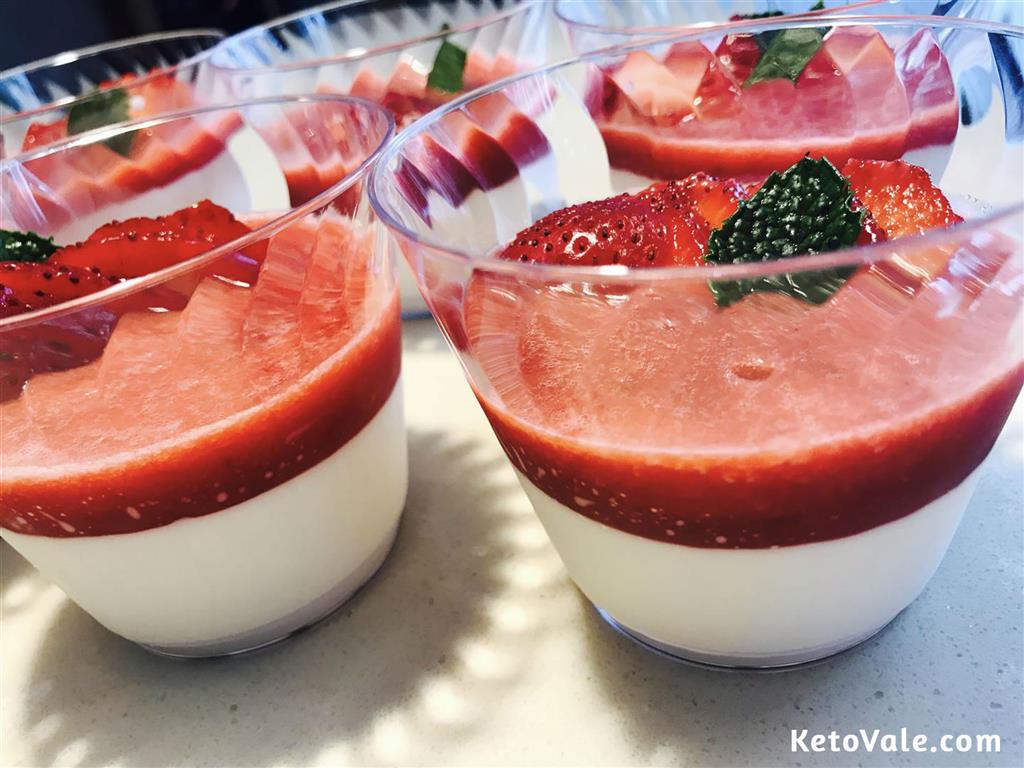 Panna Cotta – Low Carb and Keto Friendly
It is hard to steer away from sweets and desserts overnight once you decided to go with the Keto way of eating. Our brain is still asking for sugar indulgence and we want to have something with can turn to without compromising on taste and eat it without regrets. Panna Cotta is an Italian dessert which is made with dairy products. It is rich and creamy with custard like texture. There are a few different versions of dairy product combinations that could be used to make it, but we only need what is Keto friendly. So the version below is using the following ingredients:
Be sure to save this recipe by pinning this picture to your Pinterest board for later use!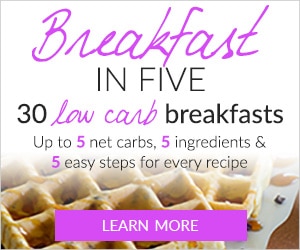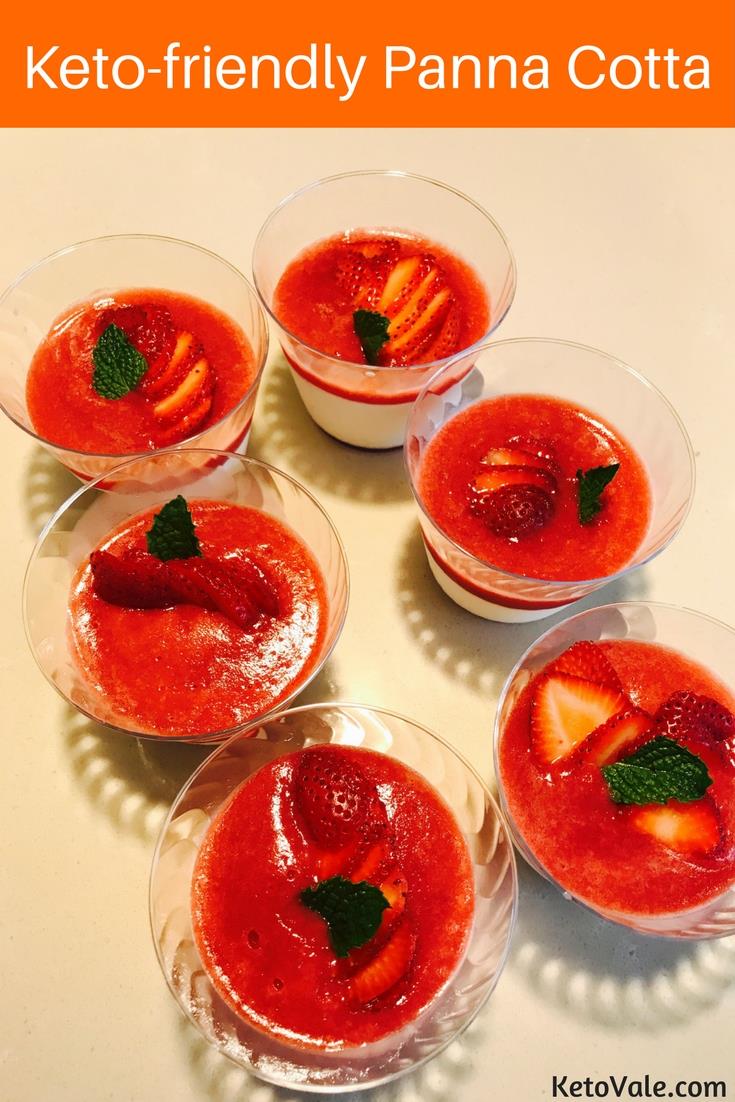 Receive Our Free 7-Day Keto Meal Plans + Weekly Recipes
Heat heavy cream, water and sweetener in a saucepan. No need to bring it to boil. Once sweetener is dissolved and you see first signs of bubbles remove it from heat and add vanilla or flavour of your choice.

Prepare gelatin according to instructions.

Combine it with heavy cream mixture stirring it to avoid any gelatin lumps.

Add sour cream to the mix constantly stirring it. (I put sour cream in a separate bowl and was pouring heavy cream mix thru the sieve into it by small batches stirring it after each heavy cream batch was added)

Distribute between your forms.

Put it in a fridge to chill and firm

Be patient, you'll enjoy it very soon

To make it even better, you can add a layer of berry's jello (instruction below) and enjoy!
Tip: you can infuse heavy cream mix with cinnamon, mint, lemon, etc
Macros (per serving):
Calories: 227 Kcal - Fat: 23g - Total carb: 3g - Dietary Fiber: 0 g - Net Carbs: 3 g  Protein: 3g (top fruit layer is not included)
Optional:
Once Panna Cotta is chilled and firm you can add a layer of berry's jello.  I made strawberry jello.
1 lb strawberry (454 g)
1/3 cup water
1 tsp Truvia sweetener (or sweetener of your choice)
1 packet Gelatin
Steps:
Cook chopped strawberries with 1/3 cup of water and 1 tsp of Truvia.
Bring it to boil and remove it.
Blend it with immersed blender, ran it thru sieve to remove pulp and seeds.
Prepare 1 packet of gelatin according to instructions
Combine strawberry sauce with gelatin.  Run thru sieve to remove gelatin lumps if necessary
Pour it on top of chilled and firmed Panna Cotta.  This way you achieve nice layering.
Put it in a fridge to chill and firm.
This Panna Cotta dessert recipe is a great treat for yourself, especially for family and friends in the weekend also. Make it and share with your love one. They will love it!