Keto Salmon Sushi Rolls
Sushi is the most recognized dish of Japanese cuisine and is available in almost every city you visit. If you have been missing sushi, this low carb sushi recipe is for you.
Sushi is normally prepared with vinegared rice and combined with seafood and vegetables.
For our keto version, we use riced cauliflower as a substitute for regular rice. We will mix riced cauliflower with vinegar and cream cheese to mimic the regular vinegared rice consistency.
For filling, we will have cucumber, avocado and smoked salmon. You can use fresh salmon or your own choice of seafood.
For the sauce, we prepare our sushi dip with low carb soy sauce, ginger and lemon juice. If you follow strict keto, you might want to replace soy sauce with Coconut Aminos.
Feel free to save this recipe by pinning this picture to your Pinterest board for later use!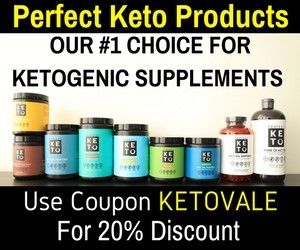 Receive Our Free 7-Day Keto Meal Plans + Weekly Recipes
Start by making the cauliflower rice. Wash the cauliflower with water. Drain then discard the leaves. Chop into small pieces. Transfer to a food processor to make fine rice-like bits. Afterwards, microwave for 1 minutes until soft.

Place the cauliflower rice in a mixing bowl. Blend well along with the cream cheese and rice vinegar. Season with salt and pepper to your liking. If desired, leave in the fridge for 30 minutes for a firmer consistency.

Peel off the avocado and cucumber skins. Slice into slivers. Slice the salmon into thin slivers too.

Prep a sushi roller with transparent plastic on both sides to avoid sticking the mixture onto the roller.

Set the covered roller on a flat surface. Lay a rectangular nori sheet on top.

Split the rice mixture into 5 bowls for the 5 nori sheets. Scoop out one of the bowls and spread this mixture uniformly over the nori.

Arrange the strips of avocado, salmon, and cucumber on one short edge of the sheet. Make sure that the roller can be reeled in that direction.

With extra care, roll the filled side up to the other edge of the sheet. Repeat the procedure with the other sheets and remaining mixture.

Ideally, chill in the fridge for half an hour before cutting the roll. If desired, simply slice the roll without refrigerating.

Start making the dip by pouring the lemon juice and soy sauce on a small pot. Toss in the ginger. Let it boil until the soy sauce darkens and intensifies in color. Transfer to a small dish and place aside the sushi.
This sushi recipe is enough for 3 servings. Here's the nutritional information per serving (excluding the sauce)
Macros (per serving): Calories: 374 – Fat: 28.5g – Net carbs: 6.4g (total carbs: 13.8g, fiber: 7.4g) – Protein: 18g