Keto Salmon Sushi Rolls
Sushi is the most recognized dish of Japanese cuisine and is available in almost every city you visit. If you have been missing sushi, this low carb sushi recipe is for you.
Sushi is normally prepared with vinegared rice and combined with seafood and vegetables.
For our keto version, we use riced cauliflower as a substitute for regular rice. We will mix riced cauliflower with vinegar and cream cheese to mimic the regular vinegared rice consistency.
For filling, we will have cucumber, avocado and smoked salmon. You can use fresh salmon or your own choice of seafood.
For the sauce, we prepare our sushi dip with low carb soy sauce, ginger and lemon juice. If you follow strict keto, you might want to replace soy sauce with Coconut Aminos.
Feel free to save this recipe by pinning this picture to your Pinterest board for later use!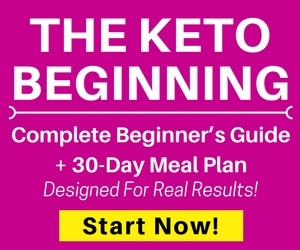 Receive Our Free 7-Day Keto Meal Plans + Weekly Recipes
First, you have to prepare the cauliflower rice: Wash the cauliflower, remove the leaves and cut into small pieces. With a food processor, grate the cauliflower until to get pieces similar size to rice. Then, place in the microwave and cook for one minute until it's soft.

In a mixing bowl, combine rice vinegar, cauliflower rice, and cream cheese. Beat until well blended. You can sprinkle a little bit salt and pepper to taste. Then refrigerate for half an hour until the mixture takes a firmer consistency (optional).

Peel cucumber and avocado and cut into thin strips. Also, cut the salmon into thin strips.

Take the sushi roller and cover on both sides with transparent plastic. This will prevent the mixture from sticking to it.

After that, place the roller on a flat surface and place a nori sheet on it. The nori seaweed must have a rectangular shape.

Divide the rice mixture into 5 parts (for 5 sheets), with a spoon add half of the mixture over the nori seaweed and distribute in a uniform layer.

Next, place the cucumber, avocado and salmon carefully along the short side of the rectangle. The roller must be able to roll in that direction

Roll carefully and pressing until it reaches the end of the nori sheet. Repeat again with the remaining nori sheet and rice mixture.

Refrigerate for 30 minutes (optional), remove from refrigerator and cut sushi rolls with a sharp knife.

To prepare the dip, add soy sauce, lemon juice, and ginger to a small pot. Bring to the boil, the soy sauce will take a darker and intense color. Pour the sauce into a small sauce dish and serve with sushi.
This sushi recipe is enough for 3 servings. Here's the nutritional information per serving (excluding the sauce)
Macros (per serving): Calories: 374 – Fat: 28.5g – Net carbs: 6.4g (total carbs: 13.8g, fiber: 7.4g) – Protein: 18g