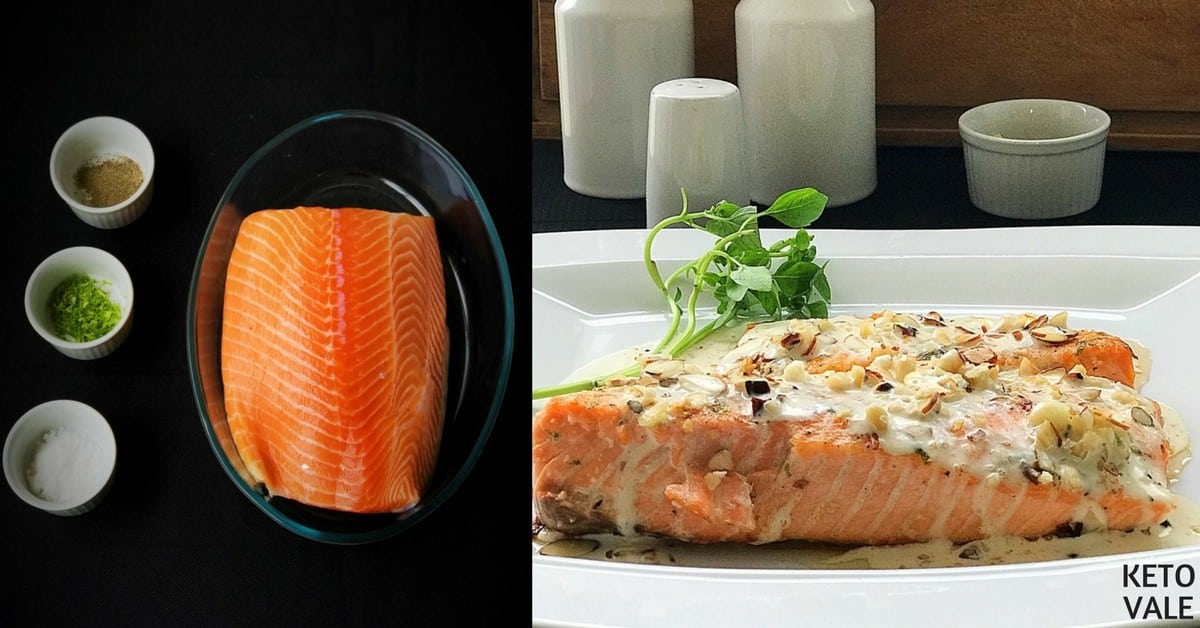 Keto Baked Salmon with Almond and Creamy Sauce
Cooking with salmon is always an easy and fast way to have a great meal in very little time. The Salmon is a fish that pairs well with a variety of ingredients, allowing creativity when preparing a meal.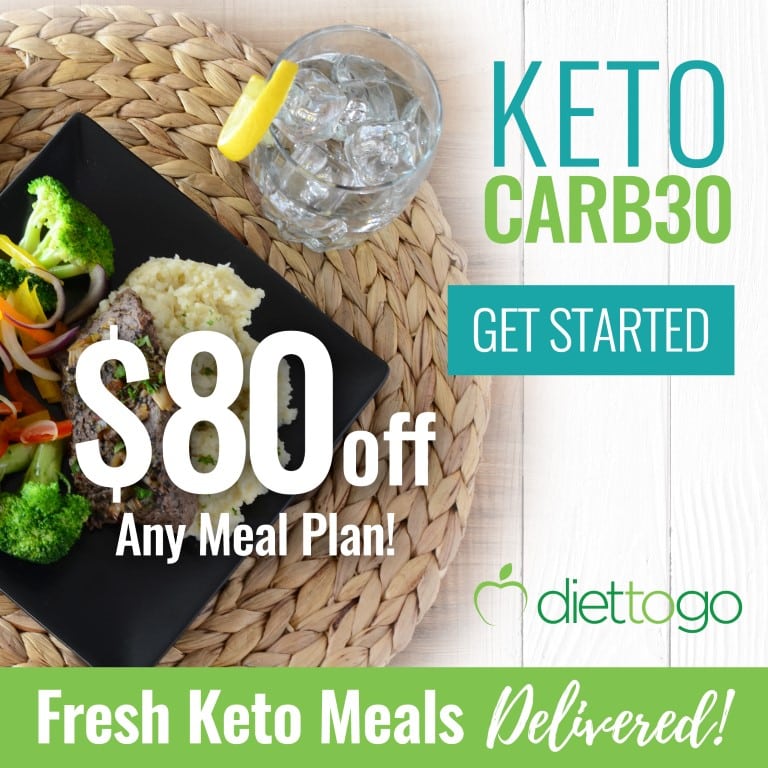 This recipe is packed with healthy fats from the salmon and the almonds making it a great option for keto followers, a real classic Ketogenic dish.
In order to make this recipe extra especial we added lime zests with makes all the flavours really pop and bring out the sweetness of the salmon.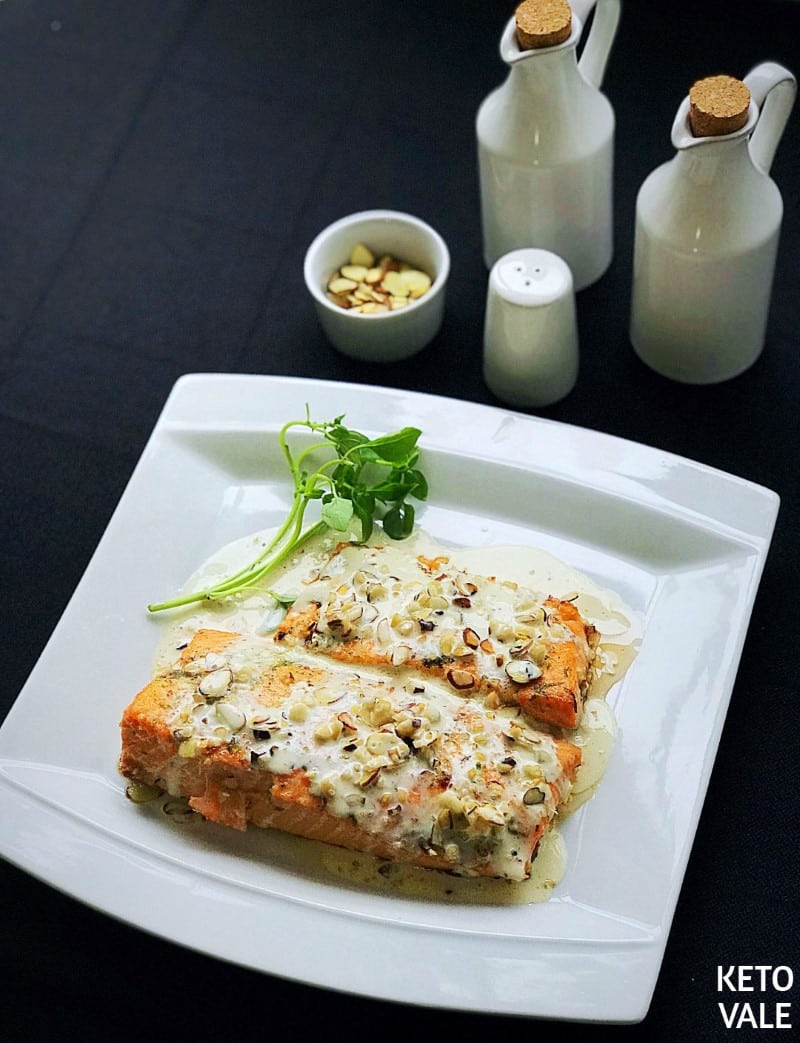 Easy to prepare, with this recipe you will transform dinner in a gastronomic event. No one will ever remember the word diet when tasting this wonder! Enjoy!
Save this recipe by pinning this picture to your Pinterest board for later use!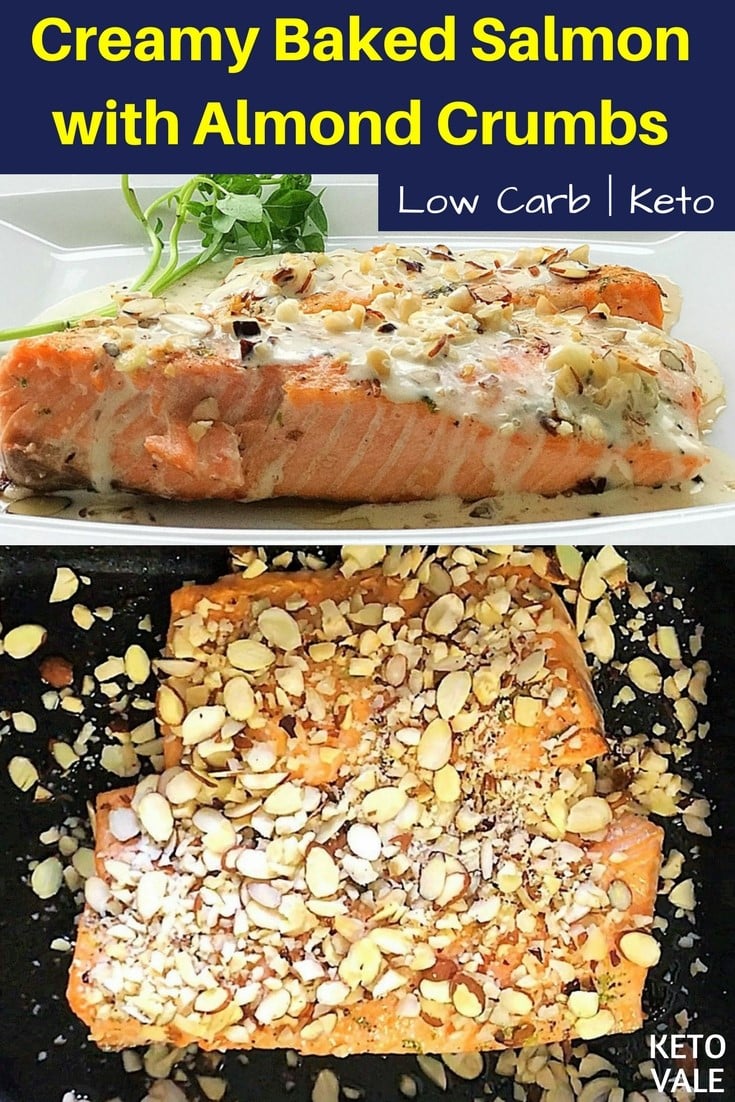 Related:
Receive Our Free 7-Day Keto Meal Plan + Weekly Recipes
Baked Salmon with Almond Crumbs and Creamy Sauce
Ingredients
Almond Crumbs Creamy Sauce
3

tbsp

shaved almonds

2

tbsp

almond milk

to thinner the sauce if necessary

1/2

cup

cream cheese

salt to taste
Fish
1

salmon fillet

about 1/2 lb

1

tsp

coconut oil

1

tbsp

lemon zest

1

tsp

salt

White pepper to taste
Instructions
Prepare the salmon. Preferably, cut it in half if it is too big. Mix the lemon zest, salt, and pepper together and rub the mixture on the salmon. Let it cool in the refrigerator for 20 minutes so the seasonings will be absorbed. Meanwhile, preheat the oven to 300°F.

Heat some coconut oil on a nonstick baking dish. Fry the fish on both sides for a few minutes and make sure that the fish is sealed. Top with almond crumbs and bake in the oven for 10 to 15 minutes.

Take out the dish from the oven and transfer the fish to a separate plate. Set aside. Place the baking dish on a fire and add the cream cheese. Combine the fish baking juice and the cheese for a more flavorful sauce. Mix well until uniformed. If necessary, add some almond milk to the sauce.

Pour the sauce onto the fish. Best served hot.
Notes
Macros (per serving): Calories: 522– Fat: 44g – Net carbs: 2.4g (total carbs: 3.6g, fiber: 1.2g) – Protein: 28.8g