The ketogenic diet has proven itself as one of the best diets in the world, but it's not always easy to follow.
Your food options are limited and there are strict demands placed on your overall carbohydrate intake. This can make it difficult to find foods to eat that work well in your busy routine.
After all, you can't always make an avocado egg boat whenever you need a snack. Because of this, many food manufacturers have come up with easier ways to get your nutrition in.

Quest Nutrition is a company that specializes in making low-carb and low-sugar products, which can be perfect snacks between meals. They make protein bars and cookies, protein chips, protein powders, and even low-carb pizza crust.
But they don't necessarily market themselves as a ketogenic company and some people are unsure if they can eat these bars on a keto diet. This article discusses Quest bars and whether or not they are keto-friendly.
What is Quest Bar?
Quest bars were originally introduced back in 2010 when the low-carb movement first seemed to take off.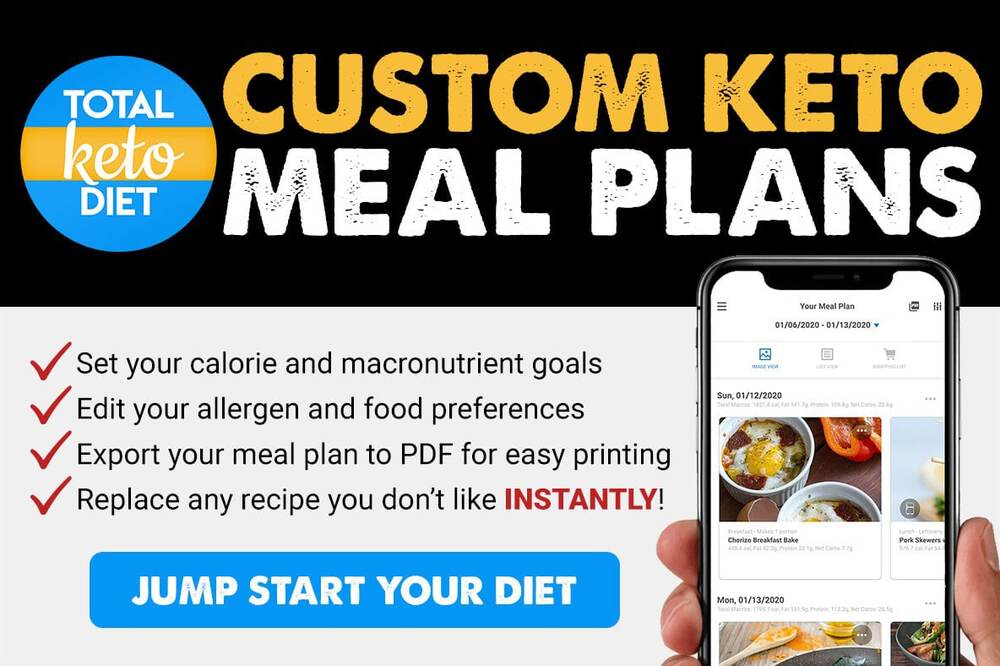 According to the Quest Nutrition website, a small group of health-minded people wanted to develop a protein bar that tastes good while still containing "clean" ingredients.
One of the main problems with most protein bars is that they are nothing more than glorified candy bars sweetened with sugars and filled with junky ingredients. Quest wanted to change that.

In addition to selling protein bars, they also have protein cookies, pizza crusts, chips, and powders. Bars seem to be the most popular among low-carb dieters because they travel well and can be an easy low carb snack in between meals. You can throw them in your purse or gym bag, have one for breakfast on the go, and keep some in your car or desk at work whenever hunger strikes.
When made properly using high-quality ingredients, protein bars can help satisfy your sweet tooth while delivering a good amount of protein.
However, it's important to remember that keto is a high-fat diet and not a high-protein diet. Check this guide to see how much protein you should eat on keto.

A good keto bar should have all the macronutrients you need and still tastes good.
The Quest company's website states that it's on a mission to end metabolic disease. They say that all bars contain up to 21 grams of protein, plenty of fiber, and not a lot of unnecessary ingredients or carbs.
While Quest bars are one of the better tasting low-carb bars out there and they are definitely a better option than a candy bar, they still don't meet strict keto macronutrient needs or provide clean strict keto ingredients.
This makes them ideal for low-carb eaters, but not necessarily for strict ketogenic dieters. We'll explain why in the sections below.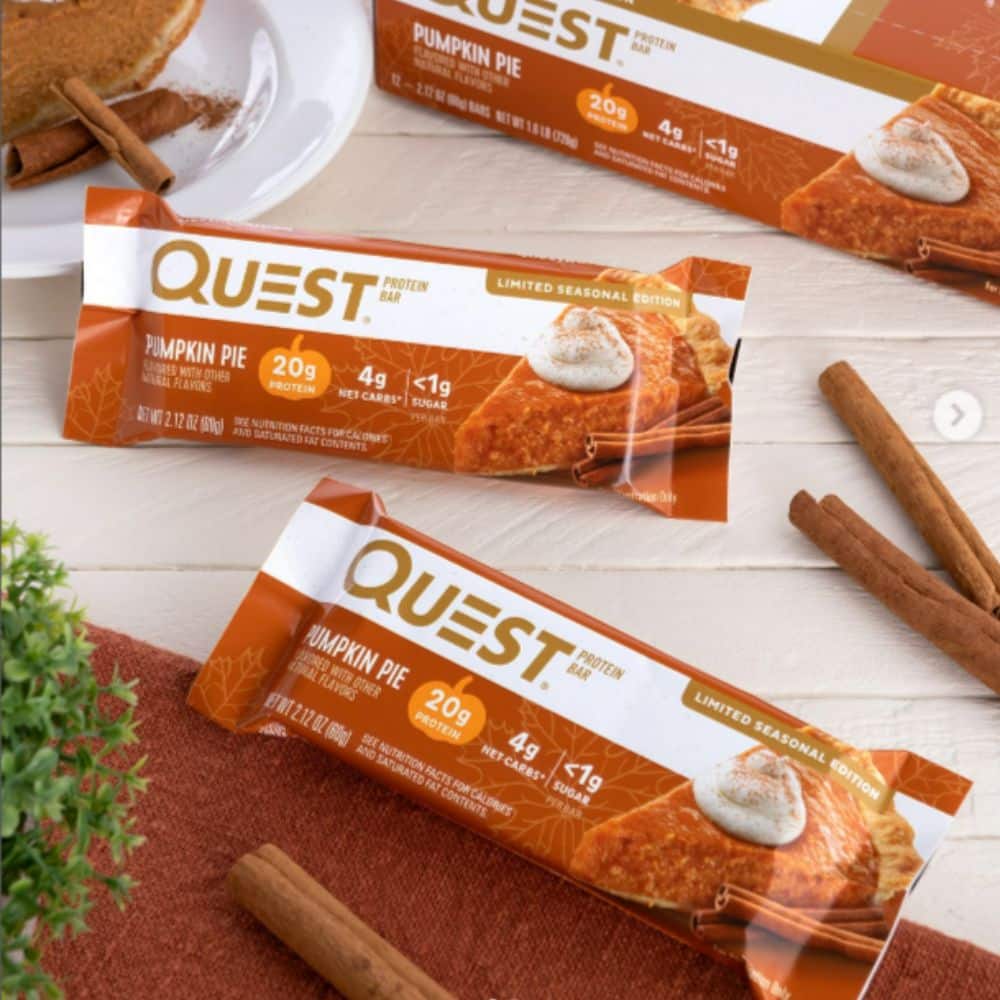 How Many Flavors/Types Do They Have?
Quest protein bars come in several different flavors. This is great if you have a sweet tooth and don't want to indulge in something completely terrible for you. Here's a list of the flavors they offer:
Birthday cake
Cookies and cream
Chocolate chip cookie dough
Blueberry muffin
Oatmeal chocolate chip
Maple waffle
Peanut butter brownie smash
Mocha chocolate chip
Chocolate brownie
Rocky road
S'mores
Double chocolate chunk
Coconut cashew
Mint chocolate chunk
Peanut butter supreme
Chocolate peanut butter
Apple pie
Vanilla almond crunch
Pumpkin pie
Strawberry cheesecake
Peppermint bark
Cinnamon roll
White chocolate raspberry
Caramel chunk chocolate
Pumpkin pie (seasonal)
Some of the flavors sell out on their website, but you can always look on Amazon or other websites to find the one you want. You can also get a chocolate lover's variety pack and a best seller variety pack if you just can't decide.
Most bars are priced around $24.99 for a box of 12 or $2.39 per bar if you just buy 1 single bar. Some boxes of 12, such as the variety packs, may cost $25.99.
Quest Protein Bars Vs. Hero Bars
You may also want to check out their hero bars, which come in three different flavors:
Unlike the regular protein bars, the hero bars contain fewer calories and carbs per bar.
For example, a chocolate caramel pecan hero bar contains 200 calories, 11 grams of fat, 15 grams of protein, 4 grams of net carbs, and 11 grams of fiber.

On the other hand, a chocolate peanut butter protein bar contains 210 calories, 10 grams of fat, 20 grams of protein, 5 grams of net carbs, and 13 grams of fiber.

You're getting more protein in the regular protein bars, which is why many people like them, but the macronutrient breakdown might be better for you in the hero bar if you're on a ketosis diet.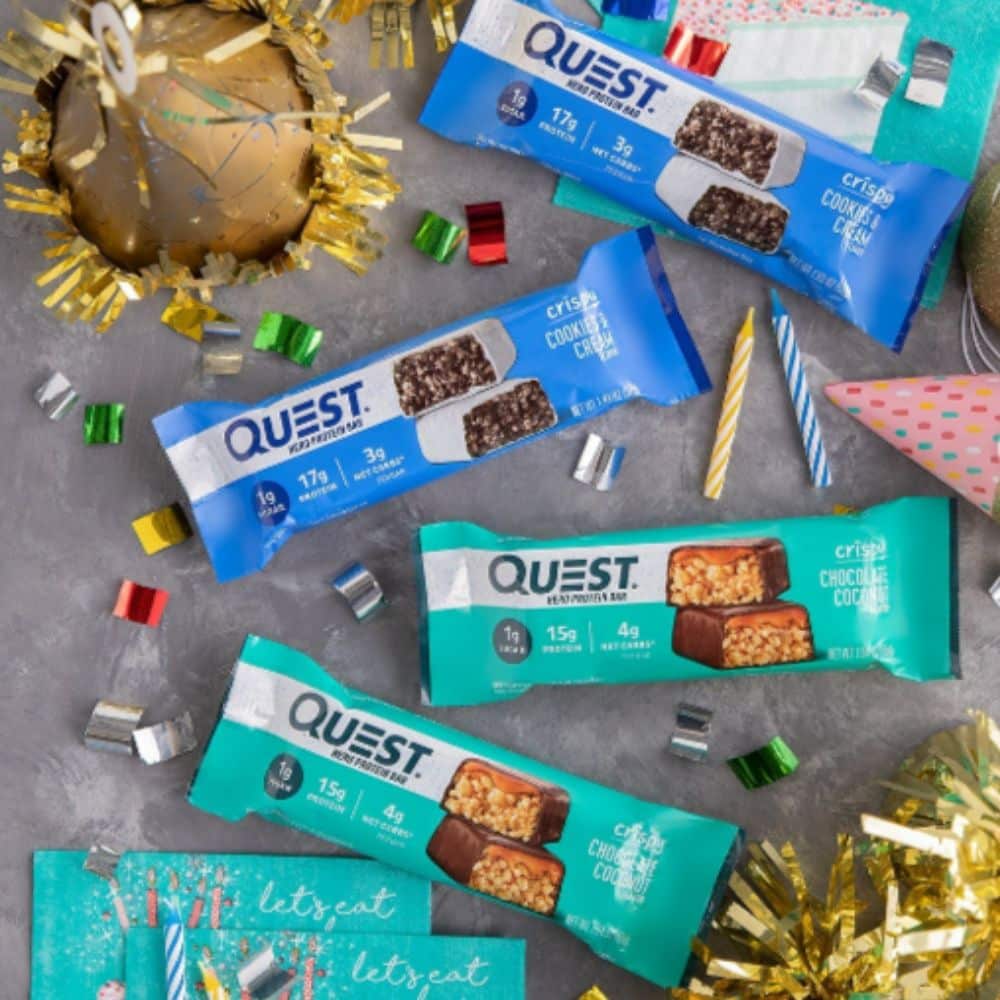 What Are The Ingredients and Nutrition Facts?
One of the reasons why Quest bars aren't entirely keto-friendly is because they use non-keto friendly ingredients. Additionally, their carb, fat, and protein ratio isn't ideal for a keto dieter.

Let's look at the Maple Waffle protein bar. It contains the following ingredients:
Protein Blend (milk protein isolate, whey protein isolate)
Soluble Corn Fiber
Water
Almonds
Erythritol
Natural Flavors
Palm Kernel Oil
Butter (cream, salt)
Salt
Baking Soda
Sodium caseinate
Xanthan gum
Steviol glycosides (Stevia)
Sunflower lecithin
Honey
While we like the use of stevia and erythritol in this bar, there are some ingredients some strict hardcore keto dieters don't like:
Although milk protein isolate is nearly free from carbs, it's still not recommended to ingest milk on a strict ketogenic diet.
Many people try to avoid whey protein on a strict keto diet. Whey or milk protein is usually the main protein source in most protein bars. Grass-fed collagen protein is a much better way to go than milk protein isolate.

For example, many keto bars include collagen protein from 100 percent grass-fed cows, which means that you're getting the cleanest source of collagen protein possible.
Collagen is very popular on the keto diet because it has numerous health benefits, including increasing your skin and hair health to fight off keto rash and hair loss.

Quest bars don't include any collagen. They also use artificial sweeteners such as sucrose in addition to no-calorie sweeteners like erythritol and stevia.
Next, the soluble corn fiber is derived from corn, which is not the best choice for the ketogenic diet. It's also highly inflammatory for some people and may contribute to gut inflammation. Some keto companies use soluble tapioca fiber, which is a better option, as this type of fiber may promote heart health, support blood sugar regulation and aid in proper digestion.
Although soluble corn fiber doesn't contribute much to the overall carb content of this bar, it's much better to get your fiber needs from low-carb vegetables such as broccoli, cabbage, cauliflower, onions, spinach, and kale.
Honey is a source of sugar that should be avoided on a low-carb or ketogenic diet. We also don't like that some of the Quest bars, such as the Quest Hero Vanilla Caramel Bar, contains carrageenan, which is a food additive with harmful effects on the gut (1).
Carrageenan isn't exactly off-limits for ketogenic dieters, but it's a food additive that you should avoid in general to keep your digestive system working properly (2).
Other products, like the cookies and cream protein bar, use sucralose as one of its sweeteners, which is an artificial sweetener that is hard to digest and has also been linked to liver problems (3).

It has even been shown to alter gastrointestinal microbiota composition (4), which can contribute to inflammation and prevent you from absorbing nutrients.
We prefer a bar that uses natural sources of no-calorie sweeteners, such as stevia and monk fruit. We don't see the need for using all of these sweeteners in one bar. We would prefer a bar that uses natural sweeteners over artificial sweeteners.
Finally, a lot of keto bars use coconut oil or MCT oils in their bars to help you increase your ketone production so that you can stay in ketosis.
Although some Quest bars contain coconut oil, others use palm oil, which isn't only bad for the environment, but it doesn't support your ketogenic diet as MCT does.
Some Quest bars also contain peanuts or oats, which is another example of non-keto friendly ingredients. Almond or macadamia butter would be a much better choice. Overall, we like bars that use ingredients that are beneficial for someone on the ketogenic diet and not just low in carbs.
How Do They Sweeten Their Products?
While the sweeteners in Quest bars are much better than your typical candy bar, we still think you can do better in terms of the ketogenic requirements.

Quest bars use a combination of a few different sweeteners to flavor their products, including stevia, honey, sucralose, and erythritol. Some bars contain dried strawberries or blueberries and most dried fruit contains some type of sugar to help preserve it.

We should mention that not every bar contains all of these sweeteners. Some only contain one while others include a few. If you're trying to narrow down your sweetener intake, then check the ingredients on the label of the bar you're interested in.

The coconut cashew bar is one of our favorites because it contains coconut, almonds, cashews, stevia, and erythritol and no other sweeteners or palm oil.
Here is a quick breakdown of some of the commonly used sweeteners in Quest bars and how they rank on the ketogenic diet:

Sucralose is a no-calorie artificial sweetener that is commonly found in Splenda. Research shows that it's up to 650 times sweeter than regular sugar (5). It is made by taking regular table sugar or sucrose and replacing three of the hydrogen-oxygen groups on the sugar chain with three chlorine atoms to make it taste like sugar without the calories (6). As an artificial sweetener, sucralose may result in unwanted side effects, such as a laxative effect on the body, gastrointestinal upset, and headaches. We recommend going with a naturally derived no-calorie sweetener instead, like stevia or monk fruit.
Stevia is a no-calorie sweetener naturally derived from the stevia plant, which is related to the ragweed. We like stevia because it comes from a plant and contains several health benefits, including lowering blood sugar and blood pressure levels, preventing the risk of metabolic disease, and aiding in weight loss. It's also less likely to cause digestive upset.
Erythritol is a no-calorie sweetener that is naturally derived from some plants and foods. Benefits include keeping your blood sugar levels down and keeping your teeth healthy. It has even been shown to act as an antioxidant in the body to protect against vascular damage (7).
Dried berries are used in some of the Quest bars. It's worth mentioning the many dried fruits contain added sugars and should be avoided on a ketogenic diet. Fresh berries can be eaten in moderation.
Honey is off-limits on any low-carb diet because it contains too much sugar. Although some studies show that raw honey contains antibacterial properties and enzymes that are beneficial for health (8), it simply contains too many carbs to be eaten on a ketogenic diet.
You can read more about which sugar substitute is best for the ketogenic diet here.
Are Quest Bars Keto-friendly?
Quest Nutrition has done a good job of providing a low-carb alternative to most protein bars without tons of unnecessary ingredients. Most bars contain up to 21 grams of protein and only four or five net carbs. They also tend to have a good amount of fiber. But while the bar is acceptable for generic low-carb diets, it doesn't meet the strict qualifications of being keto-friendly.
Should You Eat Quest Bars on Strict Keto?
Most good keto-friendly bars will only contain a handful of ingredients, which places extra emphasis on the ingredients that are used. Quest bars are low-carb, but they contain some ingredients that aren't keto-friendly, such as peanuts, oats, dried berries, lots of preservatives, and honey. There are better bars out there that contain ingredients that will support your ketogenic diet, such as coconut or MCT oil and fewer carbs.
For example, Perfect Keto Bars only contain three grams of net carbs per serving. They also provide 10 grams of protein from 100 percent grass-fed collagen and 19 grams of fat from almond butter and organic coconut oil. These macronutrient numbers are much better suited for someone on a ketogenic diet.
One Perfect Keto bar provides more fat than protein, and the only sweetener you'll find in the bar is stevia.
Quest Nutrition doesn't claim to be a keto company, but many people on a low-carb diet use their products to supplement their diet. We recommend limiting your intake of Quest bars or using them in emergencies only if you're on a strict ketogenic diet.
If you're a low-carb eater with fewer restrictions, then Quest bars are perfectly acceptable. You can also try some of their other low-carb products, such as protein cookies, powders, and pizza crust. Double check the ingredients especially the types of sugar alcohols and nutritional information if you need to stay in ketosis.
What About Other Quest Products?
Quest makes other low-carb products that you can try, but they use a lot of the same ingredients as their snack bars. This makes them suitable for a low-carb diet, but not for strict keto dieters.
The Quest protein shakes are ready-made. They come in three different flavors: vanilla, chocolate, and salted caramel.
The chocolate flavored protein shake contains 160 calories, 3.5 grams of fat, 3 grams net carbs, and 30 grams of protein. Ingredients include water, milk protein concentrate, cocoa processed with alkali, sucralose, and other natural flavors and preservatives.
There are four different flavors of the Quest cookies: chocolate chip, double chocolate chip, peanut butter, and peanut butter chocolate chip.
One Quest chocolate chip cookie contains 250 calories, 17 grams of fat, 19 grams of carbs (4 grams net carbs, 9 grams of fiber, 6 grams of erythritol, and 15 grams of protein.
Some ingredients include milk and whey protein isolate, soluble corn fiber, erythritol, palm oil, unsweetened chocolate, stevia, and more.
The Quest protein chips come in the following flavors:
Loaded taco
Chili lime
Nacho cheese
Ranch
BBQ
Cheddar and sour cream
Sour cream and onion
One bag of the ranch flavored chips contains 140 calories, 4.5 grams of fat, 5 grams carbs (4 grams net carbs), 1 gram fiber, and 19 grams of protein.
Some ingredients include milk and whey protein isolate, corn starch, high oleic sunflower oil, sugar, stevia, cheddar cheese powder, and more.
There are four flavors of the Quest thin crust pizza: 4-cheese, supreme, spinach and mushroom, and uncured pepperoni.
One half of the uncured pepperoni pizzas contains 340 calories, 21 grams of fat, 25 grams of carbs (6 grams net carbs), 15 grams of protein, and 28 grams of protein.
Some ingredients include uncured pepperoni with no nitrates or nitrites, milk protein isolate, high oleic sunflower oil, soluble corn fiber, cheese, and more.
The Quest protein powders come in the following flavors:
Chocolate milkshake
Cinnamon crunch
Cookies and cream
Cold brew coffee latte
Multi-purpose
Peanut butter
Salted caramel
Vanilla milkshake
One scoop of the multi-purpose protein powder contains 100 calories, 0.5 grams of fat, <1 gram of carbs, and 23 grams of protein. Includes include whey protein powder and preservatives.
Quest also sells powdered MCT oil and coconut oil. However, these oils contain soluble corn fiber and other preservatives. Look for a brand of coconut oil or MCT oil that does not contain additives.
Conclusion
Although a Quest protein bar is a good low-carb option for someone who wants to satisfy their sweet tooth without the adverse effects on their blood sugar levels, they are not suitable for a strict ketogenic diet. The macronutrient ratio of Quest bars is better suited for someone who wants a high-protein and low-carb option. One bar contains around 21 grams of protein and five grams of net carbs, but someone on keto needs more fat than they do protein and even fewer carbs. One Quest hero bar contains less protein and even more net carbs.
There are other low carb protein bars on the market that provide three grams of net carbs or less in addition to better fat/protein ratios. Some Quest bars contain some ingredients that aren't considered strict keto-friendly, such as palm oil, whey protein, oats, and honey. They also use sucralose and more preservatives than we'd like to see.
When looking for a keto bar, focus on high-quality ingredients such as organic coconut oil and MCT oil, which will help boost your ketone production. Also, keep the sweeteners to a minimum and look for stevia, monk fruit, and erythritol as your only sugar alcohol options.

Up Next: What Are The Best Keto-friendly Protein Powders?

Image credit: m01229/Flickr