If you're on a mission to eat cleaner, then you need to do more than just buy organic vegetables. You also need to make sure your animal products are clean, too.
This article reviews the ins and outs of ButcherBox's service and products so you can decide whether or not it's right for you.
Unless you're buying 100% grass-finished beef, which is hard to find, you may be consuming antibiotics, growth hormones and other dangerous additives.
As meat enthusiasts, we were intrigued by the clean sources of meat at ButcherBox and the convenience of having it delivered to you.
Our Experience with ButcherBox: Unboxing Video
Here's our Butcher Box unboxing video of what we received:
We couldn't pass up the opportunity to try ButcherBox ourselves. Here's what we got:
Bone-in pork butt
Applewood smoked uncured bacon (no sugar added; nitrate-free)
Organic chicken drumsticks
Organic chicken breasts
Grass-fed ribeye steaks
Grass-fed ground beef (great for breakfast sausage)
Wild-caught Alaskan Sockeye salmon
Boneless pork chops
After placing our order, we were promptly supplied with a tracking number from Butcher Box. We also received an email when the order arrived.

The box was carefully packaged and the meat arrived frozen, as promised. All items fit nicely in the freezer and saved us the hassle of trying to find high-quality meat at the grocery store.

Excellent customer service and an excellent product are two reasons why we recommend ButcherBox.

Where to buy: Check Best Price Here!
---
What is ButcherBox?
Most people have no idea how bad conventionally-raised meat could be. For example, you can get grass-fed meat at the grocery store, but this does not mean that the cows were always raised this way. They may have been grass-fed for only a few weeks before being put back on a grain-based feed.
ButcherBox is a meat delivery service that brings the healthiest meat in the world right to your door. Their beef is 100% grass-fed finished and never treated with antibiotics or growth hormones, which means that your meats may have higher levels of nutrients than other meats.
All of the animals at ButcherBox are treated kindly and with respect. They get to roam around on grassy pastures all year long, thanks to the mild climate that they live in. In addition to beef, they also offer heritage breed pork and free-range organic chicken along with recipes and cooking directions.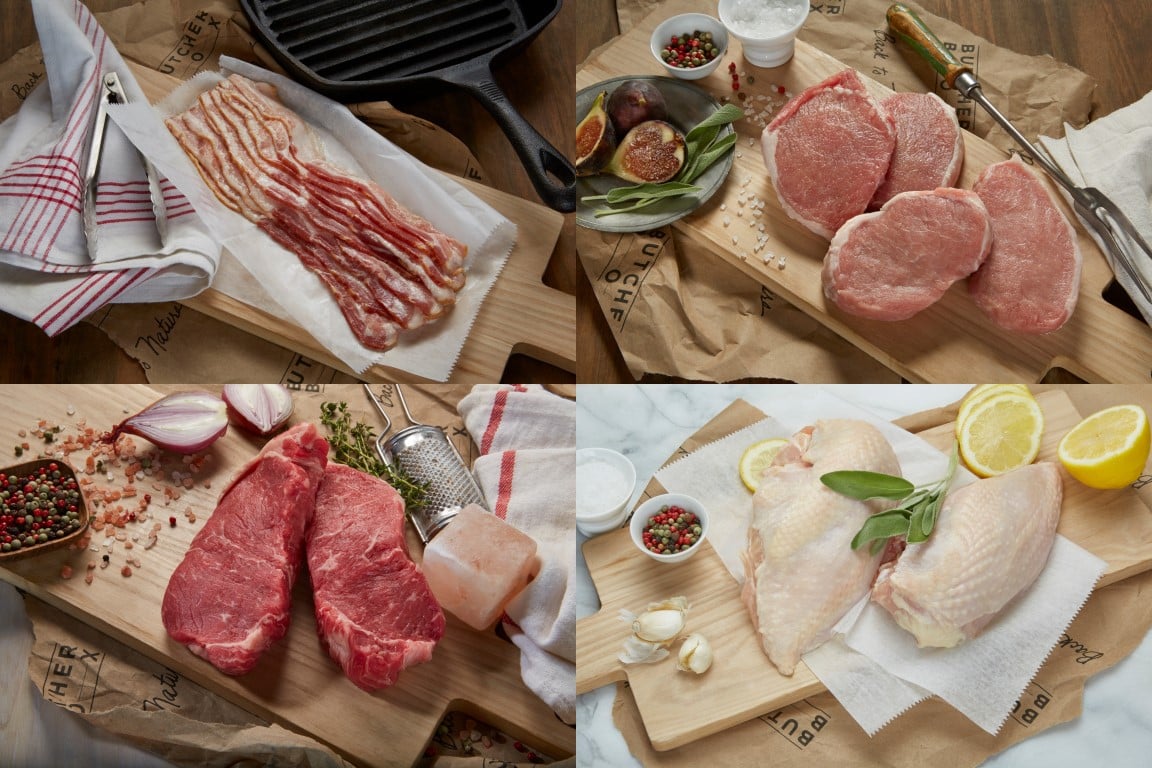 After your box arrives, you can visit the ButcherBox website for a long list of recipes and ideas for cooking your meat. They'll tell you whether you should grill, roast, saute, sear, or braise your meat to make it taste best.
If you're on the ketogenic diet, pair your meats with a low-carb vegetable or salad and you have a complete meal with limited shopping required.
What is Grass-Fed,​​ Grass-Finished​​ Beef and Its Benefits?
There is a big difference between conventionally-raised meat and grass-fed meat, but there is also a difference between grass-fed and grass-finished meat.
What is conventionally-raised or grain-fed beef?
The term "conventionally-raised meat" refers to animals that are given grain-based food to eat.
They usually have been treated with growth hormones to make them grow bigger and antibiotics to prevent them from getting sick. This allows farmers to sell more meat, which means more profit for them.
Conventionally-raised animals are often limited to cages or pens and rarely see daylight. Not only is this method of farming bad for the environment due to harmful gas emissions, but it's also bad for your health (1).
When you eat meat that has been pumped full of chemicals, it means that you are ingesting these chemicals, too. Research shows that antibiotics in our food may contribute to antibiotic resistance (2).
This means that the next time you are sick and visit your doctor for a round of antibiotics, they will be less likely to kill the bacteria that is making you sick you because you have become resistant to them.
Growth hormones are just as dangerous. Research shows that growth hormones and antimicrobials used in farmed animals can bind to hormone receptors in our body and increase the risk of certain diseases and conditions, such as hormonal imbalances (3).
According to the Organic Consumers Association, synthetic sex hormones used in beef cattle raised in the United States is linked to an increased risk of reproductive and childhood cancers (4).
What About Grass-fed Beef?
Unlike their conventionally-fed counterparts, grass-fed animals are allowed to live as they were naturally intended to. They get to roam around pastures and feed off the land instead of being confined to pens and fed a grain-based diet.
Research shows that grass-fed meat is higher in several key nutrients, including omega 3 fatty acids, vitamins A and E, and the antioxidants glutathione and superoxide dismutase, which have been praised for their anti-cancer abilities (5).
Grass-fed meat is also better for the environment because it reduces the carbon footprint (6).
We should note that grass-fed does not always mean that the cows aren't injected with antibiotics and hormones, but the ones at ButcherBox are not.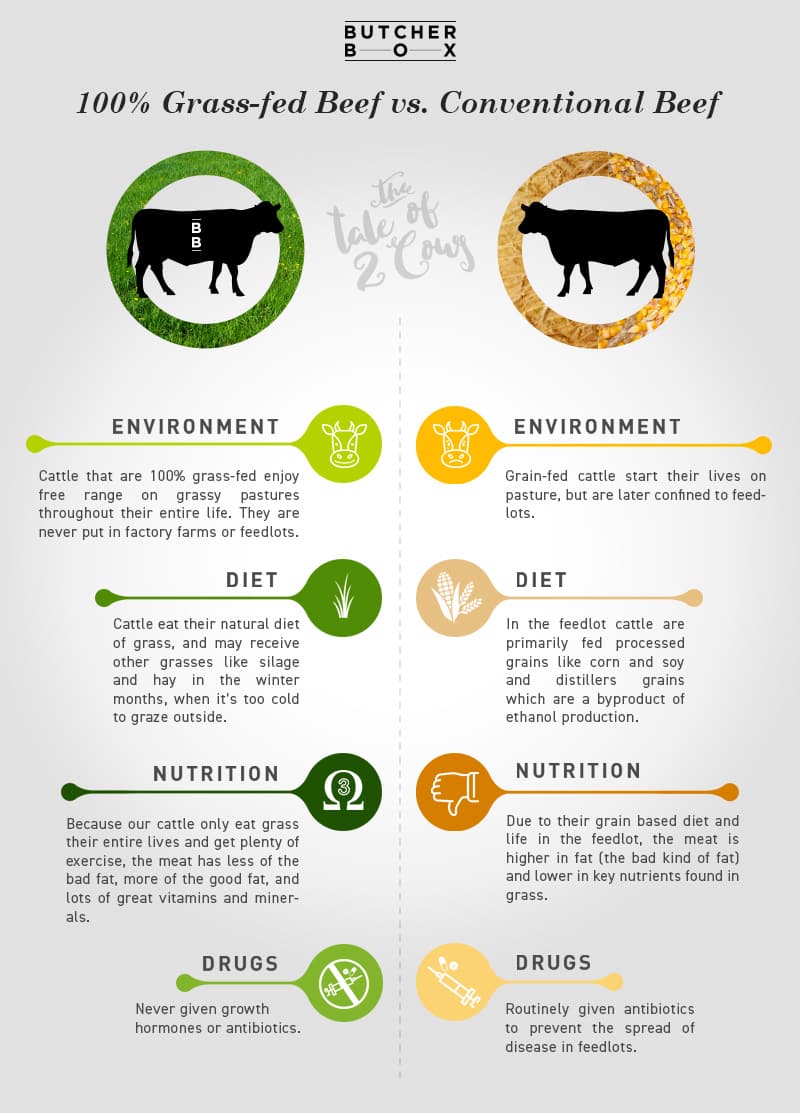 What Is Grass-finished Beef?
Here's the kicker with most grass-fed meats: they aren't always grass-finished.
This means that the beef you're buying may have been grass-fed for a certain amount of time, but then it was switched back to a grain-fed diet and forced to remain indoors before being slaughtered.
This is why it's important to always go with beef that is 100% grass-fed and grass-finished, which means that it has never eaten anything except what you find in a pasture after being weaned from its mother's milk as a calf.
The grass-finished meat at Butcherbox comes from cattle that are free to roam on grassy pastures for as long as they live. They are also allowed to nurse from their mothers until they are nine months old.
Butcherbox states that they never feed their cattle grain. Nor do they keep the cattle in feedlots. They only use cattle from meat that is raised by trusted ranchers.
Not to mention, cows that have been given room to roam and live as they were intended to produce meat that tastes juicer and better than conventionally grown. It's better for you, and it's better for the environment. You can't put a price on that.
You can read our blog post for more information about the differences between grass-fed, grass-finished, and conventionally-raised beef.
---
How Does ButcherBox's Subscription Service Work?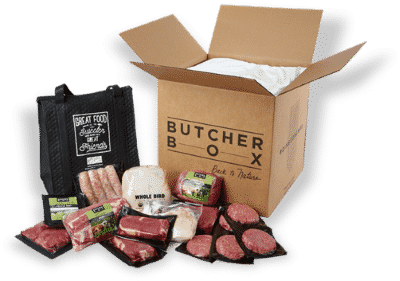 Where to buy: Check Best Price Here!
If you've ever ordered from a grocery delivery service before, then you're probably already familiar with how this works.
ButcherBox allows you to customize each box that you order or you can pick from pre-made selections. You can get a box that contains a mixture of beef, chicken or pork, or you can get just beef.
The meat is delivered to your door in an insulated box with eco-friendly packaging so that it stays frozen. Inside the box, you'll find recipes and tips for cooking and preparing your meat.
All boxes at Butcher Box ship for free. They freeze the meat when it's at its peak freshness and then individually vacuum pack each one.
All boxes ship with dry ice that is calculated based on where you live. You'll receive a shipping number for each box.
Unlike other delivery services, you don't have to be home to receive the box. It will be placed at your doorstep or you can leave delivery instructions.
Be sure to refrigerate the box as soon as possible to keep the meat fresh. You'll need to sign up for a membership to order from Butcherbox. Boxes can be sent monthly or every other month.
You can always pause your subscription for up to six months. You can also cancel anytime before they bill you for your next order.
There are no penalties or hidden fees. You can change your box type each time or adjust your frequency when you sign into your account online.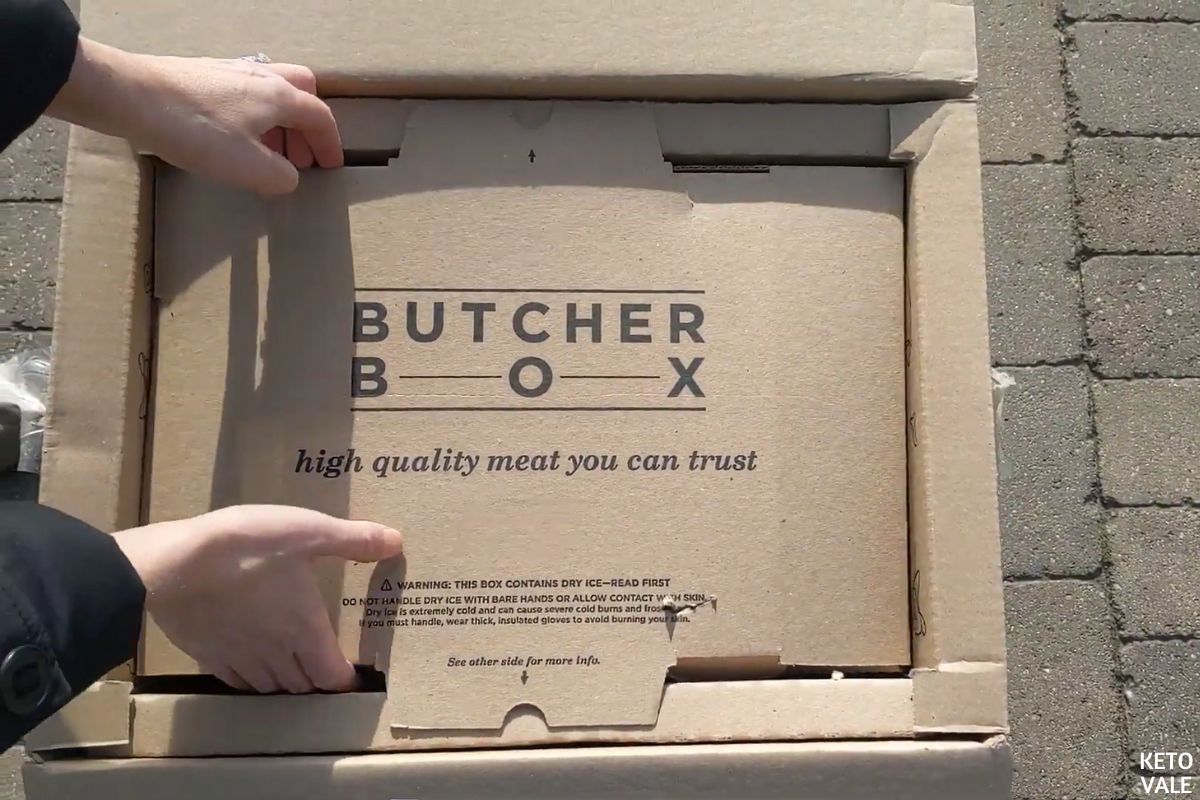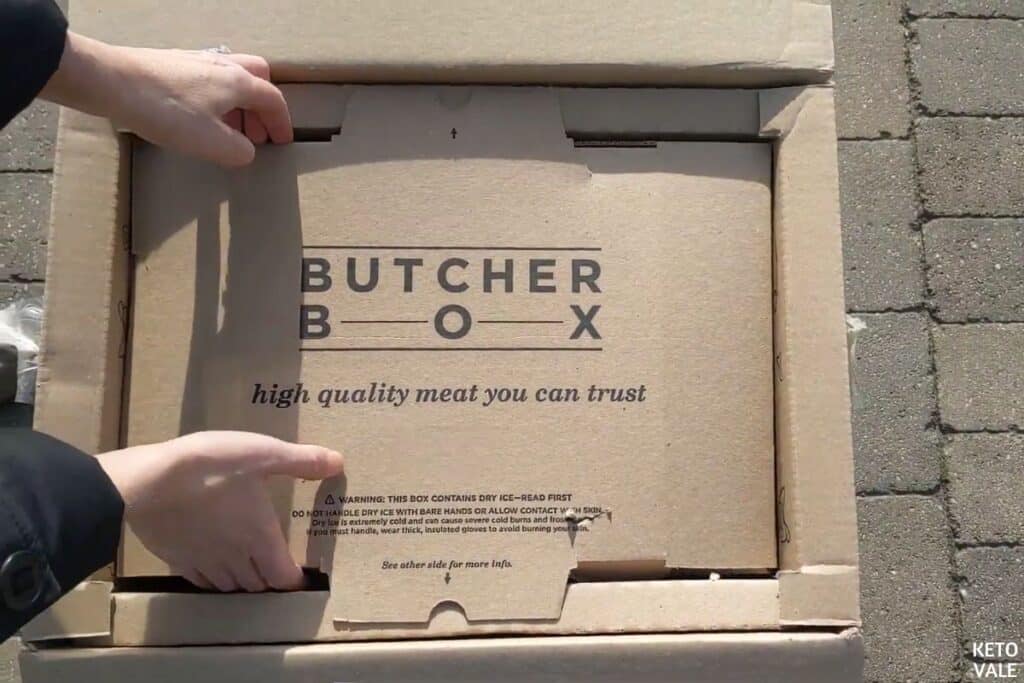 How Much Does ButcherBox Cost?
Each Classic Box contains 9-14 lbs of high quality meat while a Big Box comes with 18-26 lbs of high quality meat.
Right now, the price of a Classic Box is $169 and $306 for a Big Box.
What's great about them is they always throw in extra beef, pork, salmon, or lobster for new member's first box. You can check their current promotion here!
Regardless of the box size, shipping is always free. You can also choose how often your delivery will be, whether it be every 4 weeks, 6 weeks or 8 weeks.
Keep in mind that while this might sound like a lot of money, you are buying the best source of meat on Earth and having it delivered right to you. In addition to paying for the quality of the product, you are also chipping in for the convenience of having it delivered right to your door just like a meal delivery service.
Note: The prices mentioned in this article are their current price at the time of writing this post. For latest price and current special deals, click here!
Is ButcherBox Worth It?
While you might have access to grass-fed beef, it's much harder to find grass-finished meat. We like ButcherBox meat delivery service because the cows have never been fed grains or confined to pens. The meat tastes better and is better for you.
We also like the delivery service feature of this brand, which seems to be the new trend when it comes to grocery shopping.
If you don't have access to organic meats where you live, then ButcherBox might be your only option. Their beef is raised in both the United States and Australia where the climate is conducive to being outdoors year round. The cows can graze all year without having to come inside or supplementing with grain.
The quality of this meat is simply unmatched. Since you're going to be eating a lot of it on the ketogenic diet, we recommend investing in the cleanest and tastiest sources possible for your keto grocery list.
Finally, the animals at ButcherBox are humanely raised. When you purchase a ButcherBox, you're telling conventional farmers that you'd rather give your business to a company who is doing something good for the universe and doesn't inject their meat with harmful chemicals.
Should You Give It A Try?
ButcherBox is a meat delivery company that brings grass-finished meat to your door. In this article, we covered the differences between conventional meat and grass-fed. To recap, conventional animals are subject to terrible conditions where they barely see sunlight and are pumped full of chemicals.
Antibiotics and hormones in conventional meat have been linked to antibiotic-resistance, hormonal imbalances and cancer, which is why you should avoid them at all costs. We noted that grass-fed doesn't always mean antibiotic or hormone free, but all the meat offered at ButcherBox is free from these additives.
Having the best quality meat delivered to your door with free shipping, and you can cancel anytime for whatever reason, we think you really should give this amazing company a go! Check here for special deals!
If you're on the ketogenic diet or eating a lot of meat, you cannot pass up the opportunity to consume the cleanest and tastiest meat available.
When compared to grain-fed beef, grass-fed and organic meats are higher in nutrients such as omega 3 fatty acids, vitamins A and C, and cancer-fighting antioxidants and should be on your ketogenic meal plans.
ButcherBox is a meat delivery service that brings grass-finished meat to your door. They allow you to customize your boxes. You can have choose classic custom box, classic curated box or big box. You can also pick the cuts of meat such as chicken box, beef box or mixed box.
Choose from beef, free range chicken thighs and breasts, chicken wings or pork, or get a combination of each. Bigger boxes are available for an extra cost, but there isn't a price you can put on what you're doing for your health or the health of the environment.