Who doesn't like a nice chicken fried steak? This delicious low carb chicken schnitzel recipe with just 4 grams of net carbs uses a keto friendly flour from almonds instead of the traditional wheat flour for breading the chicken so it is also gluten free.
If you are allergic to nuts, you could use ground pork rinds for a delicious low carb breading for your chicken breasts, as seen in our Pork Rind Chicken Schnitzel recipe.
Frying meat is a great way to lock in all that juicy flavor. However, most people associate the term "frying" with unhealthy fats. I'm here to tell you that frying doesn't have to be unhealthy as long as you use the right ingredients. Another great option to frying is using an Air Fryer. There are many Air Fryer recipes that are delicious and healthy.
My crispy chicken breast is dipped in almond flour and fried in coconut oil. I paired it with a delicious original sauce for a low-calorie meal you can feel good about when following a keto diet.
Try adding some grated parmesan cheese into the flour mixture and a squeeze of fresh lemon juice after you have friend the chicken breasts. I believe that once you try this chicken keto schnitzel recipe it will become a regular staple for your family meals.
Chicken breast is an excellent source of protein. It's low in saturated fat and full of amino acids and minerals.
One of the few fats that most people agree is healthy is olive oil. It is also a rich source of minerals, such as calcium, magnesium, phosphorus, and potassium, as well as antioxidants, such as polyphenols, that have been shown to reduce blood pressure and cholesterol levels. This helps reduce the risk of cardiovascular disease (1).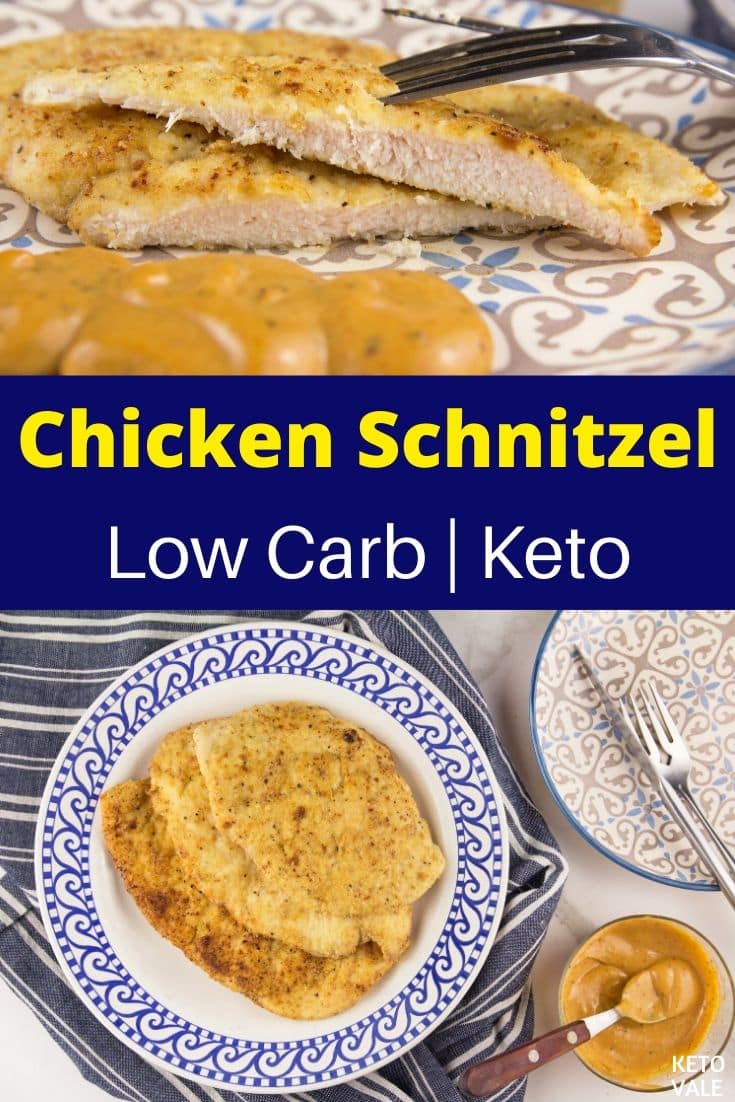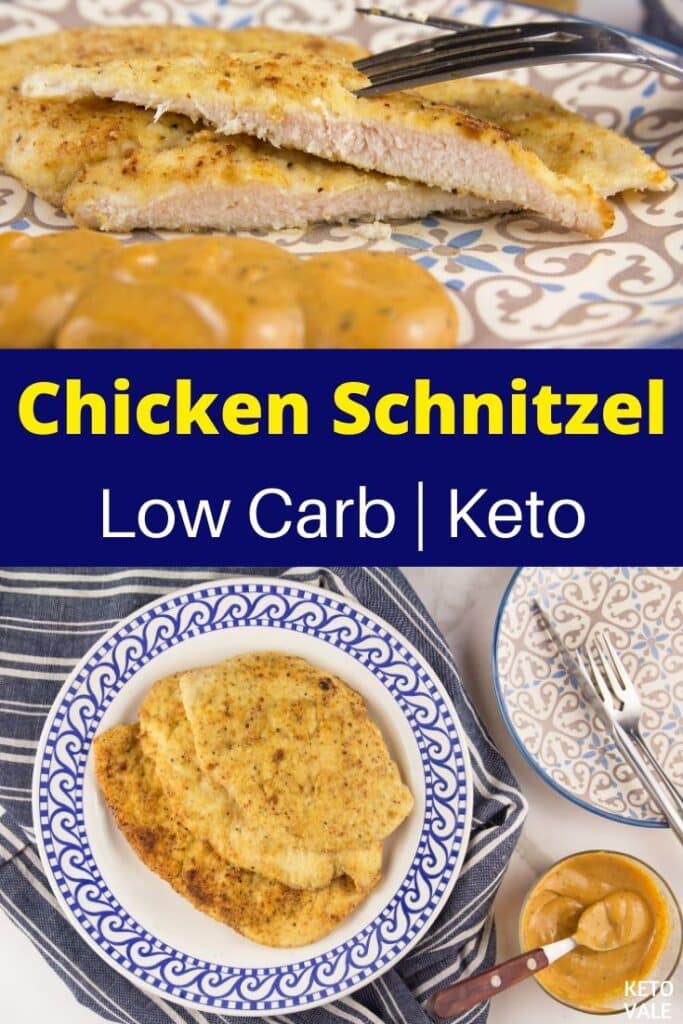 Olive oil contains also a compound called oleuropein, which has numerous proven pharmaceutical effects, including anti-inflammatory, anti-atherogenic, antioxidant, anti-cancer, antimicrobial, hypolipidemic, antiviral, and hypoglycemic properties (2).
The herbs in this dish aren't just flavorful. They are also good for you.
Almond flour has grown in popularity thanks to the keto and gluten free world, so gone are the days of getting out your food processor and making your own version. You can find them right at your local grocery store now a days which is a great convenience.
If you are cooking for kiddos, just try cutting your chicken breast into bite size chunks and make this recipe as a chicken nugget. Grown ups and kids alike will love this chicken recipe.
Some tips for tenderizing the chicken breasts are if you don't have meat tenderizer, use a rolling pin well wrapped in a protective layer of plastic wrap to pound out the meat.
Also, after frying be sure to place the coated chicken cutlets on a paper towel lined plate to absorb any access oil. You'll need two separate bowls to prepare; one will be the almond flour bowl with the parmesan cheese if using, the second will be the egg wash.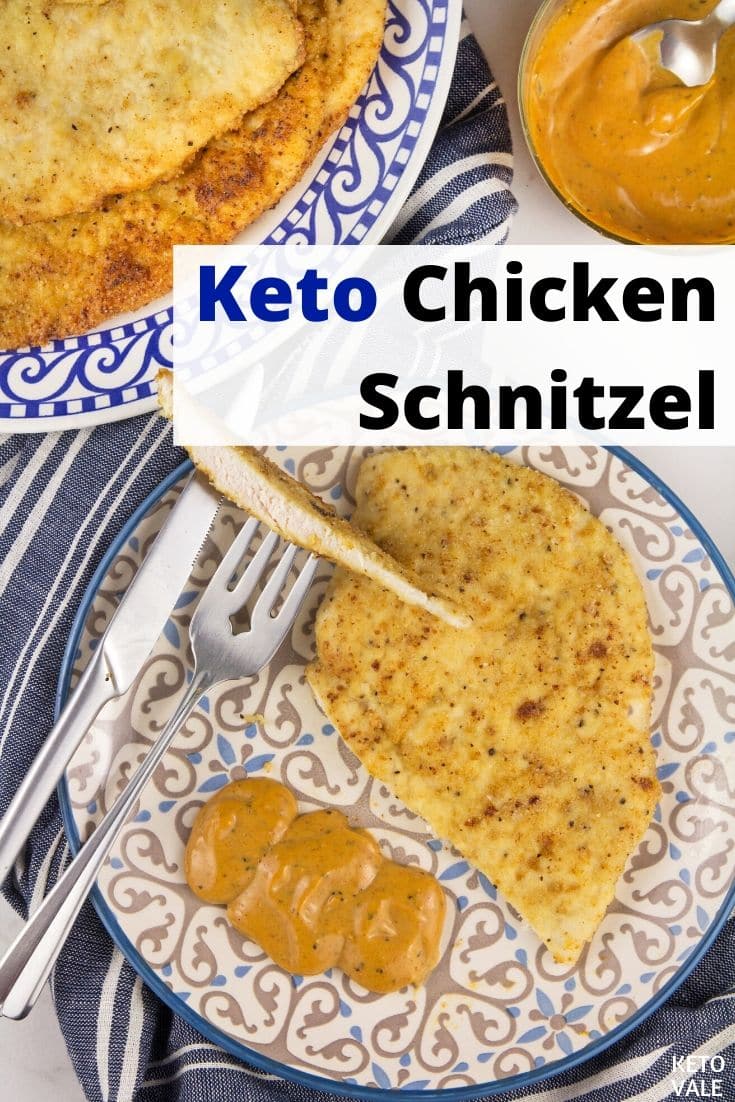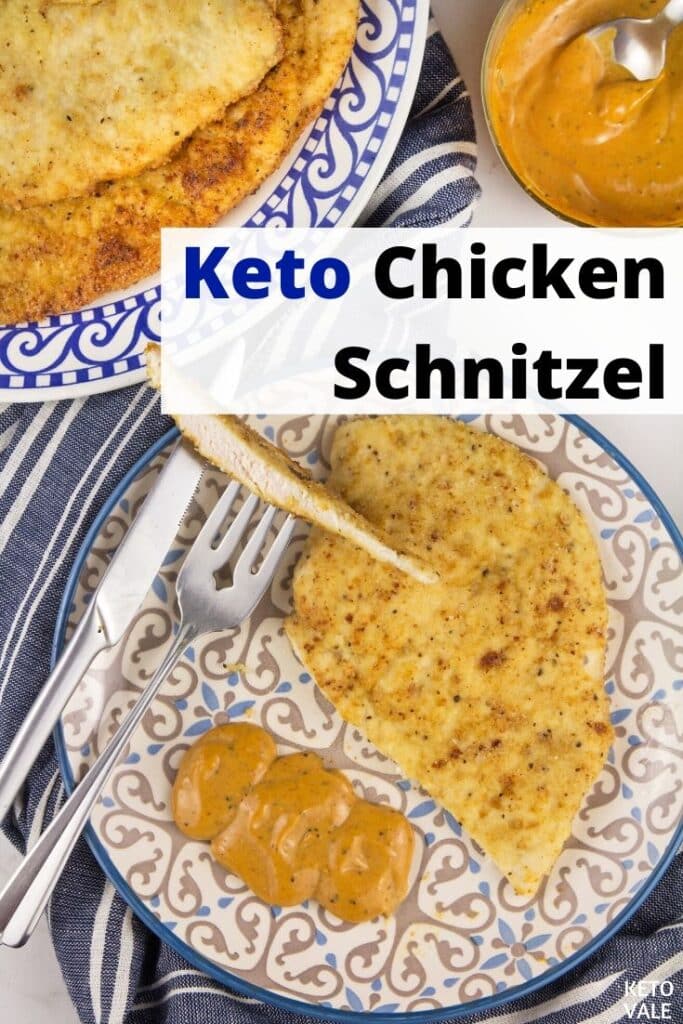 Our sauce is made with a mayonnaise base. You can make your own at home or buy a brand that does not contain added sugars. Also look for a brand of mayonnaise that uses healthy oil (olive or avocado) in place of vegetable oil.

Save this sauce recipe and use it on your favorite foods. It would go great with fish, other cuts of meat, and even as a dipping sauce for your favorite vegetables.

Serve this dish with low-carb vegetables, such as green leafy salad or steamed broccoli.

---
How To Make Keto Schnitzel with Almond Flour "Bread Crumbs"
To make, add the almond flour, garlic powder, onion powder, salt and pepper in a bowl. Mix well. You can also use coconut flour instead of almond meal.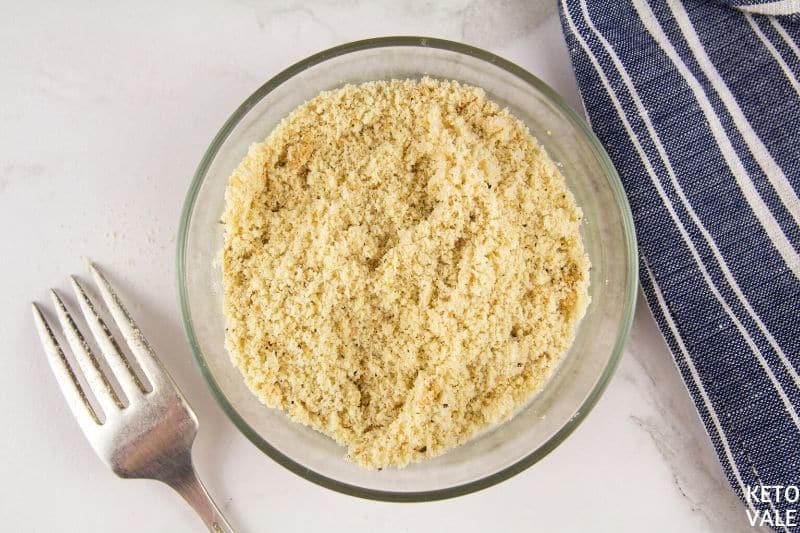 In another bowl, add the egg and beat slightly.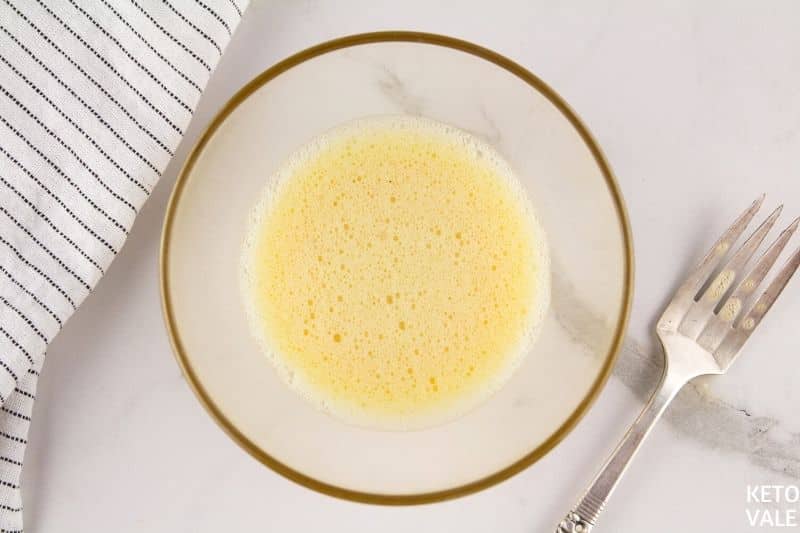 Cut the chicken into slices and beat with a meat tenderizer until flat.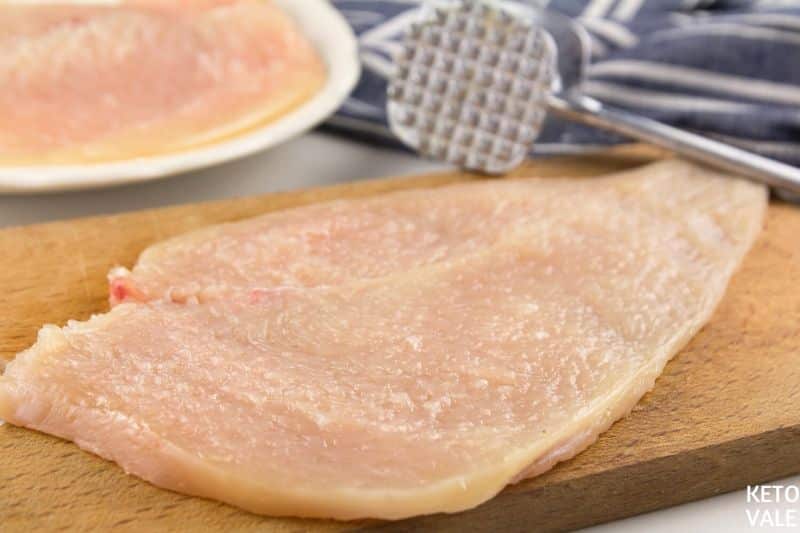 Dip the chicken in the egg mixture then coat it in the almond flour mixture.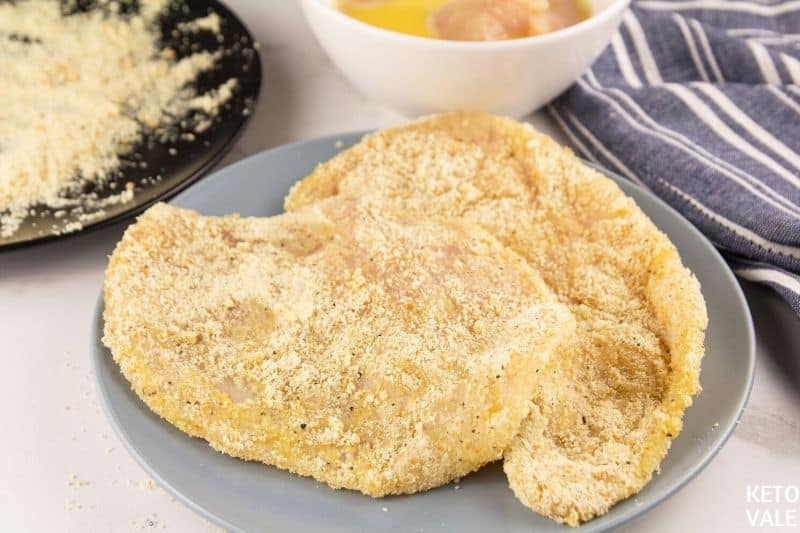 Heat olive oil or avocado oil in the frying pan and add the chicken. Cook on both sides until golden brown. Another alternative to frying is cooking with an Air Fryer until you achieve a crispy crust.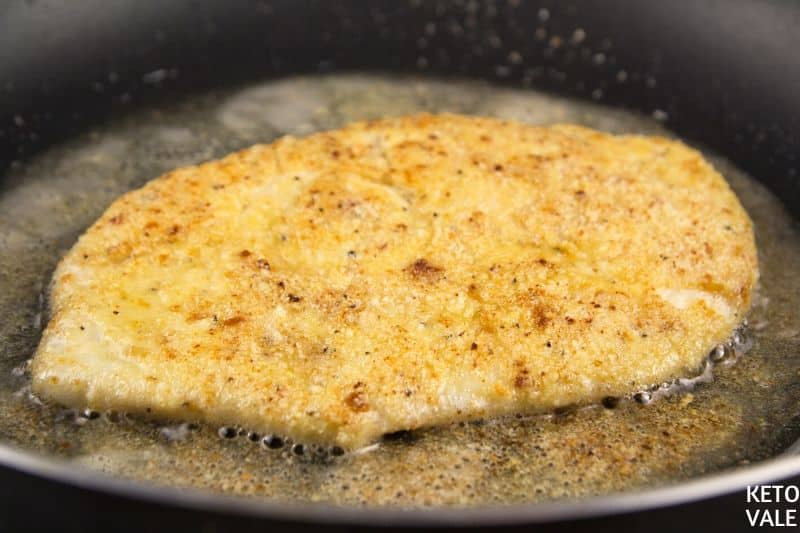 Homemade copycat Chick-Fil-A sauce
While the chicken is cooking, prepare the sauce by combining the mayonnaise, olive oil, mustard, paprika, and black pepper.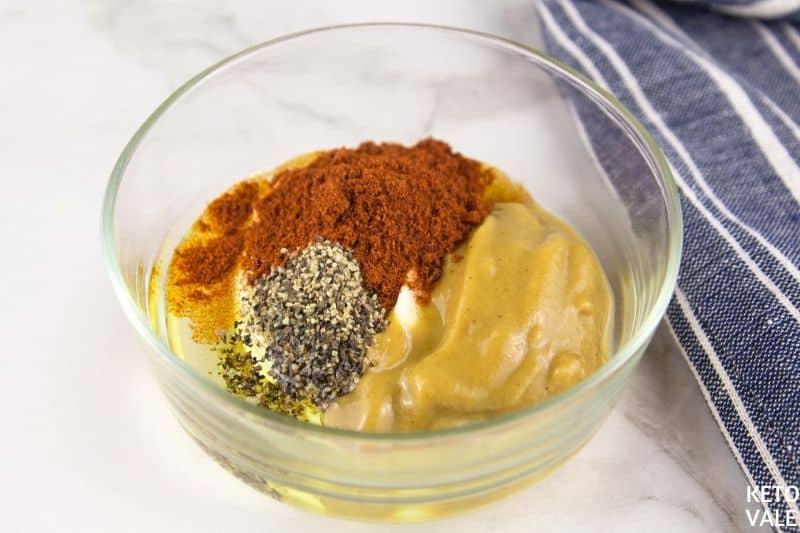 Serve this gluten-free low carb breaded chicken schnitzel with the sauce.
Related:
Keto Almond Flour Crumbed Chicken Schnitzel
A low-carb chicken schnitzel dish coated with almond flour instead of bread crumbs.
Instructions
PREPARE THE BREADED CHICKEN
Combine the garlic and onion powders, almond flour, salt and pepper in a bowl. Put aside for later use.

Prepare another small bowl. Crack the egg and beat it lightly. Reserve.

Chop the chicken breast into slivers. With a meat tenderizer, crush the meat gently to soften.

Prepare the bowls of flour mix and egg. Dip each slice of chicken in the egg bowl then roll it in the flour bowl. Coat the slice entirely.

Heat some oil in a hot frying pan over medium high heat. Crispy fry the coated chicken. Remove from the heat once all sides turn golden brown.
PREPARE THE SAUCE
While frying the chicken, start making the sauce. Fold all the ingredients together in a bowl until incorporated.

Pour the sauce on the plate with chicken. Serve.

Bon appetit!
Notes
There is enough chicken for 3 servings, the nutritional information is per serving (including sauce).
Nutrition/Macros
Nutrition Facts
Keto Almond Flour Crumbed Chicken Schnitzel
Amount Per Serving
Calories 417
Calories from Fat 234
% Daily Value*
Fat 26g40%
Cholesterol 155mg52%
Sodium 314mg13%
Potassium 596mg17%
Carbohydrates 7g2%
Protein 39g78%
Vitamin A 289IU6%
Vitamin C 2mg2%
Calcium 59mg6%
Iron 2mg11%
* Percent Daily Values are based on a 2000 calorie diet.
Pin To Save This Recipe
FAQ
What is a good keto breading?
A good keto breading alternative to traditional breadcrumbs or flour is a mixture of almond flour or coconut flour combined with grated Parmesan cheese and seasonings. Another option is crushed pork rinds for a crunchy texture.
What is the lowest carb breading?
The lowest carb breading option is crushed pork rinds, which are naturally carb-free, high-protein and provide a crunchy texture when used as a coating.
Is traditional chicken schnitzel high in carbs?
Traditional chicken schnitzel, which is breaded with wheat flour or breadcrumbs and fried, is typically high in carbs. However, the carb content can be reduced significantly by using low-carb breading alternatives like almond flour or crushed pork rinds.