Fettuccine is a type of pasta that is very popular in Tuscan and Roman cuisine. It is usually made of egg and flour and has a flat thick shape. For the keto version, we use almond flour, coconut flour, egg and xanthan gum.
This is a very easy and quick pasta recipe that can be a life-changer for those keto-followers that miss a good old pasta bowl. It can be made ahead of time and kept in the fridge for a week or two and it will cook in just a couple of minutes.
Xanthan gum plays a major role for the success of this. It is a gluten-free fine powder. It is perfect for making gluten-free dough that results in a chewy finished product and an unbeatable texture by providing stickiness and elasticity properties. You can try this Anthony's Xanthan Gum brand!
Our recipe also calls for apple cider vinegar, which helps sweeten and flavor the pasta without refined sugars. We recommend using an organic, raw and unfiltered version that contains the "mother," which refers to the live enzymes that gives the product its beneficial properties. Bragg's is an excellent brand that can be found in most grocery stores.
In this keto-fied pasta recipe, we decided to make all by hand shaping the past into fettuccine style, so even if you don't have a fancy pasta machine or a food processor, you can still venture yourself in this recipe.
For handmade pasta, you can still make lasagna, raviolis, or bow ties. Another idea is to fill the pasta with cheese spreads and meat, making it even heartier.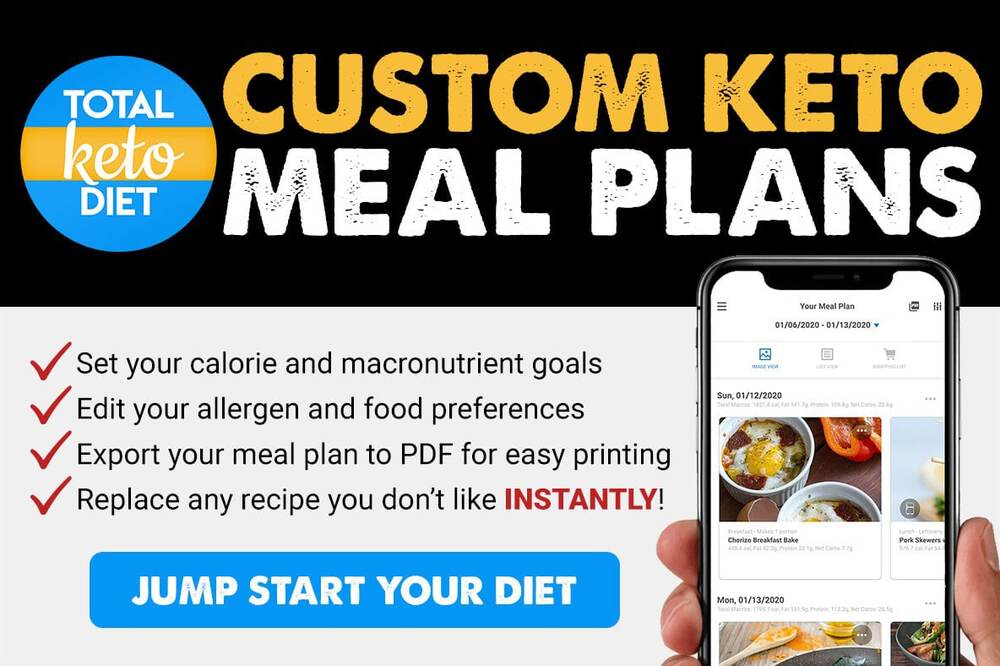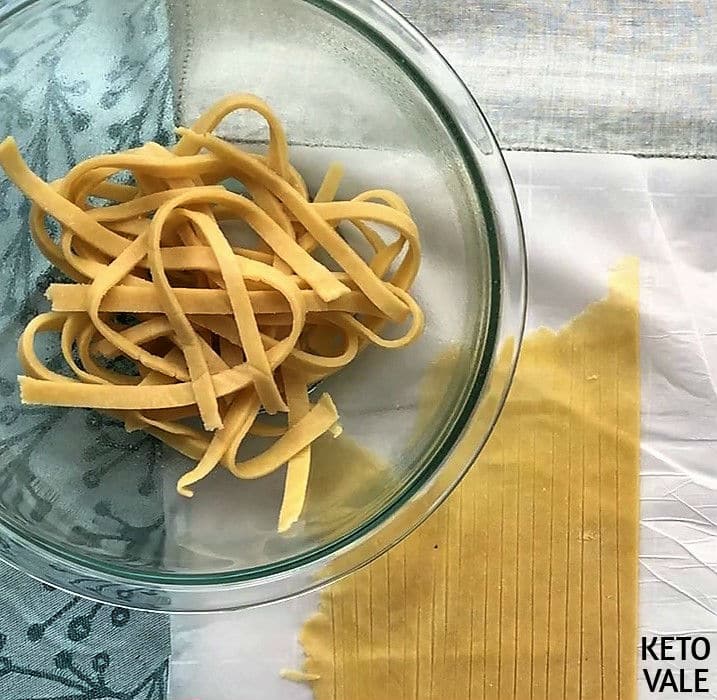 After shaping the pasta, it can be frozen and cooked straight from the freezer. If you decide to freeze it, shape the pasta, lay on a flat sheet (away from each other) and freeze it for at least one hour. Once frozen, the pieces can be moved to a freezer safe bag and kept for up to three months.
You can add a variation of toppings to the pasta to please your preference. There is no limit to how much fun you can have with this recipe!
---
Let's Do It!
In a large bowl, mix the coconut flour, almond flour, and xanthan gum. Add the egg and apple cider vinegar and mix thoroughly. Add a pinch of salt to taste. As needed, add a teaspoon of water. You may continue doing this until the right consistency is reached.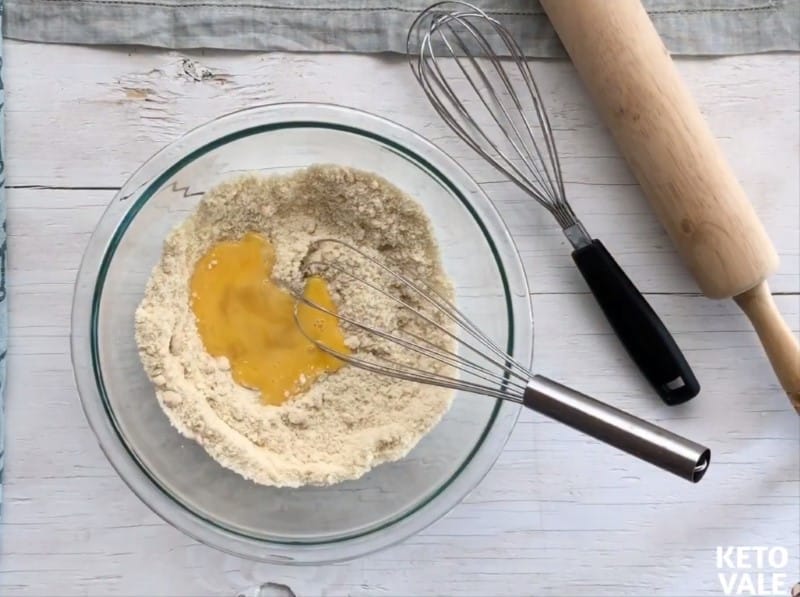 Use your hands to mix the dough and roll it into a ball. Cover the dough with plastic wrap and set in the fridge for at least half an hour.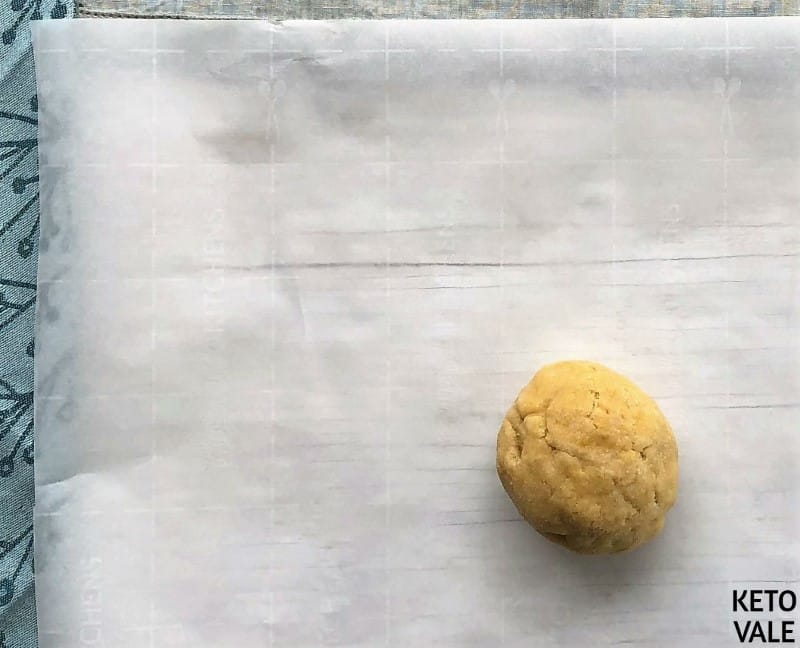 Remove the dough from the refrigerator and place the ball on a flat surface. Roll the dough with a rolling pin until it's reached your preferred thickness. Then, cut it to form your favorite pasta shape. You may also do this with a pasta machine.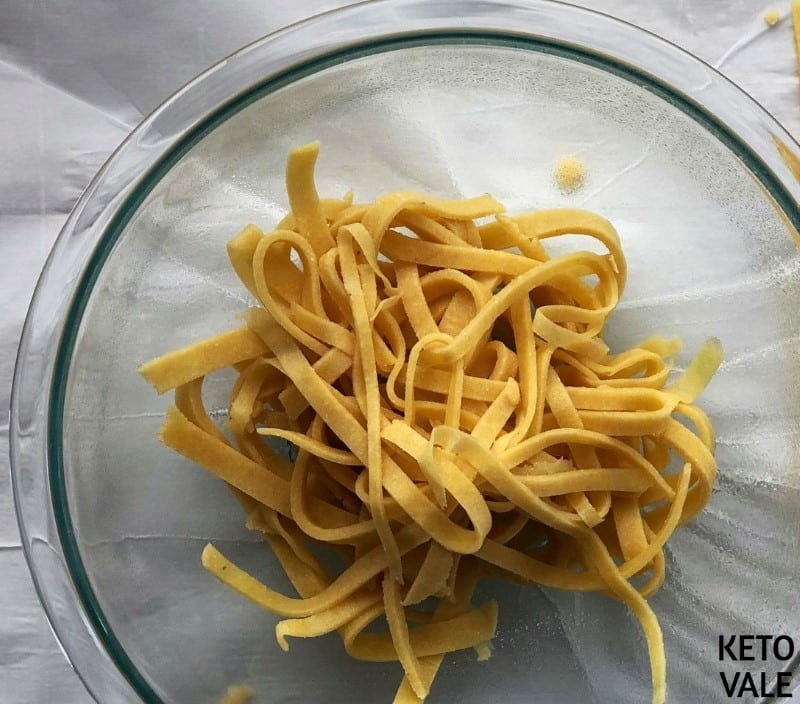 Place the cut pasta into the refrigerator for another 15 minutes. After this time, place the pasta in a pan and cook until ready. Top this with the fat of your choice. You can serve this pasta with any keto-friendly sauce. Serve and enjoy while warm.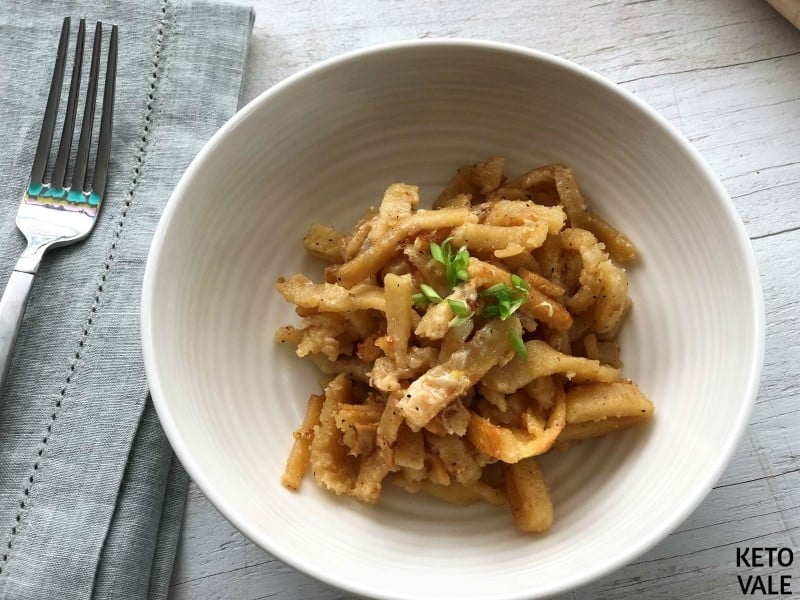 Save this recipe by pinning this picture to your Pinterest board for later use!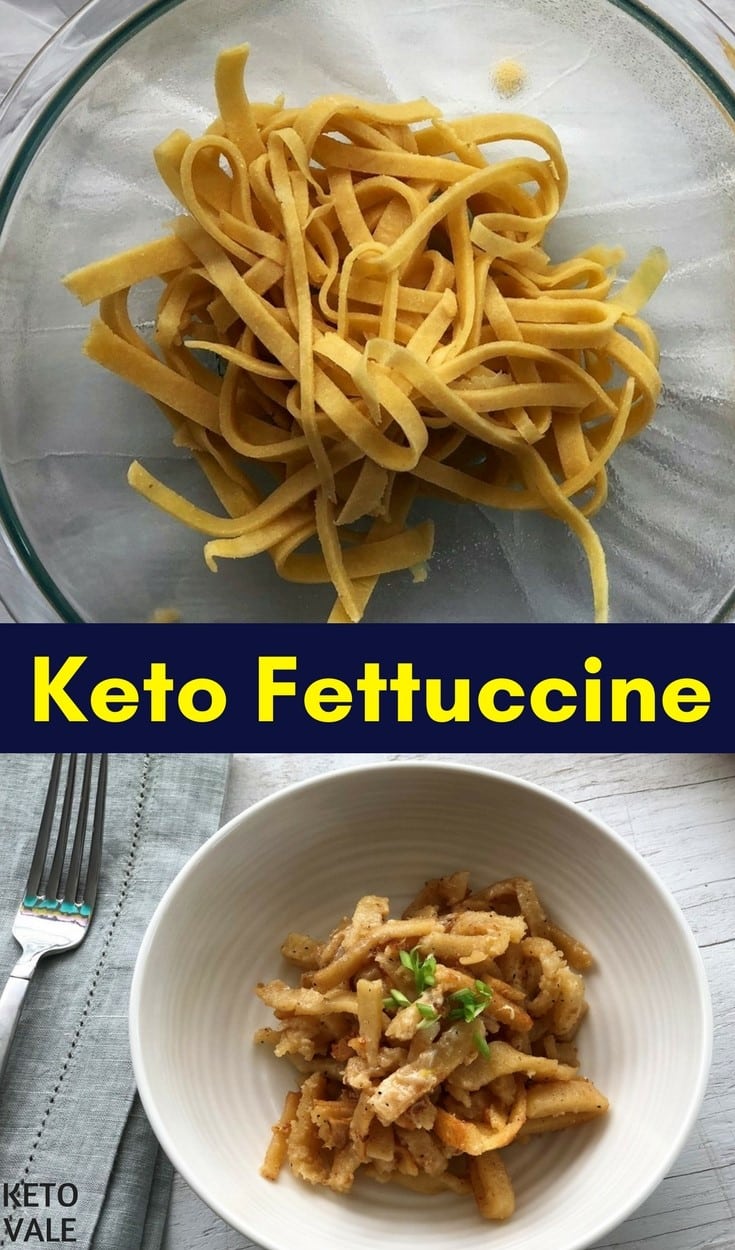 Related:
Easy Keto Fettuccine Alfredo
This fettuccine alfredo is simple and delicious. You'll love it.
Ingredients
To cook
2

tbsp

butter

1

tbsp

Parmesan cheese

1/4

cup

heavy cream

2

cloves

garlic slivered

optional

1

tsp

lemon zest

salt and pepper to taste
Instructions
Prepare a large bowl for the ingredients. Mix the coconut flour, almond flour, and xanthan gum in the bowl. Add the apple cider vinegar and egg and mix thoroughly. Put a pinch of salt to taste. Add water teaspoon by teaspoon, as needed.

Mix the dough using your hands and roll it to form a ball. Cover it with some plastic wrap and place in the fridge for at least 30 minutes.

Take out the dough from the fridge and place on a flat surface. Using a rolling pin, flatten the dough to your preferred thickness. Once ready, cut it to form your favorite pasta shape and shape it freely. If a pasta machine is available, use it for a more precise result.

Replace in the fridge for another 15 or so minutes. Afterwards, place on a pan and cook until ready. Top with the fat of your choice. It can also be served with any other keto-friendly sauces such as pesto, tomato, or plain garlic butter as used in this recipe. Transfer to a serving plate and enjoy while warm.
Nutrition/Macros
Nutrition Facts
Easy Keto Fettuccine Alfredo
Amount Per Serving
Calories 623
Calories from Fat 495
% Daily Value*
Fat 55g85%
Cholesterol 155mg52%
Sodium 583mg24%
Potassium 53mg2%
Carbohydrates 22g7%
Protein 18g36%
Vitamin A 910IU18%
Vitamin C 2.2mg3%
Calcium 182mg18%
Iron 2.8mg16%
* Percent Daily Values are based on a 2000 calorie diet.
Pin To Save This Recipe