The quest for amazing keto products never ends and we're on a mission to bring them all to your attention!

Although you don't need anything other than real food that you normally buy at the grocery store to get into ketosis, it sure is nice to have options for keto-friendly sweeteners to fill that void in your diet.

Lakanto specializes in making monk fruit sweetener products and we had the pleasure of trying them! Do you miss flavoring in your latte? Lakanto makes a monk fruit simple syrup to fix that.

How about the sweet, succulent taste of the chocolate spread Nutella? Lankanto has a product to replace that, too.

Whether you're looking for a low-carb brownie or pancake mix, or you just need a high-quality monk fruit sweetener to replace sugar in all your favorite dishes, Lankato has you covered.

Check out some cool facts about the company here and what they have to offer.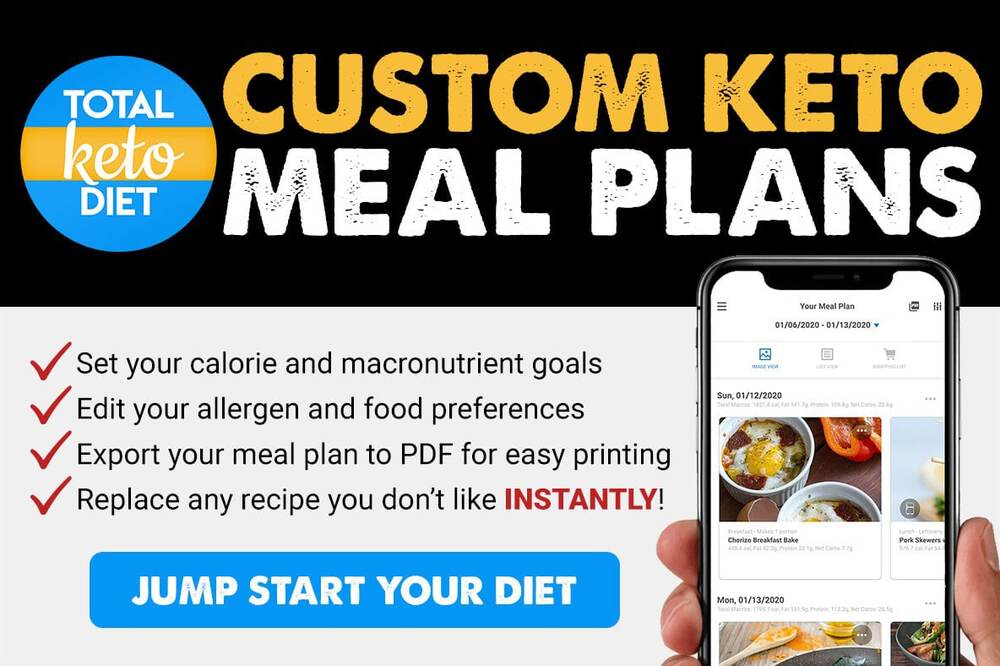 About Lakanto
According to the website, Lakanto was born to help people live a sugar-free life. The company focuses on selling products that contain monk fruit, which is a rare fruit was discovered over 1,000 years ago in Asia by buddhist monks called the Luohan who used it in elixirs for its sweetness to promote "chi."

Chi is described as the life energy that flows through the emotional, physical and spiritual body. The monk fruit quickly became known as the "immortals fruit" due to its high antioxidant content and the long life span of its caretakers.

The Lakanto story begins with a diabetic Japanese entrepreneur named Shota Saraya, who began looking for a sugar-free alternative to sugar that still tasted like the real thing back in 1993. He was introduced to monk fruit after traveling to mountains located in Guilin.

He became the first person in the world to put together a team to extract the sweetness of monk fruit for a true no-calorie sugar substitute with the same sweetness as the real thing.

Saraya is responsible for sharing monk fruit with the rest of the world. Then, Lakanta was created in an office in the Rocky Mountains located in Utah.

The company's purpose was to share monk fruit sweetener products with the rest of the world so that they can help improve the following conditions:

Mental clarity and alertness
Blood sugar levels
Weight gain and obesity
Energy levels
Chronic disease
Lakanto promises but their monk fruit is still grown in the highlands of Guiland and harvested through ancient practices. This helps support the rural communities of local areas while bringing awareness to the goodness of monk fruit to the rest of the world.

Lakanto also has an environmentally friendly zero-admissions plant that manufactures all their products to help take care of the planet.

The company acknowledges that what we eat is important to our health and their goal is to help battle the sugar epidemic by providing a natural alternative with amazing health benefits.

You can read more about the health benefits of monk fruit.

Lakanto strives to help people identify their chi by encouraging them to live a healthier, sugar-free life to help promote energy and wellness.

Currently, the company offers the following products:

Original flavoring syrup
Lakanto classic monk fruit sweetener
Matcha latte drink mix with probiotics
Liquid monk fruit extract
Sugar-free caramel syrup flavoring
Golden monk fruit sweetener packets
Sugar-free vanilla syrup flavoring
Pure monk fruit 30% extract
Sugar-free chocolate syrup
Suntella: sugar-free chocolate spread
Classic monk fruit 1:1 sugar substitute
Classic monk fruit powdered sugar substitute
Golden monk fruit 1:1 sugar substitute
Keto quickstart bundle with free seven day meal planning essentials book
Going sugar-free with the Bakers bundle
The ultimate guide to going low-carb bundle featuring low-carb Yum
Sugar-free drinking chocolate with probiotics
Sugar-free maple flavored syrup
Pure monk fruit 50% extract
Here are their low-carb options:

Sugar-free chocolate bars with 55% cacao
Gluten-free, low-carb brownie mix
Pancake and waffle mix: low-carb and gluten free
Are All Lakanto Products Keto-Friendly?
It's important to note that not all of the products at Lakanto are ketogenic-friendly. The brownie mix and the pancake/waffle mix are considered low-carb, but they contain ingredients that are not keto-friendly such as pea protein, rice flour, potato flour, and oat fiber.

These products are safe to consume in moderation or on a low-carb diet only, but count your carbs if you're eating them on keto!

The chocolate bars are also a bit too high in carbs to be considered keto. They contain around 6 grams of net carbs per serving. Again, these are fine to eat if you keep it in moderation!

All other products are safe to enjoy on the keto diet because they contain mostly monk fruit sweetener and not much else. If you're strict keto, then we recommend finding a keto-friendly brownie and pancake recipe. Then, top the pancakes with the Lakanto syrup!

Here are some recipes you can try:
What We Got
We had the opportunity to try some of the bread and butter products at Lakanto and the taste of their monk fruit products was as pure and delicious as promised.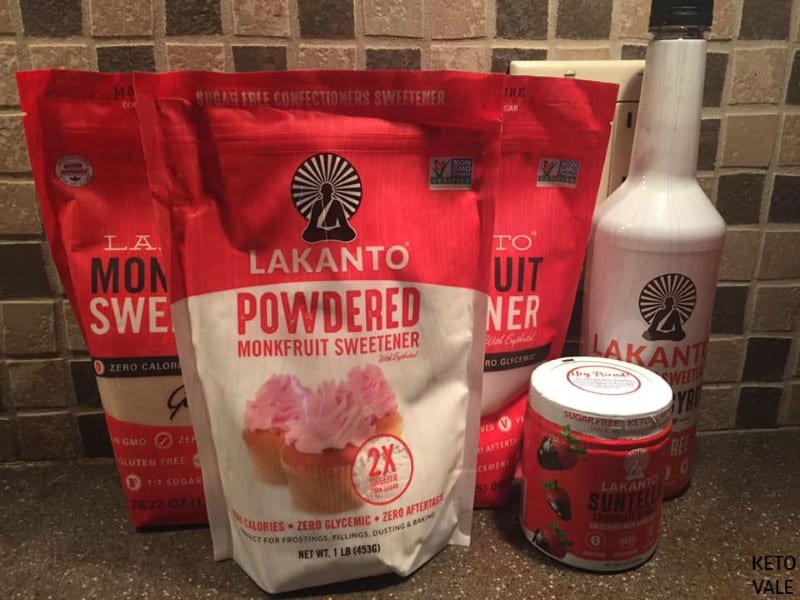 Here's what we got:

The products that stand out the most to us are:
#1. Sugar-free Maple Syrup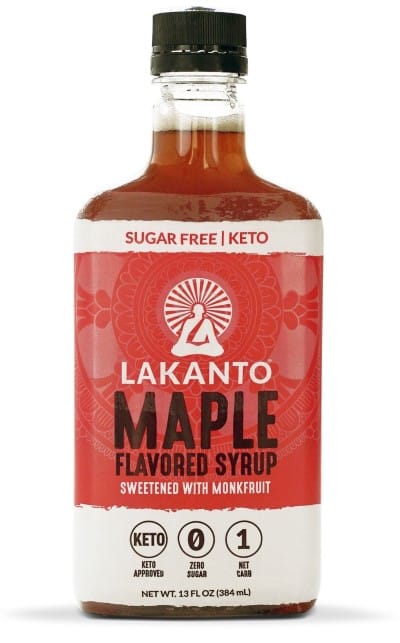 Of all the products we tried, we liked the simple maple sugar free syrup the best. This is unique and unlike any other product on the market.
The traditional maple syrup is full of sugar but Lakanto's maple flavored syrup has zero sugar and only 1 net carb per serving.
Of course, this is not real maple syrup in the traditional sense, but if you're on keto, this is the closest thing you can get.
This sugar free pancake syrup is what you want on your keto pancakes.
The sweet flavor of monk fruit goes great in a low-carb latte and we love how well it paired with almond and coconut milk when making our favorite low-carb beverages.
Ingredients: water, vegetable fiber, non-GMO lakanto monk fruit sweetener (erythritol, monk fruit extract), vegetable glycerin, natural flavors, cellulose gum, sea salt.

Where to buy: Shop now!
#2. Monk Fruit Sweeteners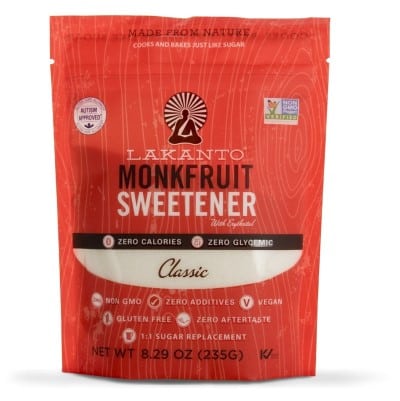 There are classic and golden monkfruit with 1:1 sugar substitute ratio and classic monkfruit powdered with 2:1 sugar substitute.

The monk fruit sweeteners are perfect for baking with. They even look like real sugar. The golden flavor looks a bit like brown sugar while the classic flavor can be used in place of white sugar.

Keep in mind that monk fruit is much sweetener than real sugar, so you don't need to use a lot to sweeten your foods. We recommend using these products in your favorited keto sweet-treat dishes.

Ingredients: Non-GMO erythritol and monk fruit extract. That's all!

Why choose this: The monk fruit sweetener products cook and taste just like real sugar. They are also non-GMO, contain no calories and have a glycemic index of 0. We also like that they do not have a bad aftertaste like some no-calorie sweeteners.

The simple sugar sweetener tastes great in coffee lattes. A two-tablespoon serving contains 2 grams of net carbs, but you'll only need about one tablespoon or less per cup. You can use it in hot and cold drinks alike. We used a mini blender to blend it into hot coffee, but it's in liquid form so you won't have a problem blending it into just about any beverage.

The monk fruit sweeteners are cut with erythritol. It's even listed as the first ingredient before monk fruit This isn't a big deal.

After all, erythritol is a keto-approved sweetener and the package says that it comes from non-GMO sources. But it still would be nice to have a product that contained just monk fruit.
We think the reason for this is because the erythritol gives the products a texture that is more like sugar, which makes it easier to cook with. Either way, you won't be spiking your blood sugar when you use these sweeteners instead of sugar!

Where to buy: Shop now!
#3. Lakanto Sugar Free Chocolate Sunflower Spread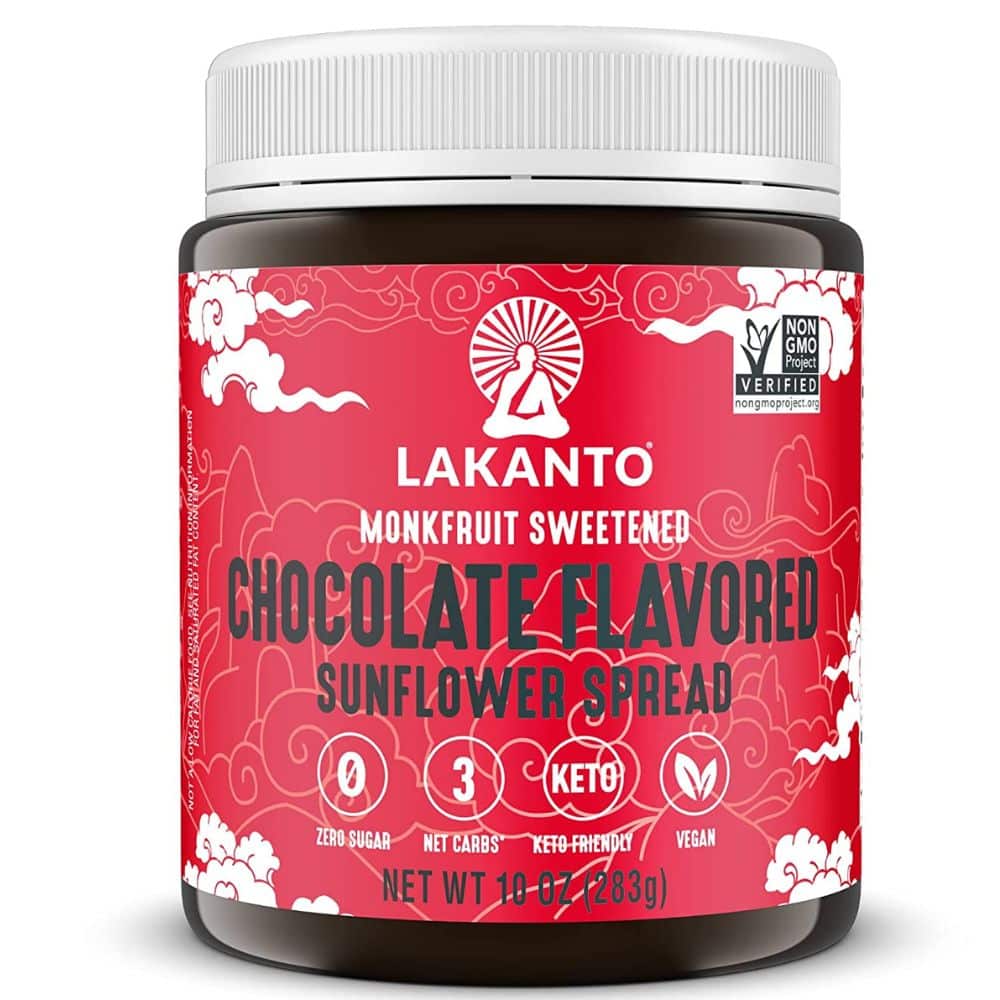 Think of this product as the keto-friendly version of Nutella, It's one of the great sugar free treats you can have!

The chocolate spread does not have hazelnut in it, but it still reminds us of the totally delicious but wildly unhealthy sugar-laden Nutella chocolate spread. Suntella contains two grams of net carbs per serving and is the perfect spreadable chocolate for all occasions.

Ingredients: erythritol and monk fruit extract, coconut oil, vegetable fiber, dutched cocoa, sunflower seed butter, algae flour, acacia gum, calcium carbonate, seaweed derived calcium and magnesium, natural flavors, mango butter, sugarcane fiber, sunflower lecithin, salt.

This chocolate sunflower spread would be great on keto crackers or when used in place of Nutella on toast. It needs to be heated a bit before spreading.
We like that a two-tablespoon serving only contains 2 grams of net carbs and it contains real sunflower seed butter, which tastes just like peanut butter. We recommend putting it in a low-carb smoothie to turn a boring smoothie into a creamy, low-carb chocolate milkshake.

Where to buy: Shop now!

---
Notes: Above are the top 3 keto-friendly products offered by Lakanto. Some other products offered by this company (which we don't review in this article) use ingredients that aren't keto-friendly, such as rice, pea and bean derivatives.
As long as you eat these in moderation, they should be OK to use on a low-carb diet. Many of these foods are used for their fiber content, which brings down the net carbs. So we understand why they are there!
---
Conclusion
Lakanto is a low-carb and keto-friendly company that makes lots of delicious sugar-free products. Their goal is to bring attention to the sugar epidemic and attempt to reduce obesity and type 2 diabetes by introducing a healthy sugar alternative.

They specialize in low-carb products that contain monk fruit, which is a superfruit found in the Guilin mountains with many health benefits. Monk fruit contains no calories or carbs and has a glycemic index of 0. It also tastes much sweeter than regular sugar and can be used similarly anytime you bake or cook.

We had the pleasure of trying some of the staples of Lakanto's all-star lineup. The taste of their Monk Fruit Products is as crisp and authentic as the mountains that they are derived from. Our favorite was a simple sugar monk sweetener, which we used in a low-carb latte.

If you're looking to start the ketogenic diet, Lakanto's sweeteners are your good choice to start replacing the sugar. Their products are designed to replace real sugar, so you can get creative with how you use them.

You can use the monk fruit sweetener extract to make brownies, pancakes, and even to make your own homemade ice cream. They even sell low-carb brownie and pancake mixes, as well as keto sugar free syrup and a chocolate spread that's to die for.