Latest Update: Unfortunately, Bioketo is out of business. They no long sell supplements.
We've said it before and we'll say it again. You don't need to take supplements to be on the ketogenic diet. You can easily achieve ketosis by eating whole food sources alone. But supplements sure are handy to have around!

We love bringing new keto companies to your attention so that you can stay in-the-know about the best products out there to support your low-carb ways.

BioKeto specializes in keto products with science-based formulas that do not contain fillers or additives.

They're a real-deal keto company staffed with nutrition experts and an experienced team that puts their customers first and focuses on results.

Here's everything you need to know about BioKeto and how their products can enrich your ketogenic lifestyle.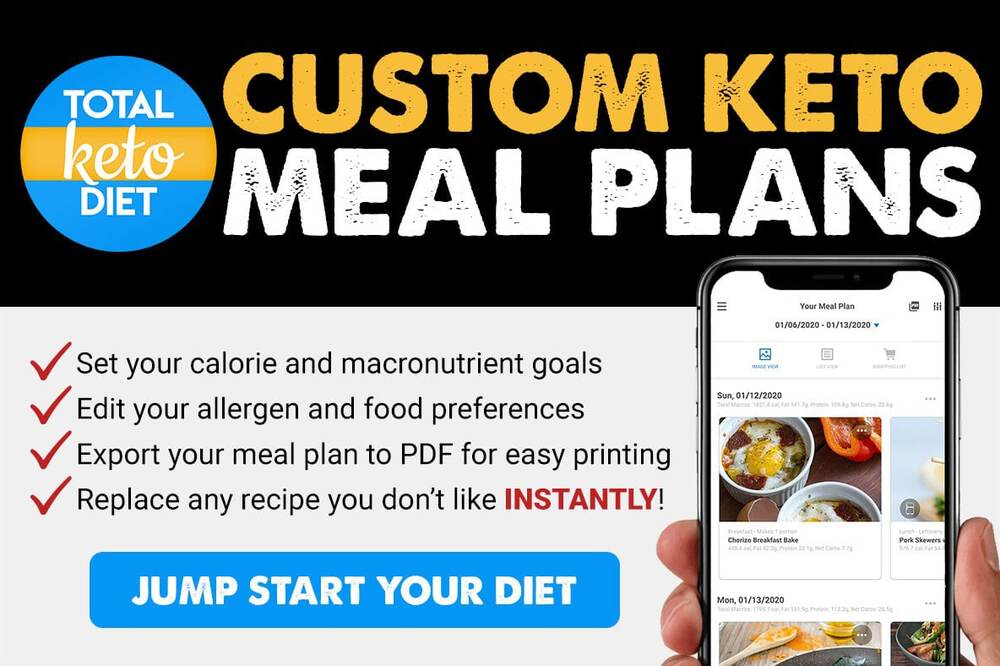 About BioKeto
According to the website, the BioKeto team has over 30 years of experience in the health, fitness and dietary supplement fields. Their goal is to provide evidence-based content and advice relating to the ketogenic diet.

They also specialize in creating premium formulas using the highest quality ingredients in their proper ratios to give you the best results on the ketogenic diet. We love that their products don't contain any fillers or low-quality ingredients.

All ingredients are non-GMO and everything is 100% keto-approved! Plus, there is no added sugar in any of their products and all supplements are made in a cGMP (certified good manufacturing practice) facility in the USA.

Every product comes with a money-back guarantee if you're not happy.

They offer the following four products at the moment:

Keto electrolytes
Keto MCT oil powder
Keto protein powder with collagen and MCT oil powder
Keto BHB exogenous ketones
We had the pleasure of trying three of them. Here's a breakdown of each product:

#1. BioKeto Electrolytes
Electrolytes are minerals that are needed to help maintain proper fluid levels in your body. Many keto dieters take them to help them combat the dreaded keto flu.

You can read more about the benefits of keto electrolytes here.

Most electrolyte drinks contain added sugars that can kick you out of ketosis. Keto electrolytes are sugar-free and keep you hydrated without supplying you with anything you don't need.

Why Choose BioKeto Electrolytes

BioKeto electrolytes are the best way to stay hydrated, which can help you out of the keto flu (or any flu for that matter). Staying hydrated is crucial for cells to work properly. You'll have a hard time maintaining ketosis if you're dehydrated.

We tried BioKeto electrolytes and loved the citrus flavor. The powder formula contains electrolytes flavored with stevia for a sugar-free alternative to Gatorade that can help fuel your keto diet.

Staying hydrated can also help boost cognitive function and energy levels. It also helps prevent and treat muscle cramps.

Ingredients

Ingredients in BioKeto electrolytes include:

When and how to use it

Electrolytes are needed to help you stay hydrated, so you can use this product any time you feel a little low in energy. All you need to do is mix it with water, so add a scoop to a glass of water and sip throughout the day to keep your hydration levels up.

You can also use it before, during or after exercise when fluid levels run low. Again, you don't have to be in ketosis to benefit from taking a sugar-free electrolyte beverage, but many keto dieters are especially prone to dehydration.

Note: Our team member took BioKeto electrolytes during a bad head cold and noticed that it helped perk her up!

#2. BioKeto MCT Oil Powder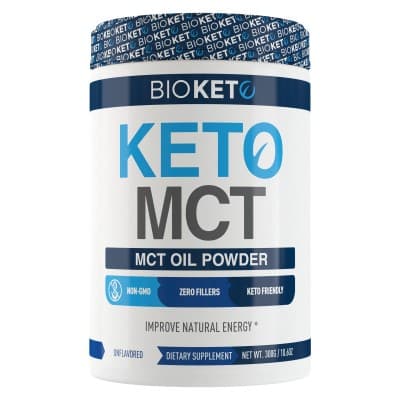 If you're not familiar with MCT oil, it's also known as medium chain triglycerides. They are the healthy type of fat that is found in coconuts. Research shows that MCTs are incredibly healthy. They reduce inflammation, keep you trim, and protect your brain.

Best of all, MCTs are converted directly into ketones in the body, which means you have instant energy when you take it. You don't have to wait for your dietary fat sources to digest and then be converted over into ketones. MCT equals instant energy and brain power.

You can read more about MCT benefits here.

Why Choose BioKeto MCT oil powder

BioKeto makes a MCT oil powder that is the perfect addition to your coffee or smoothie. You can even pour some in water and drink up when you feel low in energy or need to boost your ketones to stay in ketosis.

We also love that the formula contains fiber from acacia powder to help enhance gut health and keep you regular. Because of its fiber content, you may want to add it your morning coffee.

The MCT in BioKeto's powder is non-GMO and is sourced directly from coconuts. There are no fillers or harmful ingredients whatsoever. Unlike the other products, there is no stevia in this powder.

Ingredients

The ingredients in BioKeto MCT oil powder are:

MCT oil powder with acacia fiber
When and how to use it

You can add MCT oil powder to water or your favorite beverage anytime you need a ketone boost. We noticed that the MCT oil powder tastes chalky in our coffee, but it got better when we split it with grass-fed butter.

You could also add this powder to your favorite smoothie or incorporate it into baked goods.

#3. BioKeto Protein Powder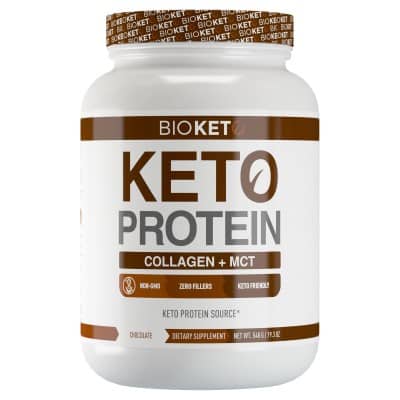 Of the three products we tried, we liked the keto protein powder the best! It had a rich, chocolate flavor and was so easy to use. We poured one scoop of the protein powder into 16 ounces of water as directed and gave it a good shake.

You could also use a mini blender to incorporate the ingredients. The taste was much better than expected.

We love that the product delivers collagen and MCT powder so that you get two of these important nutrients in your diet at the same time.

The stevia gave this protein powder a light flavor that didn't feel heavy at all. We felt perfectly hydrated after drinking and couldn't wait until it was time to take it again. (The directions say you can take it as much as three times a day).

Why Choose BioKeto Protein Powder

If you're looking for a protein powder that's naturally sugar-free and tasty, then you've found it. Collagen protein is incredibly healthy for your hair, skin and nails because it has anti-aging properties.

It's also great for reducing cellulite, enhancing lean muscle mass, and keeping your bones healthy. Take it after a workout or anytime you need a high protein snack to keep you full.

The collagen used in this product is grass-fed, which means that it comes from clean sources with higher levels of omega 3 fatty acids and other nutrients. You can read more about the benefits of collagen here.

In addition to collagen, BioKeto protein powder has MCT oil to help boost your ketone production. This helps you stay in ketosis. You get the anti-aging effects of collagen mixed with the healthy fats of MCT oil in one product.

We also love that these ingredients give us a brain boost. Best of all, there is no sugar or additives. The taste is light and it couldn't be easier to use.

Ingredients

The ingredients in BioKeto protein powder are:

Grass-fed hydrolyzed collagen
GoMCT (medium chain triglycerides from coconut)
Stevia leaf extract
When and how to use it

As with any protein powder, you can use BioKeto protein powder after workouts to help you recover and support lean muscle mass. But you can also use it anytime of the day for its incredible anti-aging and skin/hair benefits.

Drink it in between meals when you need a snack or in addition to your current snack. This protein powder is light and filling and won't make you feel heavy. You can easily get in three servings a day to maximize the benefits of collagen and MCT.

Drink it whenever you feel low on energy as the MCT oil will add to instant ketone production. Or drink it as a dessert due to the rich chocolate when you have a sweet craving. You can even get creative and blend this into a low-carb smoothie recipe for a decadent treat.

#4. BioKeto BHB Exogenous Ketones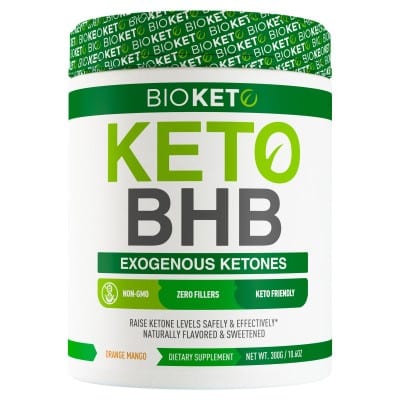 The Keto BHB exogenous ketones are the only product from BioKeto that we did not try, but we like that the ingredients are spot on. If you're not familiar with exogenous ketones, here's a quick breakdown.

Exogenous ketones are ketones that are made outside of the body but act like real ketones in the body. You can take them in supplement form to enhance your ketone levels so that you can stay in ketosis.

Some people use exogenous ketones for therapeutic purposes, while most people use it for energy and mental focus. You can read more about exogenous ketones here.

Why Choose Keto BHB Exogenous Ketones

There are several different forms of exogenous ketones that you can take. BioKeto uses BHB ketones, which is the most popular form because it's tasty and is highly bioavailable.

BHB helps supply your body with ketone salts that are instantly utilized as energy. Taking BioKeto BHB exogenous ketones can help boost your ketone levels.

You can take it anytime you need a quick supply of energy or to help boost cognitive function. Exogenous supplements can also help reduce sugar cravings, fight inflammation, and control blood sugar.

Ingredients

The ingredients in BioKeto BHB exogenous ketones are:

Calcium
Sodium
Potassium
Keto BHB blend containing potassium beta-hydroxybutyrate, sodium beta-hydroxybutyrate, and potassium beta-hydroxybutyrate
Stevia leaf extract
How and when to use it

Most people take exogenous ketones for energy, electrolytes balance and mental focus. Dieters can benefit from the brain boost they get from exogenous ketones.

We recommend taking BioKeto BHB ketones when you want a boost of energy or when you need enhanced mental clarity.

You can also take exogenous ketones before or after exercise or first thing in the morning to ensure that they get in their dose of ketones in to start their day.

Finally, don't use exogenous ketones as a way to feel better after cheat days. Your goal is always to eat right first before supplementing, not to cheat and take ketones.

---
Conclusion
BioKeto is a science-backed keto company that specializes in making high-quality products to help support your low-carb diet plan.
The BioKeto team has over 30 years of experience in the health and fitness industries, and it shows. We love that their products are non-GMO and contain no fillers or cheap additives.
All ingredients are made in the USA. Plus, they offer a money back guarantee if you're not happy with their supplements.

We had the pleasure of trying three of their products. Our favorite was the chocolate protein powder with grass-fed collagen and MCT oil. It was light, delicious, and tasty. For a creamy treat, try mixing it with almond or coconut milk instead of water.

We also really liked their electrolyte powder because it was light, delicious and hydrating. We think it would make the perfect summer beverage because of its refreshing citrus flavor. You can also use it to help improve keto flu symptoms.