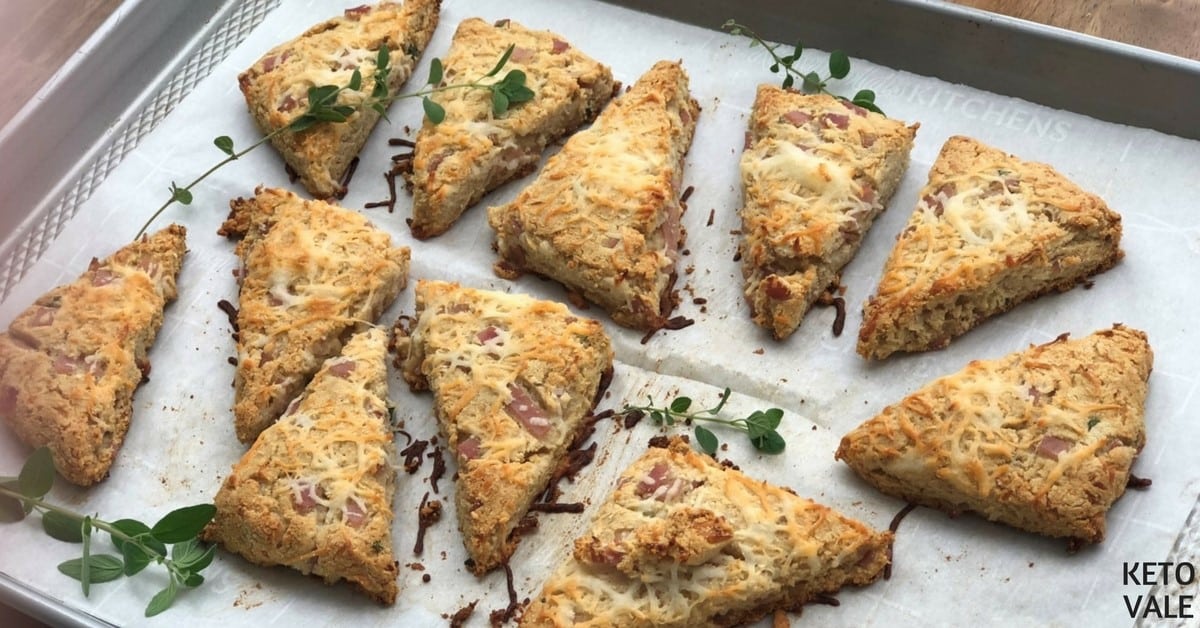 Keto Ham and Cheese Savory Scones
From savory to sweet, this recipe will help keep you on track on your keto diet and it will impress all your non-keto family and friends. You can eat this with a soup or salad, either for breakfast or for an afternoon snack. Basically, this is a very versatile recipe.
When living on a keto diet, I find it most challenging being on the go and still making good choices that will keep me full and healthy throughout the day. These scones are great on the go and can be made with any toppings of your choice or have on hand.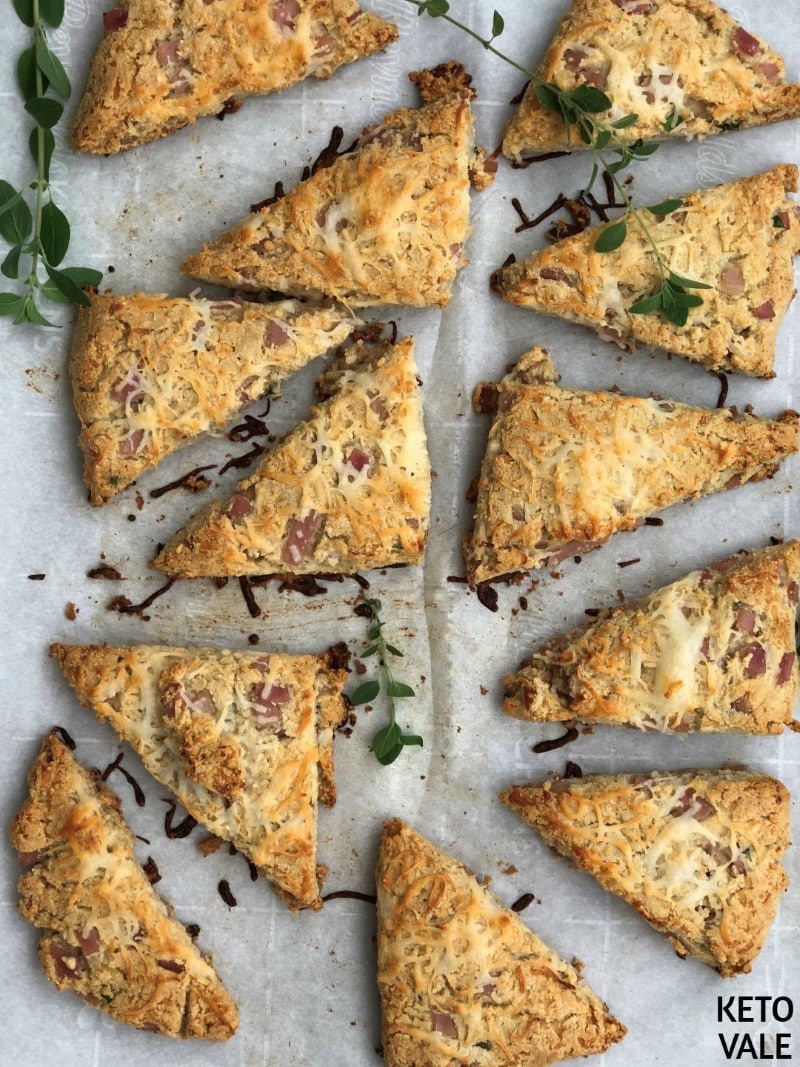 I usually make a big batch and split it into a few plastic bags and save it in the fridge for a couple of days. When heading out of the house, it's easy to grab one and go. Hunger will strike when least expected and it's nice to know you have a yummy keto snack with you.
We made this savory but the same recipe can be used for sweet versions, adding nuts, or berries. The scones can be frozen and, in that case, follow all the steps until placing it on a baking sheet and move it to the freezer for at least 1 hour.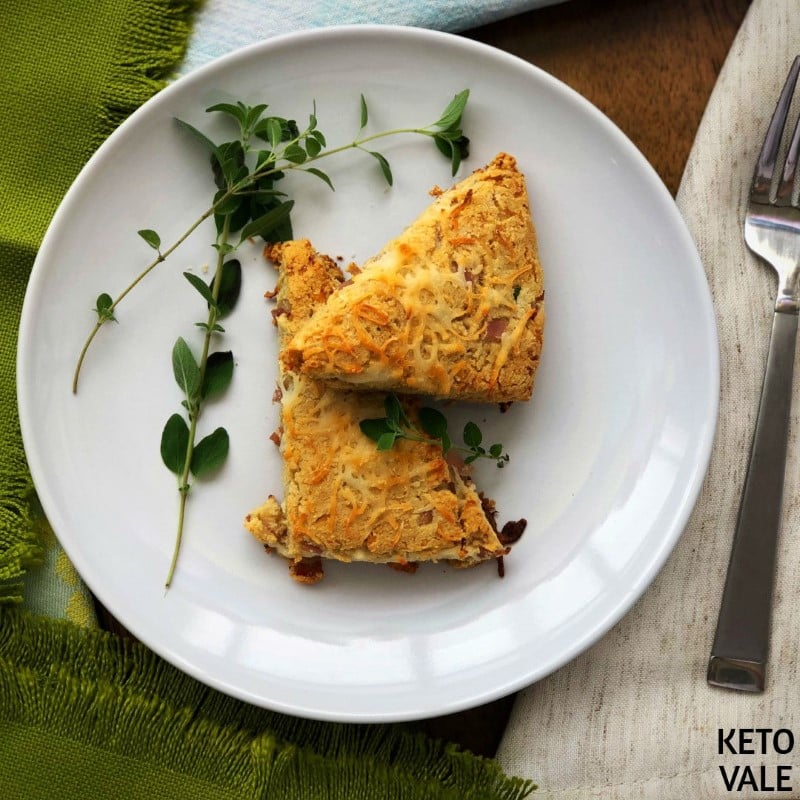 Once the scones are hard enough move to a larger freeze container or bag, it can be kept in the freezer for up to 3 months. When baking the frozen scones, remove from the freezer a few minutes before baking and increase the time a few minutes. Go ahead and give it a try!
Let's Ketofy It!
Preheat your oven to 325°F before lining a large baking sheet with either parchment paper  or a reusable silicone liner.
In a large bowl, whisk together your dry ingredients. You can add a little bit of xanthan gum in if you wish too. It will help hold the ingredients together better. Once blended, add 1 cup of the cheddar cheese and stir until combined. Then, add your wet ingredients. Once you've formed your dough, evenly distribute the diced ham throughout the mixture.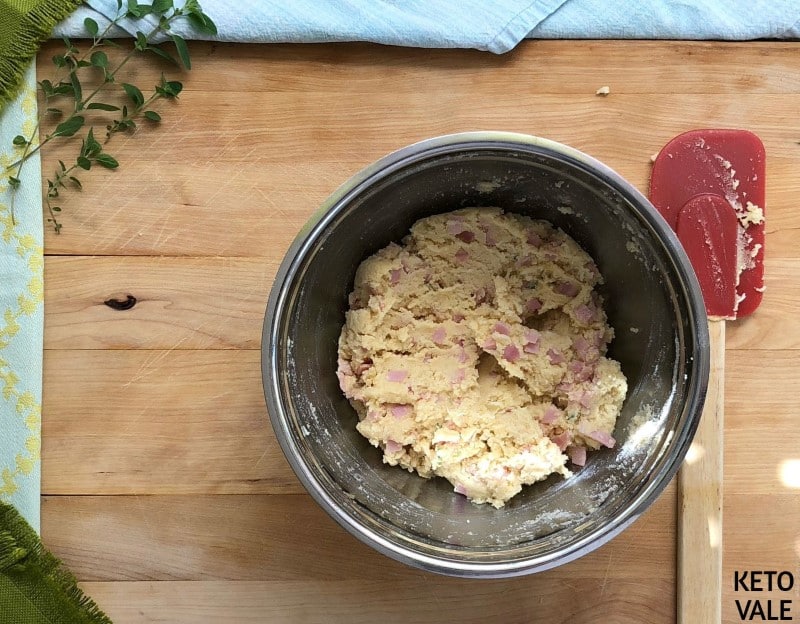 Take your completed dough and pat it into a rectangle on the baking sheet. The dough should be spread to approximately 8×10 inches.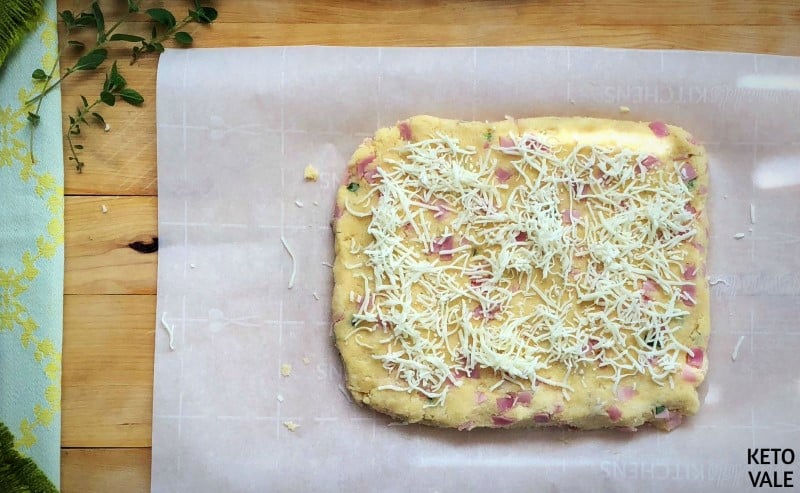 Using a sharp knife, cut your dough into 6 roughly even squares. Then split each square diagonally. Carefully spread the triangles around the pan and dust them with the remaining 1/4 cup of cheese.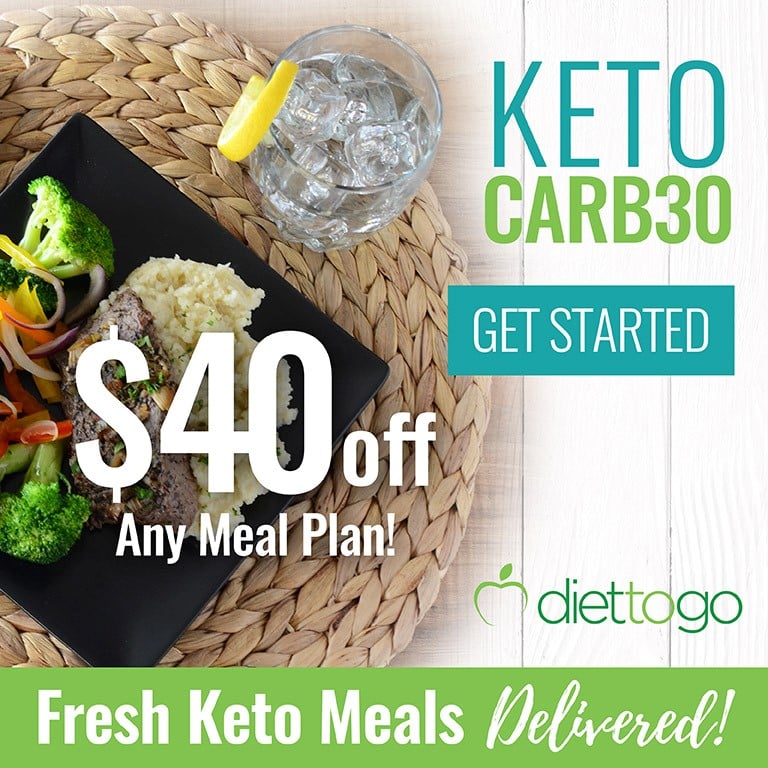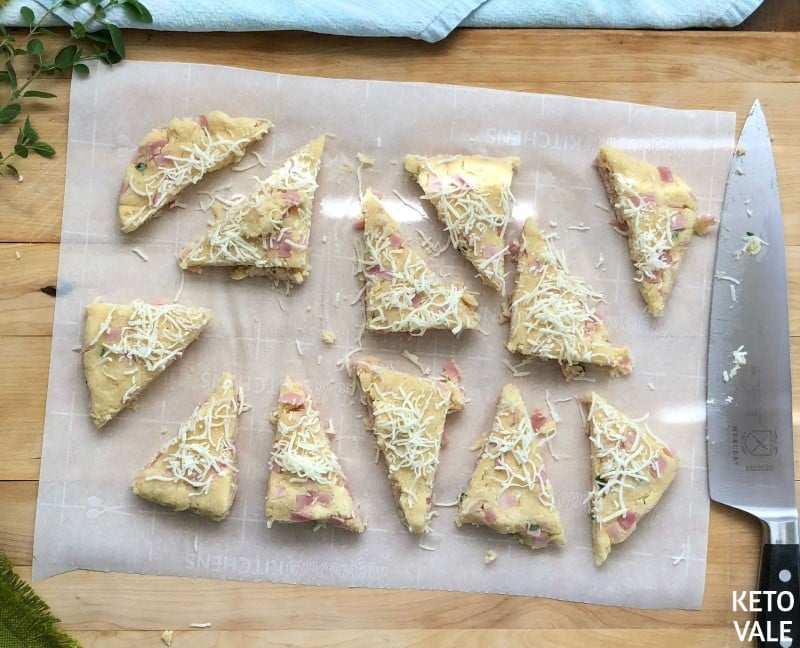 Slide your baking sheet and bake approximately 20-25 minutes. When finished baking, your scones should be golden brown and firm to the touch. Remove your scones and allow them to cool. Enjoy!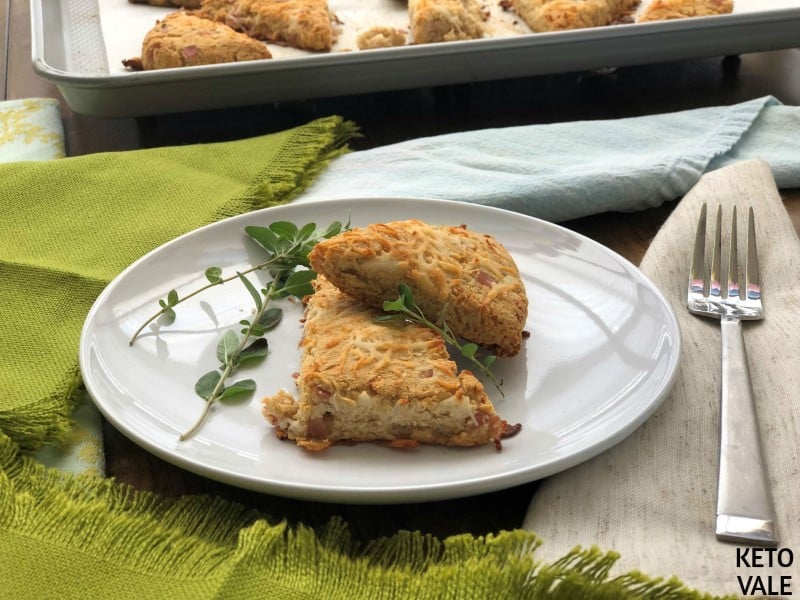 Watch how we prepare this here:
Save this recipe by pinning this picture to your Pinterest board for later use!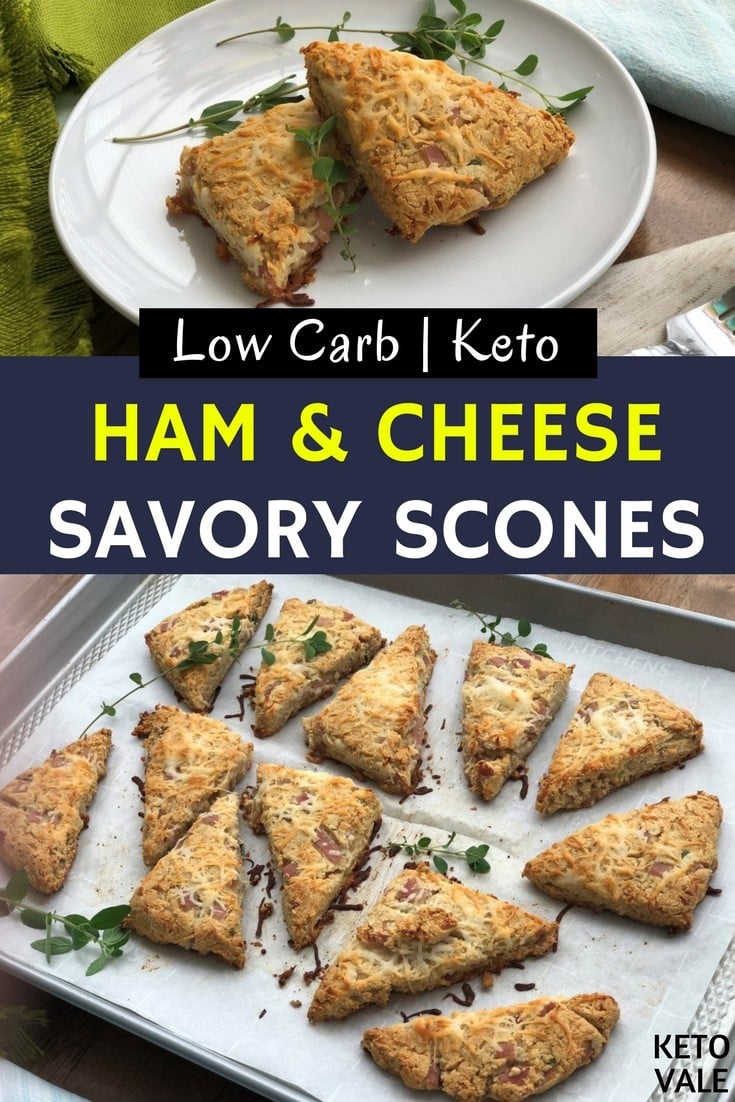 *Credit: This recipe is inspired by Carolyn Ketchum. Check her original recipe here! She is the author of 3 amazing cookbooks:  The Everyday Ketogenic Kitchen, Easy Keto Dinners and her latest one, Easy Keto Desserts. Her books are full of easy and mouthwatering low carb recipes that will make your keto journey much easier and enjoyable. Be sure to check them out!
Related:
Keto Ham and Cheese Savory Scones
Instructions
Line some parchment paper on a large baking sheet while preheating the oven to 325°F.

Prepare a large bowl where you will mix the coconut flour, almond flour, baking powder, xanthan gum (if using) garlic powder, and dried oregano. Whisk together and occasionally add salt to suit your taste. Mix in 1 cup of grated cheese and stir again. Add the remaining ingredients such as egg white, egg, whipping cream, and ham and stir well until everything is well-combined.

Gather the dough together by hand and place on a flat surface covered by parchment paper. Press the dough until it forms a 10 by 8 inches rectangle. Top with the remaining grated cheese.

Slice into squares, making about 6 pieces. Cut these squares in half, diagonally slicing them to form two triangles. Arrange the scones evenly in the parchment-lined baking sheet.

Put in the oven and bake for 18-20 minutes. When the dough is golden brown and firm to touch, remove and allow to cool before serving. Top with chives and butter (optional)
Notes
Macros (per serving): Calories: 163 – Fat: 13.4g – Net carbs: 2.6g (total carbs: 4.6g, fiber: 2g) – Protein: 8.2g