When you feel hungry, there is nothing like a good piece of meat to satisfy you. Our recipe combines chicken, ham, and cheese for the perfect way to end your hunger.
Chicken is a great source of protein and high-quality fat with very few carbs. It's also a complete source of protein, which means that it contains all the amino acids.
Amino acids are needed to help you build lean muscle mass, which is important because muscle burns more calories than fat. Amino acids also help repair damaged and inflamed tissues that occur as a result of free radical accumulation.
Chicken also provides one of the best dietary sources of creatine. This "white meat" is affordable, nutritious, and it offers a wide range of nutrients for very few calories.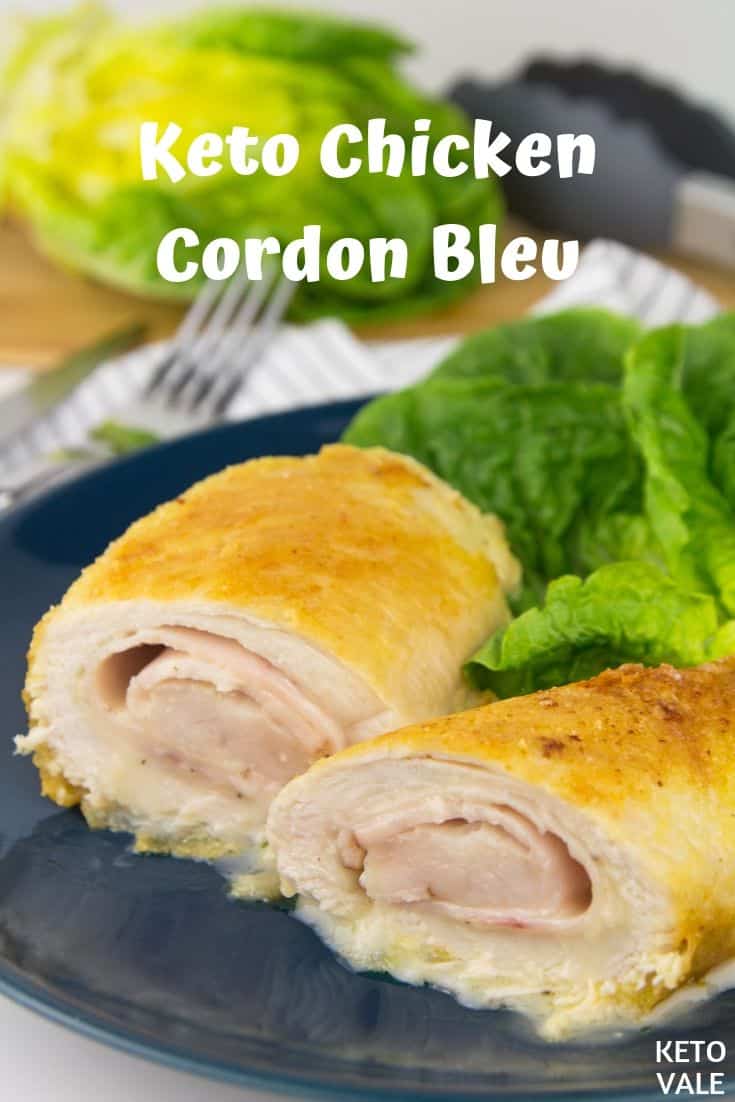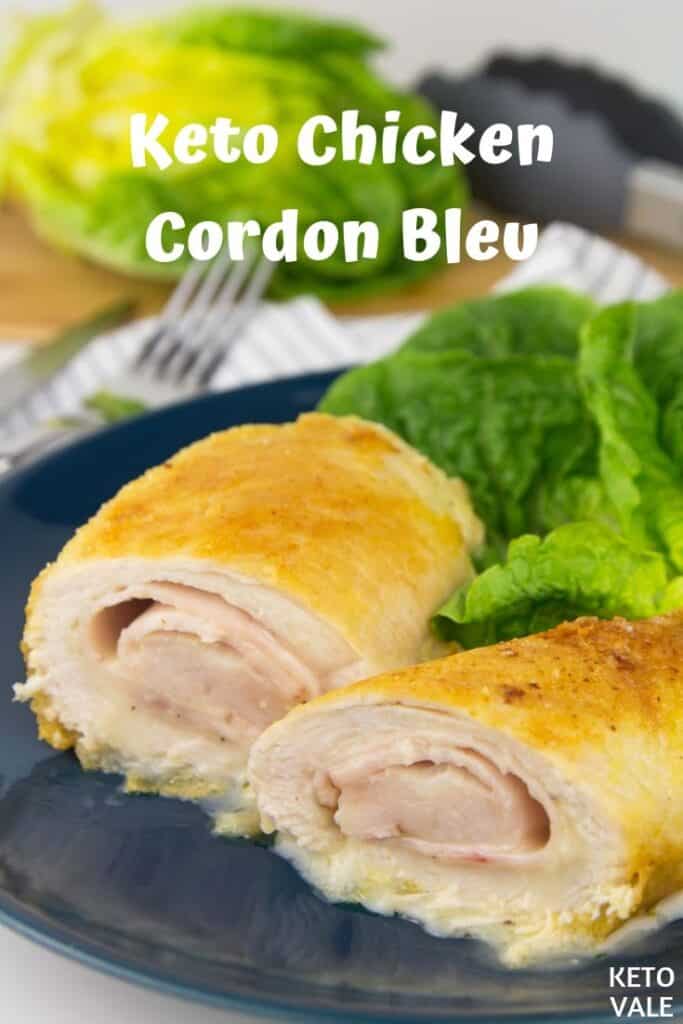 We use olive oil to cook our chicken in this recipe in place of vegetable oil. Olive oil is recognized as one of the healthiest edible oils since it contains fewer saturated fats. It's also a good source of antioxidants.
Research shows that olive oil contains polyphenol antioxidants that may neutralize potentially carcinogenic metabolites. Plant polyphenols have also been shown to contain anti-thrombotic, anti-mutagenic, anti-inflammatory, and anti-allergic effects (1).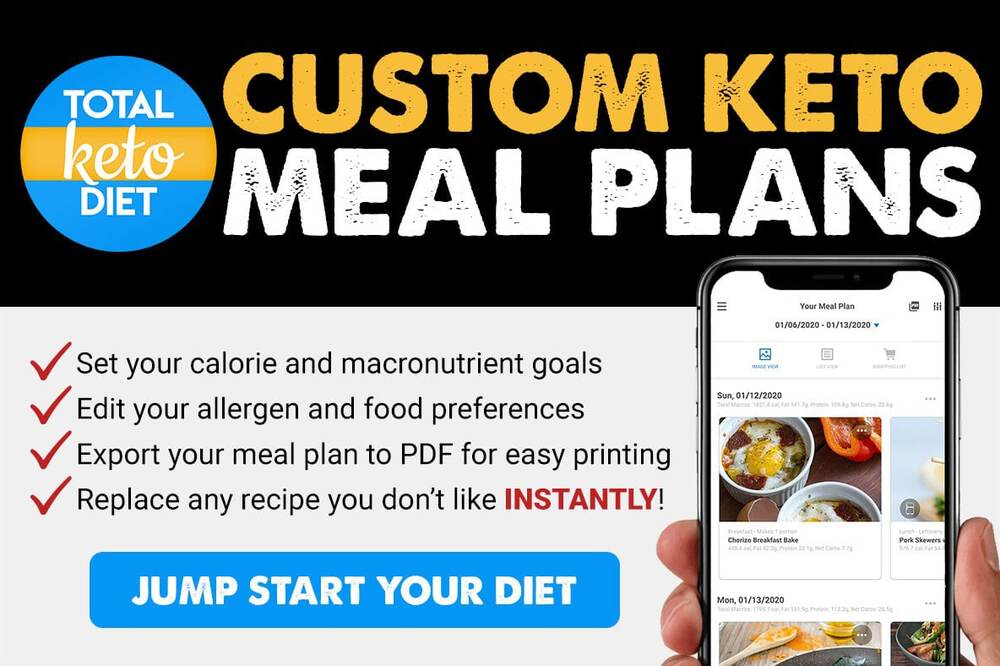 Additionally, polyphenol compounds from plants help boost the immune system by affecting the production of white blood cells. They also control the production of cytokines and other immune system responses (2). 
One study found that olive oil reduced the risk of cardiovascular disease and death by 10% and 7% for every 10 grams consumed per day, respectively (3). This makes olive oil an ideal oil to use if you have a high cardiovascular risk.
This recipe also calls for ham. Picking out a high-quality ham is tricky. Look for one that contains no antibiotics, hormones, or added sugars. Many hams contain lots of sodium and preservatives to make them shelf stable.
Nitrates are common among smoked meats. Be sure your ham does not include these either as they have been linked to cancer (4).
Most cordon bleu recipes require you to dip your chicken in breadcrumbs before frying. But traditional breadcrumbs are highly inflammatory in many people and contain too many carbs to be eaten on a low-carb diet.
Our recipe calls for almond flour instead, which is low in carbs and high in fat and fiber. We recommend keeping almond flour on hand for all of your low-carb frying needs!

---
Let's Do It!
Butterfly the chicken and season it with lemon juice. Let it sit for a few minutes before sprinkling with salt, pepper and garlic.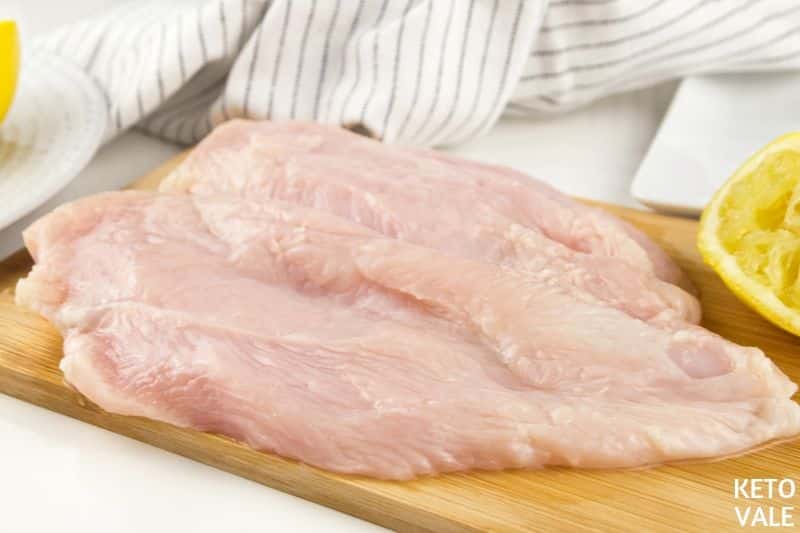 Lay smoked ham and cheddar cheese (two slices each) on top of chicken breast.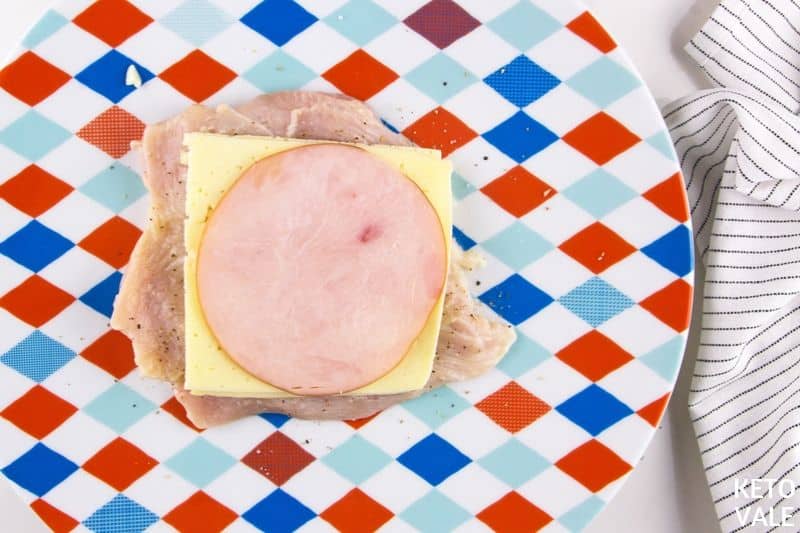 Roll it carefully and fix with a toothpick.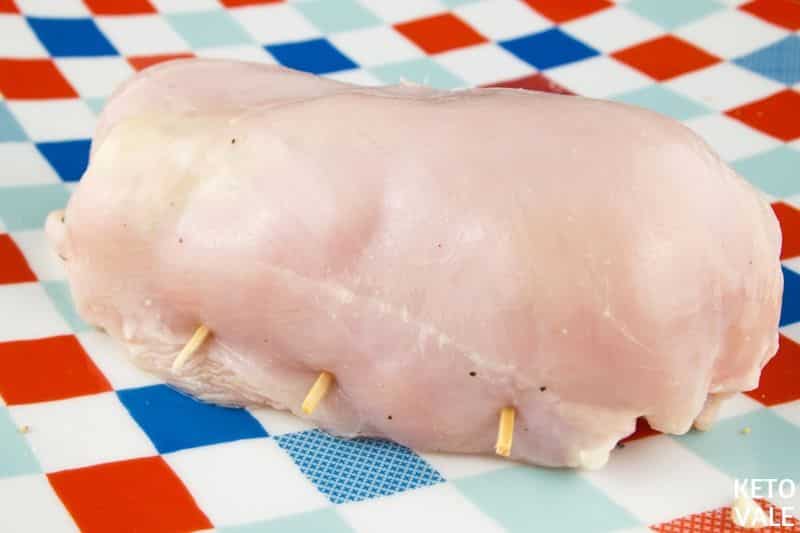 Fry the chicken in olive oil for five minutes each side. Brush the cooked chicken with beaten egg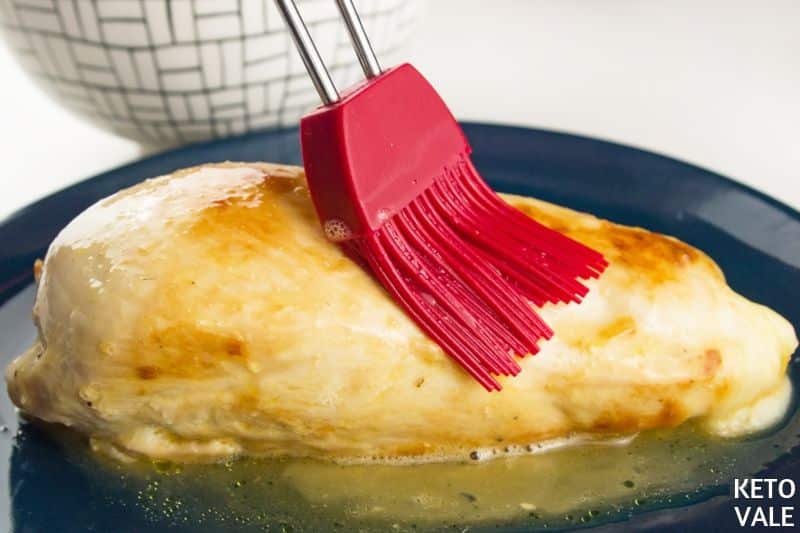 Coat with almond-parmesan mix.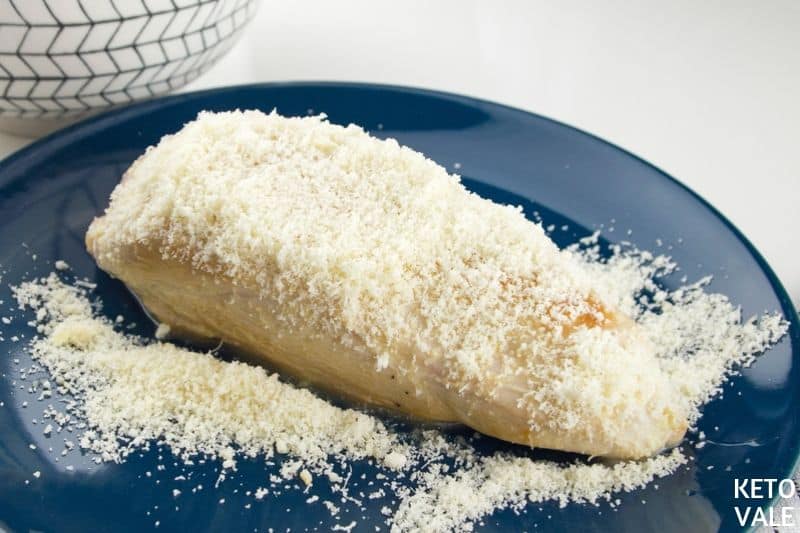 Fry for three minutes on each side until golden and crispy. Remove the toothpick. Serve on top of a bed of lettuce.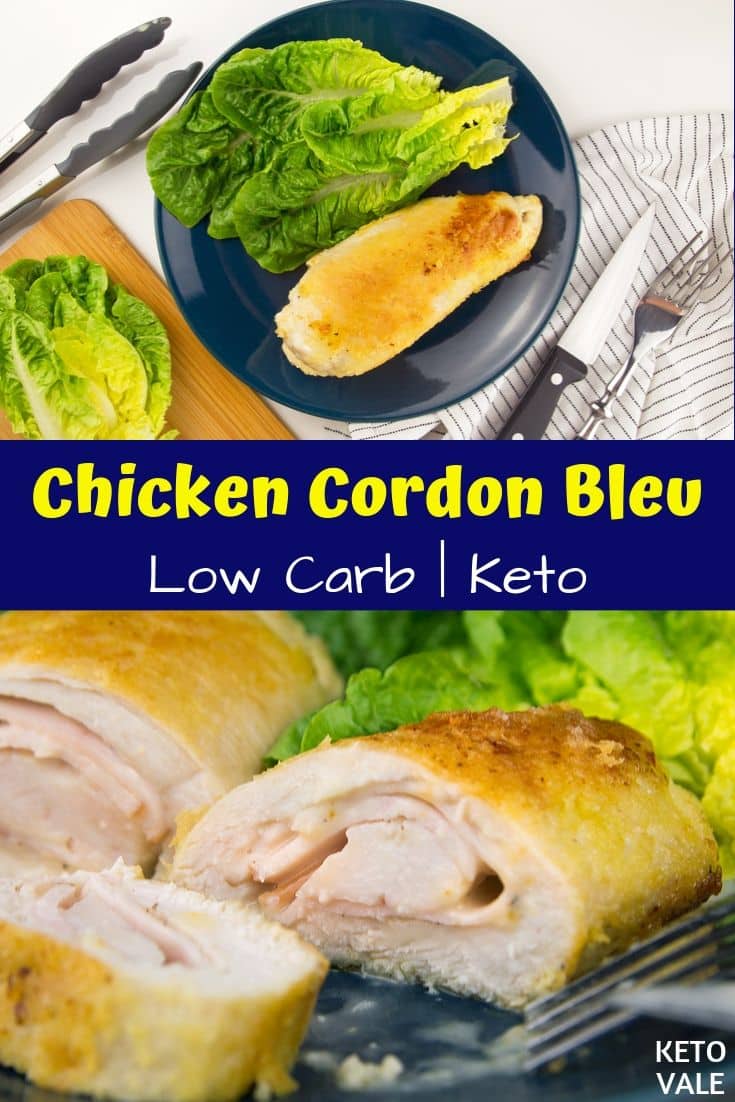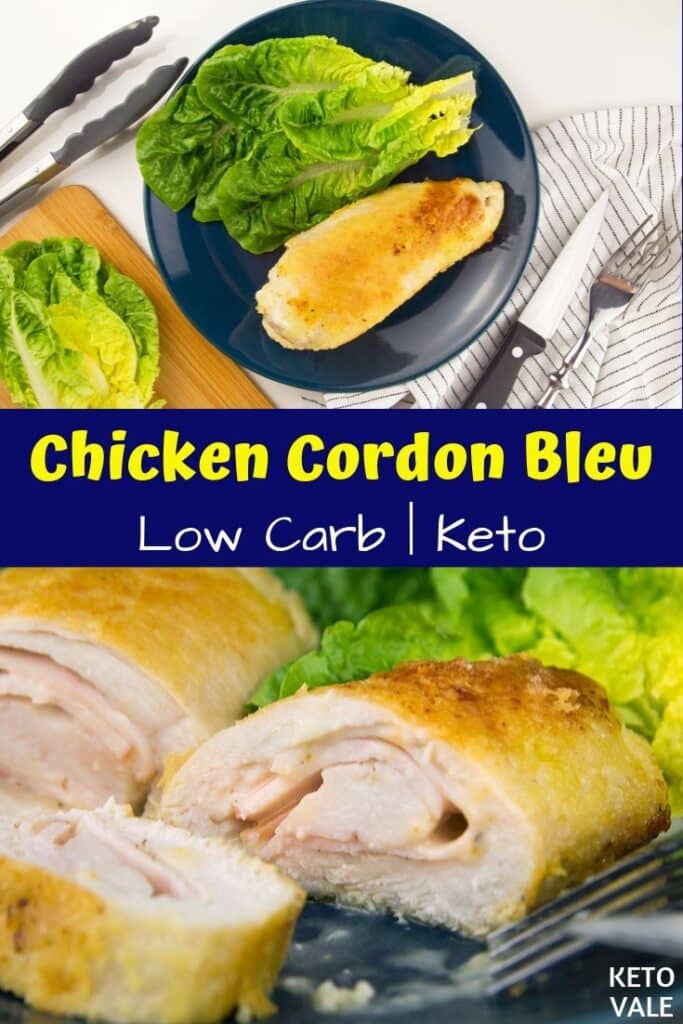 You might also love these:
Keto Chicken Cordon Bleu
An easy and delicious low carb cordon bleu chicken breast stuffed with ham and cheese inside, and coated with almond flour and Parmesan on the outside.
Ingredients
1

pcs

chicken breast

boneless and skinless

1

lemon

optional

1

clove

garlic

minced

2

slices

smoked ham

2

slices

cheddar cheese

1

tbsp

olive oil

salt and pepper

to taste

1

egg

beaten

1

tbsp

almond flour

2

tbsp

Parmesan cheese

lettuce

for serving
Instructions
Butterfly the chicken breast and season it with lemon juice. Set aside for three minutes then let dry.

Season the chicken with salt, pepper, and minced garlic. Slice the cheese and ham enough to cover the chicken.

Lay the ham and cheese slices on top of chicken breast. Carefully roll the chicken, tuck the ends inside, and finally hold the pieces together with a toothpick.

Heat olive oil in a non-stick skillet over medium-high heat.

Sear the chicken in the pan for 5 minutes per side until there are no more pink spots on the chicken.

Beat an egg in a small bowl. In another bowl, combine almond flour with Parmesan.

Brush cooked chicken with beaten egg and coat with almond-parmesan mix. Return to the pan and fry for an additional two minutes per side, until golden and crispy.

Let it sit for an additional two minutes before removing the toothpick. Lay the chicken on top of a bed of lettuce and serve.
Notes
We find that by coating the breast with the egg, it helps make the almond flour and parmesan stick around the breast surface better. The reason we do the coating last is because almond flour tends to burn quicker than wheat flour or breadcrumbs. So if you coat the raw chicken in the beginning instead of after cooking it, the almond flour coating might get burnt before the chicken breast gets cooked thoroughly.
Nutrition/Macros
Nutrition Facts
Keto Chicken Cordon Bleu
Amount Per Serving
Calories 440
Calories from Fat 234
% Daily Value*
Fat 26g40%
Cholesterol 221mg74%
Sodium 715mg30%
Potassium 669mg19%
Carbohydrates 2g1%
Protein 48g96%
Vitamin A 483IU10%
Vitamin C 2mg2%
Calcium 288mg29%
Iron 2mg11%
* Percent Daily Values are based on a 2000 calorie diet.
Pin To Save This Recipe