Once I was sitting across a person with some grey mass on the plate for food. I was told that food shouldn't be tasty and look good this way person consumes less. Definitely I wouldn't eat that but I disagree with that approach entirely.
If you are on a diet, trying to loose weight or trying to eat healthy, your food shouldn't be less tasty or less appealing. It is only gives you an opportunity to experiment, find different solution and still be satisfied in the process.
So here's an idea for a family dinner. It is rich in flavor and nutrition and will keep stomach full for long time.
This stuffed chicken breasts recipe is loaded with high-quality protein for muscle gain. It is especially great to use when you haven't met your protein target for your daily macros.
Protein source from chicken breast is one of the best sources for your body. This dish is also wonderful to prepare for your family and friends, even if they are not on keto diet, they would still fall in love with it.
---
Let's Ketofy It!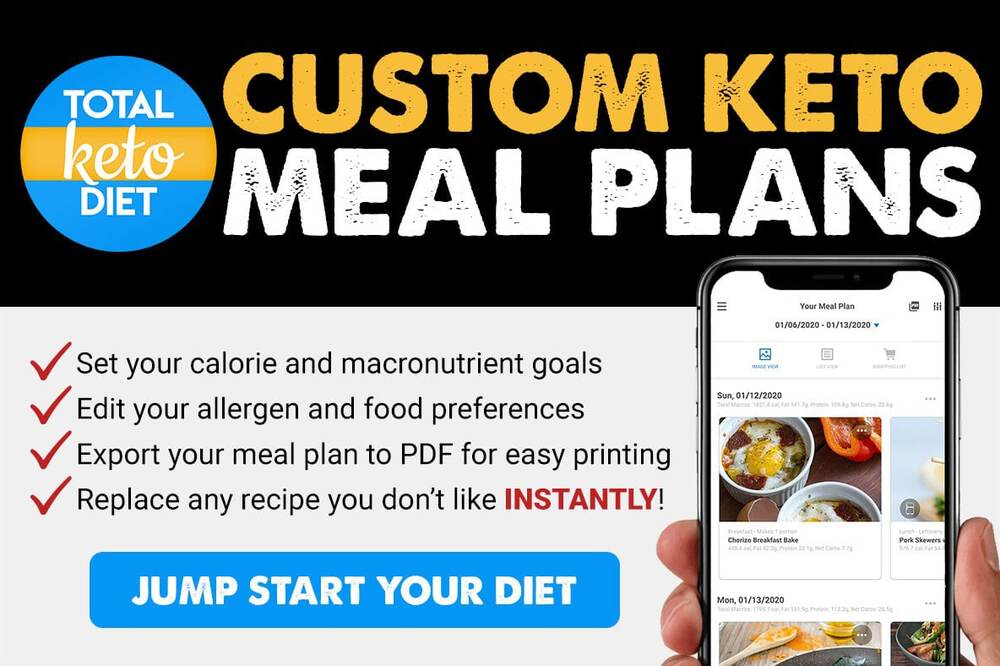 Ready all of the ingredients.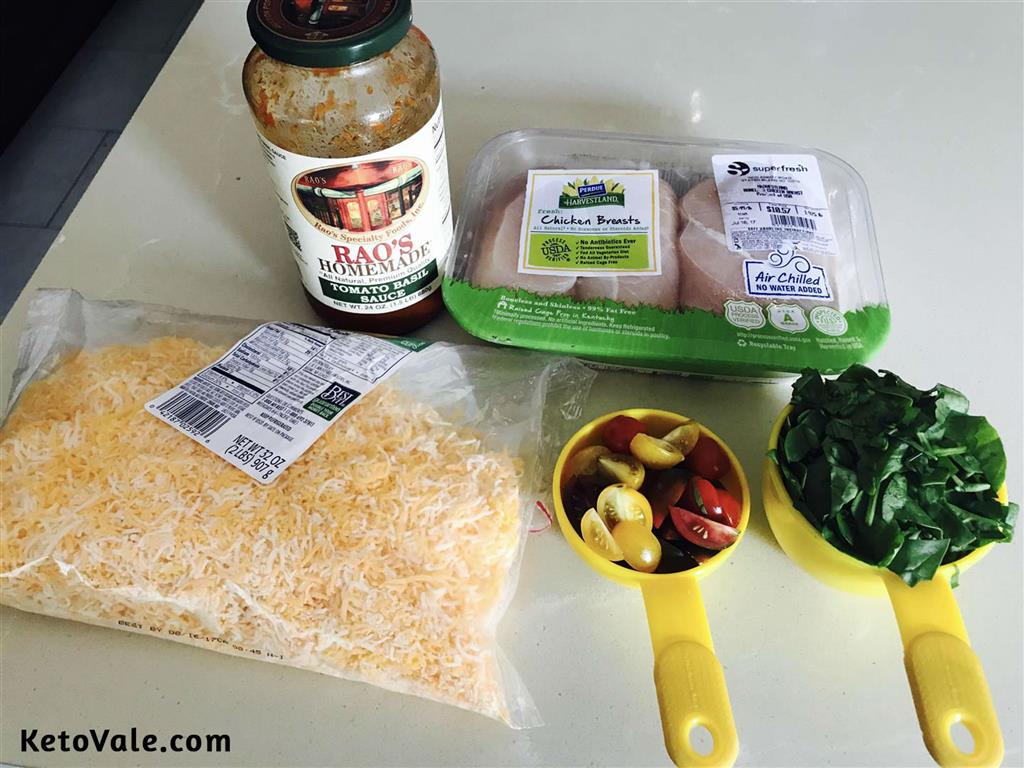 Quarter the cherry tomatoes before tossing them into a skillet along with a tablespoon of olive oil, minced garlic, and spinach. Let them cook for a few minutes till the spinach softens.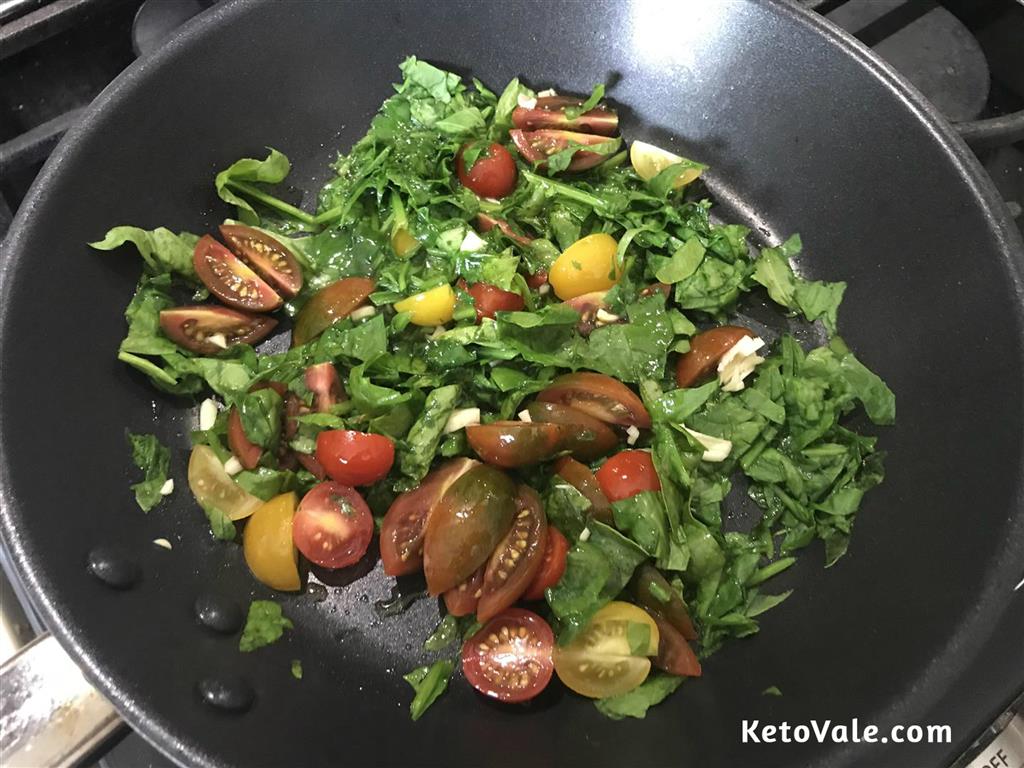 Slice deep cuts in the chicken breasts. Season the chicken with salt and pepper. Mix in Mediterranean dry herbs like basil and oregano if you have some. Stuff your chicken breasts with the fillings. In my case, I filled my 3 chicken breasts with a tablespoonful of cheese and then added the cooked greens. Secure together with a toothpick.
Let the chicken brown in the pan, flipping occasionally to brown both sides. Remember not to cook the meat. Pour the remaining olive oil in a deep tray and place the browned chicken in.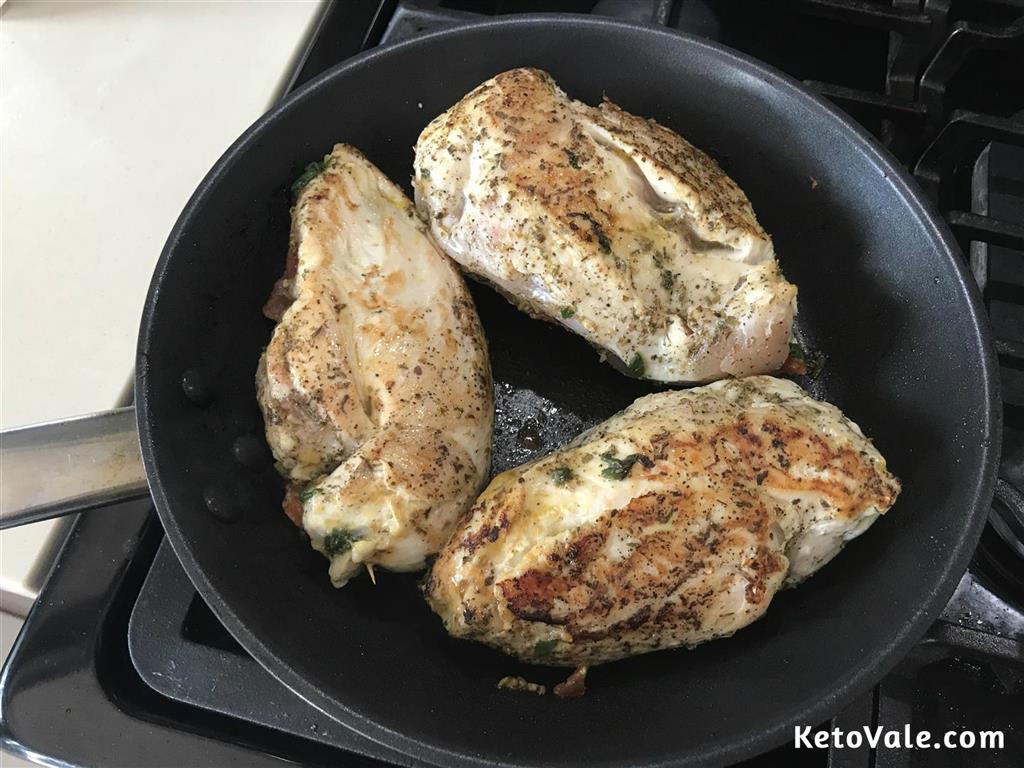 Spread the sauce over the chicken breasts to cover the top entirely, then enclose the tray with foil.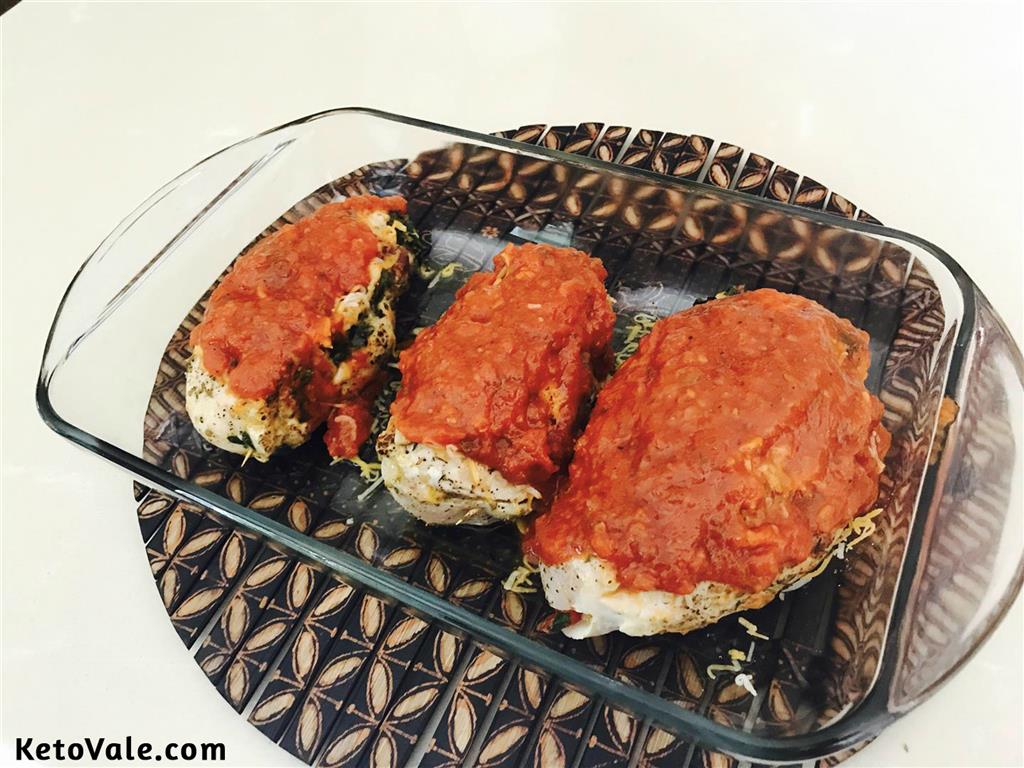 Place the tray in the oven preheated at 375 F. Bake until cooked thoroughly. Dust the surface with the rest of the cheese and rebake for a couple of minutes enough to melt the cheese. Remove from the oven and enjoy.
Related:
Spinach Stuffed Chicken Breasts
This chicken breast stuffed with spinach, tomato and cheese will be your perfect nutritious and tasty keto meal.
Instructions
Prepare all ingredients

Add one tbsp of olive oil in a skillet, add spinach, quarter cherry tomatoes, and chopped garlic. Cook it until spinach is soft

Make pockets in chicken breasts. Salt, pepper, you can add Mediterranean dry herbs ( basil, oregano). I had three chicken breasts so I first stuffed each with one tbsp of cheese and then cooked greens. Close cuts with wooden toothpicks.

Brown chicken in the skillet on both side (don't cook it). then transfer into a deep tray with the remaining tbsp of olive oil

Distribute marinara sauce evenly on top of the chicken. Cover with foil.

Preheat oven to 375F. Cook till it done.

As a final step sprinkle remaining cheese on top of the chicken, send it back to oven for a few min for cheese to melt. Enjoy!
Nutrition/Macros
Nutrition Facts
Spinach Stuffed Chicken Breasts
Amount Per Serving
Calories 336
Calories from Fat 144
% Daily Value*
Fat 16g25%
Cholesterol 126mg42%
Sodium 505mg21%
Potassium 830mg24%
Carbohydrates 3g1%
Protein 42g84%
Vitamin A 1130IU23%
Vitamin C 10.8mg13%
Calcium 132mg13%
Iron 1.4mg8%
* Percent Daily Values are based on a 2000 calorie diet.
Pin To Save This Recipe