If you enjoy meat stuffed jalapeno peppers like we do, this recipe is for you. The combination of cheese, beef, and the spicy taste of jalapeños is what makes this recipe so special.
This ground beef stuffed jalapenos recipe can be added to your go-to list of keto snacks and quick lunches as well because once you try it, you surely will love it. You can also use a combination of cheddar and mozzarella cheese to provide a special taste.
The cheddar cheese instructions are very easy and will make a great difference in your recipe. This is a great keto low carb version of the traditional Jalapeno Poppers recipe. You will want to add this to your list of jalapeno recipes.
You can stuff these jalapeños with sausage, bacon, and other types of low-carb fillings of your choice and just let the oven do the work.
Jalapeno peppers are a good source of vitamin C to support the immune system. A 100-gram serving contains 118 mg of vitamin C (1).
Jalapeno peppers are also a good source of fiber (2.8 grams per 100-gram serving), B vitamins, vitamin A, and the antioxidants lutein and zeaxanthin.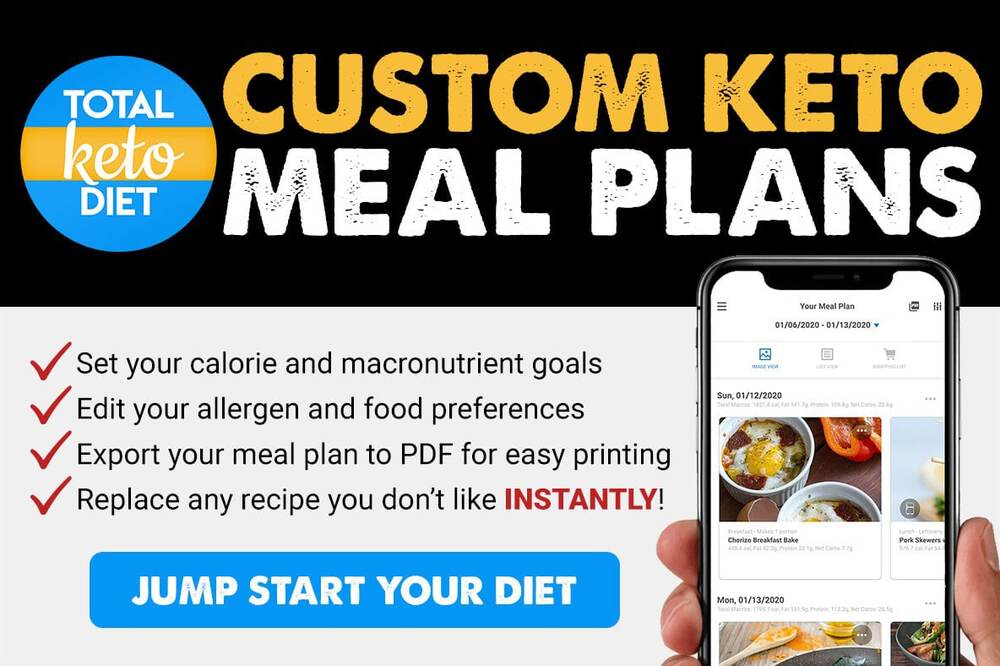 Research shows that jalapeno peppers contain antimicrobial properties that can help protect the body against foreign invaders (2). They also have thermogenic abilities that heat up your metabolism to burn extra calories (3).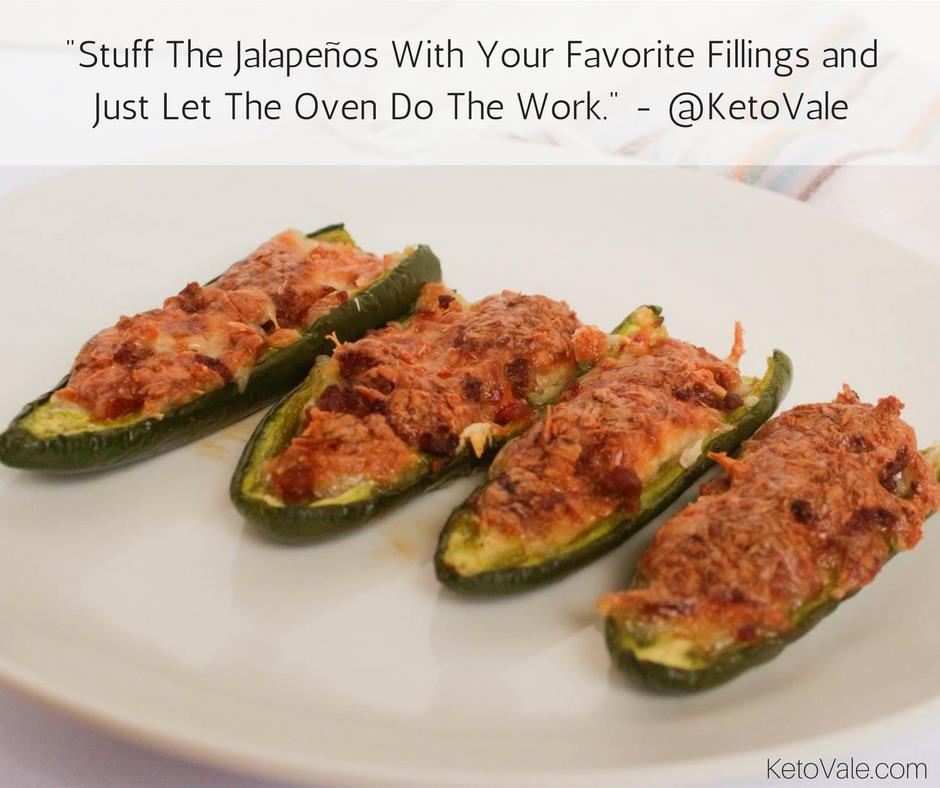 The onions in this recipe add to the fiber content. They provide a special type of fiber called prebiotic fiber that has been shown to ferment in the digestive tract, which aids in the production of healthy bacteria and boosts your immune system (4). You will enjoy this great version of the jalapeño poppers recipe.
We love to serve this dish while watching a movie with our family. You can also bring this jalapeño popper recipe to a party as well. It's going to be a big hit.
You can be sure that keto eating can help you enjoy every moment with the ones you love. And the nutrition calories for this recipe is very low. Let's get started!
Be sure to save this recipe by pinning this picture to your Pinterest board for later use!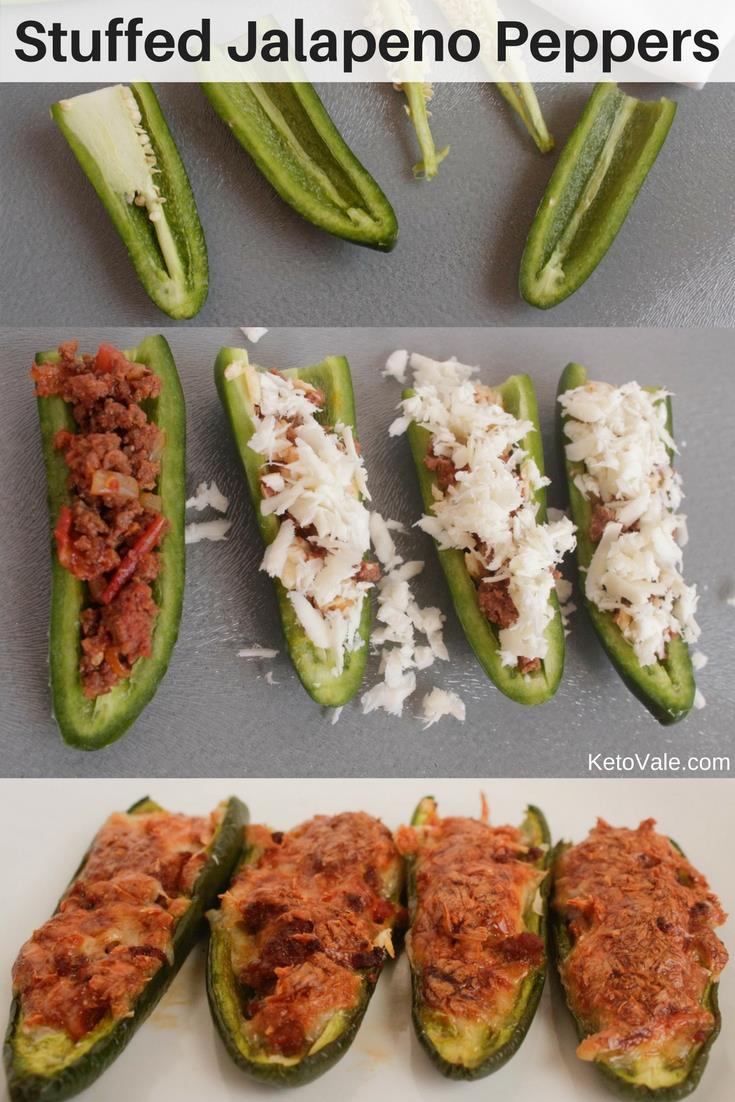 ---
Let's Do It!
Preheat oven to 350 degrees F.
Saute the beef in the frying pan with the onion and tomato. If you want to spice it up, try using your favorite taco seasoning.
Add salt and pepper to taste and cook for 15 minutes. Slice the Jalapenos in half and remove the seeds and veins. If you do not have jalapenos, try using small bell peppers.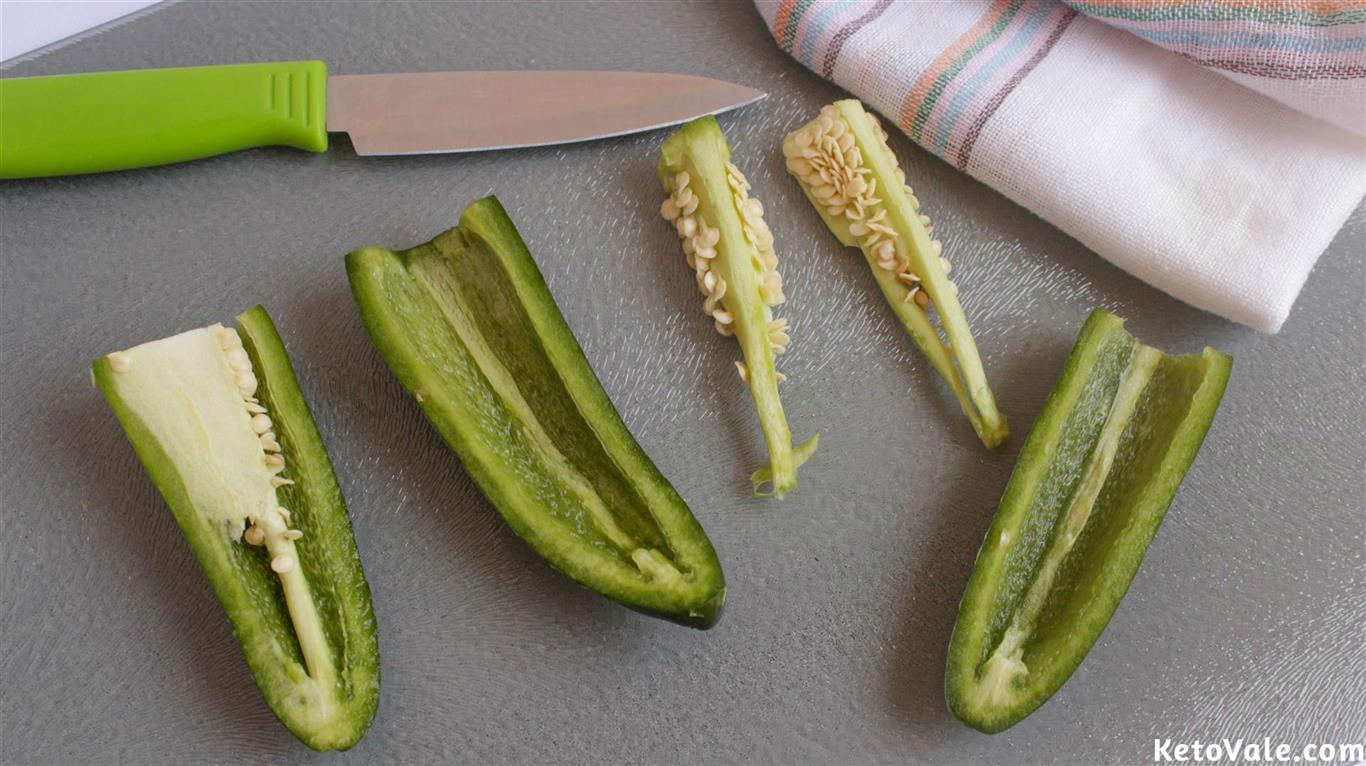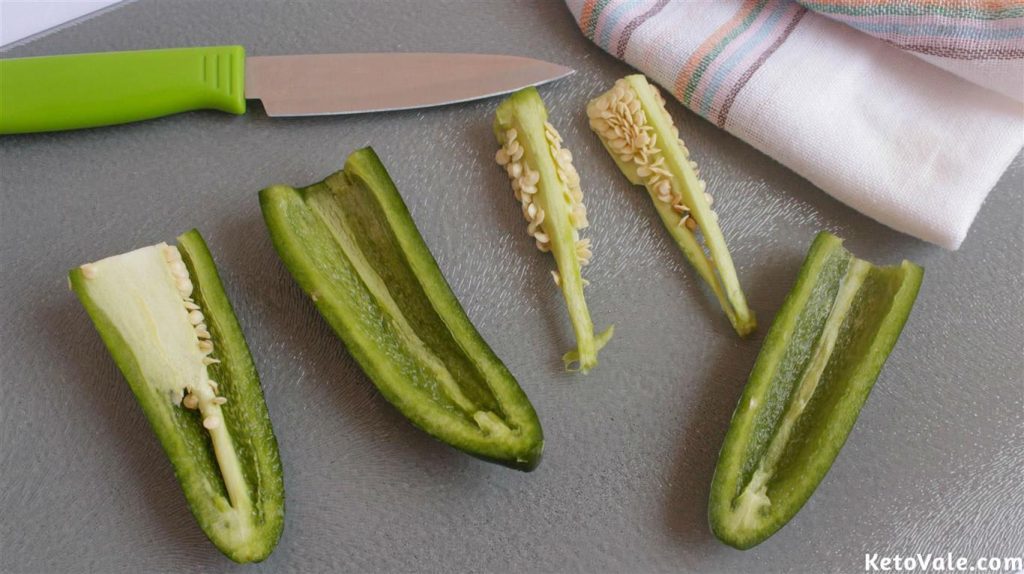 Add a tablespoon of the cooked beef mixture into each jalapeno half. Place shredded cheese on top. You can use your favorite white, cheddar cheese or a cheese mixture. Cream cheese can also be a great substitute to shredded cheese.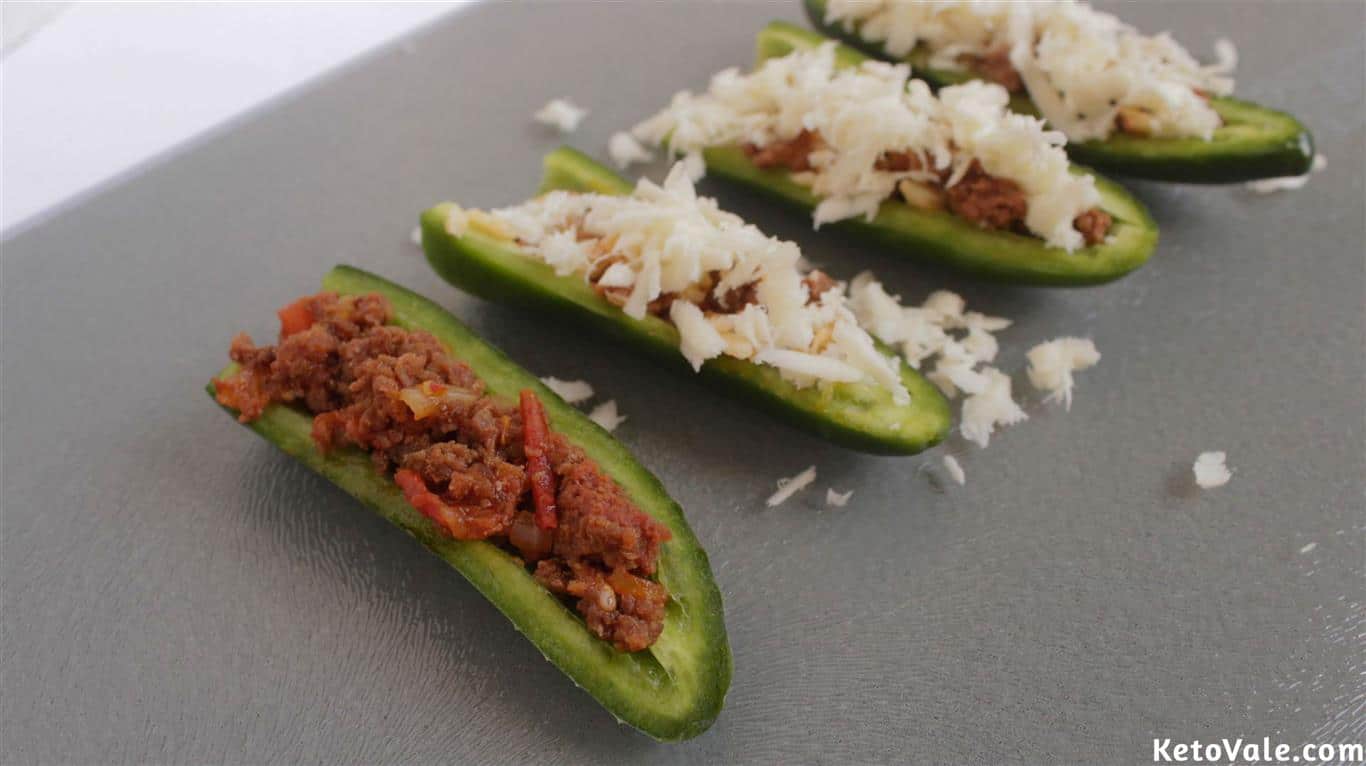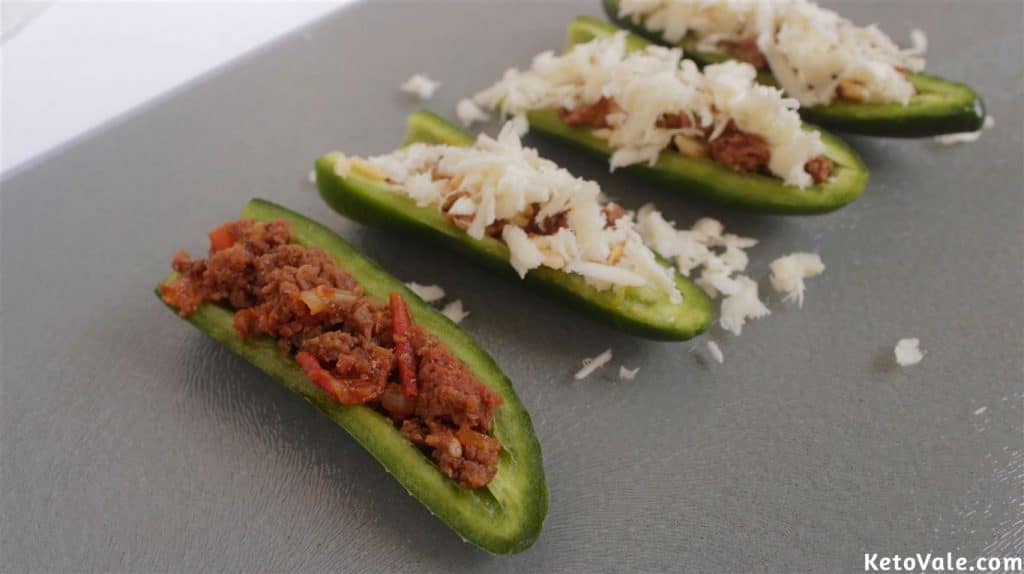 To keep things clean, line a baking sheet with foil. Bake for 15 minutes or until cheese browns. Serve warm.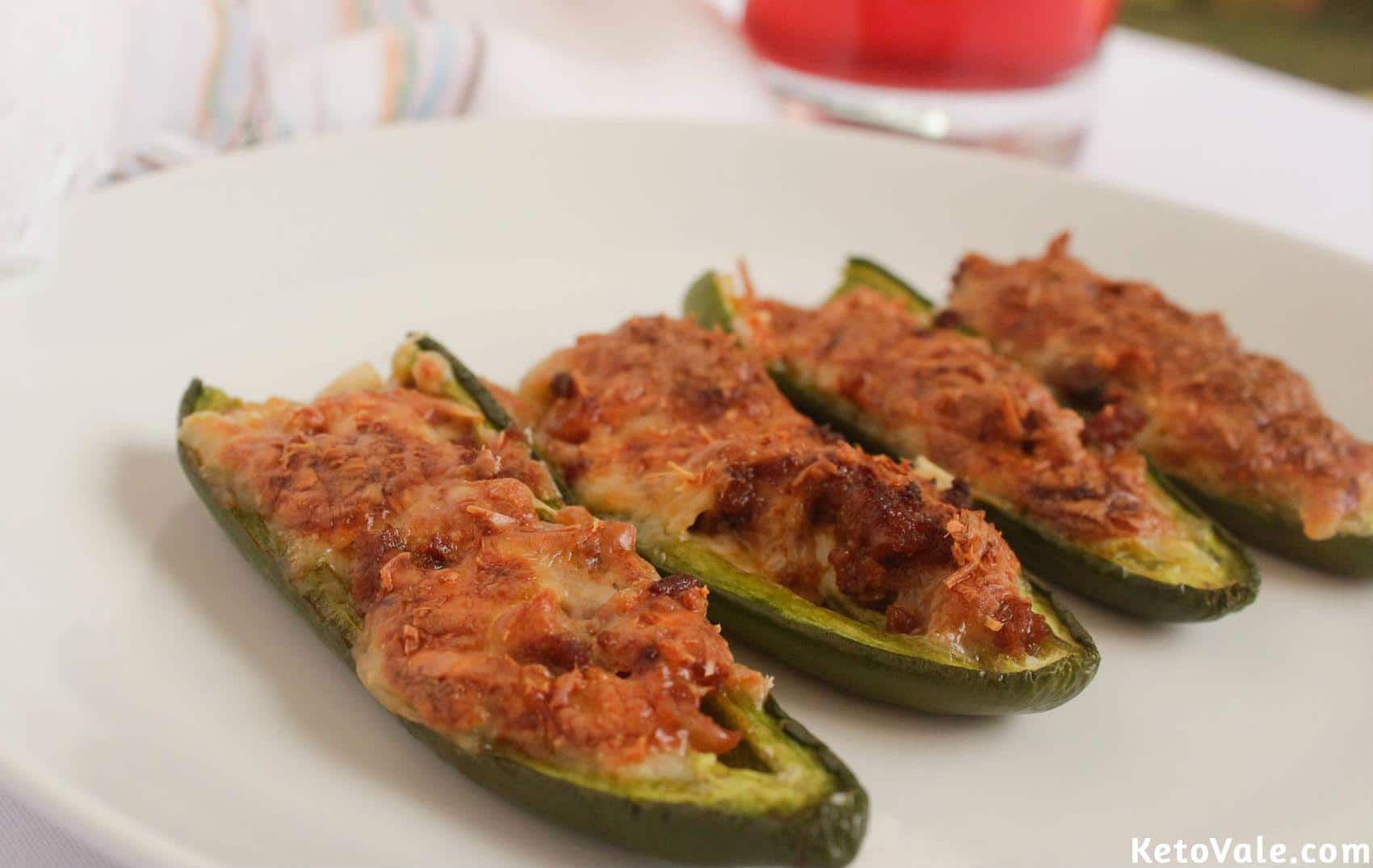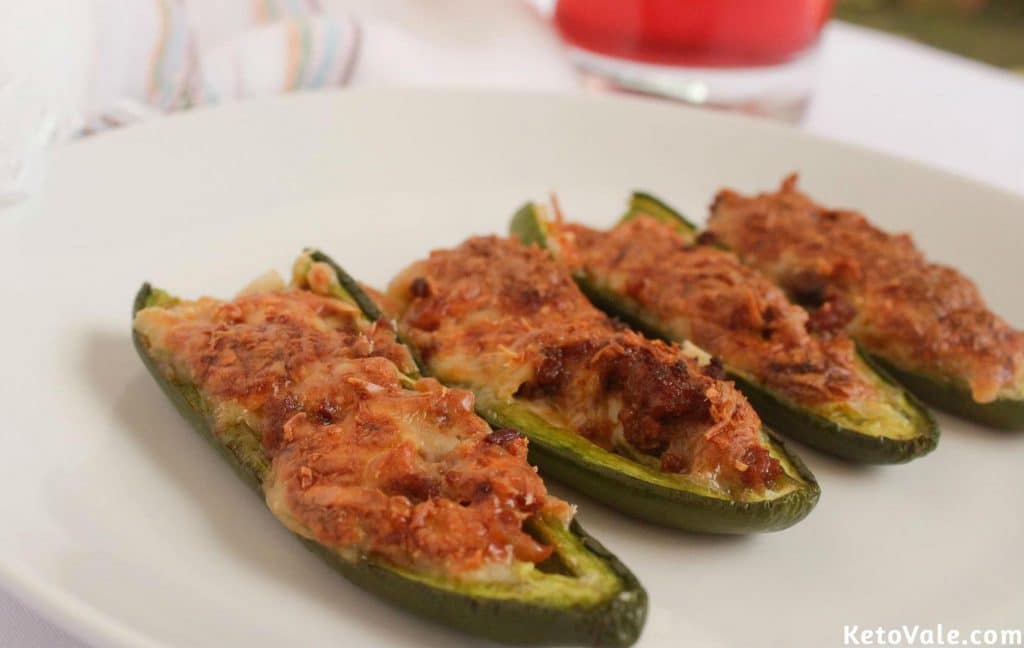 Related:
Stuffed Jalapeno Peppers with Ground Beef
Quick and easy keto-friendly snack by stuffing jalapeno peppers with ground beef and cheese before baking.
Instructions
While preparing the dish, preheat the oven to 350°F.

Heat the olive oil in a frying pan. Sauté the beef in the pan together with the onion and chopped tomato.

Add salt and pepper to taste. Cook for approximately 15 minutes. Slice the jalapeños into two pieces. Empty the insides of the slices by discarding the seeds and the veins.

Stuff about a tablespoonful of the cooked beef in the empty jalapeño halves. Sprinkle mozzarella cheese on the surface.

Arrange the filled peppers on a baking sheet and cook in the oven for 15 minutes and wait until the cheese browns.

Serve on a plate and enjoy!
Nutrition/Macros
Nutrition Facts
Stuffed Jalapeno Peppers with Ground Beef
Amount Per Serving
Calories 154
Calories from Fat 108
% Daily Value*
Fat 12g18%
Cholesterol 34mg11%
Sodium 280mg12%
Potassium 193mg6%
Carbohydrates 2g1%
Protein 9g18%
Vitamin A 386IU8%
Vitamin C 20mg24%
Calcium 58mg6%
Iron 1mg6%
* Percent Daily Values are based on a 2000 calorie diet.
Pin To Save This Recipe