You've probably heard of the famous Bloomin' onion from Outback Steakhouse, right? Our keto beef stuffed onion is a healthy, non-breaded way to enjoy onions while sticking to your low-carb needs.
Onions are one of the best low-carb veggies you can eat. They are an excellent source of vitamin C, fiber, and folic acid. They also have a high protein ratio and contain calcium and iron.
The type of fiber found in onions is special because they are prebiotic fibers. This type of fiber fuels the good bacteria in your gut to enhance the health of your microbiome.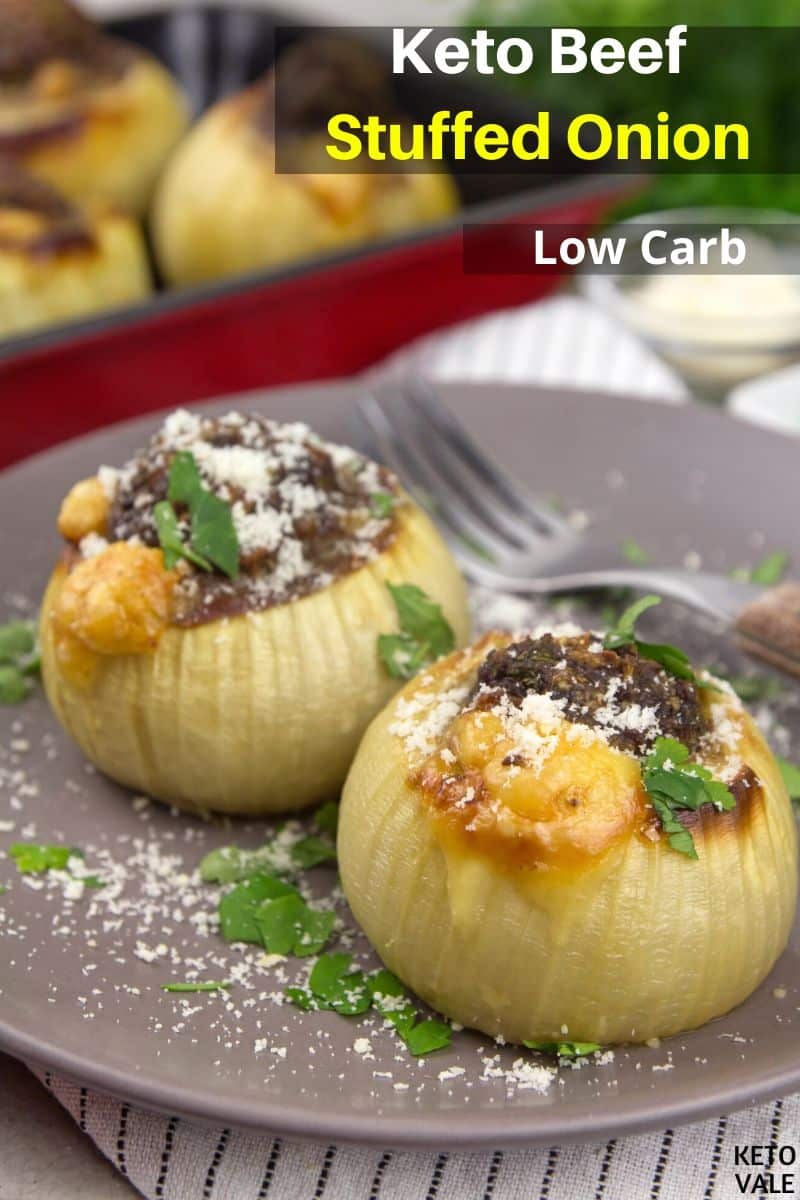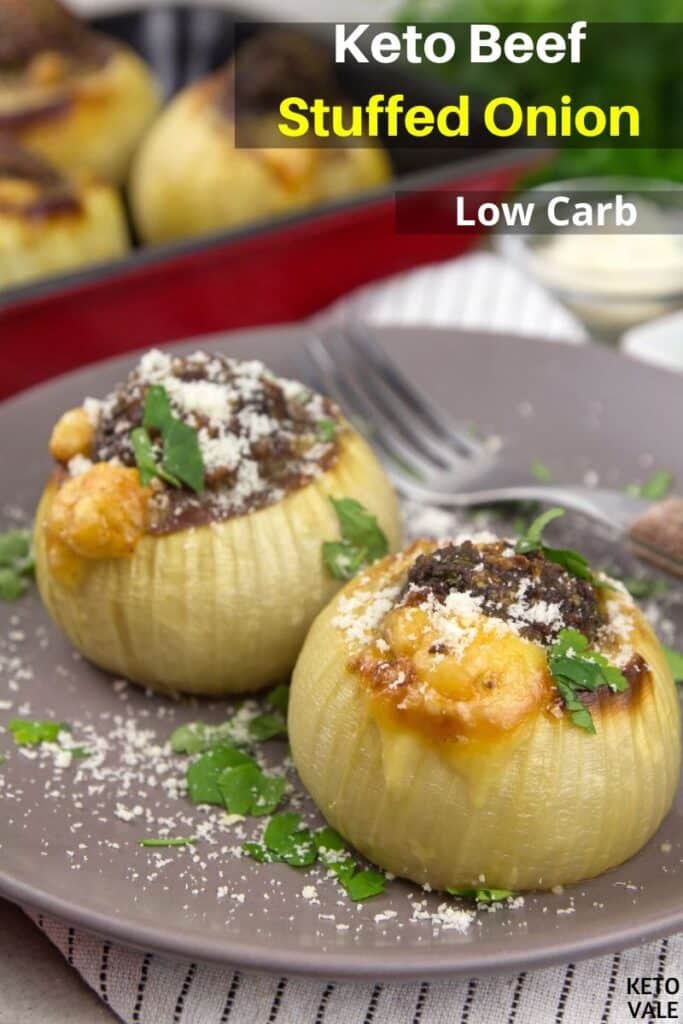 Onions are also an excellent source of an antioxidant called quercetin, which has been shown to reduce inflammation and boost immunity (1). One study found that quercetin helps protect tissues against damage caused by drug toxicity (2).
Additional research shows that quercetin may possess anti-cancer benefits due to its ability to inhibit certain cytokines (3). You can increase the bioavailability of quercetin by adding more vitamin C to your diet.
Onions have been called a "global benefit to health" by authors of one study (4). If you buy the red or purple kind, then your onions will also contain anthocyanins, which is another type of antioxidant with disease-fighting potential.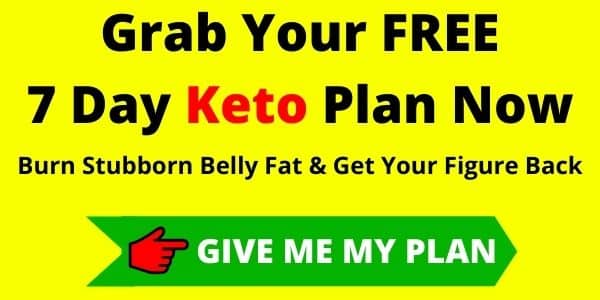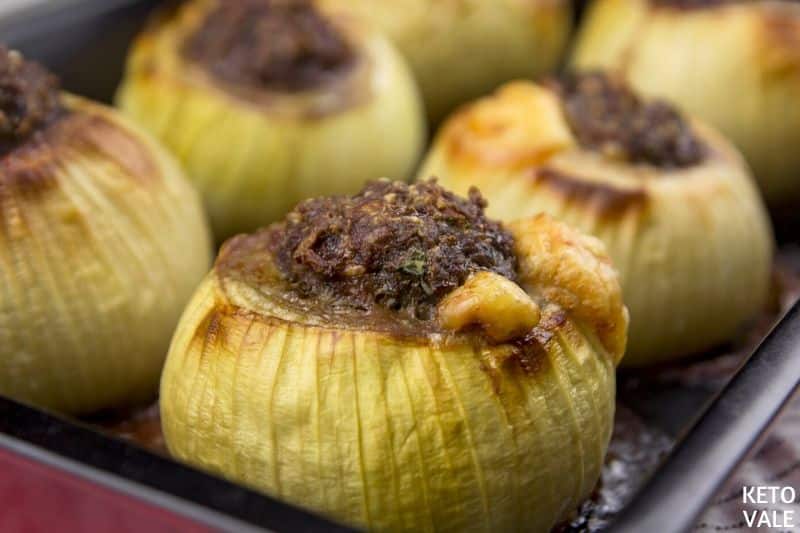 Our recipe also calls for beef, which contains high-quality protein and minerals that your body needs to drive enzyme processes. The bacon will add some fat and more protein so it helps build and repair tissues throughout your body.
Parmesan tops the protein pyramid and it is considered a low-lactose kind of food. Then we add spices, such as parsley, garlic powder, and dried basil, that are high in vitamins A, C, and K, as well as calcium, flavonoids, potassium, copper, manganese, and magnesium.
Together, these beef and onion balls provide a complete meal with all the nutrients you need to fuel your low-carb diet!
---
Let's Do It!
Put the ground beef, bacon, egg, Parmesan, parsley and all spices in a bowl.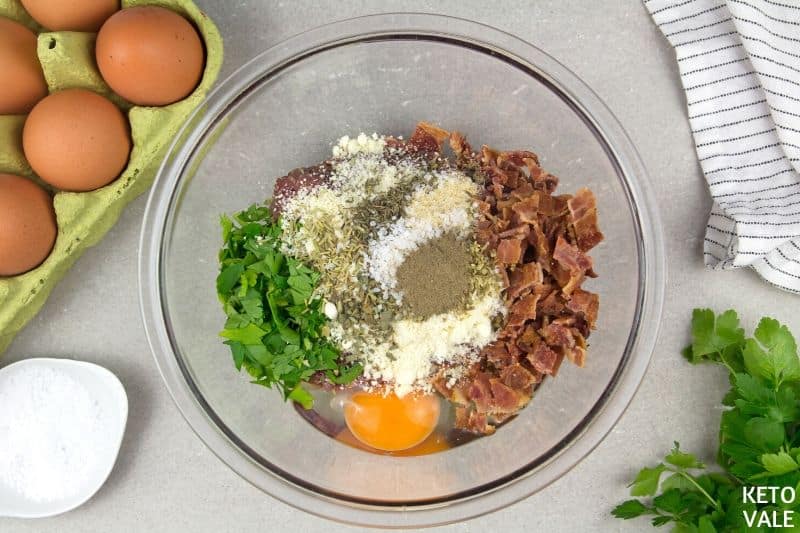 Mix them until smooth.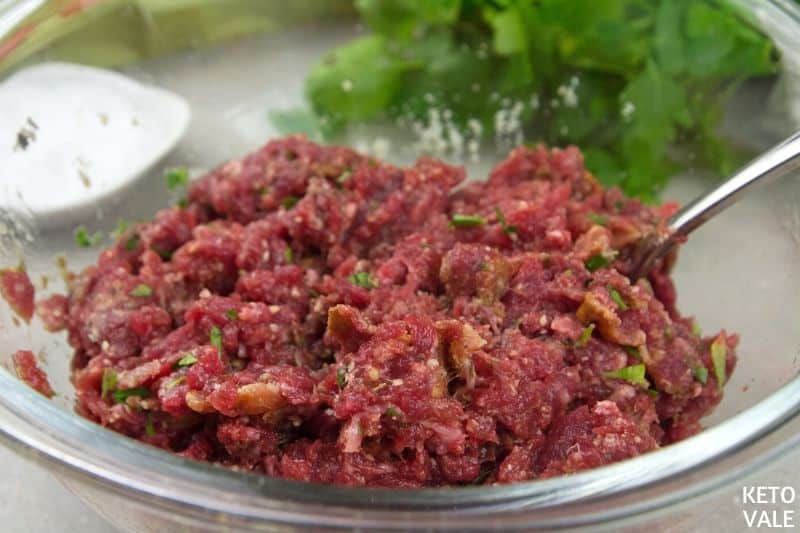 Peel the onions and chop off the ends. Insert criss-cross cuts on both sides and poke out the inner layers.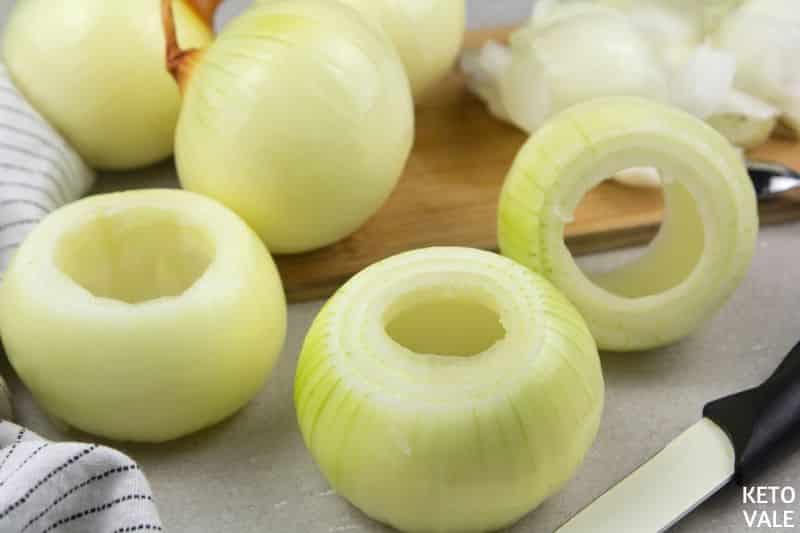 Stuff the onion holes with the beef mixture and press the meat firmly down.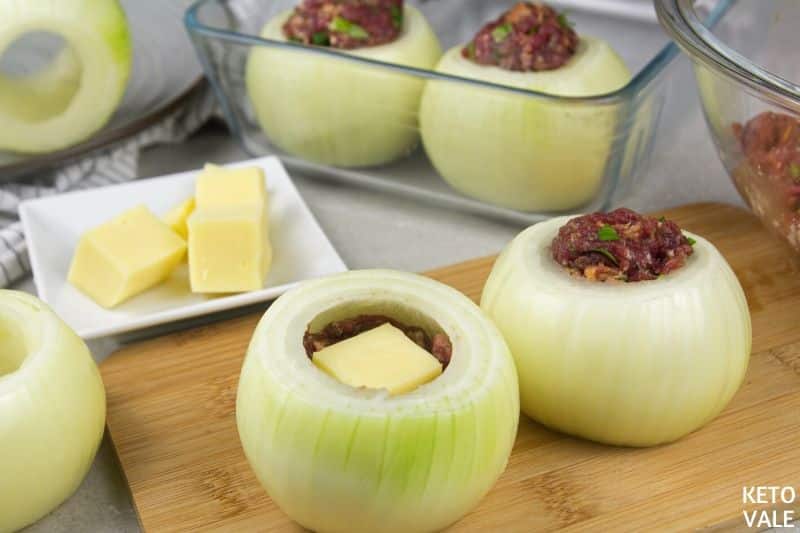 Form a "bed" for the cheese and insert a cheese cube into the meat mixture. Top each onion hole with more beef to seal the gaps.
Bake at 400 degrees for 35 to 40 minutes. Serve hot and sprinkle with Parmesan and parsley.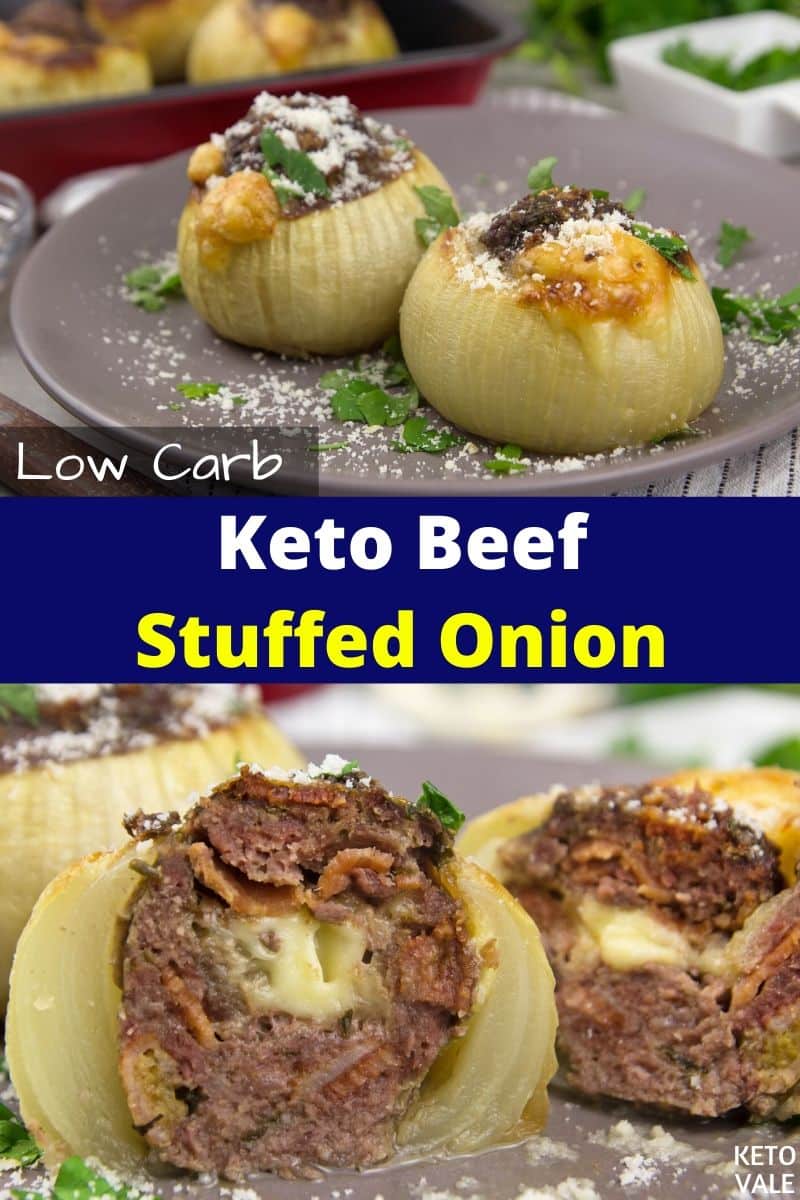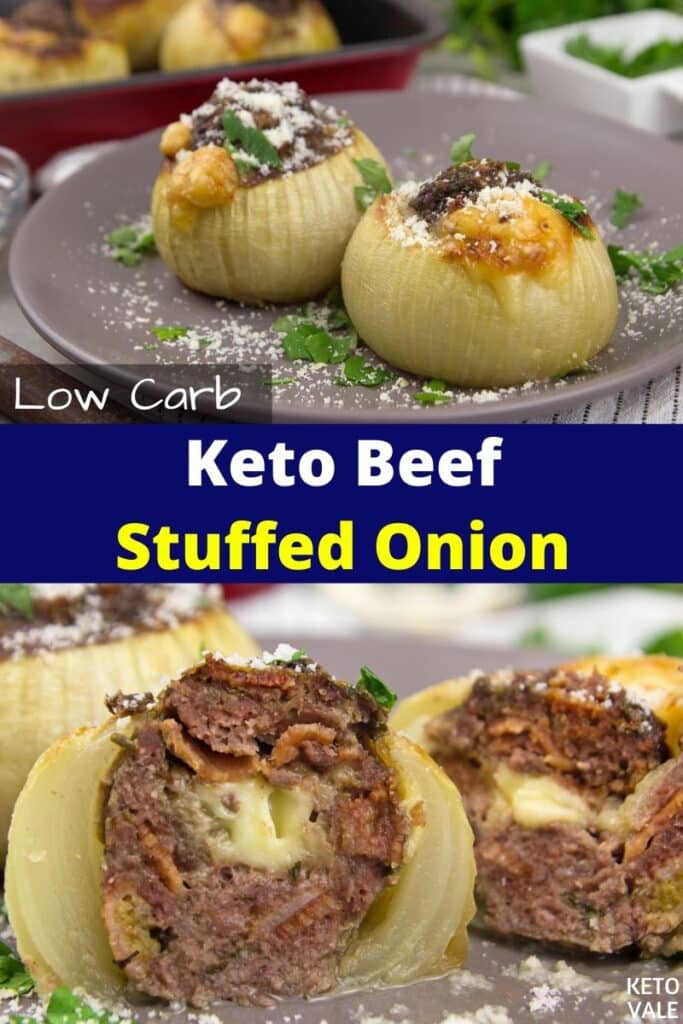 Do you like stuffing things inside other things? Check these similar recipes:
Keto Beef Bacon Cheese Stuffed Onion
You don't want to miss this low-carb beef stuffed onion recipe, it is simple yet super delicious, keto-friendly and has all the nutrients that make it a complete meal.
Ingredients
6

onions

medium

¾

lb

ground beef

3

slices

bacon

finely chopped

1

egg

3

oz

cheddar cheese

cubed

1/4

cup

Parmesan cheese

grated

2

tbsp

parsley

chopped (plus more for garnish)

1/2

teaspoon

garlic powder

¼

tsp

dried basil

¼

tsp

dried oregano

¼

tsp

dried rosemary

¼

tsp

dried thyme

½

tsp

salt

¼

tsp

pepper
Instructions
Preheat the oven to 350F.

In a bowl, mix ground beef, chopped bacon, egg, Parmesan, parsley and all spices. Mix just until smooth.

Peel onions and cut off both ends. Make criss-cross cuts on both sides of each onion. Scope or poke out inner layers of all onions.

Stuff your onions with beef mixture (approximately 1 tablespoon of mixture into each onion hole).

Press the meat gently into each onion. Form a "bed" for cheese and insert a cheese cube into each meat cup. Top each onion hole with some more beef mixture.

Transfer stuffed onions onto a baking tray and bake for 35-40 minutes.

Serve sprinkled with some more parmesan and chopped parsley.
Nutrition/Macros
Nutrition Facts
Keto Beef Bacon Cheese Stuffed Onion
Amount Per Serving
Calories 298
Calories from Fat 198
% Daily Value*
Fat 22g34%
Cholesterol 93mg31%
Sodium 473mg20%
Potassium 286mg8%
Carbohydrates 6g2%
Protein 18g36%
Vitamin A 321IU6%
Vitamin C 6mg7%
Calcium 180mg18%
Iron 2mg11%
* Percent Daily Values are based on a 2000 calorie diet.
Pin To Save This Recipe