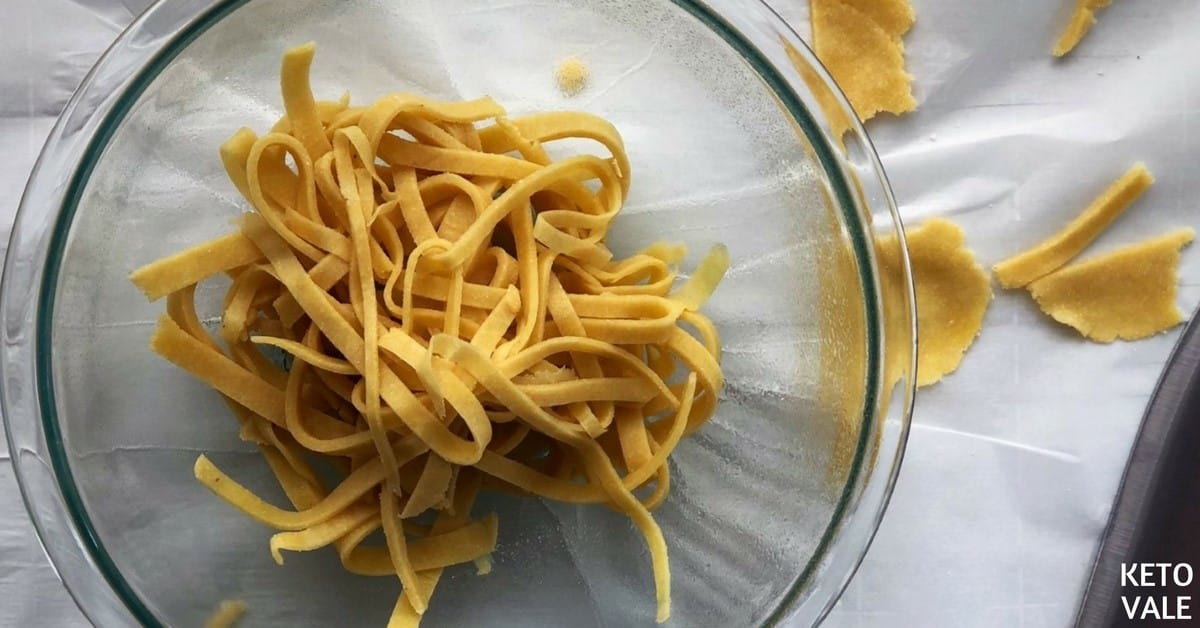 Easy Keto Fettuccine Alfredo
Fettuccine is a type of pasta that is very popular in Tuscan and Roman cuisine. It is usually made of egg and flour and has a flat thick shape. For the keto version, we use almond flour, coconut flour, egg and xanthan gum.
This is a very easy and quick pasta recipe that can be a life changer for those keto followers that miss a good old pasta bowl. It can be made ahead of time and kept in the fridge for a week or two and it will cook in just a couple of minutes.
In this recipe, we decided to make all by hand shaping the past into fettuccine style, so even if you don't have a fancy pasta machine or a food processor you can still venture yourself in this recipe.
For handmade pasta, you can still make lasagna, raviolis, bow ties… another idea is fill the pasta with cheese spreads and meat making it even more special.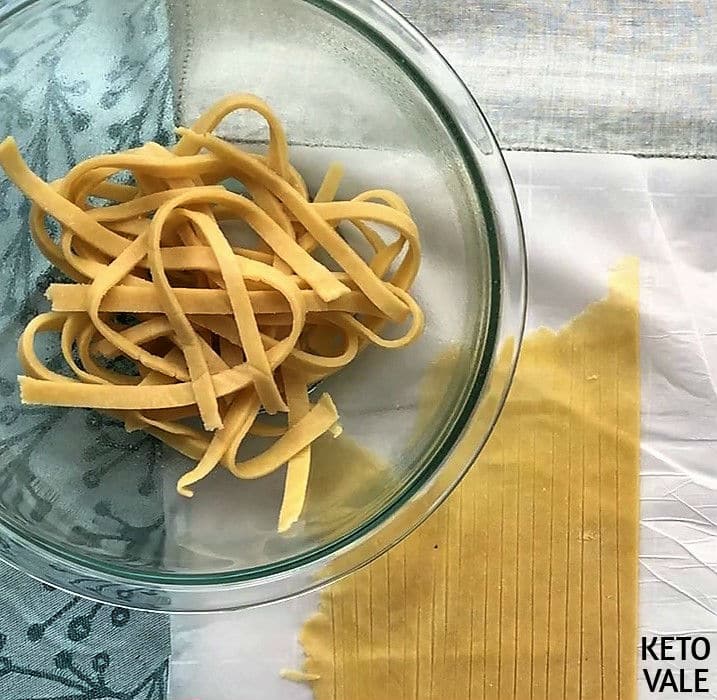 After shaping the pasta, it can be frozen and cooked straight from the freezer. If you decide to freeze it, shape the pasta, lay on a flat sheet (away from each other) and take it to the freezer for at least 1 hour. Once frozen the pieces can be moved to a freezer safe bag and kept for up to 3 months.
You can add a variation of toppings to the pasta to please your preference. There is no limit to how much fun you can have with this recipe!
Watch how we prepare this here:
Save this recipe by pinning this picture to your Pinterest board for later use!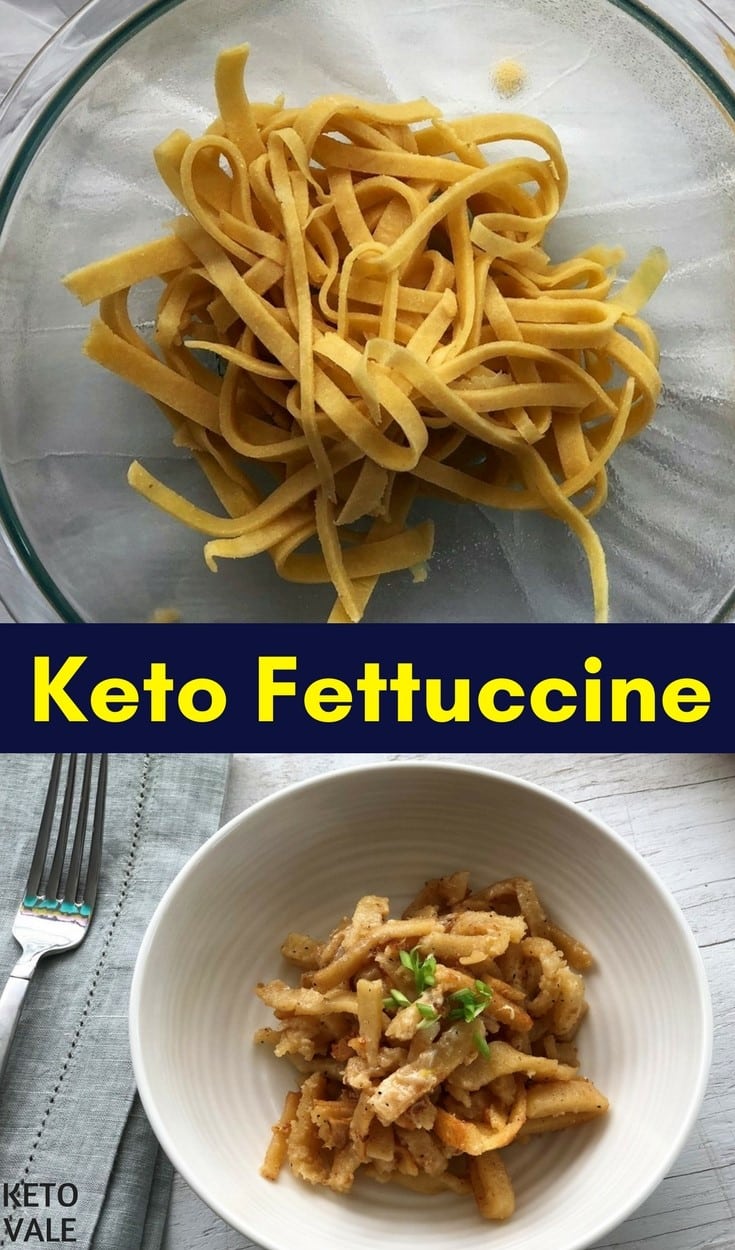 Related: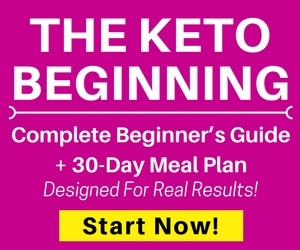 Receive Our Free 7-Day Keto Meal Plan + Weekly Recipes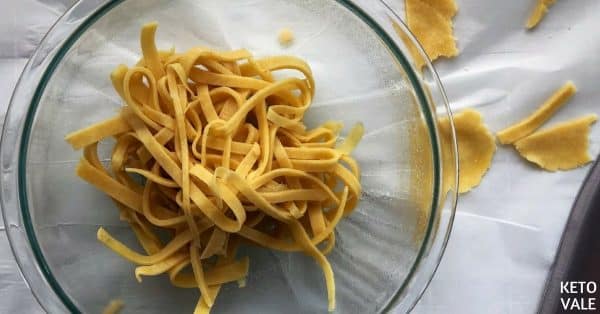 2

tbsp

butter

2

cloves

garlic slivered

optional

1

tbsp

Parmesan cheese

1

tsp

lemon zest

1/4

cup

heavy cream

salt and pepper to taste
In a bowl combine almond flour, coconut flour, xanthan gum and salt then pour in apple cider vinegar and the egg. Add water teaspoon by teaspoon, as needed.

Combine the dough with your hands until forms a ball. Cool it in the fridge covered with plastic wrap for at least 30 minutes.

Remove dough from the refrigerator and using a rolling pin flatten it until your desired thickness. If you have a pasta machine can be used for a more precise result but it is not mandatory. Once the dough is ready shape it in your favorite pasta shape.

Move it back to the fridge for 15 minutes or more and cook it on stove top using the fat of your preference. The pasta can be served with any keto friendly sauce such as tomato, pesto, or just good old garlic butter as we have on this recipe. Serve warm immediately!
For the Fettuccine pasta (dough) only:
Macros (per serving): Calories: 330– Fat: 27.2g – Net carbs: 5.8g (total carbs: 13.6g, fiber: 7.8g) – Protein: 13.6g
For the Fettuccine pasta + sauce:
Macros (per serving): Calories: 503– Fat: 45.5g – Net carbs: 6.4g (total carbs: 14.2g, fiber: 7.8g) – Protein: 15.8g