Do you miss the traditional oatmeal? This no-oats oatmeal (also known as Noatmeal or N'oats) is a low carb and keto-friendly oatmeal substitute that gives you a comforting taste of oatmeal while keeping you in ketosis.
A quick and easy low carb oatmeal recipe with only 4 net carbs per serving, this will allow you to start your day with a keto meal that is packed with nutrients, fibers and calories to keep you on track on your macros.
I love this recipe since it really delivers the warm and comforting feeling of a nice oatmeal bowl.
The ingredients are very easy to find. All you need are hemp hearts, flax meal, chia meal, coconut flakes , cinnamon, almond milk and a scoop of MCT oil powder.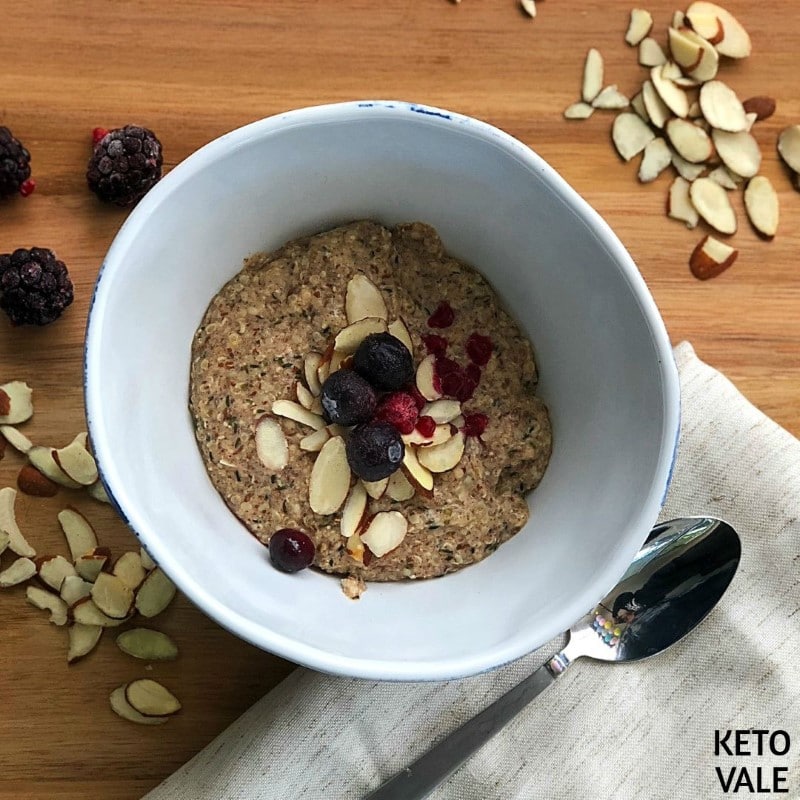 MCTs (medium-chain triglycerides) are a great source of energy and healthy fats, especially when you are in ketosis. Just in case you haven't tried MCT before, here are some reasons why you might want to consider adding MCT into your daily meals:
MCT helps trigger ketosis and increase fat-burning process
It boosts your energy for exercise and throughout the day as it's a clean & healthy fat and a constant source of energy.
It increases satiety and feeling full
It heightens your focus and improves mental clarity
You can read more about benefits of MCT.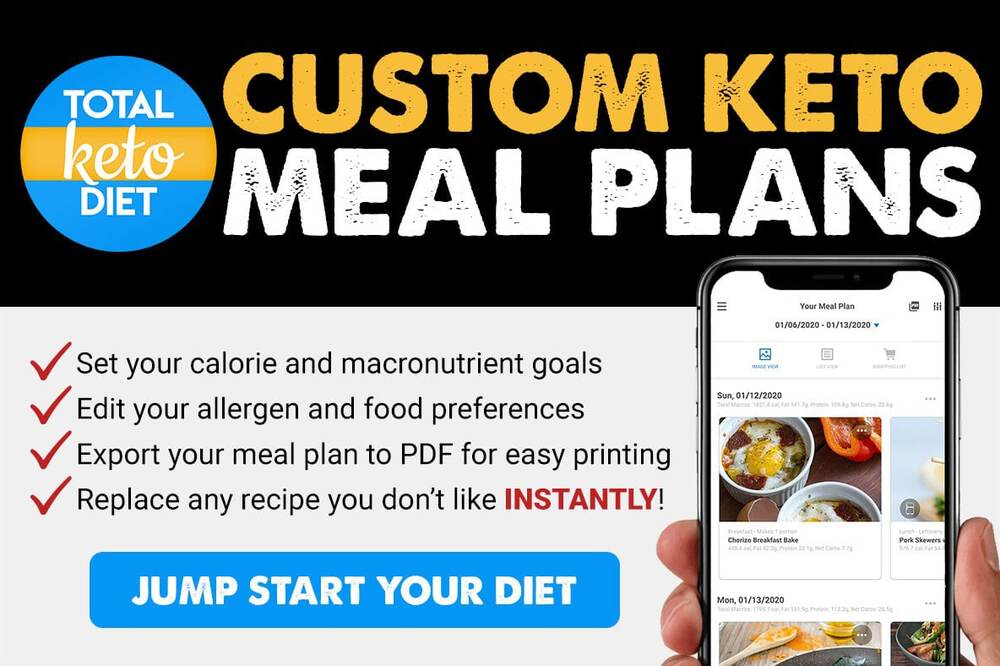 Hemp hearts or hemp seeds have a mild nutty flavor. They are a great source of essential fatty acids and protein. They are very beneficial for digestion, hair, skin, nail and joint.
You can play with this recipe using light coconut milk, add vanilla extract for extra flavor and even add cocoa powder for an indulging morning.
The recipe is not sweet so if preferred you can add any sweetener of your choice. This can be stored overnight and warmed in the microwave or you can put on a to go container for a snack latter.
This no egg keto oatmeal recipe will give you the energy and nutrition you need to conquer the day. You can also add a few slices of almond and berries to make it like a breakfast cereal.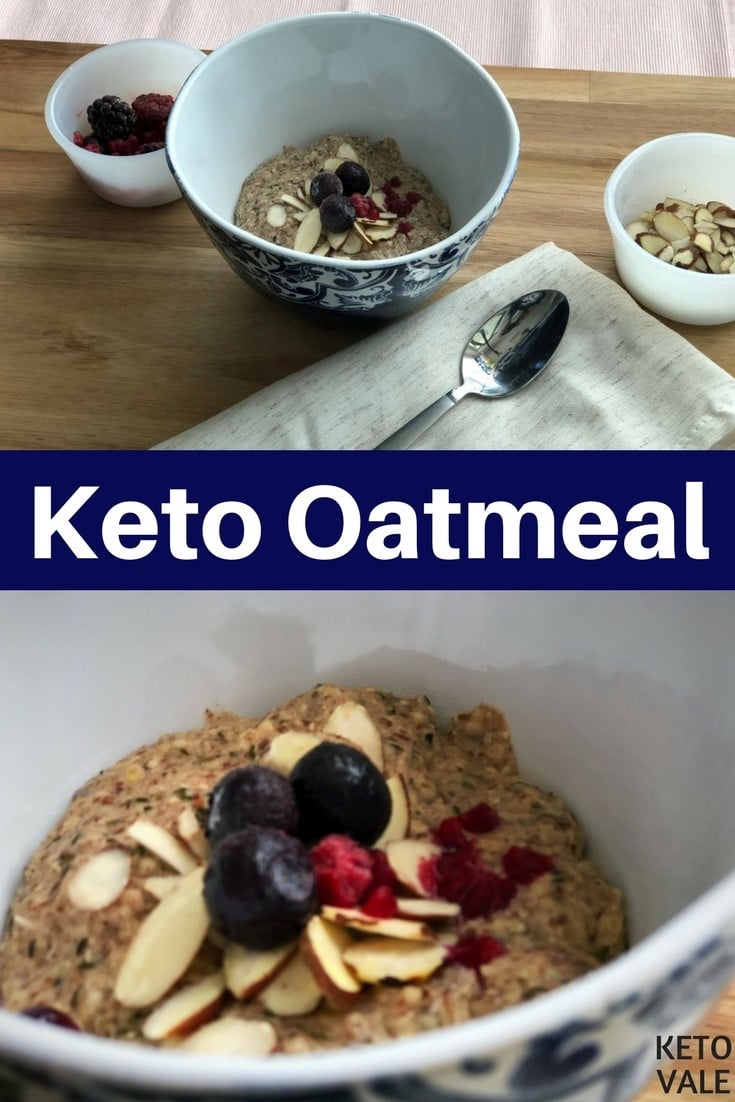 How to Make Keto Oatmeal
Our keto oatmeal recipe uses hemp hearts as the main ingredient, along with chia seeds, flaxseed meal and coconut flakes. The amounts are listed in the recipe card below.
Combine all the dry ingredients in a small saucepan then add unsweetened almond milk (or coconut milk) and leave to simmer, stirring occasionally to prevent sticking. Once the mixture thickens, take it off of the heat.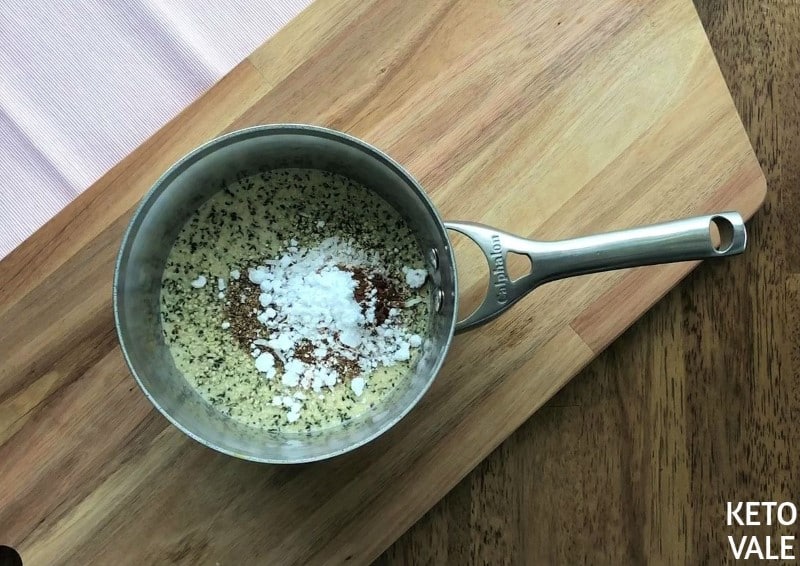 Serve immediately in a bowl with frozen berries and nuts.
If you want to be fancy, some other extra ingredients you can try include chocolate peanut butter, unsweetened vanilla almond milk, coconut cream, sugar free maple syrup and almond flour.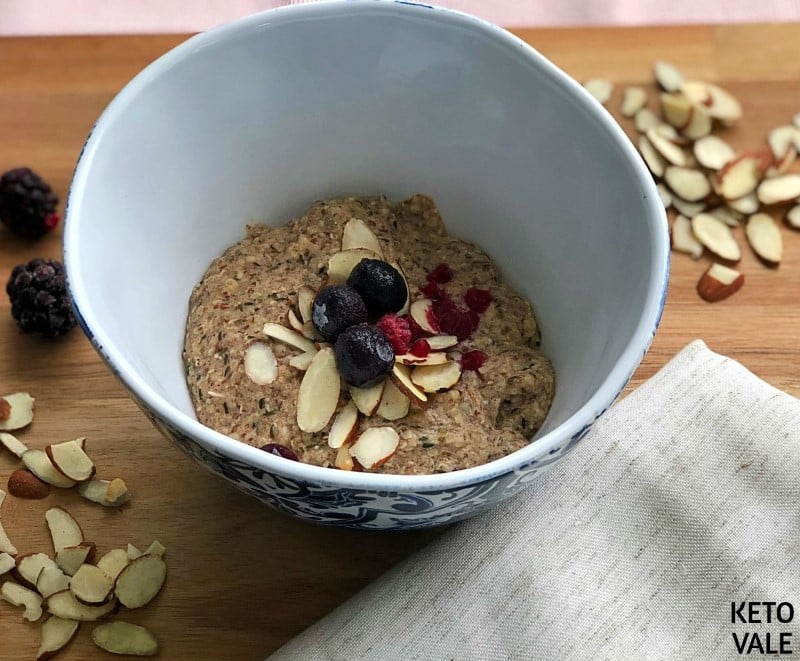 Save this recipe to your gluten free keto breakfast recipes list for later use!
You might want to try these breakfast options:
Low Carb Keto Oatmeal Recipe
This oatmal no'oats recipe is not only easy and healthy but also keeps you on track of a keto diet.
Instructions
Stir all the ingredients in a small saucepan until they combine. Leave it to simmer, stirring occasionally. Remove from the heat when the mixture thickens.

Transfer to a bowl and top with frozen berries and nuts. Serve right away.
Nutrition/Macros
Nutrition Facts
Low Carb Keto Oatmeal Recipe
Amount Per Serving
Calories 384
Calories from Fat 270
% Daily Value*
Fat 30g46%
Sodium 166mg7%
Potassium 66mg2%
Carbohydrates 10g3%
Protein 21g42%
Vitamin A 260IU5%
Calcium 284mg28%
Iron 7.8mg43%
* Percent Daily Values are based on a 2000 calorie diet.
Pin To Save This Recipe