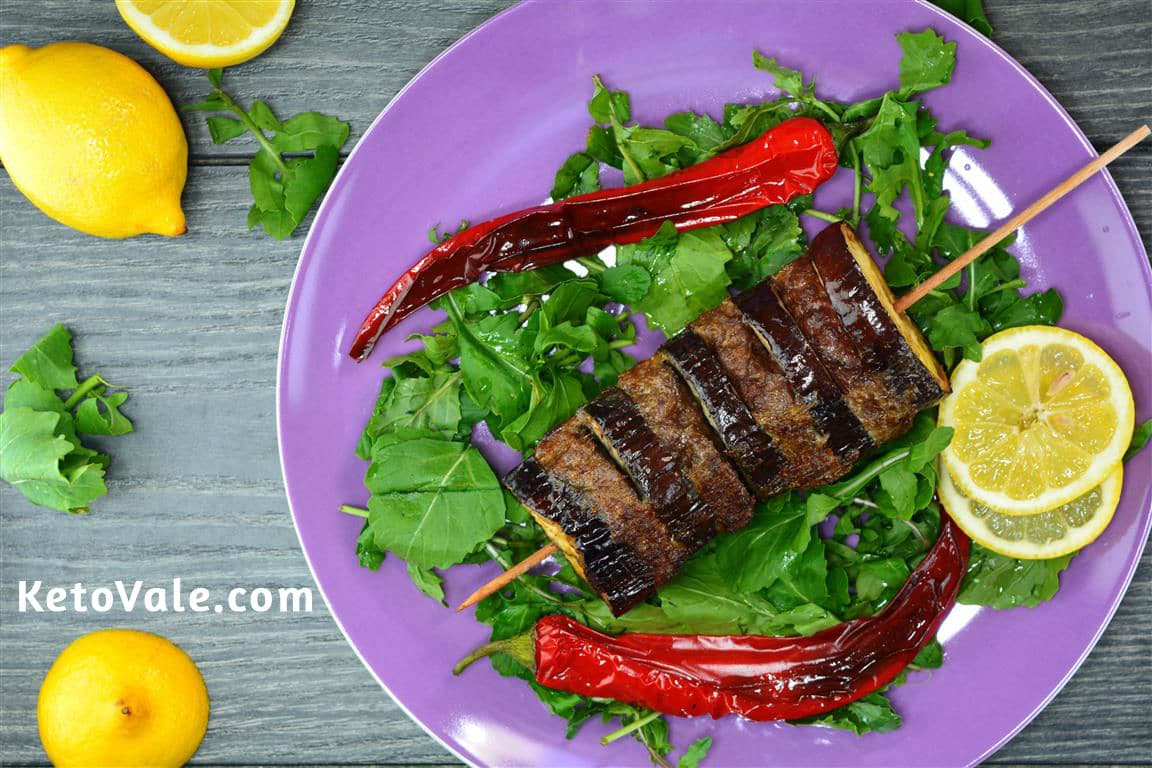 Beef and Eggplant Kebab Recipe (Low-Carb + Keto)
In my opinion, this is one of the best kebabs you can try. However, make sure to make your own, low-carb version because those kebabs that are sold on the streets contain high amounts of flour which add quite a lot of carbs per serving. Instead, I like to add eggs that prevent the meat from falling apart. Spice things up with some crushed garlic cloves and serve this world-wide famous dish.
Receive Our Free 7-Day Keto Meal Plans + Weekly Recipes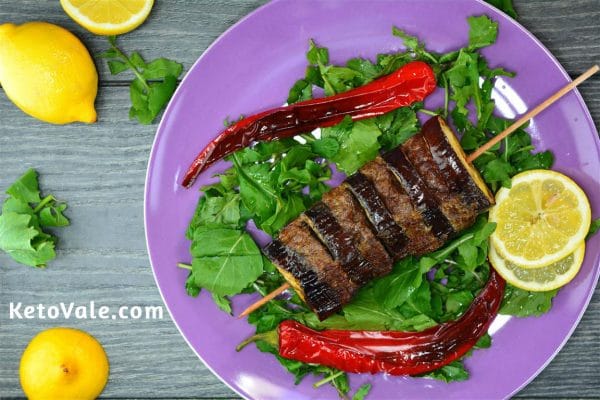 Slice eggplants in a circular shape (about half-inch thick).

Generously sprinkle with salt and set aside for 10 minutes to remove the bitterness.

In a large bowl, combine the meat with parsley, onions, garlic, olive oil, chili pepper, salt, black pepper, oregano, thyme, and eggs. Mix well with your hands and form patties to fit eggplant slices.

Preheat a large, non-stick grill pan over medium-high heat and lightly brush with oil.

Rinse eggplant slices and gently press with your hands to squeeze the excess water.

Thread eggplant slices and meatballs onto soaked skewers and place on the preheated grill pan.

Cook for 15 minutes, gently turning a couple of times.
Nutrition information per serving (4 servings)
Macros: Kcal: 444, Protein: 37.5g, Total Carb: 6g, Net Carbs 3.1: Fats: 30.2g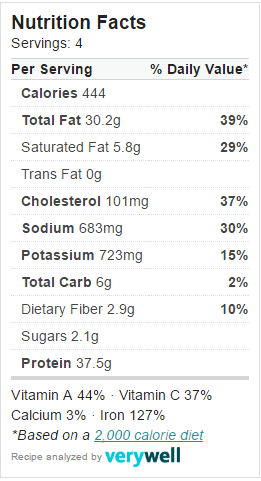 Some people are not huge fans of eggplants. In this case, you can easily replace eggplant slices with good old bell peppers (but make sure to keep the amounts low because of their high carb content), zucchini, onions, or any other fresh vegetables you have on hand. As for serving, any kind of leafy greens will do the job perfectly. Optionally, sprinkle with just a few drops of freshly squeezed lemon juice and serve these delicious skewers.
Loved this recipe? Please share this post! Have any question or feedback about this recipe? Let us know in the comments below!