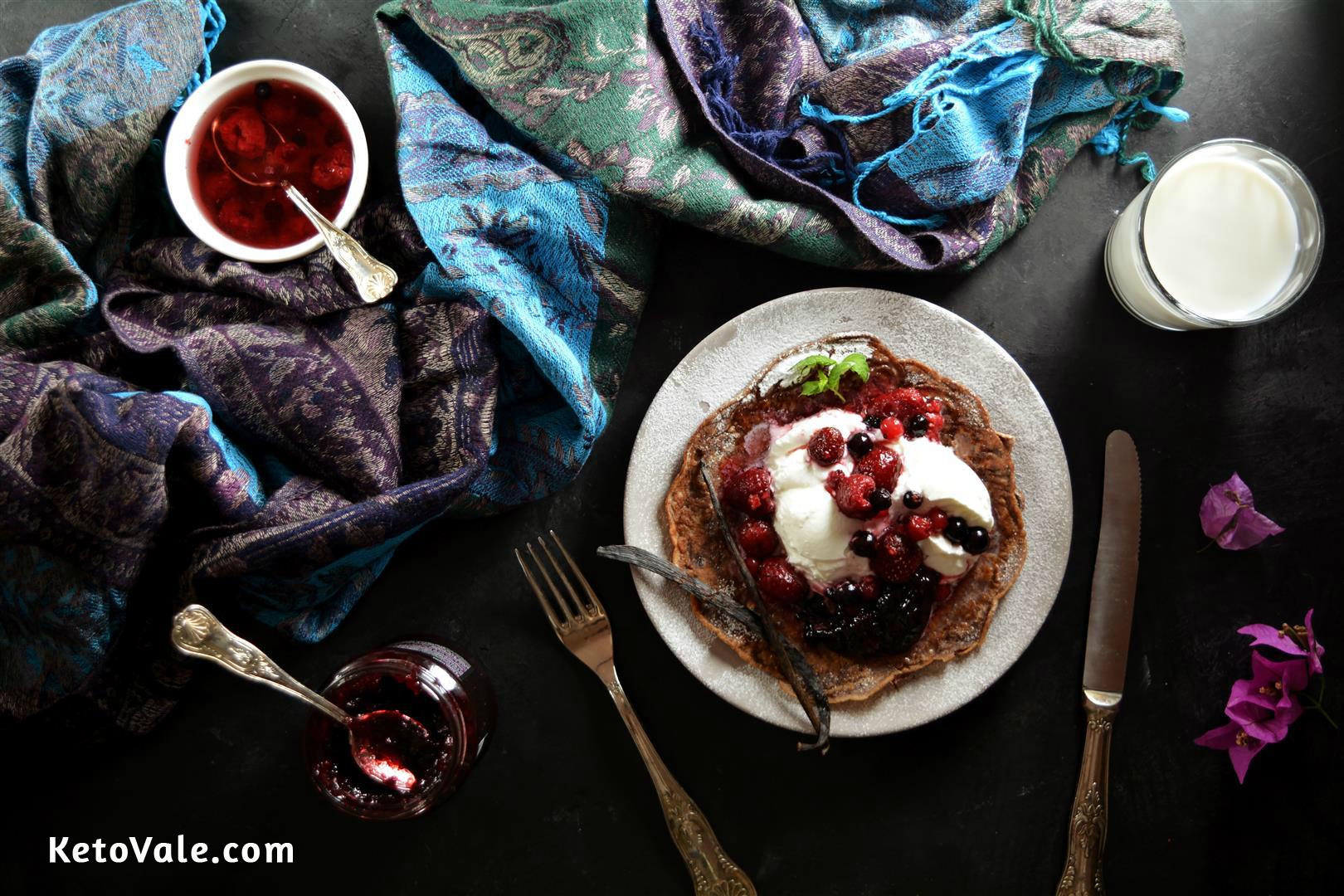 Greek Yogurt and Berry Keto Pancakes Recipe
It takes only ten minutes to prepare this beautiful traditional breakfast. I like to add one scoop of protein powder such as Grass-Fed Beef Protein to increase my protein intake, but this is completely optional because these pancakes are based on protein-loaded cream cheese and eggs. Top with creamy Greek yogurt and serve immediately.
I like to experiment with different fruit flavors. They really add a nice touch and even some color to my recipes. There are hundreds of different options in markets so make sure to read the labels and choose high-quality, organic and sugar-free extracts.
In my experience, cranberry, blueberry, and orange extract have the most intense aroma, so just a few drops will be enough to add some lovely flavor to these delicious pancakes.
And to make things even more interesting and colorful, add one drop into your Greek yogurt topping and treat yourself with a cheerful breakfast that everyone will love.
Receive Our Free 7-Day Keto Meal Plans + Weekly Recipes
Greek Yogurt and Berry Keto Pancakes
Great for breakfast!
Ingredients
4

eggs

8

oz

cream cheese

2

oz

butter

softened

1

scoop

protein powder

¼

tsp

cranberry extract

sugar-free

1

tsp

raw cocoa

1

cup

Greek yogurt

Wild berries for decoration

optionally

Oil for frying
Instructions
Combine butter and eggs in a large mixing bowl and beat for two minutes on high with a whisking attachment.

Now add cream cheese, protein powder, cranberry extract, and cocoa.

Continue to beat until fully incorporated, for three minutes.

Brush a small, non-stick skillet with some oil and heat up over medium-high heat. Add about three tablespoons of the mixture to the pan and cook for two minutes on each side.

Remove from the heat and top with one tablespoon of Greek yogurt. Optionally, decorate with some wild berries and serve.
Notes
Nutrition information per serving (6 servings)
Macros: Kcal: 288 Protein: 13.7g, Total Carb: 3.4g, Net Carbs 3.3: Fats: 24.8g
Loved this recipe? Please share this post! Have any question or feedback about this recipe? Let us know in the comments below!