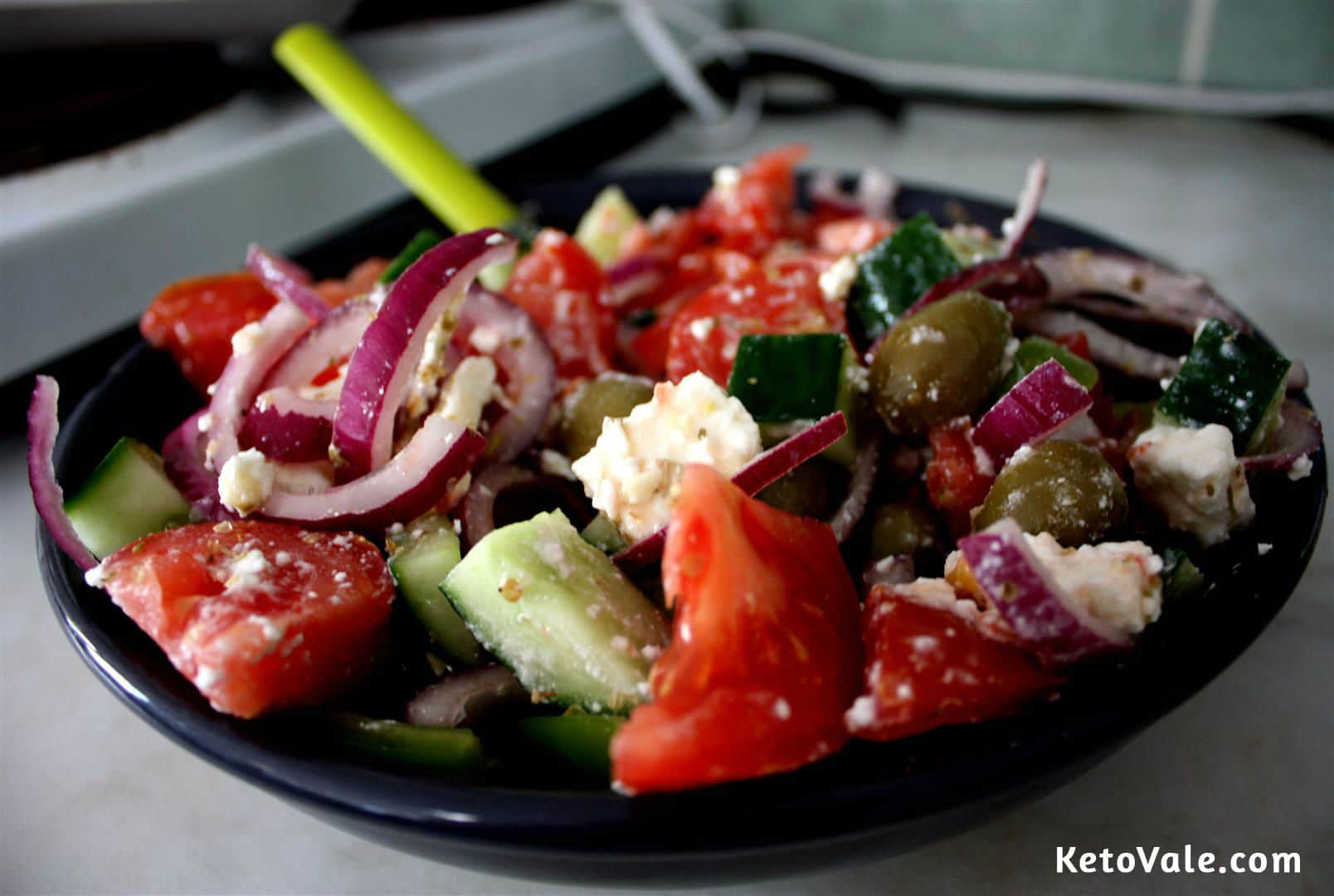 Greek Keto Salad Recipe
The Greek salad is very keto-friendly – it's full of low-carb vegetables and the extra-virgin olive oil has a great nutritional value. In addition to that, it's extremely easy to make, only takes around 10 minutes and can be an excellent lunch or dinner during the summer months. Apart from being so colourful and fresh, it's also quite filling.
Receive Our Free 7-Day Keto Meal Plans + Weekly Recipes
Greek Keto Salad
Ingredients
For Salad
4

medium tomatoes

chopped

½

cucumber

diced

140

g

feta cheese

crumbled

½

medium red onion

sliced

1

small green bell pepper

diced

12

olives
Instructions
Cut the tomatoes, cucumber, onion, feta, bell pepper.

Put them in a salad bowl together with the olives.

Mix everything together and add the salt and the oregano.

Whisk together the olive oil, vinegar and the minced garlic clove in a separate cup. Enjoy it with someone you love!
Notes
Macros (per serving): Calories: 266 kcal – Fat: 22.89 g – Net carbs: 8.09 g (total carbs: 10.79 g, fiber: 2.7 g) – Protein: 6.76 g If you don't like garlic (or are worried about having a garlic breath), you can easily skip it. The onion is rather essential for the taste of this wonderful salad, though. The extra virgin olive oil can be substituted with refined olive oil, but keep in mind that it will be slightly less savory, so we highly recommend using extra virgin whenever possible. If you like capers, you can add a spoonful to the salad, they are very low-carb (100 g of capers contain only 1.7 net carbs, or 0.1 g of net carbs per drained tablespoon). The Greek salad is best served and eaten fresh, but you can prepare it up to an hour or two before serving, by letting it sit at room temperature. Loved this recipe? Please share this post! Have any question or feedback about this recipe? Let us know in the comments below!