Keto Blueberry Muffins with Almond Meal and Flaxseed
I am a sucker for snacks, I am always looking for something to eat in between meals, not only because snacking is a habit ingrained in our society but also because I am always on the go and really need something to keep me going until the next meal.
Low carb muffins with almond flour only will be very bland, so I added flaxseed meal, almond slices, almond butter, blueberry and egg for the delicious taste and texture.
These muffins are a great snack, they are loaded with healthy protein and fats, have a great amount of fiber and some lovely nutrients from the nuts and blueberries. You can double this recipe and keep these in the fridge for a week or 2 or even freeze it for around 3 months.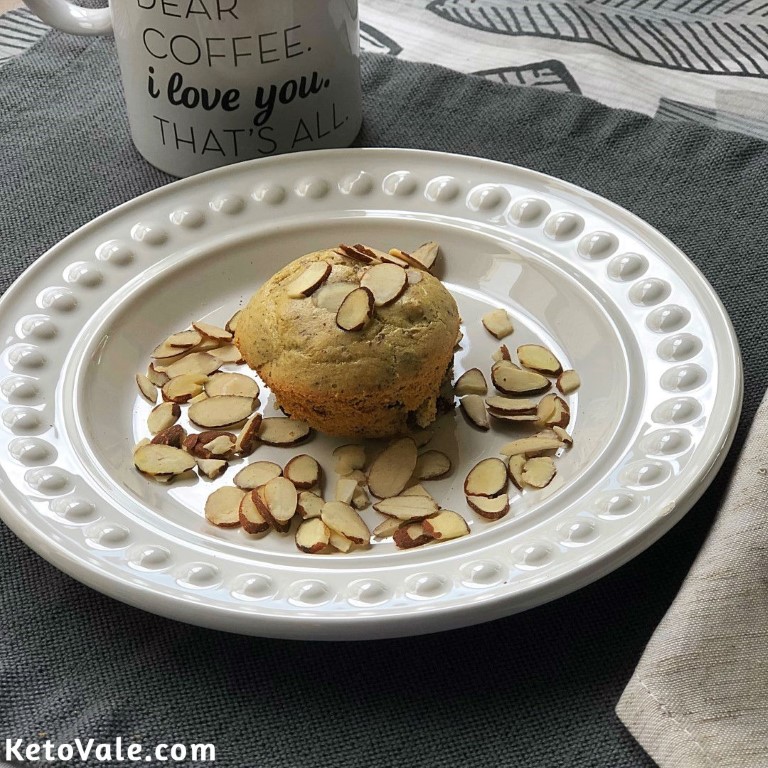 I like to freeze them and take them with me so I can eat it an hour or 2 later without worrying if they will keep well or not. You can modify this recipe in many ways changing the nuts and the nut milk/butter and using either raspberries or blackberries. You can substitute the olive oil by coconut oil and even add cocoa nibs or 85% chocolate chunks to make this just amazing.
These are indulging enough to be part of an afternoon break with coffee or tea or even go for dessert if you are looking for a treat. Don't be surprised if your friends or family sneak on you and finish it all before you get a chance to eat them!
Watch how we prepared this here:
Save this recipe by pinning this picture to your Pinterest board for later use!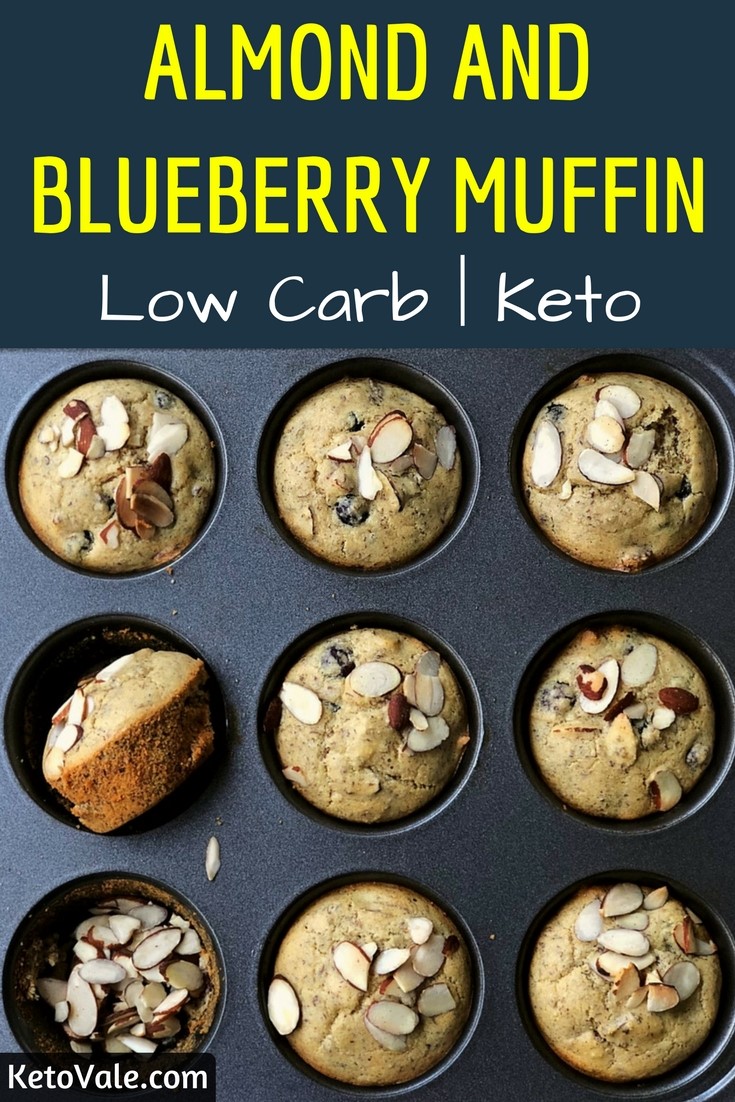 Related: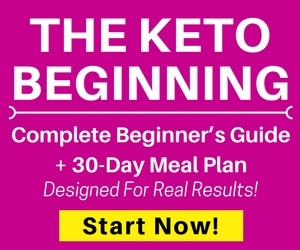 Receive Our Free 7-Day Keto Meal Plan + Weekly Recipes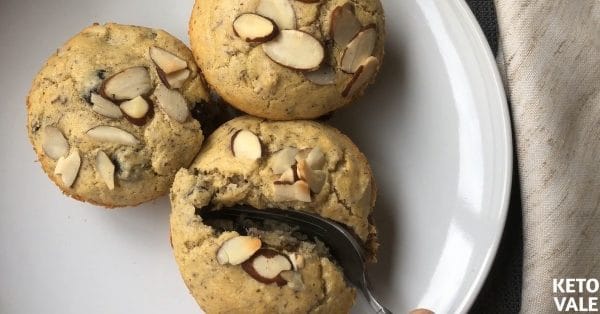 Pre-heat the oven at 350°F. In a mixing bowl add the 2 eggs and the stevia and beat for about 5 minutes until it starts to become airy and light.

Add the almond flour, the flax seed meal, the baking powder, the almond milk, the melted butter, the vanilla extract, the olive oil and the almond butter. Mix all together.

Add the fresh blueberries and the shaved almonds. Fold into the mixture.

Pour the mixture into a muffin or cupcake cooking pan. Sprinkle with shaved almonds on top (optional)

Bake in the oven for approximately 17 minutes or until completely baked.
This recipe should be enough to make 10 muffins. Here's the nutritional information of each muffin:

Macros (per serving): Calories: 167– Fat: 14.4g – Net carbs: 3.6g (total carbs: 6.8g, fiber: 3.2g) – Protein: 5.6g
If you want to reduce the amount of carb per muffin even further, consider using 1/2 cup of blueberry instead of 1 cup.  It should give you about 2.7g net carb per muffin.