Soups are one of our favorite dishes. They pack a ton of flavor, vitamins, and nutrients, and they are delicious. You can make a huge pot, freeze it, and eat it again anytime you feel like something warm and fulfilling.
We grew up eating creamy soups, not only because creamy soups are the easiest to please kids, but also because you can literally use any vegetables you have in the fridge to make a delicious soup.
In this recipe, we are using some vegetables that will keep the carb count down but will give enough body to make this soup extra creamy. The pumpkin really is the key ingredient here, making this a perfect soup for the fall season. We used frozen pumpkin purée that we kept from last season, but you can use canned or buy frozen at the store.
Pumpkin is a good source of beta-carotene, which your body uses to make vitamin A. Research shows that vitamin A is needed for the production of rhodopsin, a pigment used to help you see in the dark (1). Vitamin A is also needed for proper bone growth.
Broccoli is a cruciferous vegetable with sulfur-containing compounds called sulforaphane. These compounds have antioxidant properties in the body. They also help stimulate the production of detoxifying liver enzymes to flush toxins out of the body and protect against DNA damage (2).
We used just half of a red onion to bring some sweetness to the flavor, but any onion would work. If you can spare a few more carbs, use an entire onion, get it really caramelized, and enhance the flavors even more.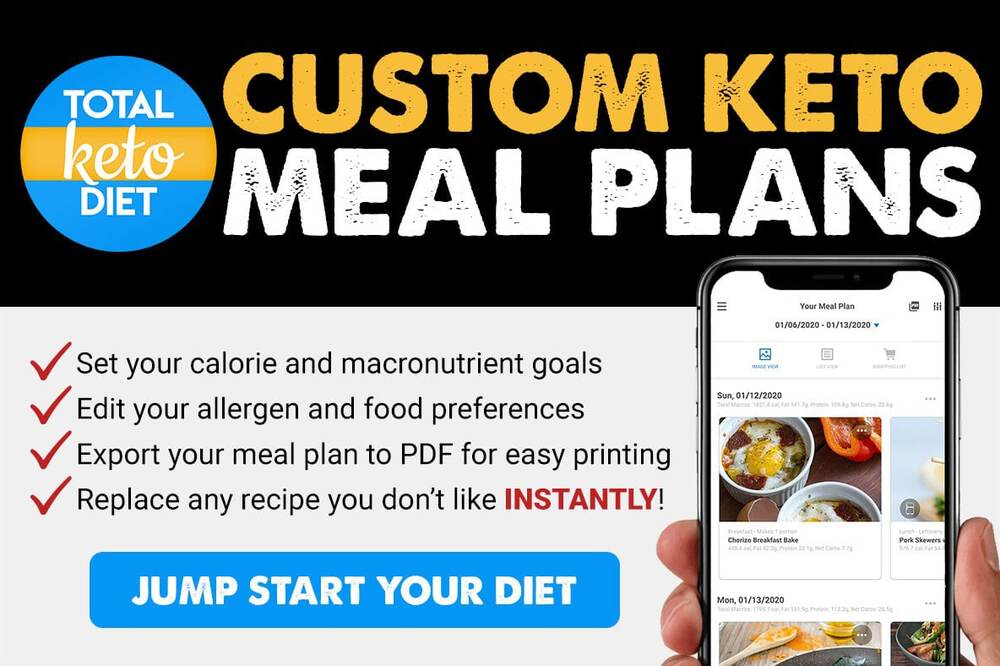 Onions are a good source of the antioxidant quercetin, which has been shown to reduce inflammation and boost immunity. Quercetin also has anti-carcinogenic, anti-viral, and psychostimulant properties, and helps support healthy cells and a healthy heart (3).
Together, pumpkin, broccoli, and onions provide an excellent source of fiber, which is hard to get on the keto diet if you're not balancing your meals correctly.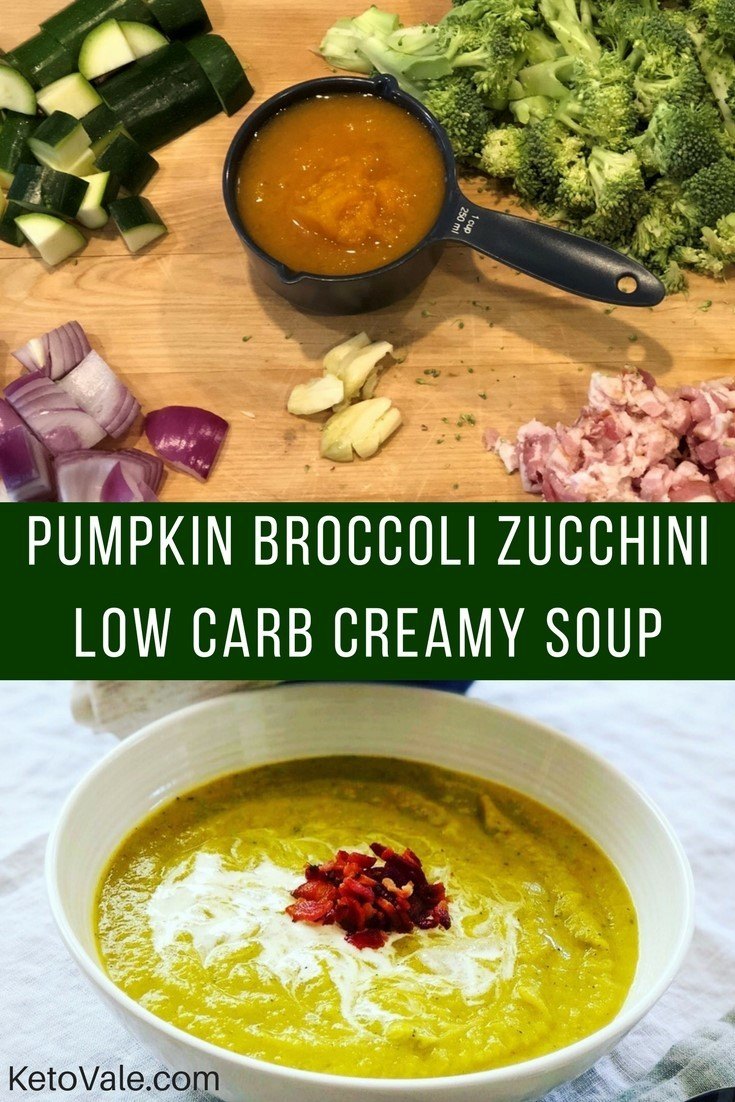 The bacon bits are a nice addition that helps create the multiple layers of flavors, as we are cooking the vegetables on its fat. If you want to change it a little, you can replace the bacon with a nice sausage, following the same technique.
Serve it with fresh cream and bacon bits. It goes perfect with a side of Parmesan Biscuits. Enjoy it!
Save this recipe by pinning this picture to your Pinterest board for later use!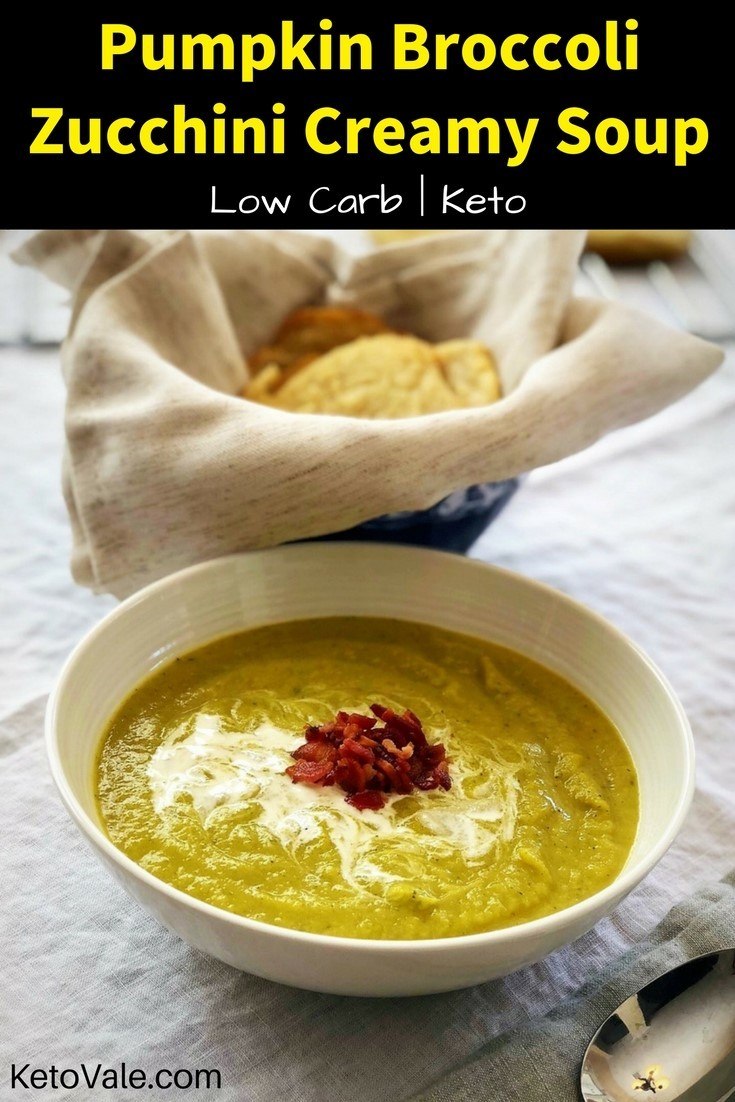 ---
Let's Do It!
Have the bacon strips ready and chop into small bits. Using a heavy Dutch oven pan, sauté the bacon strips over low heat. Once crispy, remove bacon bits from the pan, transfer to a plate, then put aside.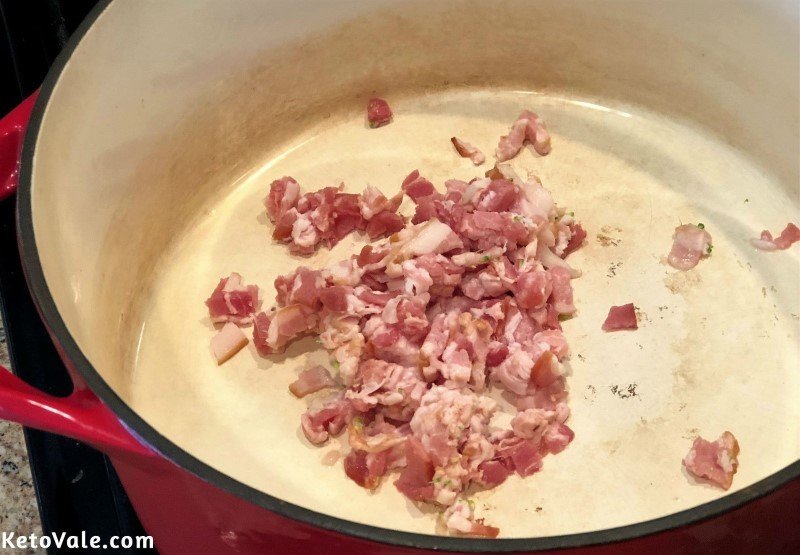 Sauté the garlic and onion in the same pan using the bacon fat. Wait for 2 to 3 minutes or until the edges are golden brown.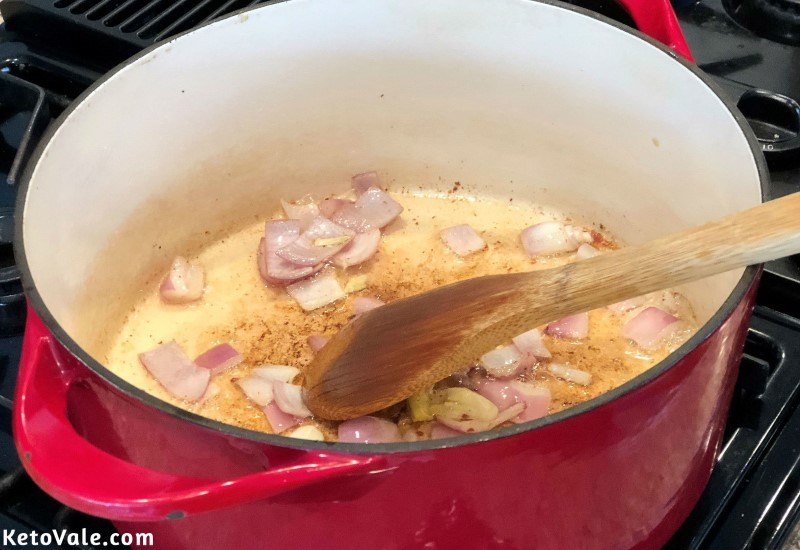 Toss in the broccoli and zucchini in the pan, and saute for 2 minutes more. Stir occasionally. Meanwhile, pour over the pumpkin puree and mix all ingredients well. Don't forget to scrape the bottom of the pan to make sure the vegetables are mixed well with the other ingredients.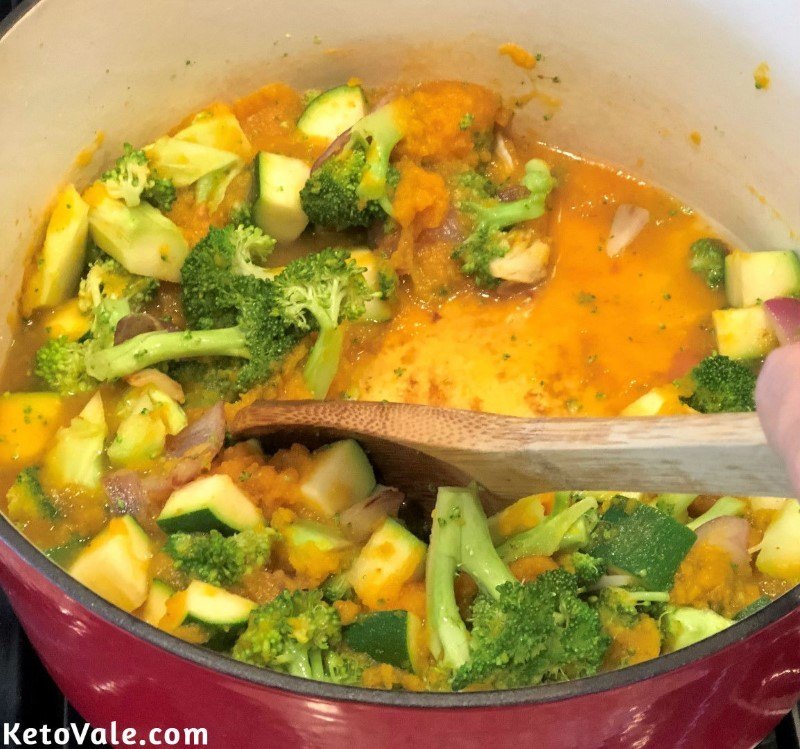 Once all ingredients are mixed well in the pan, gently add the chicken broth and simmer for approximately 20 minutes.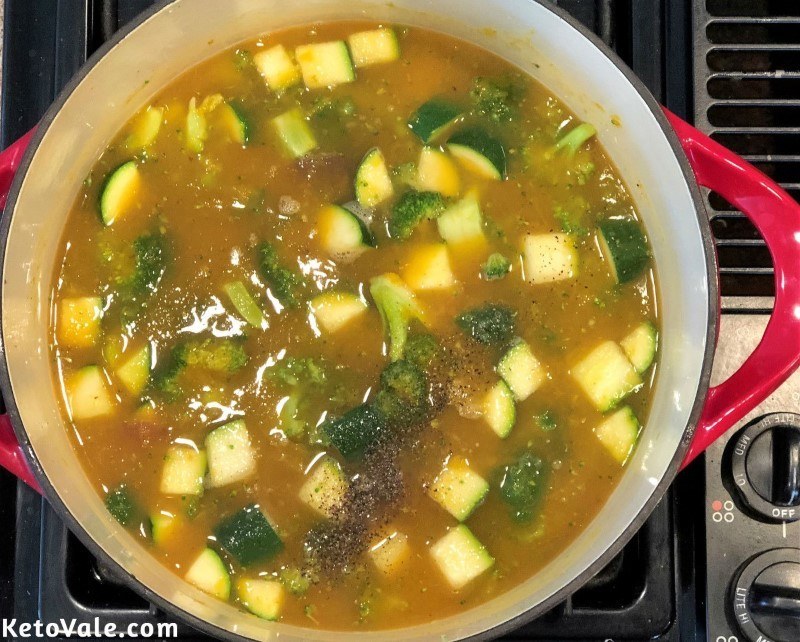 Once vegetables are soft and tender, remove from the pan, then pour the mixture to a regular blender or a hand-held blender.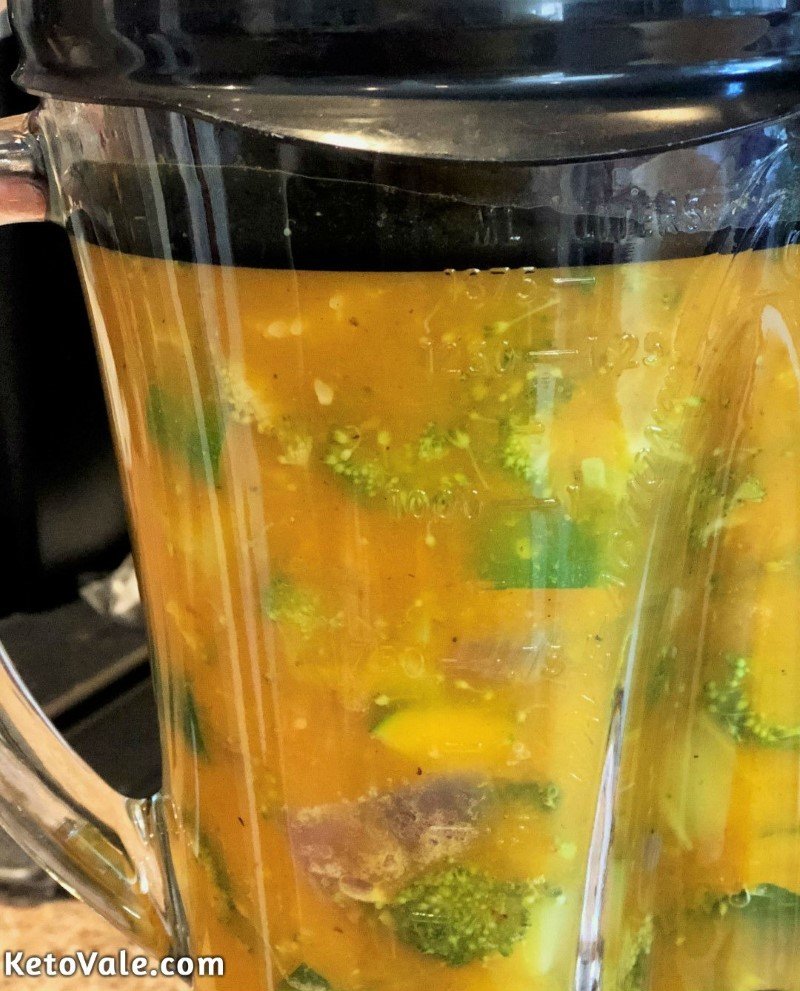 Blend all the ingredients together until a creamy soup is produced. Transfer to a bowl, then add the bacon bits on top. Serve well with heavy cream and enjoy!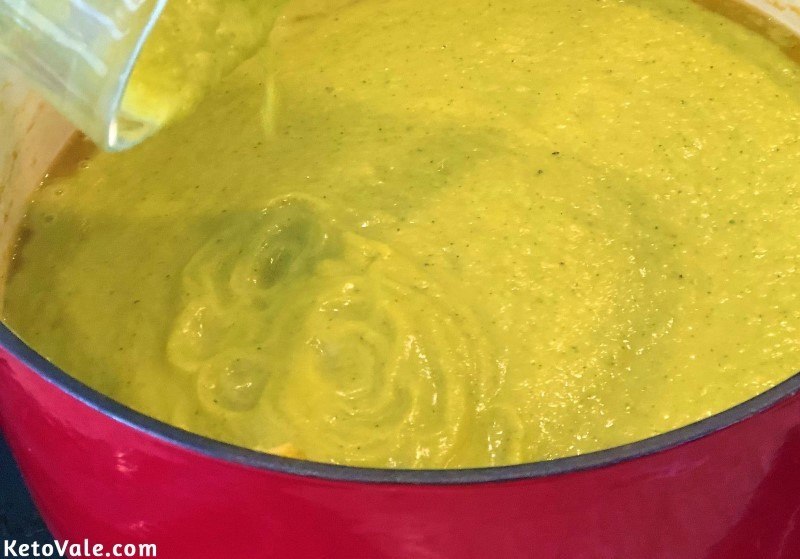 Related:
Pumpkin Broccoli Zucchini Creamy Soup
Add this creamy and savory pumpkin broccoli zucchini soup recipe to your dinner lineup!
Ingredients
4

bacon strips

1/2

red onion

1

clove

garlic

1

zucchini

3

cup

broccoli

chopped

1

cup

pumpkin puree

2

cup

chicken broth

4

tbsp

heavy cream

to serve
Instructions
Chop the bacon strips into small bits. Prepare a heavy Dutch oven pan over low heat and sauté the bacon in it until crispy. Transfer to a plate and set aside.

Using the same pan with the bacon fat, sauté the garlic and onion for 2-3 minutes until they turn golden brown on the edges.

Put the broccoli and zucchini in. Sauté for 2 more minutes, stirring occasionally. Pour the pumpkin purée then mix well. Make sure to scrape the base of the pan using a spatula to mix the caramelization with the vegetables.

Gently pour the chicken broth and let it simmer for about 20 minutes until the vegetables are soft and tender.

Remove from the pan. Prepare a regular blender or a hand-held blender for the mixture.

Blend the ingredients together to produce a creamy soup. Transfer to a bowl and top with some bacon bits. Serve with the heavy cream.
Nutrition/Macros
Nutrition Facts
Pumpkin Broccoli Zucchini Creamy Soup
Amount Per Serving
Calories 208
Calories from Fat 135
% Daily Value*
Fat 15g23%
Cholesterol 35mg12%
Sodium 612mg26%
Potassium 639mg18%
Carbohydrates 14g5%
Protein 7g14%
Vitamin A 10276IU206%
Vitamin C 82mg99%
Calcium 76mg8%
Iron 2mg11%
* Percent Daily Values are based on a 2000 calorie diet.
Pin To Save This Recipe