Spinach is one of the best leafy greens that can be consumed both fresh and cooked in various forms. When it comes to keto, spinach is your best friend and you can be creative and explore many dishes such as this keto spinach soup recipe I will share with you today.
Even on a ketogenic diet, consuming only meat can't be good. Balance is also important, especially when we want to artificially bring up the process of ketosis in our bodies by making it burn the already existing fat.
You can use spinach to make many different types of salads, but today I will be sharing with you my favorite low carb creamy spinach soup recipe.
We'll be using bone broth to be the base of this soup. A correctly made bone broth can stay in the fridge for a long time waiting to be used in soups or as a base for sauces.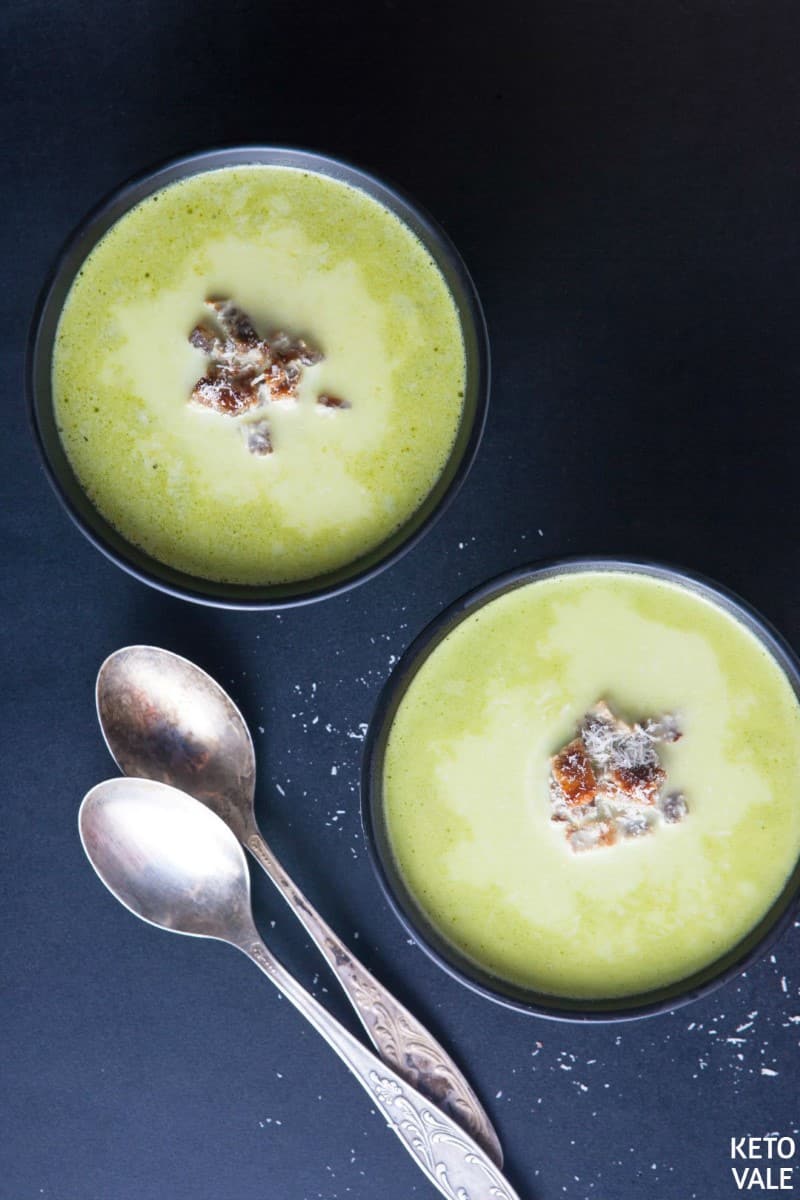 If you still don't feel comfortable making your own broth, we recommend buying these keto friendly bone broth products from the store because they come from grass-fed, organic, and pasture-raised sources that are free from antibiotics, hormones, and harmful toxins.
Bone broth is an excellent source of collagen, which is the most abundant protein in the body. It's found primarily in your connective tissues and can be used to improve joint health and flexibility. Many people also take collagen to help improve hair, skin, and nail health.
If you are serious about keto, you should remember that it's a lifestyle, not a short time solution. Therefore, you will have to eventually learn to become good in the kitchen because it's not just about eating the food but also enjoying the process of buying and preparing it, too.
---
How to Make Keto Cream of Spinach Soup
In a medium pot, add butter and garlic in. Saute for 30 seconds.
Add spinach in and saute until softened. You can also use frozen spinach.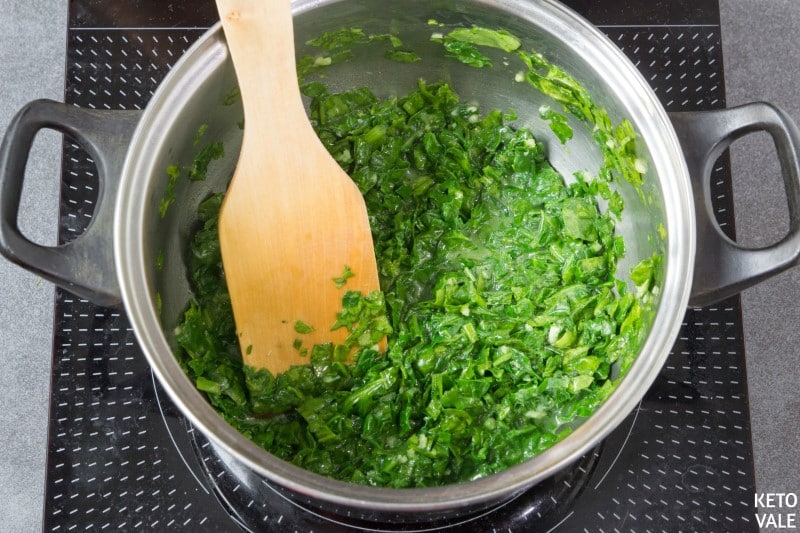 Add chicken broth (or beef broth or vegetable stock) in and simmer for 5 minutes.
In the meantime, bake bacon in the oven or fry in a pan until crispy then chop into small bits. Skip this step if you already have bacon bits available or if you use store-bought bacon bits.
Remove from the stove and pour the mixture into a blender and puree the soup. You can also use an immersion blender and blend directly in the pot.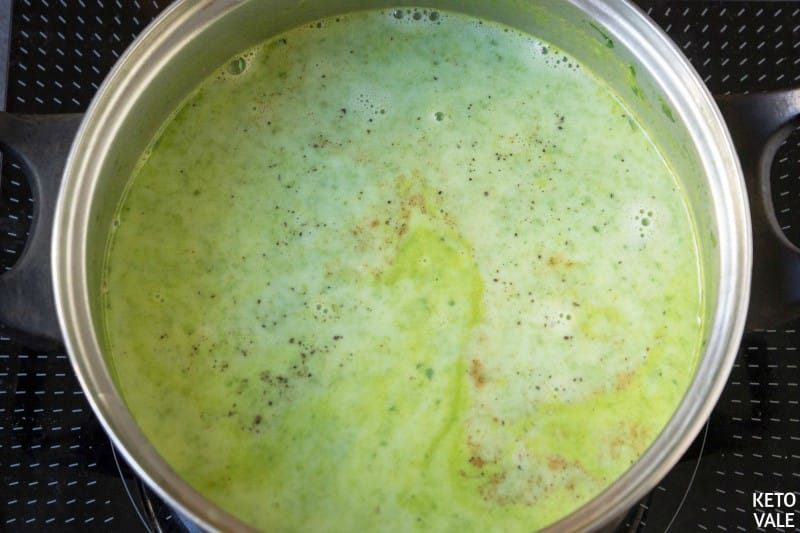 Pour back the mixture into the pot and put back on the stove on medium heat. Add Parmesan (or cream cheese) and heavy cream in. If you want more protein and make this a complete meal, add some cooked chicken in this step.
If you want to make cream of spinach soup with coconut milk then simply replace heavy cream with coconut milk. Season with nutmeg, salt, and pepper as well as garlic powder (optional). Bring to boil and turn off the heat.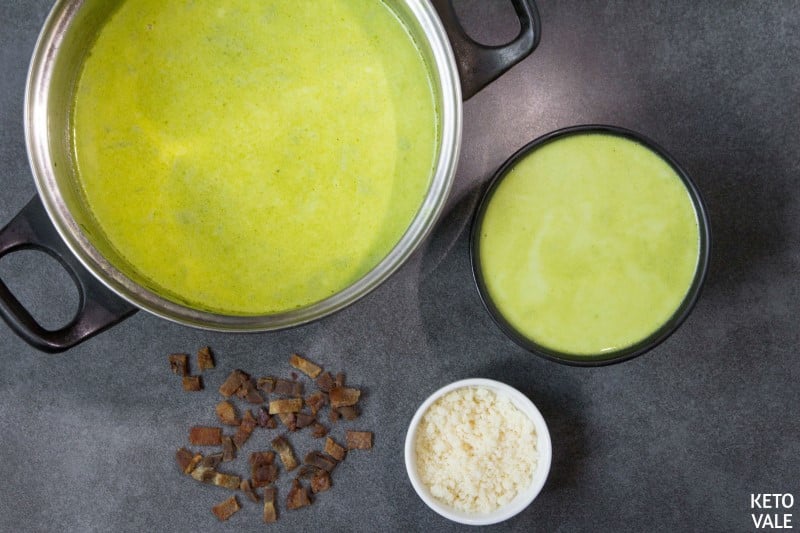 Pour the soup into a bowl and garnish with crispy bacon bits and grated Parmesan cheese (optional). Enjoy!
Save this recipe by pinning this picture to your Pinterest board for later use!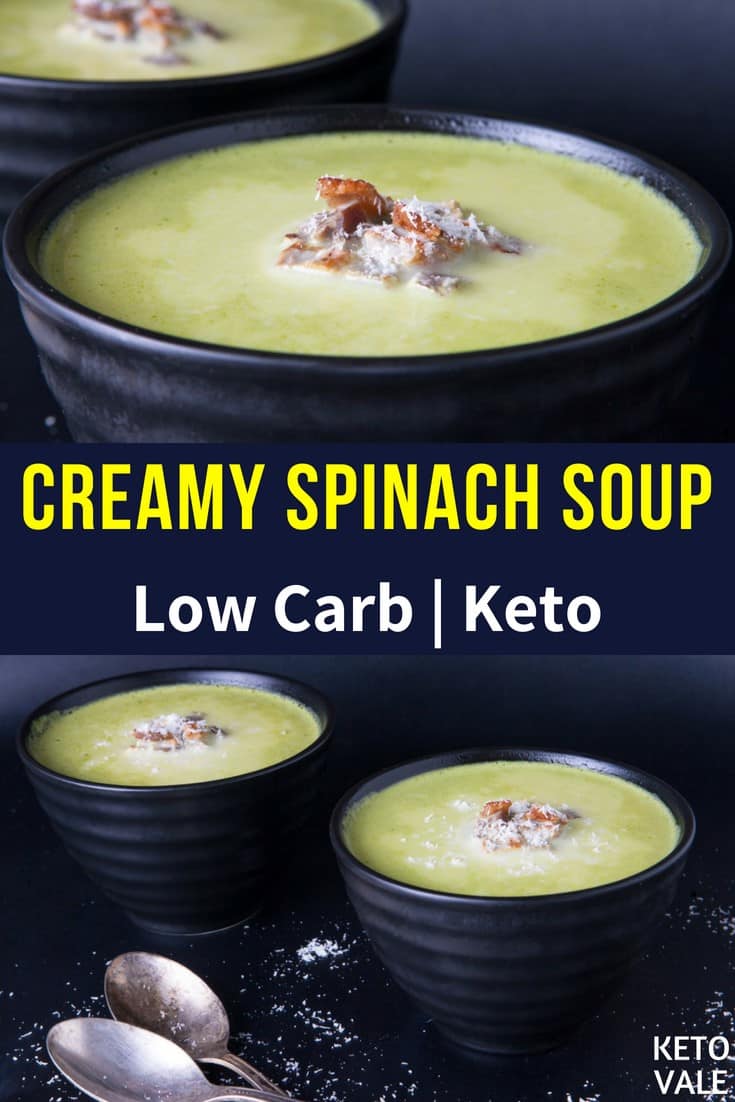 Related:
Keto Creamy Spinach Soup With Crispy Bacon
Creamy, cheesy and delicious, this low carb spinach soup will be your favorite keto soup to make.
Instructions
Melt the butter in a medium pot. Add minced garlic and saute for 30 seconds.

Add chopped spinach to the pot and saute until wilted. Pour in 4 cups of chicken broth and simmer for 5 minutes.

In the meantime, fry bacon in another pan or bake in the oven until crispy then chop into small pieces. You can use store-bought crispy bacon bits, too.

Turn off the heat, insert the immersion blender and puree the soup.

Return the pot back to the stove. Add heavy cream and Parmesan and heat through. Season with ground nutmeg, salt and pepper.

Pour the soup to the plates and garnish with chopped bacon and Parmesan (optional). Enjoy!
Nutrition/Macros
Nutrition Facts
Keto Creamy Spinach Soup With Crispy Bacon
Amount Per Serving
Calories 332
Calories from Fat 279
% Daily Value*
Fat 31g48%
Cholesterol 103mg34%
Sodium 1235mg51%
Potassium 668mg19%
Carbohydrates 6g2%
Protein 10g20%
Vitamin A 7675IU154%
Vitamin C 37.2mg45%
Calcium 224mg22%
Iron 2.5mg14%
* Percent Daily Values are based on a 2000 calorie diet.
Pin To Save This Recipe
FAQ and Cooking Tips
How many carbs are in cream of spinach soup?
The carb content in a traditional cream of spinach soup varies based on ingredients and serving size, but a typical serving can contain around 7-15 grams of carbs. My keto-friendly creamy spinach soup has 4 net carbs per serving.
Can I eat unlimited spinach on keto?
While spinach is low in carbs and a keto-friendly vegetable, it's essential to monitor portion sizes as carbs can add up when consumed in large quantities. However, compared to other vegetables, you can eat a more generous amount of spinach on keto.
How many net carbs are in spinach?
Raw spinach contains about 0.4 grams of net carbs per cup (30 grams). When following a keto diet, it's essential to subtract the fiber content from the total carbs to calculate net carbs, making spinach a very keto-friendly vegetable (*).
Can I use frozen spinach instead of fresh in soup?
Yes, you can use frozen spinach instead of fresh in soup. Frozen spinach is blanched before freezing, so it's partially cooked. When using it in soup, simply thaw and drain any excess water before adding it to the recipe. Adjust the cooking time as frozen spinach will require less time than fresh.