Green has always been significant in healthy diets. It represents the color of vitamins and nutrients, vegetation and regeneration, diet and taste.
Green leafy vegetables have a royal status in any cuisine. They nourish, garnish, and provide taste and flavor. However, most of us struggle to get enough green in our diet.
Green vegetables are packed with vitamins, minerals, chlorophyll, and fiber, but are low in calories. Eating a diet rich in leafy greens can offer numerous health benefits, including a reduced risk of obesity, heart disease, high blood pressure and mental decline (1, 2, 3). 
No one can argue that eating more greens is good for you! This is a universal truth that is widely acknowledged and accepted by vegans and meat-eaters alike.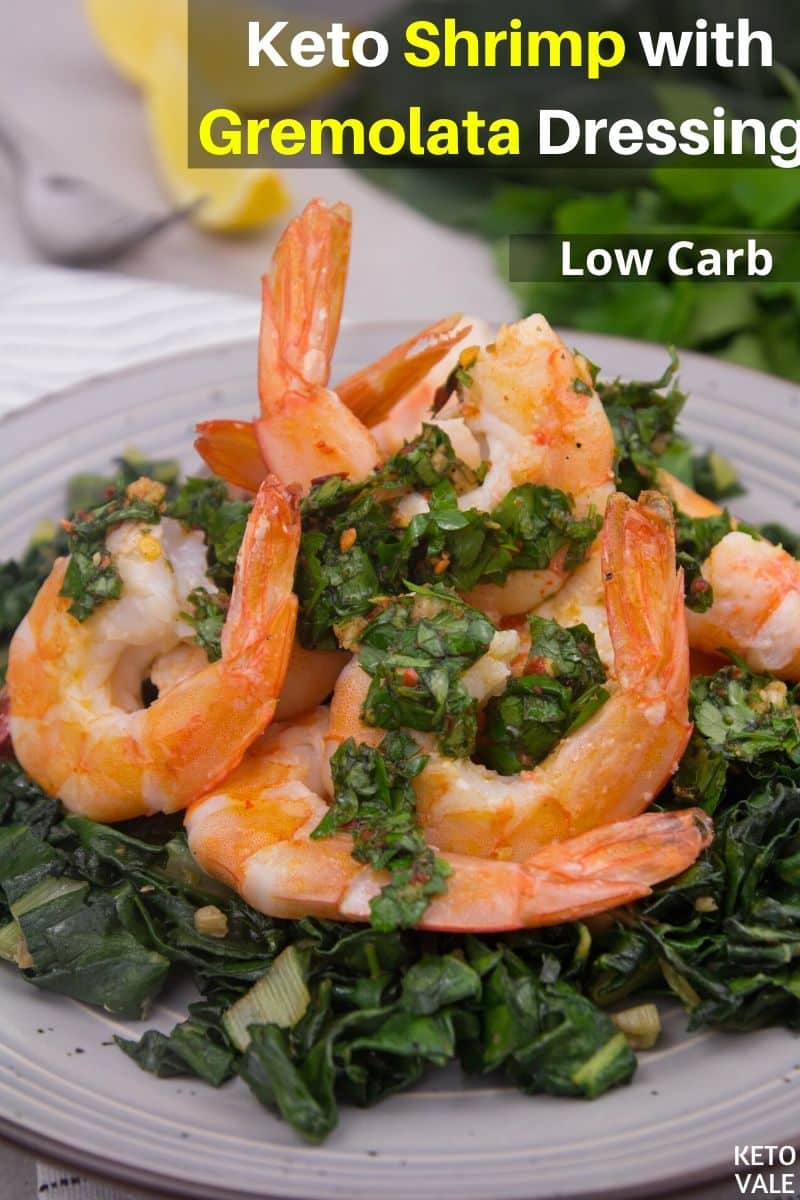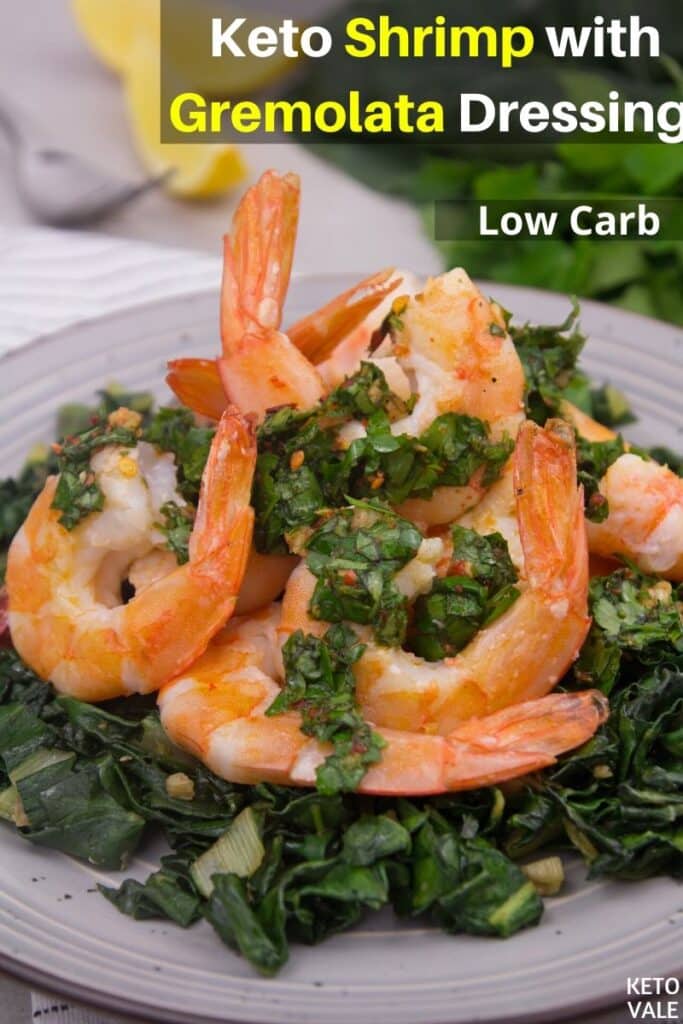 Our greens dish features chard and shrimp. Chard is often an overlooked green, leafy vegetable. However, we recommend adding it to your diet regularly as it contains anti-diabetic features (4, 5, 6).
Chard is also an excellent source of carotene and several minerals. It contains powerful antioxidant and anti-inflammatory properties to help reduce oxidative stress and keep your cells healthy.
Shrimp is an excellent low-calorie source of protein and healthy fats, including omega 3 fatty acids. It also contains antioxidant properties called astaxanthin that contain photoprotective, antioxidant, and anti-inflammatory effects (7). It's a perfect protein source for your dinners.
We have many shrimp recipes on our website. Don't forget to check these keto shrimp dinner ideas if you need more recipes.
Astaxanthin may also reduce the risk of certain diseases, including cardiovascular disease, age-related macular degeneration, and cataract formation. It may also protect against neurodegenerative diseases and provide immune-boosting benefits (8).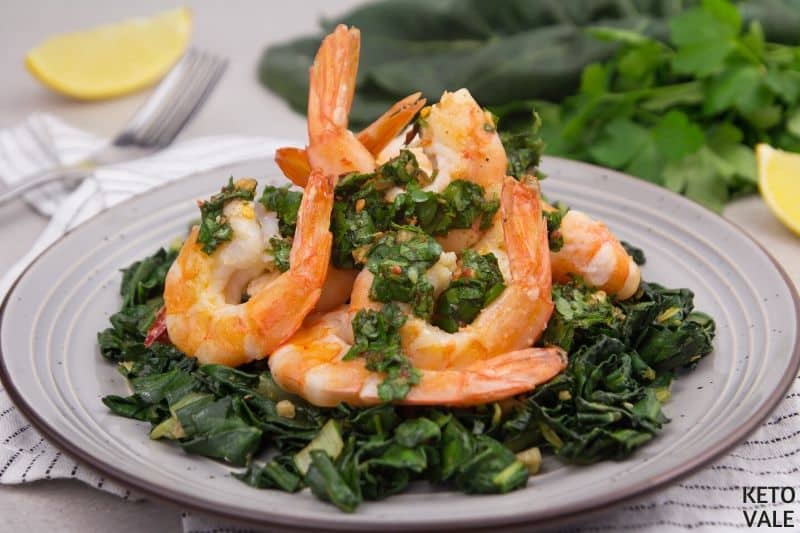 Chard can have a bit of an unpleasant flavor when eaten raw, but we've added garlic and lemon to this dish to fix that! Together, garlic and lemon provide antibacterial properties and vitamin C to help combat chronic inflammation.
The red pepper flakes give this dish a bit of much-needed heat, while also contributing to the dish's thermal effect to boost metabolism. Cheers to your new favorite way to eat greens!
---
Let's Do It!

Cut the swiss chard into small pieces.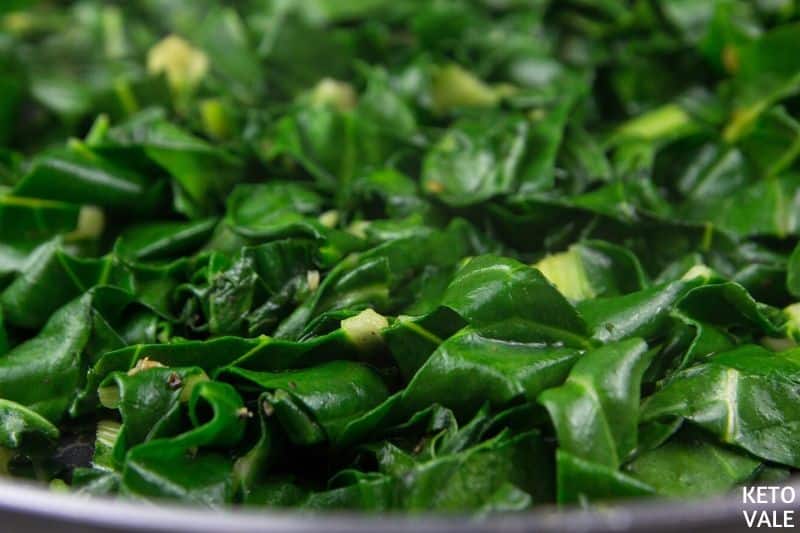 Make the gremolata dressing by combining the parsley, some of the garlic, olive oil, lemon zest, lemon juice, sea salt, pepper, and red pepper flakes in a bowl. Set aside.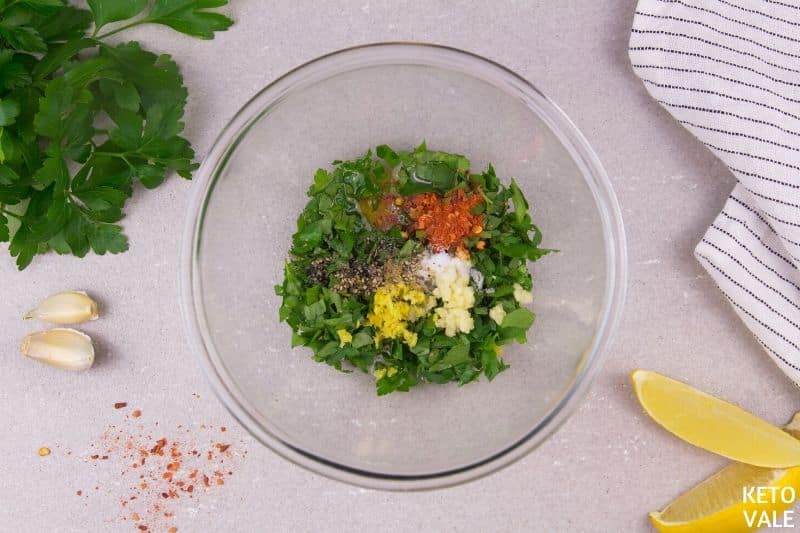 Cook the shrimp in a stovetop pan in olive oil over medium heat for about 2 minutes on each side. Then remove shrimp from the pan and set aside.
Reduce heat to low and add the remaining garlic. Cook for about 30 seconds and then add the chard.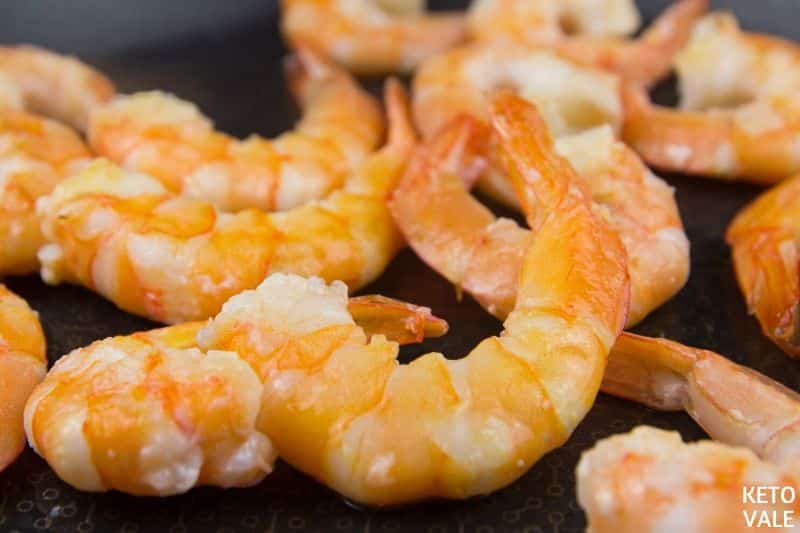 Season with salt and pepper and cook for another 2 minutes or until chard is wilted.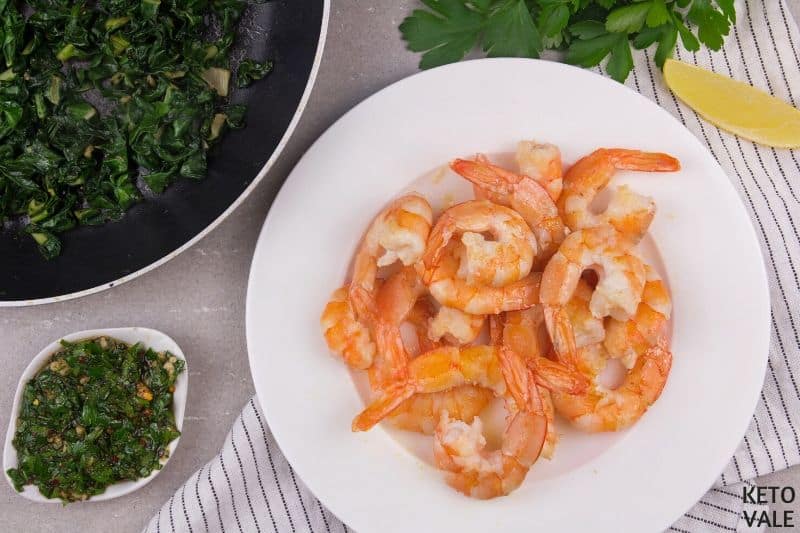 Plate the cooked chard and shrimp together. Pour the gremolata over top of each and enjoy!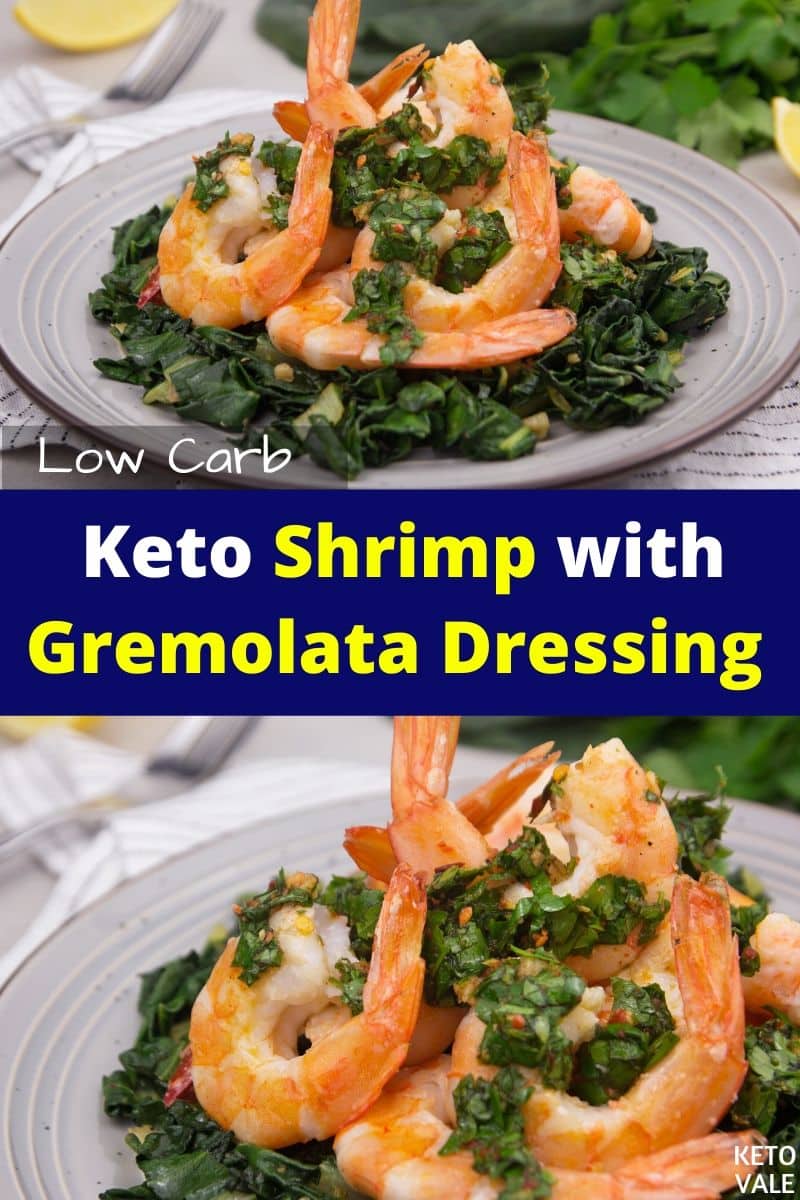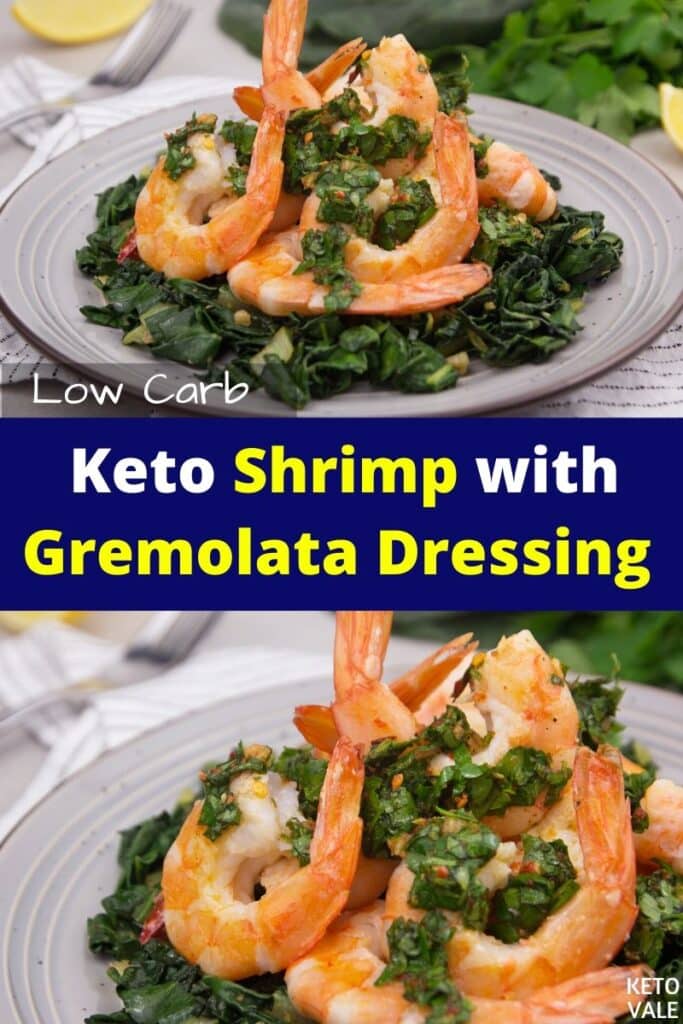 More Low-Carb Shrimp Recipes You Can Try:
Keto Pan-Seared Shrimp with Gremolata
Prepare this low-carb, ketogenic shrimp with gremolata dressing recipe for a delicious and nutritious twist to the regular shrimp dinner.
Ingredients
3

oz

swiss chard

chopped

½

lb

shrimp

2

garlic cloves

minced (divided)

3

tbsp

parsley

finely chopped

1

tsp

lemon zest

wedge

lemon

juice

½

tsp

red pepper flakes

2

tbsp

olive oil

divided

salt and pepper

to taste
Instructions
In a small bowl, combine parsley, minced garlic clove, red pepper flakes, lemon zest, juice of a lemon wedge and olive oil. Season with salt and pepper and mix well.

Heat a tablespoon of oil in a frying pan over medium heat. Add shrimp and cook for 1.5-2 minutes per side. Take cooked shrimp out of the pan and set aside.

Reduce the heat to low. To the same pan, add the remaining garlic. Cook 30 seconds and add chopped chard. Mix well. Season with salt and pepper to taste and cook for 2-3 minutes or until wilted.

Spoon chard to a serving plate, add shrimp, pour the gremolata over and enjoy!
Nutrition/Macros
Nutrition Facts
Keto Pan-Seared Shrimp with Gremolata
Amount Per Serving
Calories 253
Calories from Fat 144
% Daily Value*
Fat 16g25%
Cholesterol 286mg95%
Sodium 984mg41%
Potassium 283mg8%
Carbohydrates 3g1%
Protein 24g48%
Vitamin A 3229IU65%
Vitamin C 27mg33%
Calcium 199mg20%
Iron 4mg22%
* Percent Daily Values are based on a 2000 calorie diet.
Pin To Save This Recipe