There are thousands of chocolate peanut butter recipes out there. And while there is no wrong way to combine these two tasty ingredients, most recipes aren't low-carb.

Our no-bake chocolate peanut butter cups will only take you 15 minutes to make and they will most definitely fulfill your cravings for something decadent!

We will start with coconut oil and chocolate. It is dark baking chocolate, which is one of the most concentrated sources of natural antioxidant plant compounds called flavonoids.

They have been shown to reduce blood pressure, decrease bad cholesterol, increase good cholesterol, and reduce platelet stickiness (1).
Research shows that eating chocolate isn't just tasty. It can also put you in a better mood. According to one study, people who eat chocolate are less likely to be depressed (2).
The study indicated that dark chocolate helps alleviate depressive symptoms and puts you in a better mood. As depression affects more than 300 million people across the world, this is great news! The key is to use dark chocolate and not milk chocolate, which has added sugars and milk products that contribute to inflammation and carbohydrate intake.
Dark chocolate also has higher levels of flavonoids than other types of chocolate. This is what gives chocolate its anti-depression qualities.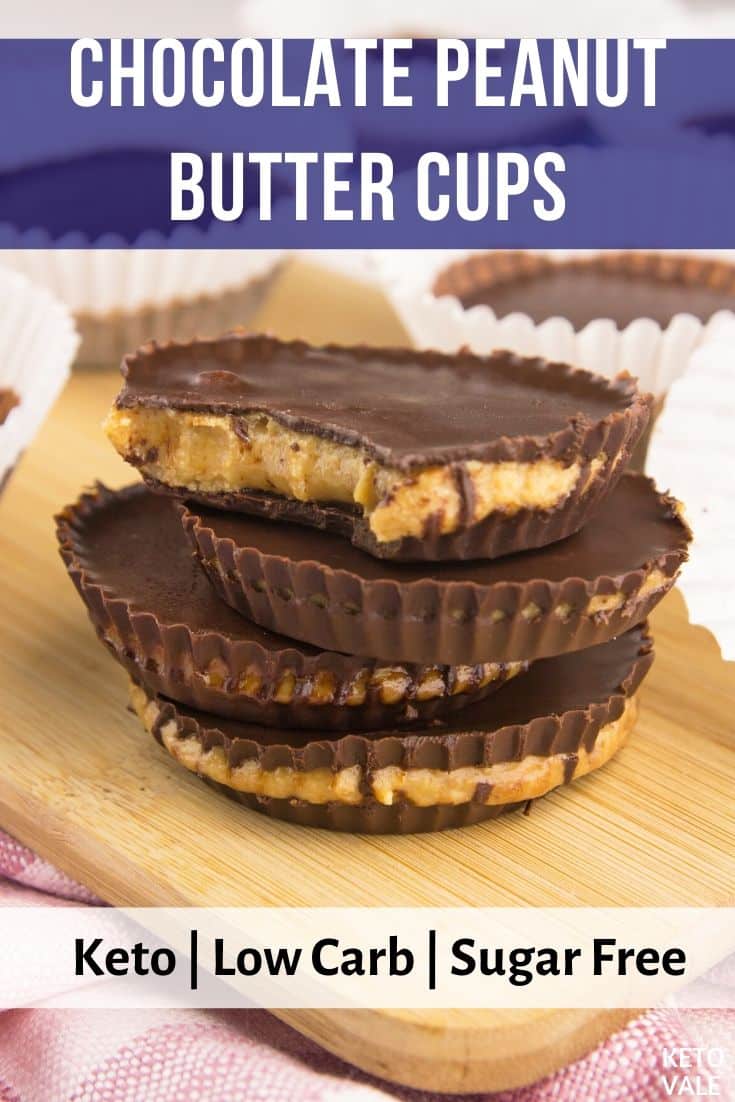 Peanut butter is a fairly balanced energy source that supplies all of the three macronutrients (carbohydrates, mainly fiber; protein; fat). It contains only 20% of carbs, which makes it suitable for a low-carb diet.

We recommend buying peanut butter that is organic and non-GMO. Also, be sure to buy a brand that does not contain added oils or sugars. You can use other types of nut butter for this recipe.
Peanut butter also helps you absorb the flavonoids found in the cocoa. Research shows that certain antioxidants are better absorbed when they are eaten with dietary fats (3). Peanut butter and chocolate don't just taste good together. They are also nutritionally balanced!

Coconut oil contains several proven health benefits. It has been shown to promote weight loss, help control blood sugar levels, boost immunity (due to its antibacterial properties) and protect your heart and brain (4) (5).
Coconut oil is especially beneficial for keto dieters because it contains MCTs, which is a type of fatty acid that converts to ketones quickly in the body to duel ketosis. This is why you'll see so many keto products with coconut oil in them.

This recipe calls for a keto-approved sweetener and we recommend erythritol because it mixes well in desserts.

You can also use stevia or monk fruit. These sweeteners are not absorbed in the body like regular sugar is, which means that it does not spike blood sugar levels.

You can make these in place of your favorite fat bomb recipe or anytime your sweet tooth strikes!

---
Let's Do It!
To make, start by melting the coconut oil and chocolate in a pan on the stove. You can also use the microwave. Add half the sweetener to the mixture and allow to dissolve. Season with a little bit of sea salt.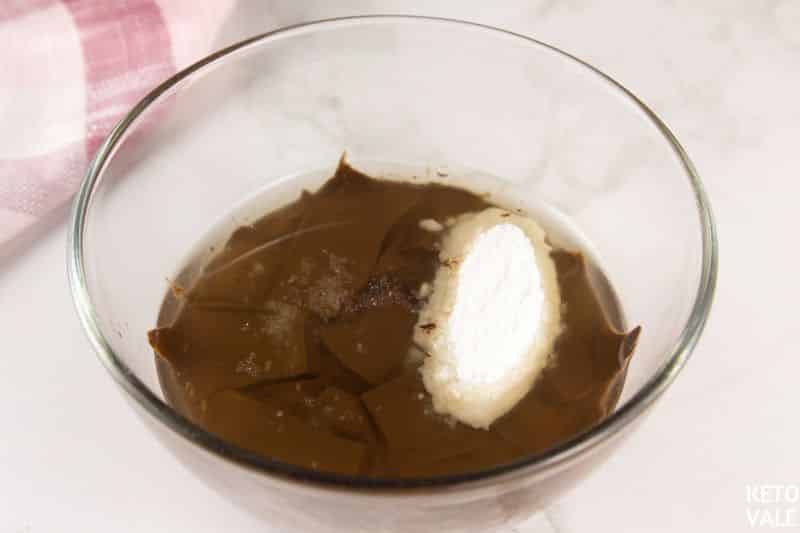 Divide the melted chocolate into two bowls. Take one of the bowls and add the mixture into 12 molds. Chill until set.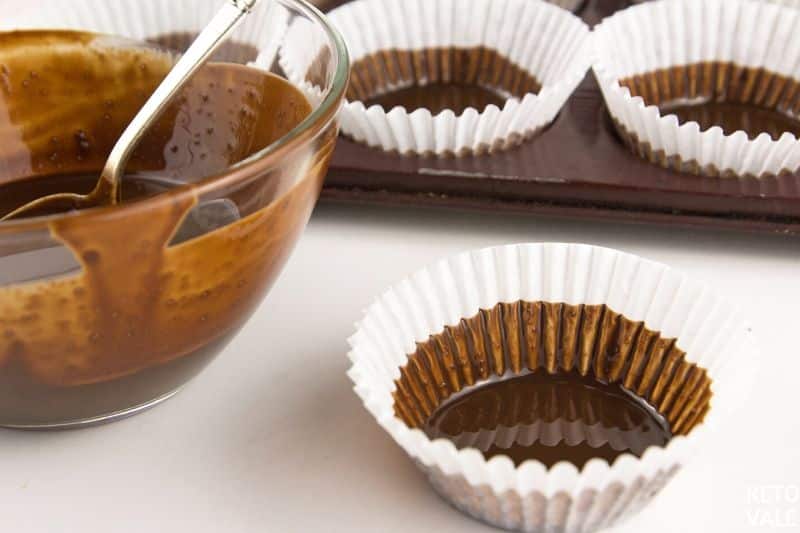 Add the peanut butter to a microwave bowl and heat for 20 seconds. Remove and stir. Put back in the microwave for another 20 seconds. Stir. Repeat until melted.

Add the rest of the sweetener to the peanut butter and mix. Add the peanut butter to the 12 chocolate molds and chill until set.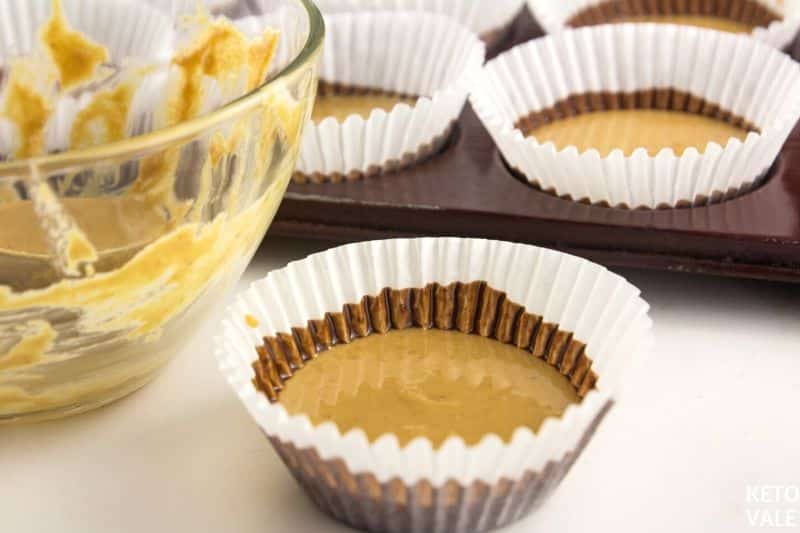 Pour remaining chocolate on top. Chill until set. Remove from mold and serve cold.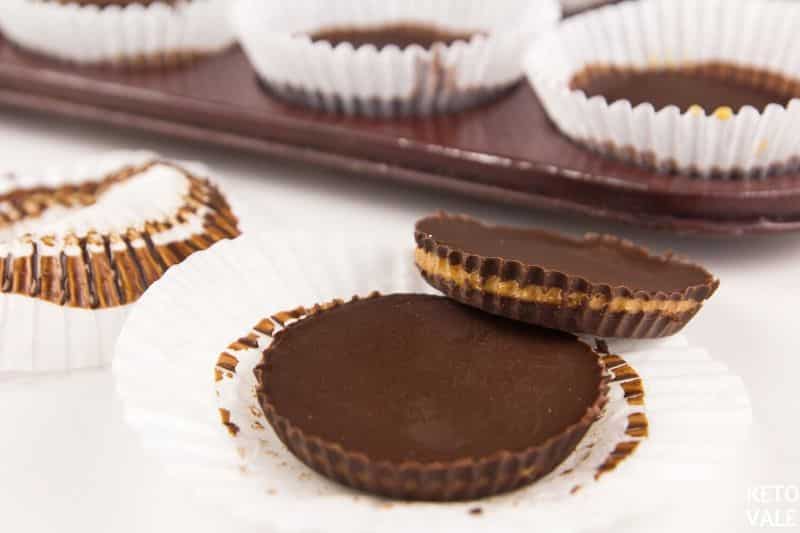 Store in the fridge for later use.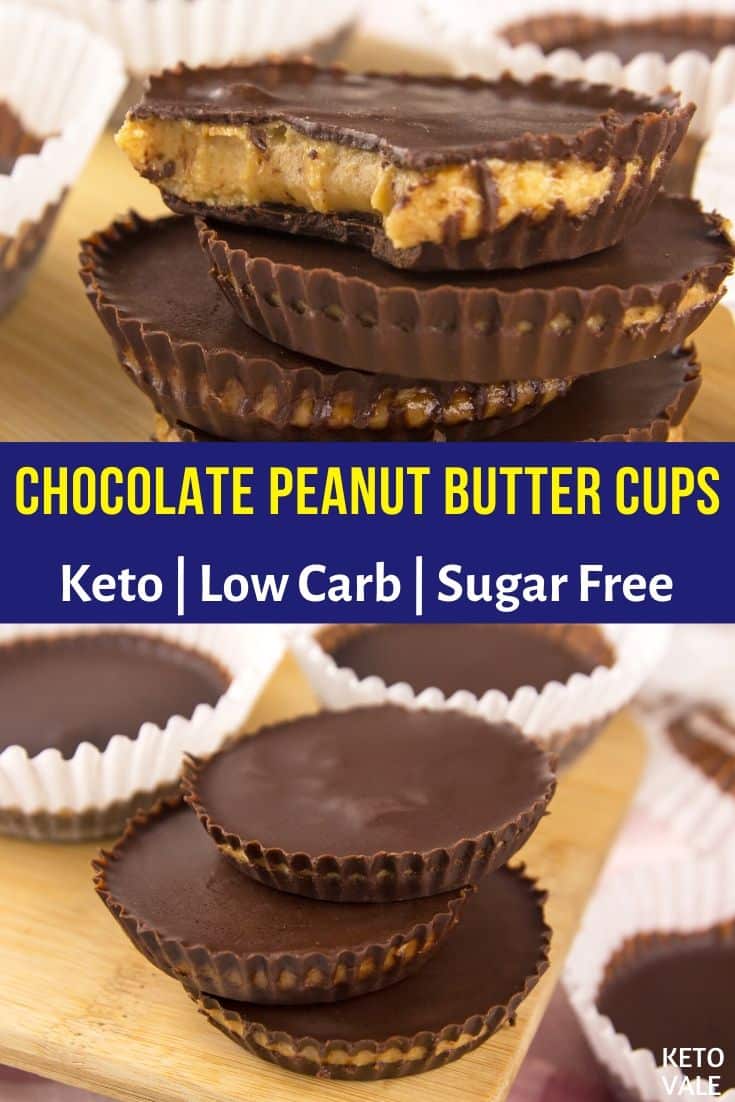 You'll love these:
Keto Chocolate Peanut Butter Cups
This chocolate peanut butter cup is an easy keto dessert with no baking required!
Instructions
Combine coconut oil and chocolate in a pan. Allow to melt over low heat or use a microwave oven.

Dissolve half of the sweetener into the mix and season with salt to taste.

Prepare 12 small cupcake molds. Divide the melted chocolate mixture into two bowls. Spread one of the bowls into the 12 molds and make sure to cover the sides of the molds. Refrigerate until set.

Microwave peanut butter until it's melted. Remove after 20 seconds and stir. Replace in the microwave for another 20 seconds and repeat until the peanut butter is completely melted.

Add the remaining sweetener into the melted peanut butter and stir thoroughly until well combined.

Evenly distribute the melted peanut butter mix among the 12 chocolate-covered cupcake molds. Allow to chill in the fridge at least 1 hour till set and ready.

Remove from the refrigerator and pour the remaining chocolate mixture on top of the molds to enclose. Replace in the fridge to chill.

When ready to serve, simply unmold and enjoy.
Notes
This recipe makes 12 cups.
Nutrition/Macros
Nutrition Facts
Keto Chocolate Peanut Butter Cups
Amount Per Serving
Calories 155
Calories from Fat 135
% Daily Value*
Fat 15g23%
Sodium 50mg2%
Potassium 69mg2%
Carbohydrates 6g2%
Protein 5g10%
Calcium 5mg1%
Iron 1mg6%
* Percent Daily Values are based on a 2000 calorie diet.
Pin To Save This Recipe