Everyone has that one friend or family member that puts ranch dressing on everything from sandwiches and tacos to pizza and French fries.

As delicious (or disgusting) as that may sound, ranch dressing is hard to ignore. It's one of the most popular salad dressings around. You're sure to find it at just about any restaurant you visit.

Unfortunately, most restaurant or store-bought ranch dressing brands contain sugar, which means you should avoid them on any diet that is low in carbohydrates.

Making your own ranch dressing at home is easy and it means you'll always have a low-carb version on hand to put on anything you want.

In this article, you'll find everything you ever wanted to know about ranch dressing, including the best store-bought brands to buy and how to make your own at home.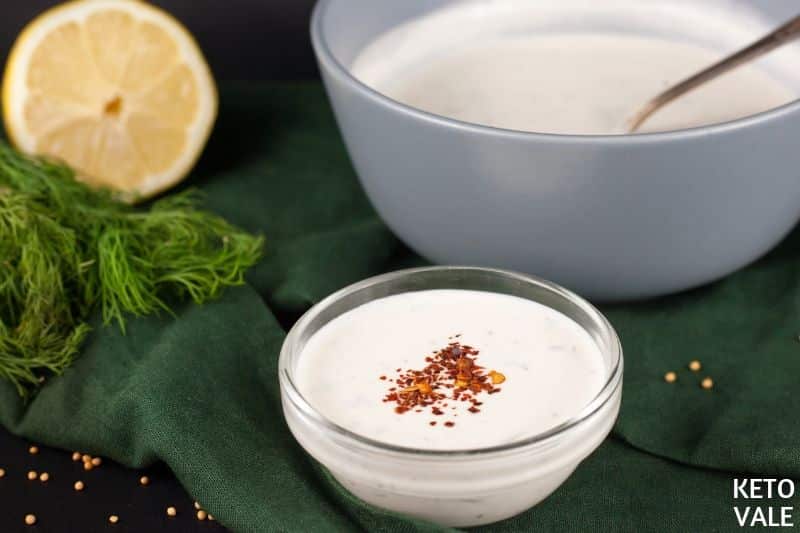 What Is Ranch Dressing?
Ranch dressing is a salad dressing that has a buttermilk and mayonnaise base with egg yolk, herbs, and oil. It can be used on salads, as a marinade for meat, or to dip your favorite foods in.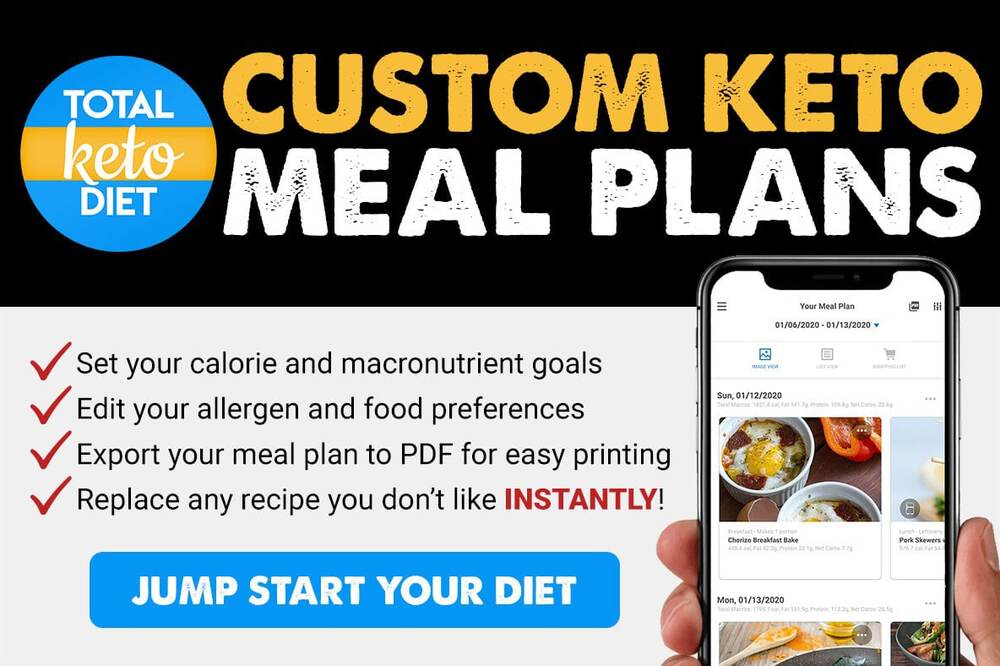 Ranch dressing is one of the most beloved dressings in the United States. It's a staple in many households and some people use it on everything!

Here are some dishes that commonly call for ranch dressing:

Potato salad
Chicken salad
Pizza
Tacos
Chicken wings, tenders, fingers, and nuggets
Hot dogs or chili dogs
Burritos
Pasta dishes
Hamburgers or cheeseburgers
Meat or salmon based dishes
Vegetable dishes
Soups
Marinades
Coleslaw
Sandwiches, pita, and wraps
Mozzarella cheese sticks
Jalapeno poppers
Egg-based dishes
Quesadillas
Casseroles
French fries
Tortilla chips and nachos
Potato chips
There are a few different stories circulating the history of ranch dressing. But according to Wikipedia, the original recipe for ranch dressing was developed by a plumber named Steve Henson in 1954 while he was working in Alaska as a contractor.

Together with his wife Gayle, Henson opened Hidden Valley Ranch located in Santa Barbara County in California. Then, in October of 1972, Hidden Valley Ranch was purchased for $8 million by Clorox.

Today, Hidden Valley Ranch remains the most popular type of ranch dressing in America. In fact, the salad dressing is so popular that Hidden Valley recently launched a summer clothing line with a ranch theme for all ranch lovers!

You can find ranch dressing in just about any supermarket or convenience store. It's often the number one listed dressing in most restaurants and Americans seems to use it in huge quantities!
Ingredients and Nutrition
As you can see, ranch dressing is used in many dishes and is widely popular, but it's not always healthy. Some brands of ranch dressing are loaded with sugar and carbs that should be avoided on a low-carb or keto diet.

In fact, the first ingredient in Hidden Valley Ranch is vegetable oil, which is highly inflammatory and should be avoided on any diet plan. It also contains sugar, buttermilk, and lots of preservatives.

Here is the nutritional information of a two-tablespoon serving of Hidden Valley Ranch:

140 calories
14 grams of fat
2 grams of carbs
0 grams of fiber
1 gram of sugar
1 gram of protein
Ingredients are as follows: vegetable oil (soybean and/or canola oil), water, egg yolk, sugar, salt, cultured nonfat buttermilk, natural flavors (milk, soy), spices, dried garlic, dried onion, vinegar, phosphoric acid, xanthan gum, modified food starch, monosodium glutamate, artificial flavors, disodium phosphate, sorbic acid and calcium disodium EDTA as preservatives, disodium inosinate, and disodium guanylate.
Is Ranch Dressing Keto-Friendly?
Although a two-tablespoon serving of ranch dressing only contains 2 grams of carbs, most store-bought brands of ranch do not use keto-friendly ingredients. These include sugar, vegetable oil, buttermilk, and more preservatives than necessary.

Additionally, most people use more than 2 tablespoons when they eat ranch, which means that you'll be consuming more than 2 grams of carbs at mealtime.

The truth is that you can easily make your own ranch dressing at home using keto-friendly ingredients without added sugar or preservatives.

Homemade ranch tastes much better than store-bought dressing. Plus, you can control the ingredients and leave out the carbs. All you really need is three ingredients!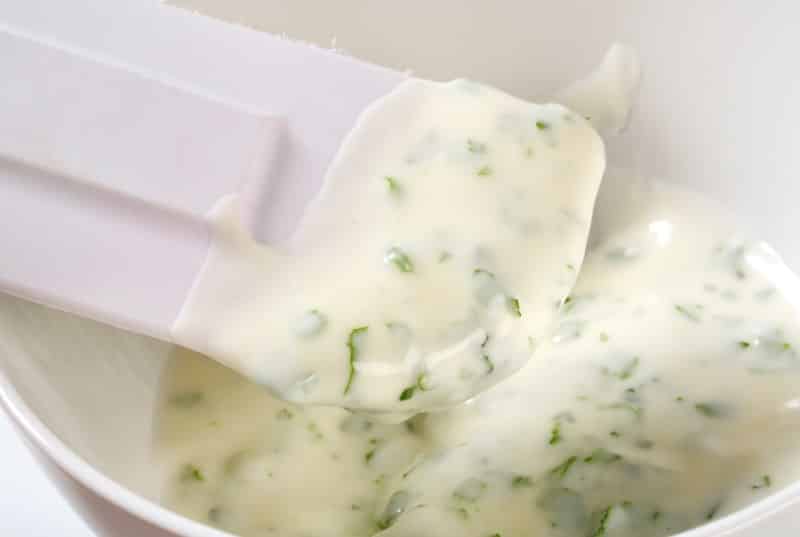 Homemade Keto Ranch Dressing Recipe
There are several ways to make ranch dressing at home. Once you get the base down, you can make your dressing as fancy as you'd like by adding your favorite herbs and spices.

In place of sugar and buttermilk, we recommend using fresh-squeezed lemon juice or vinegar. The lemon juice and vinegar will also act as natural preservatives so you can leave those hard-to-pronounce preservatives out.

Here's 3 main simple ingredients you'll need to make low-carb ranch dressing at home:

Light olive oil or avocado oil
Lemon juice
Egg yolks
The trick to making ranch dressing is to emulsify the ingredients. You can do this by combining the lemon juice and egg yolk in a blender or food processor and slowly adding the oil.
Then you'll want to whip, blend, or emulsify the ingredients together until it reaches a thick and creamy texture. If you don't have lemon juice on hand, then you can use vinegar instead. This is exactly like how you make mayonnaise.

Because you're using raw eggs, you'll want to make sure your eggs are pasteurized. Look for organic pasture-raised eggs that come from chickens that have not been treated with antibiotics because these contain the highest levels of omega 3 fatty acids.

After you've practiced making the base and mastering the emulsifying technique, you can add salt and the herbs of your choice.
Try using dried onion, mustard seed, garlic, parsley, chives, and pepper. The lemon and garlic make a great combination that pairs well with many dishes.
If you already have some mayo and sour cream at home, you can also try this different recipe:
For a creamier and thicker ranch dressing, try mixing homemade keto mayonnaise and sour cream as your base. From here, you can simply stir in the lemon juice, salt, and herbs of your choice.

Here are some herbs and spices you can try in your homemade ranch dressing to give it an authentic taste:

Dried onion
Dried garlic (fresh garlic works well, too)
Parsley
Mustard seed
Black pepper
Lemon juice
Vinegar
Chives
Dill weed
Parsley
Cloves
Basil
Oregano
Sea salt
Shallots
Cilantro
If you're using store-bought mayonnaise, you'll want to find a brand that uses olive oil or avocado oil in place of vegetable oil and does not contain added sugars.

If you use mayonnaise as your base, you won't have to worry about emulsifying the oil into the egg yolks and lemon juice because mayo is already thick.
Best Store-Bought Low-Carb Ranch Dressing Brands To Buy
If you don't have time to make your own homemade ranch dressing, then you can buy a low-carb version online.

Disclaimer: These are the lowest carb ranch dressing products we can find. However, some of them might contain one or few ingredients that don't fit a strict keto regimen. For best results, make your own dressing from home using a keto-friendly recipe.

Here are our top picks for the best low-carb ranch dressing brands to buy.
#1. Fat and Happy Ranch Dressing
We like that Fat and Happy ranch dressing uses MCT oil in place of vegetable oil for keto dieters. We also like that it uses vinegar instead of sugar. But we don't like that it still contains buttermilk, which is not a keto-friendly ingredient.

Luckily, there doesn't appear to be enough buttermilk to affect the carb content too badly. A two-tablespoon serving of Fat and Happy ranch only contains 1 gram of carbs, which is fine to use on a keto diet in moderation.

Here is the nutritional breakdown of a two-tablespoon serving of Fat and Happy ranch dressing:

86 calories
11 grams of fat
1 gram of carbs
0 gram of fiber
0 gram of sugar
0 gram of protein
Ingredients are listed as follows: MCT oil (coconut and/or palm kernel oil), water, vinegar, buttermilk, egg yolk, salt, onion powder, garlic powder, xanthan gum, mustard, and black pepper.

According to the company's website, they put in as much MCT oil as possible without ruining the taste of the ranch.

This is beneficial for keto dieters because MCT oil converts over into ketones quickly in the body for instant energy.

However, we would like to see the MCTs come from pure coconut and not palm oil.

Where to find: shop now!

#2. Primal Kitchen Ranch with Avocado Oil
Primal Kitchen sells a brand of ranch that uses avocado oil instead of vegetable oil.
It also contains organic apple cider vinegar and organic lemon juice for sweetness, organic cage-free eggs as a thickening agent, and lots of organic spices and herbs for a clean, tasty finish.

A two-tablespoon serving of Primal Kitchen ranch contains the following:

140 calories
15 grams of fat
2 grams of carbs
0 gram of fiber
0 gram of sugar
0 gram of protein
Ingredients include: Avocado oil, water, organic apple cider vinegar, organic distilled vinegar, cream of tartar, sea salt, gum acacia, organic cage-free eggs, organic onion powder, organic garlic powder, organic lemon juice concentrate, nutritional yeast, organic tapioca starch, konjac, organic parsley, organic chives, organic dill, organic black pepper and organic rosemary extract.

Where to buy: shop now!

#3. Keto Dave's Gourmet Habanero Ranch Dressing
Keto Dave makes a version of ranch that contains less than one gram of carbs per serving and only 53 calories. This is ideal for anyone on a low-carb or keto diet.

But it lists vegetable oil as the first ingredient. It also contains sugar, milk powder, and several preservatives. These are not keto-friendly ingredients.

This product would be suitable to use on a low-carb or keto diet in moderation. However, if you're looking for a ranch dressing that uses clean sources of ingredients, then we recommend the Primal Kitchen brand.

Here is the nutritional breakdown of a two-tablespoon serving of Keto Dave's ranch dressing:

53 calories
6 grams of fat
<1 gram of carbs
0 grams of fiber
<1 gram of sugar
0 grams of protein
Ingredients include: soybean oil, garlic, vinegar, serrano and habanero peppers, sugar, egg yolks, salt, milk powders, various spices, sodium benzoate, and potassium sorbate.

Where to buy: shop now!

#4. Sir Kensington Classic Ranch Dressing
Sir Kensington makes a classic ranch that features cucumber juice and sunflower oil. It also uses certified humane free range eggs and organic lemon juice.

We like this product because a two-tablespoon serving contains no carbs, which makes it the perfect keto-friendly ranch dressing. It also contains 19 grams of fat to fuel your keto diet.

Here is the nutritional information of a two-tablespoon serving:

180 calories
19 grams of fat
0 grams of carbs
0 grams of fiber
0 grams of sugar
0 grams of protein
Ingredients include: sunflower oil, cucumber juice, distilled vinegar, water, certified humane free range egg yolks, salt, garlic juice, onion juice, organic lemon juice, celery seed, yeast extract, dill weed, xanthan gum, black pepper, jasmine tea extract, yeast, and mustard extract.

Where to buy: shop now!

---
Keto Vale's Ranch Dressing Recipe
We've tried making our version of keto-friendly ranch dressing with some fragrant ingredients such as minced garlic, powdered onion, mustard seeds, dill, and black pepper.
It is way much better than the store-bought one and can be made in less than 3 minutes.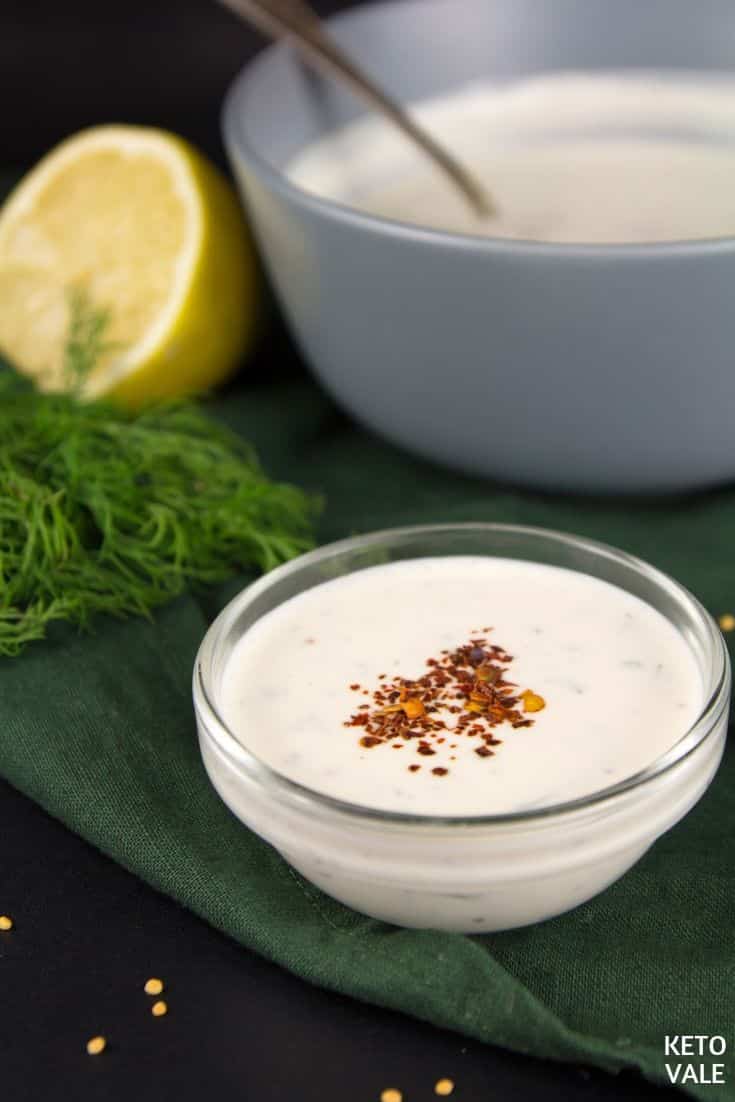 ---
Let's Do It!
In a bowl combine together homemade mayo, sour cream and all of the seasonings.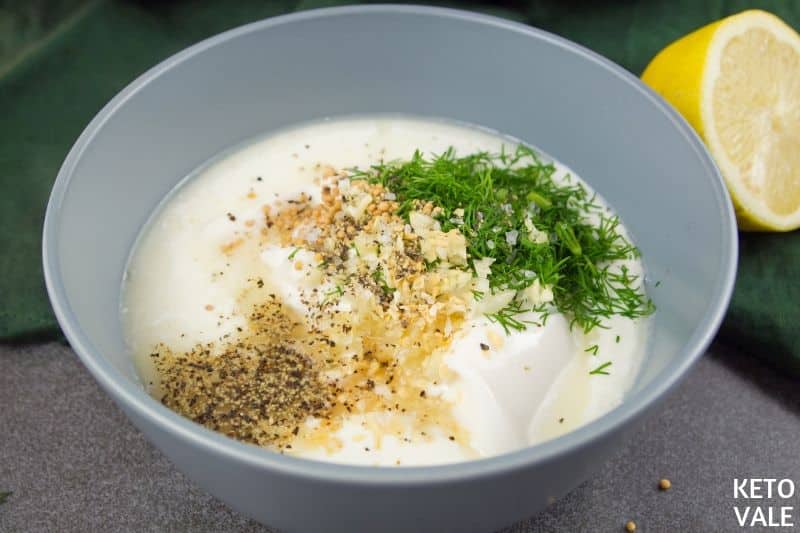 Add in heavy cream and whisk until fully combined. 
Let the sauce chill in the fridge for about 2 hours before serving. 
Serve with sprinkled chili flakes on top (optional).
Keto Ranch Dressing
Quick and easy homemade ranch dressing for your low-carb and keto diet.
Ingredients
½

cup

mayonnaise

keto-friendly

½

cup

sour cream

¼

cup

heavy cream

2

cloves

garlic

minced

¼

tsp

onion flakes

1

tbsp

fresh dill

chopped

1

tsp

mustard seeds

1 ½

tsp

lemon juice

freshly squeezed

¼

tsp

sea salt

⅛

tsp

black pepper

pinch

chili flakes

for garnish, optional
Instructions
In a bowl combine homemade mayo, sour cream, and all seasonings.

Whisk in heavy cream.

Chill for 2 hours before serving (optional)

Serve garnished with a pinch of chili flakes (optional).
Notes
*This makes about 1 1/2 cup of dressing. Serving macros per 1/4 cup.
Nutrition/Macros
Nutrition Facts
Keto Ranch Dressing
Amount Per Serving
Calories 202
Calories from Fat 198
% Daily Value*
Fat 22g34%
Cholesterol 31mg10%
Sodium 235mg10%
Potassium 34mg1%
Carbohydrates 2g1%
Protein 1g2%
Vitamin A 277IU6%
Vitamin C 1mg1%
Calcium 29mg3%
Iron 1mg6%
* Percent Daily Values are based on a 2000 calorie diet.
Pin To Save This Recipe
Conclusion
Few things in this world are more popular than ranch dressing! It can be used on just about any dish you can think of.

The problem is that most store-bought ranch dressing contains vegetable oil, sugar, and buttermilk. These ingredients aren't keto-friendly, even if the typical store-bought container only has 2 grams of carbs per serving.

The truth is you can make your own ranch dressing at home using three simple ingredients: egg yolks, lemon juice, and avocado oil. You can also make homemade keto mayonnaise and use that as your base. Just add your favorite spices!

If you don't want to make your own ranch dressing, then there are low-carb versions that you can buy online. We provided a list of four options that feature healthier oils as its base and lemon juice or vinegar in place of sugar.

Enjoy this post? Share to save for later!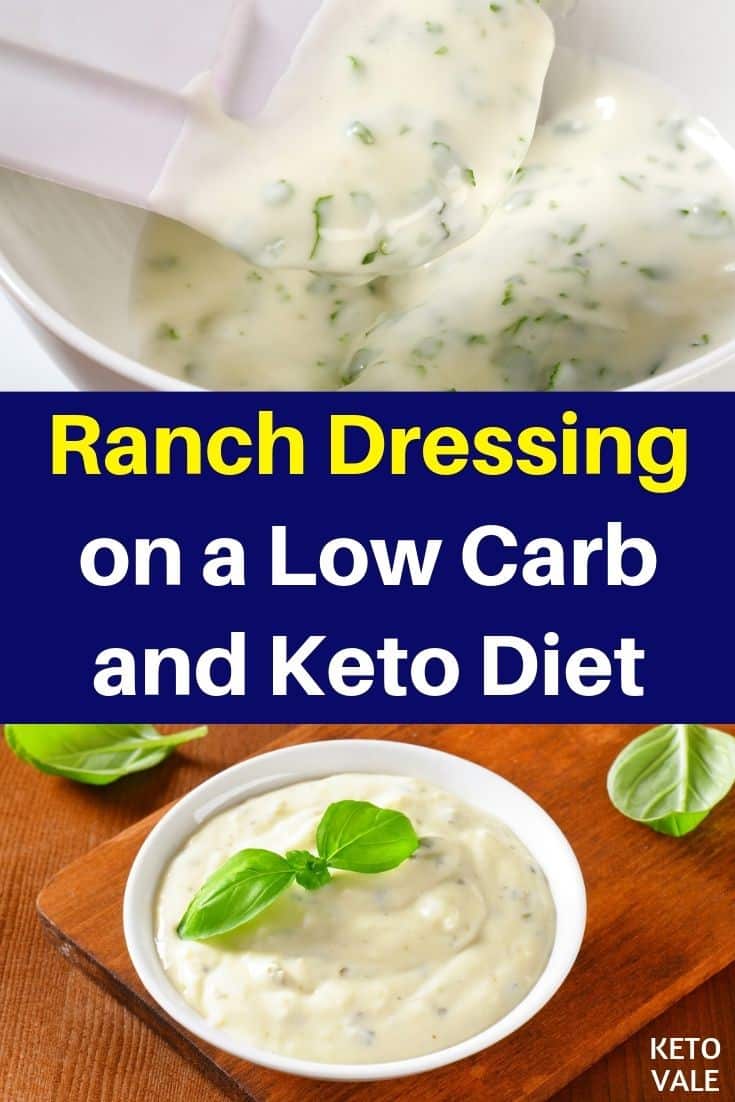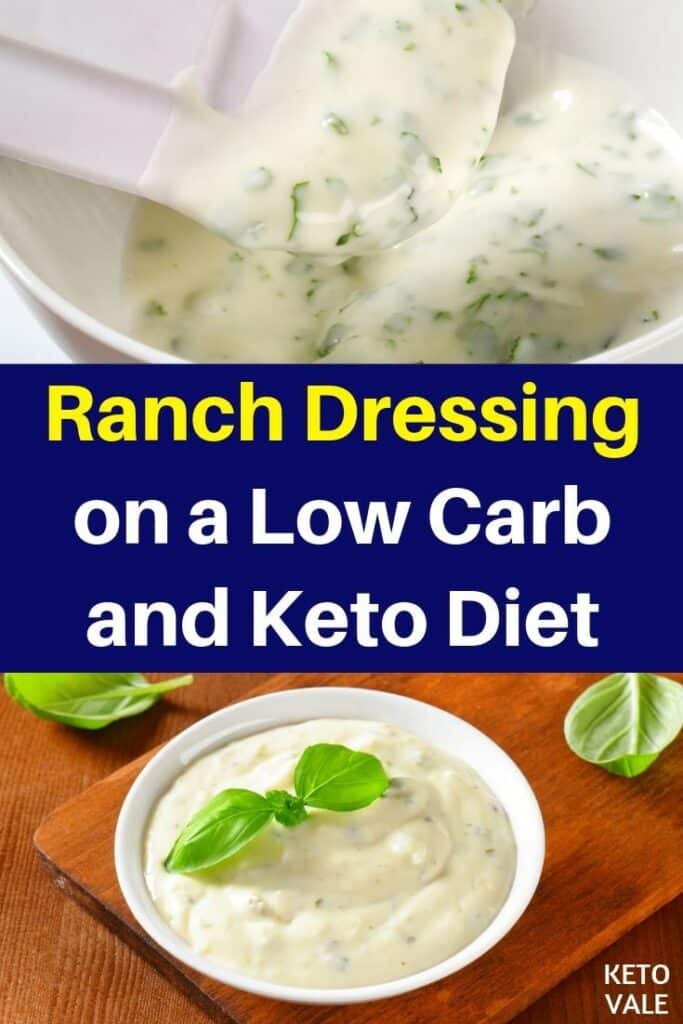 Last photo credit: ajafoto / depositphotos.com