The Crustless Spinach Quiche is on our list of easy low carb recipes. All you need to do is to prepare the quiche mixture and bake it in the oven. That's it! Literally, just let the oven do all the work while you do something else or just simply relax and wait for the food to be ready.
This time, we used spinach as the main vegetable, but you can replace it with chard. We recommend getting creative with your low-carb vegetables in this dish. It's a great way to add more fiber, vitamins, and antioxidants to your keto diet.
Try mushrooms, tomatoes, purple cabbage, broccoli, onions, and garlic. Different colored vegetables contain different antioxidant carotenoids, which are the plant pigments responsible for its color. You'll be adding a color pop to your dish while also increasing the anti-inflammatory nature.
We also used cheddar cheese in this recipe. However, you can choose any type of cheese to your liking.
This recipe is excellent for breakfast and lunch. It's so convenient to bring to work for lunch.
---
Let's Do It!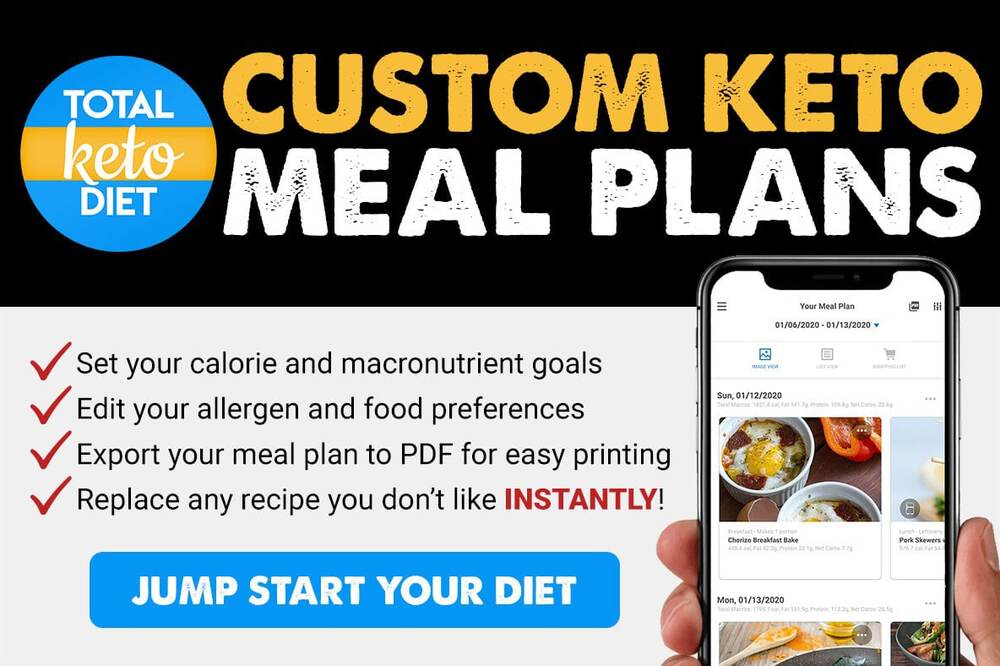 Get all your ingredients ready.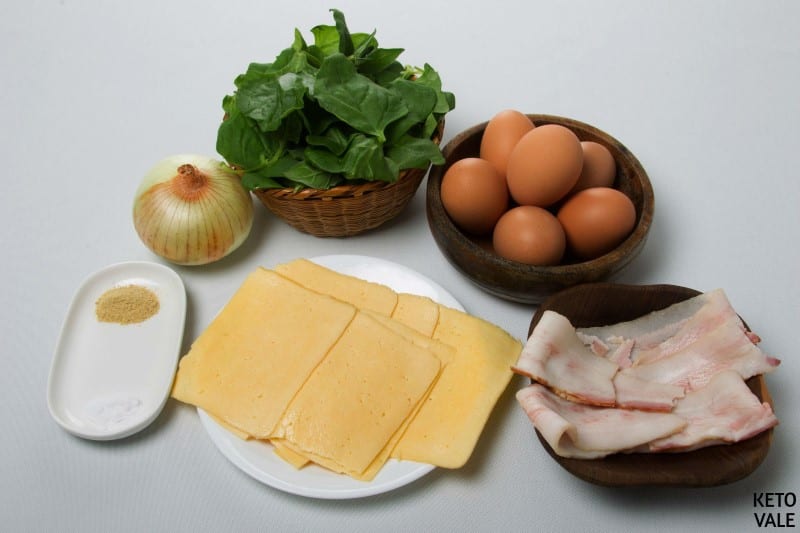 Wash the spinach, let it dry, then cut into small pieces. Chop bacon slices into small squares. Set aside.
In a frying pan on medium-high heat, sauté bacon with a tablespoon of olive oil for 2 minutes then add chopped onion in and stir until the onion becomes tender and transparent. Add chopped spinach to the pan and continue stirring for 2 more minutes then remove from heat.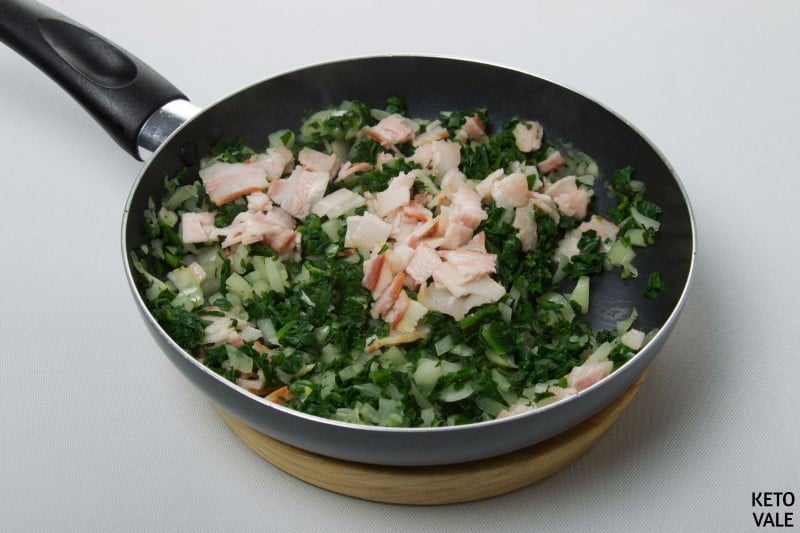 In a bowl, beat eggs with sour cream. Add salt and pepper to taste. Add diced or shredded cheddar cheese in and mix with a spoon.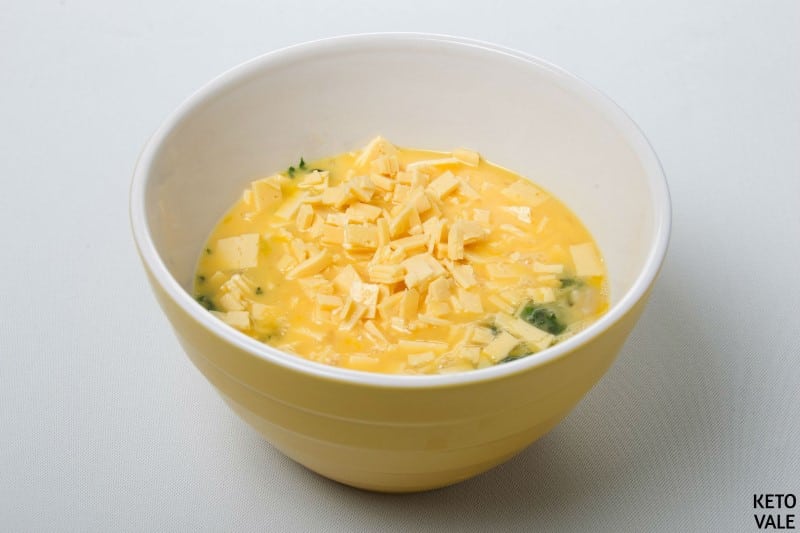 In a baking dish, combine the egg mixture with the spinach mixture. Mix well using a spoon. You can put a little extra cheese on top of the quiche batter.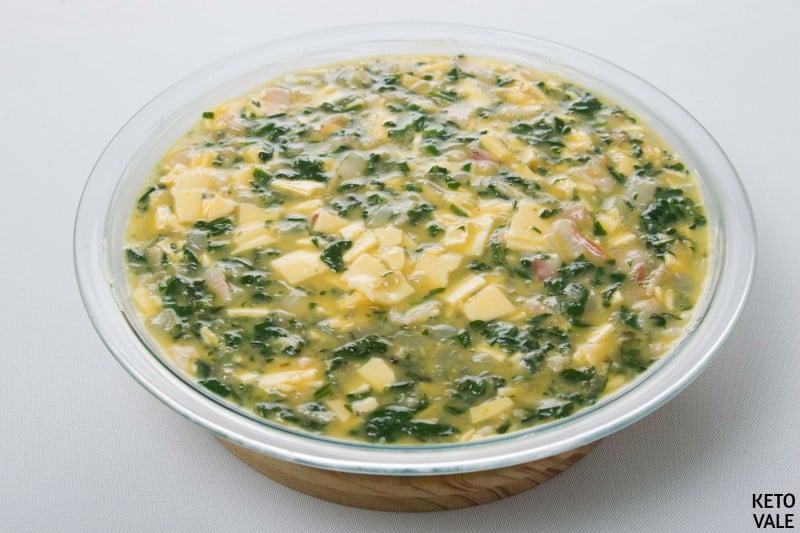 Bake for 30 minutes in a preheated 375F oven until the cheese is browned and the quiche is dry and solid.
Remove from oven. Cut into 8 pieces and serve!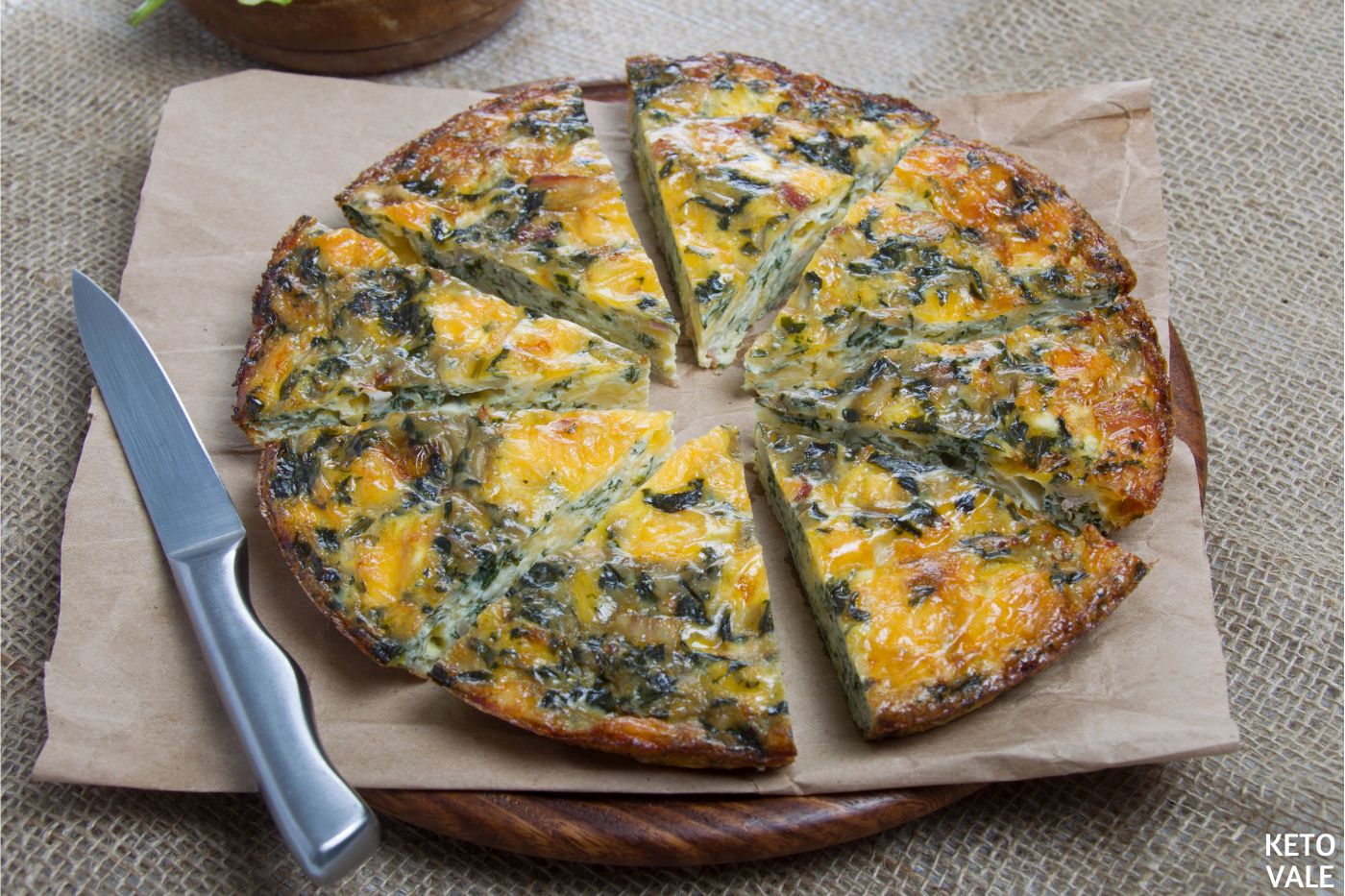 Save this recipe by pinning this picture to your Pinterest board for later use!
Related:
Low Carb Crustless Spinach Quiche
Our Crustless Spinach Quiche is another easy low carb lunch recipe that you can prepare in less than an hour.
Instructions
Preheat the oven to 375°F.

Rinse the spinach thoroughly. Allow to dry before chopping into fine bits. Slice the bacon into small squares too. Reserve for later use.

Set a frying pan over a medium-high heat. Pan fry the bacon bits in hot olive oil for 2 minutes. Toss the chopped onion in and stir well. Once the onion turns transparent and tender, mix in the spinach. Whisk the mixture together for 2 more minutes before turning off the heat.

Crack the eggs in a bowl and beat thoroughly. Whisk along with the sour cream. Adjust the taste with a decent amount of salt and pepper. Gently throw in the chopped or diced cheddar cheese. Stir with a spoon until combined.

Incorporate the spinach mixture with the egg mixture. Place in a baking dish. Stir the mixtures thoroughly. Top with some extra cheese if desired.

Bake the quiche batter in the oven for half an hour. Let the quiche dry and solidify. When the quiche is cooked and the cheese turns brown and melted, remove from the oven. Make 8 slices and enjoy warm!
Nutrition/Macros
Nutrition Facts
Low Carb Crustless Spinach Quiche
Amount Per Serving
Calories 176
Calories from Fat 135
% Daily Value*
Fat 15g23%
Cholesterol 149mg50%
Sodium 192mg8%
Potassium 163mg5%
Carbohydrates 2g1%
Protein 9g18%
Vitamin A 1464IU29%
Vitamin C 4mg5%
Calcium 149mg15%
Iron 1mg6%
* Percent Daily Values are based on a 2000 calorie diet.
Pin To Save This Recipe