Crackers are a staple snack food in almost everyone's pantry unless you're on a low-carb diet. Although parting with crackers might not be as hard for some low-carb dieters as ice cream, it still ranks pretty high up there on the "Foods I Wish I Could Still Eat" list.

If you miss mindlessly munching on crackers or dipping them into your favorite cheese dip, then you're not alone. Plenty of low-carb dieters have searched for replacement crackers to satisfy their salty snack cravings or to keep them full until their next meal.

The good news is that there are some pretty terrific low-carb keto cracker options out there. Some of them just might surprise you with how tasty they are!

In this guide, you'll learn why you can't eat regular crackers on a low-carbohydrate diet and what to replace them with for all your ketogenic diet snacking needs.
What Are Crackers?
If we're speaking frankly here, crackers are nothing more than little squares (or sometimes circles) of processed grains and flour. They may contain some nutrition, but for the most part, they are highly processed and inflammatory.
You can find crackers in the snack aisle of any supermarket. You can eat them by dipping them in sauce or stacking them high with cheese and other goodies for a yummy and convenient finger snack food.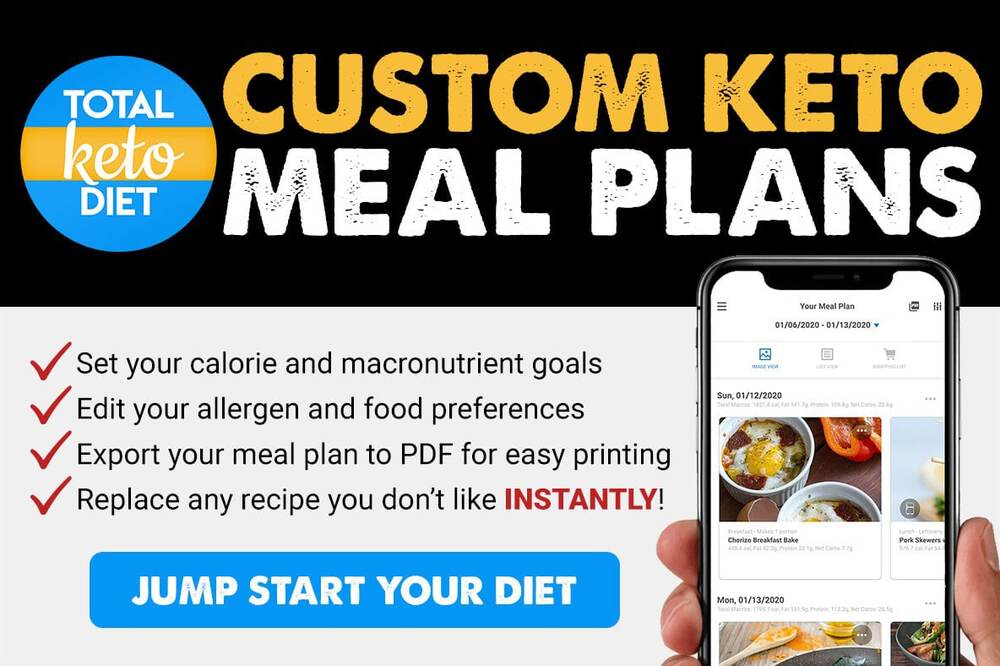 Most crackers are baked and include cheap ingredients, such as enriched flour and vegetable oil. They also contain sugar and lots of salt to enhance the flavor and extend their shelf life.
They're also extremely addicting and fall into the category of "empty calories." In other words, they contain a lot of calories for a very small amount (if any) of nutrients.
Because they have nothing in them to fill you up, you can eat a bunch of them and still not feel full. Before you know it, you've racked up more calories and carbs then you wanted for the day.
Nutrition of Crackers
As far as snack foods go, it's best to avoid crackers. Still, you can't overlook the convenience and versatility of a good cracker.

The problem with traditional crackers is that they are made entirely of carbs. Most brands of crackers that you'll find at the supermarket contain highly processed ingredients and additives.
For example, here are the ingredients and the nutritional breakdown of Keebler's Club Crackers, which you can find just about anywhere in the US:
Serving size: four crackers

70 calories
3 grams of fat
9 grams of carbs
0 grams of fiber
Less than one gram of protein
Ingredients: enriched flour (wheat flour, niacin, reduced iron, vitamin B1 [thiamin mononitrate], vitamin B2 [riboflavin], folic acid), soybean oil with TBHQ, sugar, and 2% or less of the following: high fructose corn syrup, leaving (baking soda, sodium acid pyrophosphate, monocalcium phosphate), corn syrup, soy lecithin.

You might be able to find healthier versions of crackers that contain whole grains instead of enriched flours and vegetable oil, but they are still too high in carbs for a ketogenic lifestyle.
---
Low-Carb Substitutes for Crackers
You can buy low-carb crackers at the store, but they tend to be expensive. Even if you find an affordable brand, it may still contain unhealthy ingredients.
Your best bet for enjoying low-carb crackers is to make them yourself at home using a few keto-friendly ingredients.
Here are some of the easiest low-carb cracker substitutes that you can make it home:
#1. Cheese crackers
You can make these low-carb crackers using one ingredient only: cheese. The easiest thing to do is to buy pre-sliced deli cheese and bake it in the oven for the perfect low-carb cracker.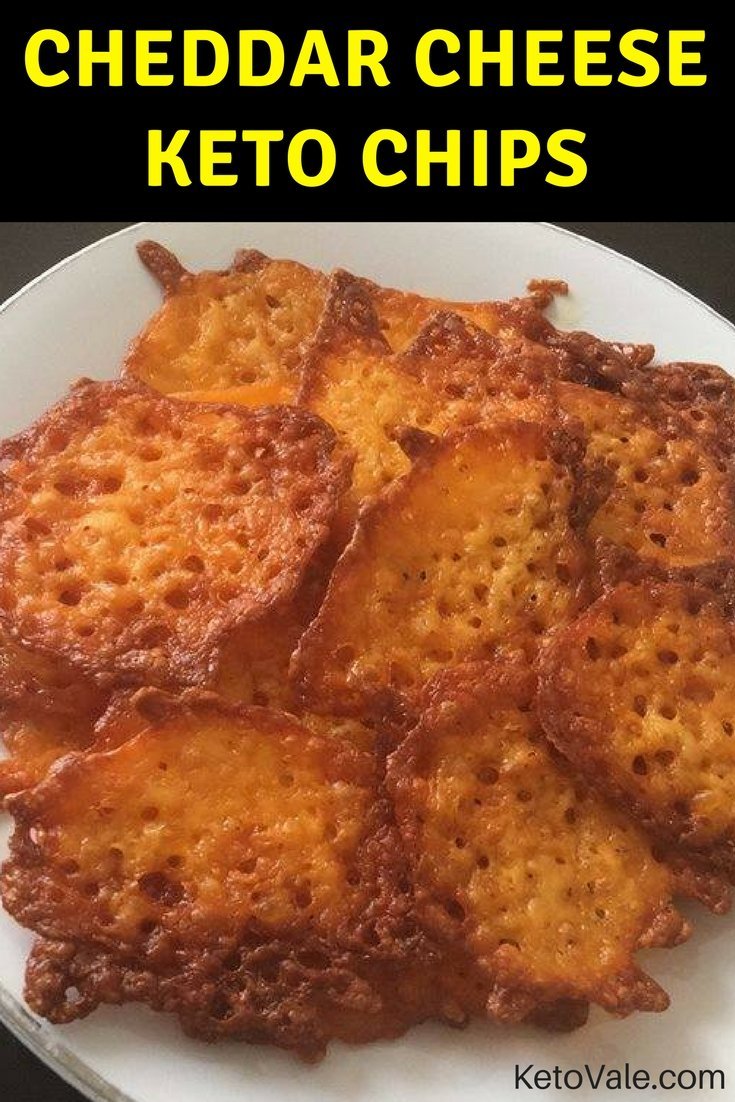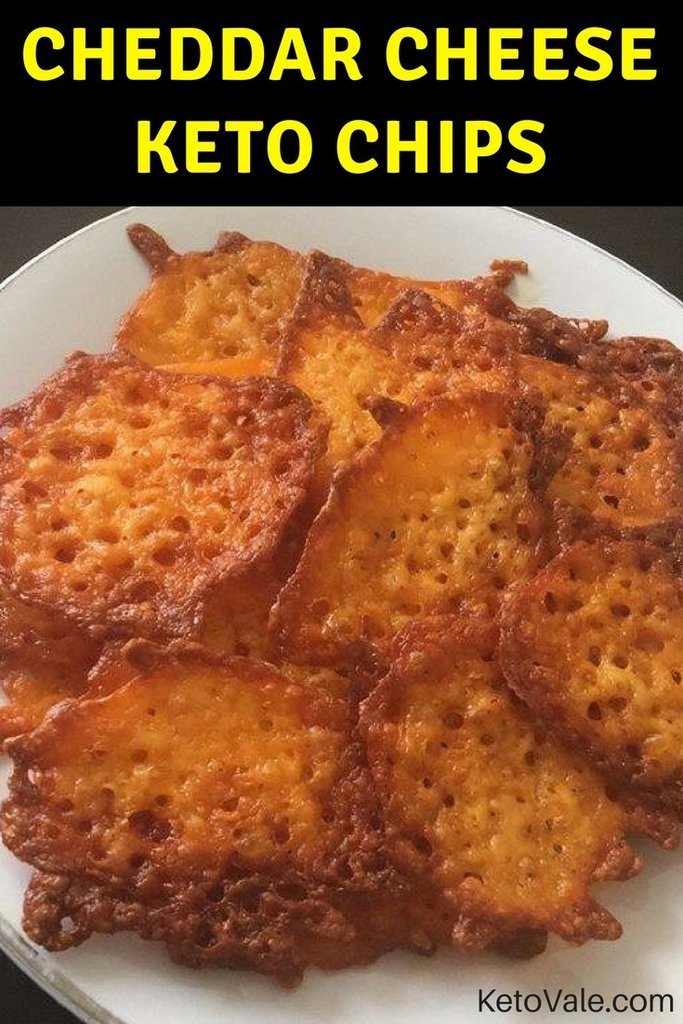 You can also buy shredded cheese, and sort it together into the shape of a cracker, and then bake it.
Some people add spices or seasonings to these crackers to enhance the flavor. They go great with dips or when paired with deli meat and topped with other goodies.
Try making some cheese crackers and topping them with bits of bacon, sour cream, and chives.
#2. Almond or flaxseed flour crackers

You can use almond flour or flaxseed flour in place of traditional enriched flour to make a low-carb cracker. Both are high in healthy fats and low in carbs. You can even mix them together for a great tasting cracker!

Blend together one tablespoon of flaxseed meal for every cup of almond flour you use along with three tablespoons of oil or water and any spices you want to add. Then cook in the oven for about 20 to 25 minutes at 350 degrees Fahrenheit.

Here's an easy flaxseed chips recipe you can try.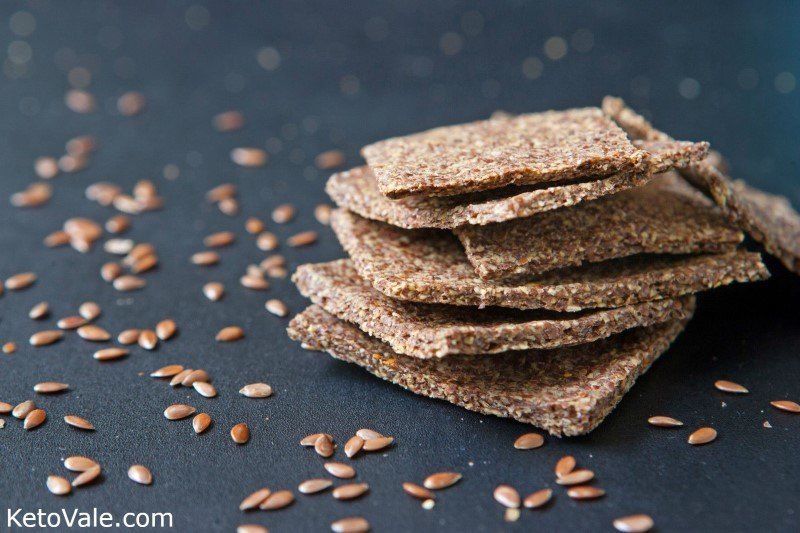 #3. Cauliflower crackers

Cauliflower seems to be a staple when it comes to swapping out grain-filled foods for low-carb alternatives. It's versatile, takes on the taste of whatever you cook it with, and is just as sturdy as the real thing.

To make cauliflower crackers, you can follow the same recipe that you use for cauliflower pizza crust. The only difference would be that you need to cut the crust into square shapes before cooking.

You can also swap out some of the spices, but we like the Italian spices used in the keto pizza crust recipe for a savory snack.

#4. Pepperoni "crackers"

If you're feeling creative, then try making pepperoni crackers the next time you need a snack. Buy some pre-packaged pepperoni slices that are organic and contain no added antibiotics, hormones, or sugar.

Line them up on a baking sheet and bake them in the oven until cooked. Look for extra large pepperoni slices if you want to add toppings to them.

We recommend adding cheese and olives to your pepperoni crackers for the perfect keto snack.
---
Low Carb and Keto-friendly Crackers Brands You Can Buy
If you're in a hurry and don't have time to make your own keto crackers, then you can buy some online at Amazon.com. Just be sure to plan ahead if you're hosting a low-carb party as these may take some time to reach you.

Here are our top three favorite keto-crackers from Amazon:

#1. Ella's Flats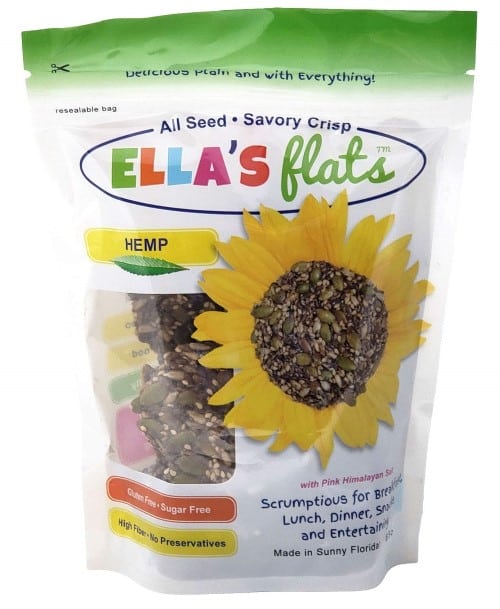 We had the pleasure of trying Ella's Flats in our keto sample box. They were delicious, high in fat, and low in carbs for the truly perfect keto cracker!

Plus, they don't contain any questionable ingredients like preservatives or added stabilizers.

They come in three different flavors: hemp, sesame, and caraway.

Here are the ingredients in the hemp seed flavor: pumpkin seeds, sunflower seeds, flaxseed, hemp seeds, psyllium, poppy seeds, black pepper, and salt.

One serving contains 1 gram of net carbs, 8 gram of protein and 10 grams of fat.

They were truly delicious and addicting by themselves, but you can add cheese and other goodies on top.

Where to buy: Shop now!
---
#2. Proudly Pure Parmesan Crisps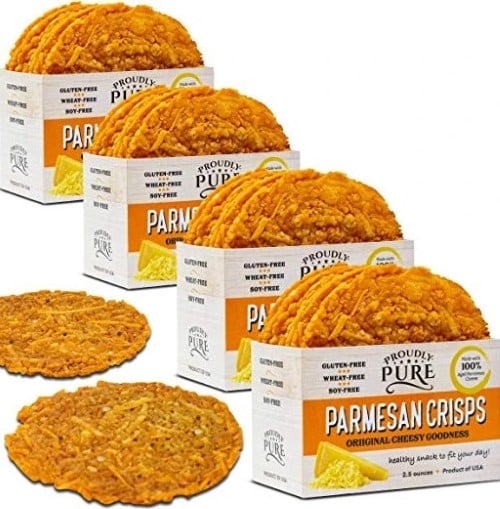 The Proudly Pure Parmesan Crisps come in four different flavors of keto-friendly crackers:

Original cheesy goodness
Garlic, onion, Poppy and sesame seeds
Rosemary and Thyme
Jalapeno peppers
Ingredients in the original cheesy goodness flavor are as follows: Parmesan cheese (part-skim pasteurized cow's milk, cheese cultures, salt, rennet).

As you can see, these cheese crisps are similar to the ones you make at home, but they are conveniently packaged for you if you don't have time to make them yourself.

One serving contains 7 grams of fat, 9 grams of protein and 1 gram of carbs. As you can see, this is an excellent high protein snack.

Where to buy: Shop now!
---
#3. Just The Cheese Bars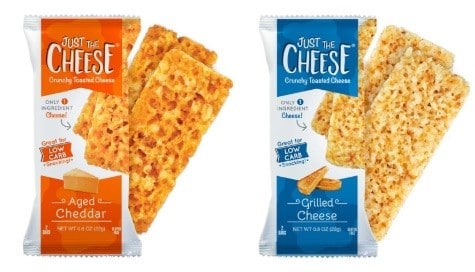 These cheese bars contain one ingredient only: 100% all natural Wisconsin cheese. The cheese is baked to perfection in the form of bars, but you can easily use these as crackers.
Two bars contain 150 calories, 12 grams of fat, <1 gram of carbs, and 8 grams of protein. They come in one flavor: grilled cheese. There are no added sugars, preservatives, or salt.

According to the product description, these cheese bars contain as much protein and calcium as a glass of milk without the carbs. They come with a 100% money back guarantee.
These bars would be easy to make at home. However, they are convenient because they are prepackaged and you can travel with them, throw them in your gym bag, etc.
Where to buy: Shop now!
---
Note: The following brands below are okay for low-carb diet but not strict keto as they contain some ingredients that strict keto dieters tend to avoid.
#4. Simple Mills Almond Flour Crackers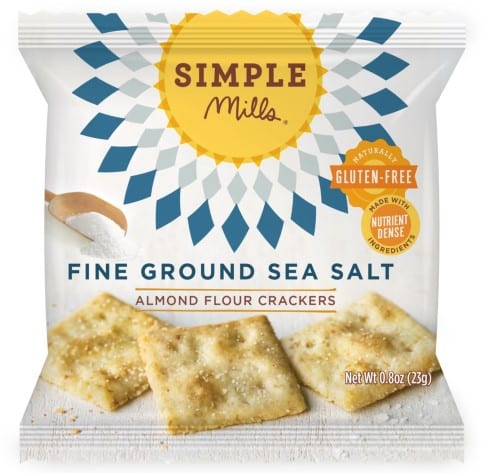 Simple Mills Almond Flour Crackers come in four different flavors: smoky BBQ cheddar, farmhouse cheddar, fine ground sea salt, and sundried tomato and basil.

The ingredients in the fine ground sea salt flavor include a nut and seed flour blend (almonds, sunflower seeds, and flaxseeds), tapioca, cassava, organic sunflower oil, sea salt, organic onion, organic garlic, and rosemary extract.

One serving (17 crackers) contains 150 calories, 8 grams of fat, 17 grams of carbs (15 grams net carbs), 2 grams of fiber, and 3 grams of net carbs.
These crackers contain more carbs than the previous brands, so you will need to keep your portions down if you are strict keto!

Where to buy: Shop now!
---
#5. Real Naturals
Real Naturals makes a keto bread cracker using three ingredients only: green peas, palm oil, and salt.

A 25 gram serving contains 30 calories, 1.5 grams of fat, 3 grams of carbs (2 grams net carbs), 1 gram of fiber, and 1 gram of protein.

These chips would be a good option for someone who cannot have nuts, seeds, or dairy. They are also egg-free and completely vegan/plant-based. They're not strictly keto though because of the ingredients.
Palm oil tends to be an incomplete source of MCTs. We noted that the company could have used coconut oil for a better source of healthy fats. However, these crackers are a better option than starchy grain-based crackers!

Where to buy: Shop now!

---
#6. Hu Crackers
According to the product description, Hu crackers contain "no weird ingredients ever." They come in three different flavors: everything, sea salt, and pizza.

The everything flavor contains the following ingredients: a grain-free flour blend (including almond, cassava, and organic coconut flours), organic sesame seed, black chia seed, organic poppy seed, and organic garlic/onion.

A serving size (31 crackers) contains 120 calories, 7 grams of fat, 12 grams of carbs (9 grams net carbs), and 3 grams of protein.

We like that Hu does not use any refined or isolated starches, including tapioca starch. Instead,
they use whole, dried and ground cassava. All cracker flavors are free from dairy, soy, maltodextrin, seed or vegetable oils, gums or lecithins, and glutens or grains.

Where to buy: Shop now!

---
Conclusion
Traditional crackers are off-limits on the ketogenic diet because they are high in carbs and poor in nutrition. They're easy to eat a lot of, which means that you'll rack up the calories and carbs snacking on these unhealthy treats.

Luckily, it's fairly easy to make your own low-carb crackers at home. You can use your favorite low-carb flours, such as almond flour and flaxseed. Or you can get creative and use pepperoni slices as your crackers. Of course, there is always the keto go-to staple ingredient: cauliflower.

If you're not in the mood to bake, then try ordering your low-carb keto crackers online. Our favorite is Ella's Flats, which are made with different types of seeds and sea salt. They're high in fat and low in carbs for the perfectly salty snack that won't ruin your keto diet.

Up Next: What Are The Best Low Carb Chips Alternatives for Keto Diet?
Enjoy this post? Share to save for later!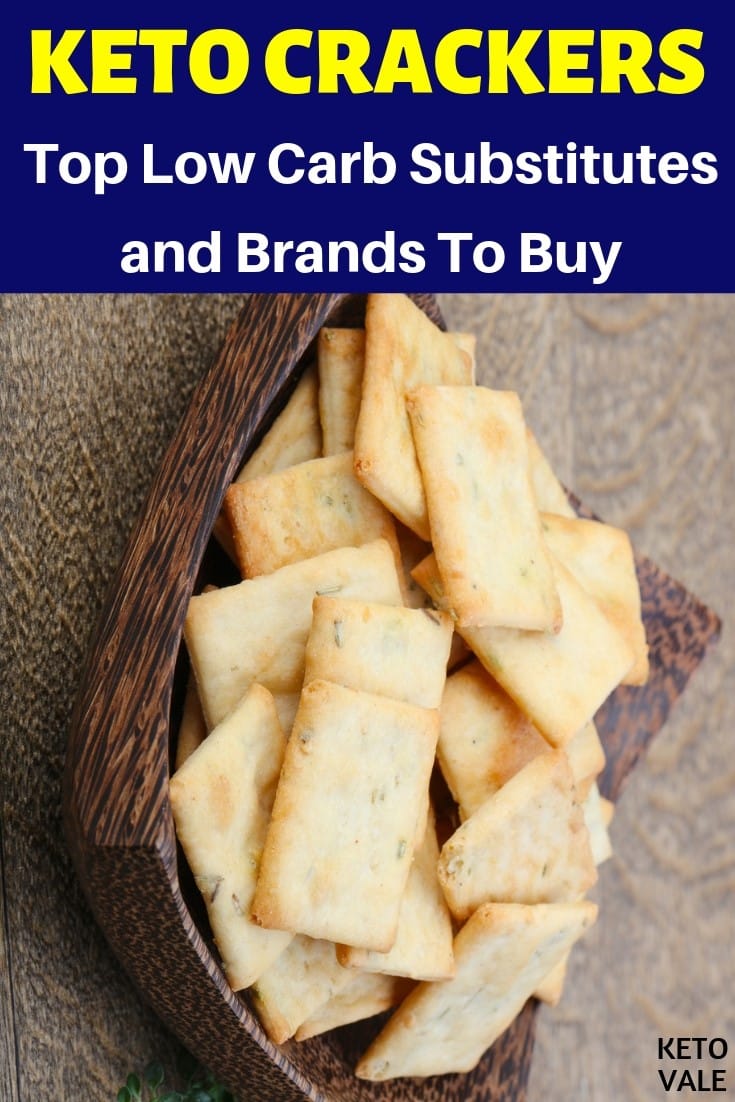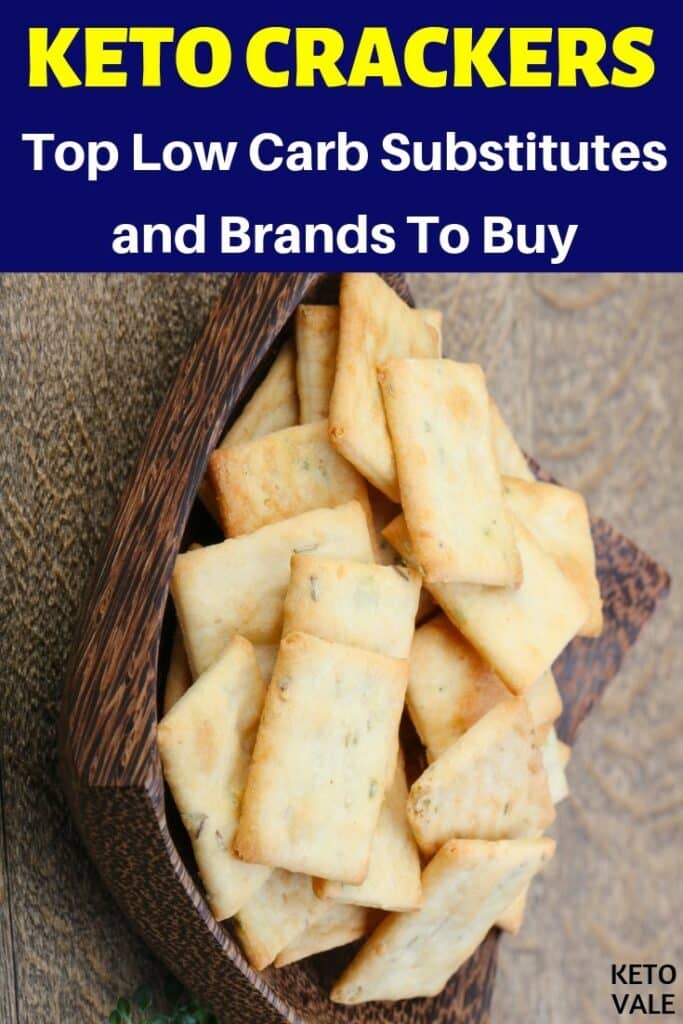 Photo credit: AndreySt/ depositphotos.com