If you're tired of eating the same old keto snacks all the time, then a keto box subscription can help spice things up.
Delivered to your door monthly, the following keto box subscriptions contain unique keto snacks that you might not be able to find on your own.

You can pick from a variety of pricing plans based on your budget. Most boxes include five to seven different keto snacks and cannot be customized, but they vary each month.

Quick Note: We noticed that although most snacks are lower in carbs than the ones you'd find at the grocery store, not all of them are entirely keto-friendly. Some snacks are strictly keto while others aren't.
It's a good idea to do your homework if you want a genuinely ketogenic box and not just one that's low carb. Some of them offer one-time purchase while others offer monthly subscriptions.
Here are some of the best low carb and keto goodies boxes that are available right now.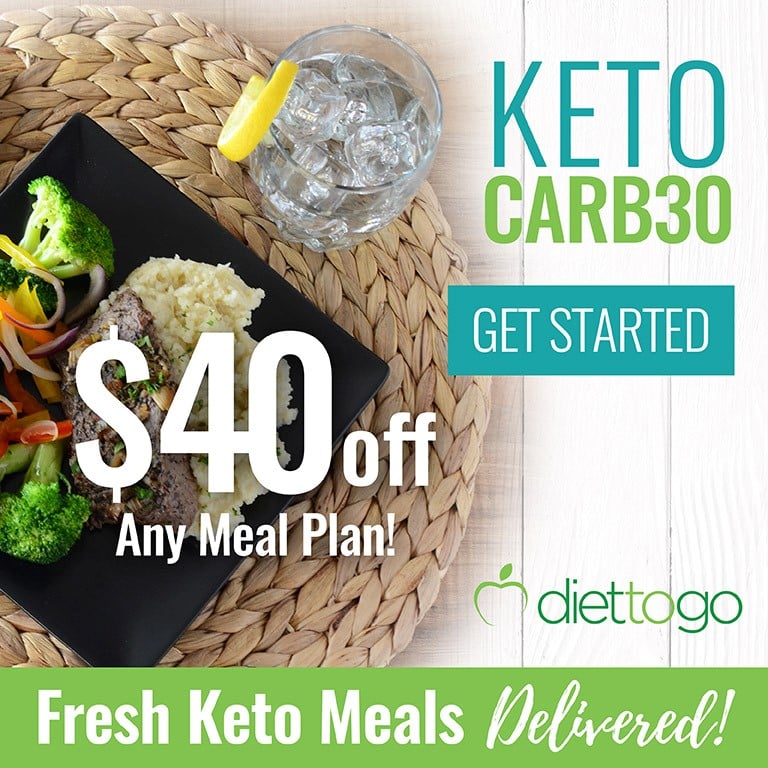 #1. Keto Delivered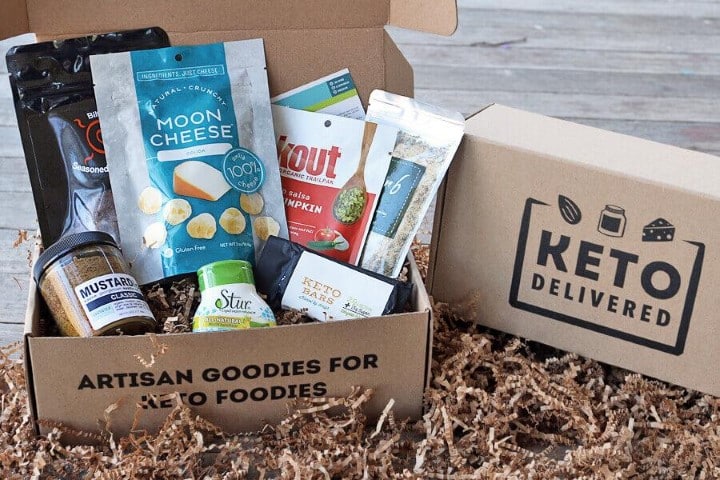 Keto Delivered offers Artisan groceries for people who follow the keto diet in monthly small batch boxes.
The company was founded by Elyse Mullins, who has been working in the keto field for four years. Her goal is to deliver keto snacks to help you stay motivated and continue with your keto journey.

What they offer: The company provides a convenient way to support small businesses and farmers markets. Each box comes with five to seven different keto products that change monthly. The price for each box comes out to be less than $1.50 per day per item.

Examples include keto sauces, foods, beverages, and snacks. In addition to snacks and keto foods, you'll find delicious recipes in each box.

Current Price: The price of each box is $39.99 per month. This includes shipping. All boxes are shipped between the 20th and 25th of each month.

How to Sign Up: Go here!
#2. My Keto Snack Box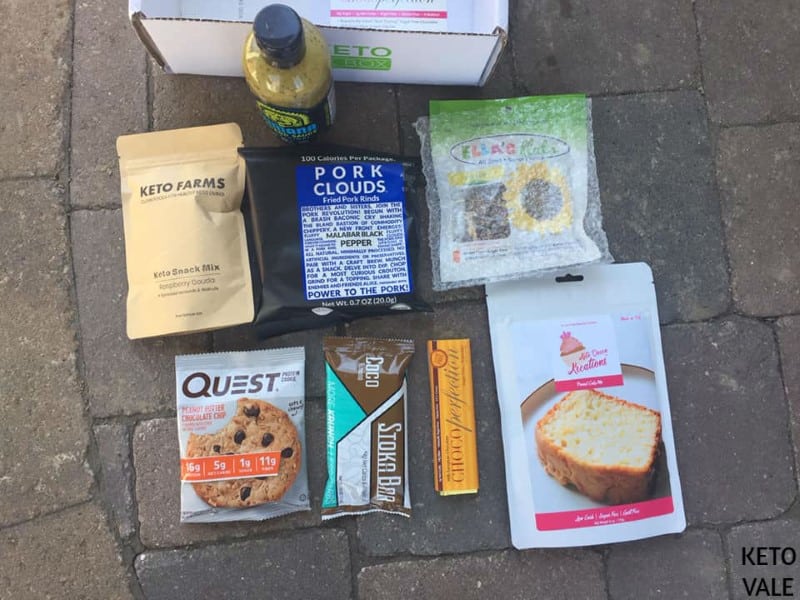 My Keto Snack Box is similar to Keto Box. They both offer monthly boxes that contain 8-11 snacks, but there are no options for subscriptions other than month to month.

The company promises you'll get unique keto-friendly snacks that can be enjoyed by anyone. They ship anywhere in the United States for free. They also ship worldwide for a fee. There are no contracts involved, and you can cancel anytime. You can also prepay if you like to be one step ahead.

We had the opportunity to receive a sample snack box and we weren't disappointed! It was exciting knowing that a box full of new keto products was on the way and it made us even more excited about the ketogenic diet. It also turned us on to new snacks that we have never seen before in grocery stores or online.

In our box, we received the following eight snacks:

Quest peanut butter chocolate chip cookie
Keto Farms raspberry Gouda snack mix
Kumana avocado sauce
Choco Perfection milk European chocolate
Keto Queen Kreations pound cake mix
Ella's Flats all seed savory hemp crisps
Pork Clouds fried pork rinds
Stoka bar cocoa almond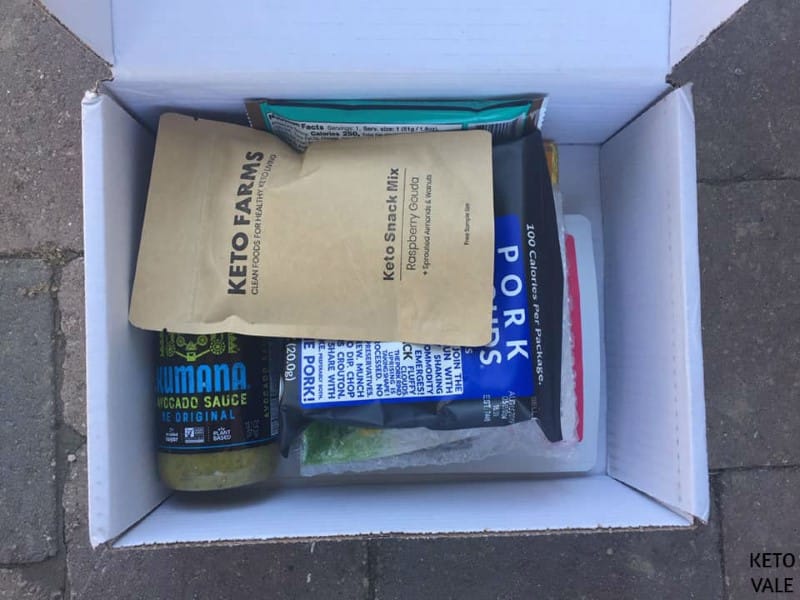 Overall, this keto snack box was delicious and truly a great variety of all things keto. It was obvious that each snack was carefully selected and the box was put together by hand.
The flavor combination of sweet and savory was spot on. There was something in the box to satisfy every craving while keeping you in ketosis by keeping the carbs low and the healthy fats high.

The box included salty snacks such as Ella's Flat's hemp seed crisps and fried pork rinds. It also included sweet treats such as the pound cake, Stoka bar, and a chocolate bar.
We loved that every single ingredient in these snacks was completely keto. The only exception may have been the Quest cookie, which is certainly delicious and lower in carbs but isn't entirely keto-friendly.

What they offer: Inside the My Keto Snack Box, you'll find 8-11 different keto snacks each month. The company sends their boxes out on the 7th of each month. They promise to deliver unique keto snacks that contain 5 grams of net carbs or fewer per snack.

Current Price: It costs $38 per month to sign up with My Keto Snack Box. If you follow the company on social media, you'll get access to codes for discounts and coupons.

How to Sign Up: Go here!
#3. Bunny James Snack Box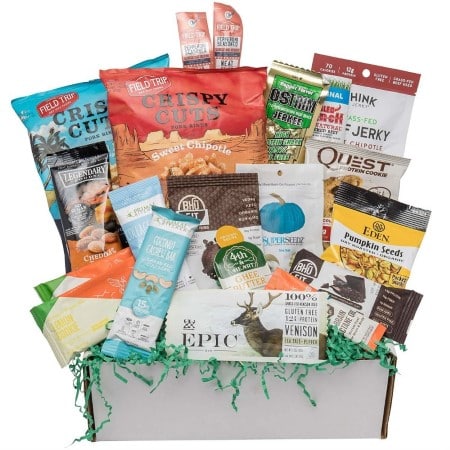 The Bunny James company was founded on the idea that rabbits break socially normal habits and so can you. This includes making better dietary choices.

They offer several different subscription boxes, including Whole30, vegan, paleo, gluten-free and keto. Their boxes are designed to inspire you to make better snacking choices.
There are several keto boxes that you can choose from:
Premium low-carb keto box (15 count for $49.99)
Sampler keto box (12 count for $36.99)
Deluxe low-carb keto box (20 count for $68.99)
Keto sampler and engraved "keto booty" mug gift set ($49.99)
What they offer: The premium low-carb keto box comes with the following:
Field trip crispy cut parmesan peppercorn
IQ brain fuel bar
Mission meats cracked pepper pork sticks
Smartcakes cinnamon protein cake
Keto Bar chocolate peanut butter fat bar
Mission Meats beef bar
4th & Heart grass fed ghee butter
Superseedz gourmet pumpkin seeds
Legendary seasoned almonds
Bulletproof brain octane oil
Eden pumpkin seeds
Shrwed foods baked protein crisps
Legendary almond butter squeeze pack
Pizoots infused gourmet peanuts
We noticed that although most of the snacks in the box are low-carb, not all of them are entirely keto-friendly. The majority of snacks had 3 or 4 grams of net carbs. Some were as low as 0 net carbs while one snack had 10 grams of net carbs.
You may want to go with another box if you want 100 percent keto snacks. If you're looking for a variety of low-carb options at a reasonable price, then this box will work well for you.
Current Price: Learn more!
#4. The Good Grocer Snacks Care Package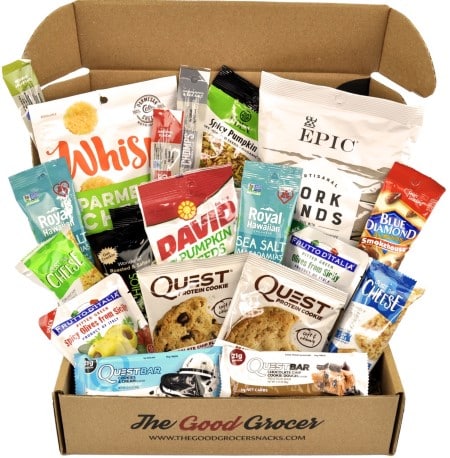 The Good Grocery is another top-rated keto box subscription company on Amazon. The company provides a variety of box subscriptions, including keto, vegan, Paleo, and non-GMO. All snacks included in the keto box contain five grams of net carbs or fewer per snack.

What they offer: All boxes arrive in a postcard themed gift box. Each box comes with 20 different snacks, which are listed below:

1 Cello Wisps Cheese Crisps
1 Epic Artisanal Pork Rinds
1 Quest Nutrition Protein Bar
1 Quest Nutrition Protein Bar
1 Eden Organic Pumpkin Seeds
2 Royal Hawaiian Macadamia Nuts
1 David Roasted Pumpkin Seeds
1 Blue Diamond Almonds
1 Just the Cheese Bar
1 Just the Cheese Bar
1 Wonderful Almonds
1 Wonderful Pistachios
2 Frutto D'Italia Pitted Green Olives
1 Quest Nutrition Peanut Butter Cookie
1 Quest Nutrition Chocolate Chip Cookie
1 Chomps – Original
1 Chomps – Venison Cracked Pepper and Sea Salt
1 Chomps – Hoppin' Jalapeno
Current Price: Learn more!
#5. OneStopPaleoShop's Keto To Go Box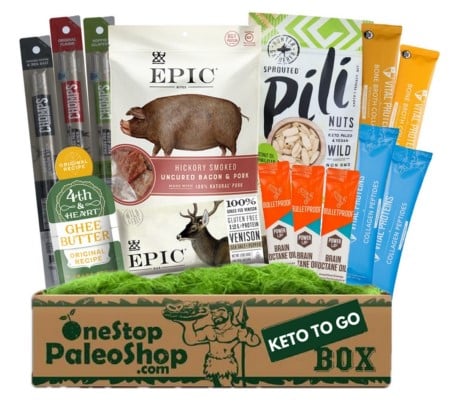 This Keto To Go Box is made by OneStopPaleoShop, and it's a top-rated box on Amazon. The company mostly offers Paleo goods, but they claim this box is entirely keto and includes products from BulletProof, Epic, Chomps, Vital Proteins, and more. They specialize in providing low-carb snacks.

What they offer: Each box comes with 14 different snacks, which include the following:

1 Epic hickory smoked bacon bites
1 Performance nut butter nuts
3 Chomps sticks, grass-fed snack sticks
3 Bulletproof Brain Octane Go packs
1 Fourth and Heart ghee on the go
2 Vital Protein pasture raised grass-fed collagen stick packs
2 Vital Protein organic bone broth collagen stick packs
Current Price: Learn more!
#6. SmallTown Table Keto Snack Care Package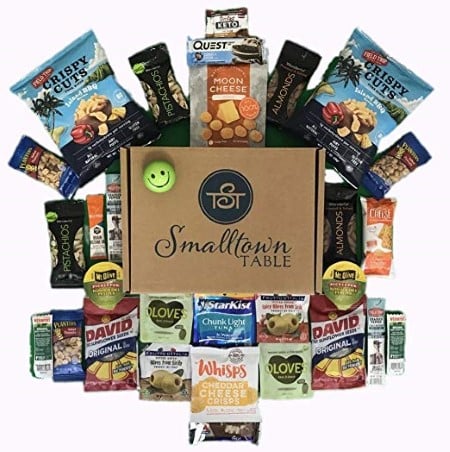 SmallTowne Table offers several different subscription boxes, including gluten-free, keto or low-carb, and happy birthday packages.
They also offer other packages such as skin care, candy, and general snacks. Although they claim their keto box is 100% keto-certified, you may want to double check the package to make sure it is.
What they offer: Each keto box contains 25 different snacks, including the following:

Just the cheese bars
Moon Cheese
Macadamia nuts
Field Trip beef sticks
Tuna Packet
Pickles
Quest Bar
Atkins Bars
Pistachios
Almonds
Seaweed
Sunflower seeds
Pork Rinds
Whisps
It's unclear how many net carbs are found in each snack. It appears that although this box is a good value, you can get better keto ingredients by going with a keto-certified company and not one off of Amazon.
The box also comes with a set of the following four refrigerator keto cheat sheet magnets:

Keto quick guide to oils and condiments
Keto quick guide to fruits and vegetables
Keto quick guide to meats and nuts
Keto quick guide to dairy
There is also a free seven day meal plan included in your box that contains meals and snacks.

Current Price: Learn more!
#7. The Keto Box
The Keto Box is so popular that the boxes tend to sell out if you don't act quickly. The company is a self-proclaimed subscription service that sends you 8-11 low-carb snacks every month when you sign up. They are headquartered in Los Angeles at 201 N Brand Blvd, Suite 200, Glendale CA 91203. The website even has a blog for more reading about the keto diet as well as tasty meal suggestions.

What they offer: Each box contains 10+ keto snacks per month. It sounds like the snacks that are provided in your box are constantly changing and the company looks for new snacks to include each month. You can also give them feedback to let them know what you like.

Along with your box, you'll also get exclusive monthly coupons and a free 28-day meal plan. The company also offers a free 20 minute keto coaching call after your second shipment and exclusive monthly coupons.
Price: The Keto Box has three different plans you can pick from. Shipping is free anywhere in the United States. Boxes shipped to Canada will endure a $15.99 flat rate fee. Boxes ship on the fifth of every month. Renewals occur on the 15th of every month.
The plans are listed as follows:

Month to month: you can cancel your month to month subscription anytime. Your subscription will automatically renew on the 15th at 12 AM UTC of every month. The cost is $40.00 per month and you can cancel anytime.
Three month prepay: with the three-month prepaid plan, you'll save $2 per month. Your subscription will automatically renew on the 15th at 12 AM UTC at the end of your three months. The cost is $114 for three months.
Six month prepay: with this option, you'll save $4 per month. As with the three months prepay subscription, you will automatically be charged, and your next box will ship on the 15th at 12 UTC after your six months has ended. The cost is $216 for six months.
How To Sign Up: https://www.theketobox.com/

#8. Keto Krate
KetoKrate is a subscription service with a serious vendetta against cheap ingredients. The snacks in their boxes are free from gluten, aspartame, maltitol, sucralose, and soy. They also contain five grams of net carbs or fewer per snack.

Each snack contains 5 grams of carbs or fewer. According to the website, the company has well over 10,540 keto box subscribers currently and a 98% satisfactory rating. There are no contracts, and you can cancel your subscription any time.
What they offer: Each box contains about 10-13 keto snacks per month. You also receive $20 or more in coupon savings. You have the option of subscribing for yourself or gifting a box to someone else. The company claims they have discovered over 202 different keto snacks that fill your boxes. Along with keto snacks, you'll get recipes, discounts, and success stories in your box.
Here is a list of the items that they sent out:

Revol Snax double dark chocolate coconut bites
Stoka bar pumpkin spice
Chocolate pro-puffs
Nush carrot spice cake
Keto Farms strawberry gouda snack mix
Theory of Kombucha raspberry lemonade powdered drink mix
Ketologie chocolate almond butter keto bar
Primal Kitchen golden turmeric collagen fuel drink mix
Quevos sour cream and onion egg white chips
Newdles pasta chicken meal pack
Big John's hickory smoked snack stick with nitrate-free bacon
Crazy Go Nuts garlic parmesan walnuts
Southern Recipe small batch sea salt and cracked pepper pork rinds
Price: Each box is $39.99 per month. This includes around 10-13 different keto snacks and free shipping. Your box will ship within 24 hours. When you sign up, you'll get access to their member-only keto shop where you can buy items from past purchases.
Website: https://www.ketokrate.com/
#9. SugarSmart Box
The SugarSmart Box founder's name is not listed on the website, but he or she strives to provide you with snacks that help manage type 2 diabetes. They are low in sugar and claim to be keto and diabetic friendly. The snacks in each box change monthly so you can enjoy a new set of snacks each time a box is delivered.

What they offer: Each box contains at least seven different snacks with fewer than five grams of net carbs per snack. Boxes are shipped on the tenth of every month. Along with keto and diabetic friendly snacks, you'll receive coupons and a survey in each box to tell the company what you like and don't like about your snacks.
The company allows you to pick different pricing plans based on your budget. You can also give a gift or order a box for someone else.

Price: There are three primary price options available. The "smart" box is $29.95 per month. This is a month to month subscription with auto renewal. The "smarter" box is a three-month prepay option for $28.95 and the "smartest" box is a six-month prepay option for $$27.95. You can currently use code FIRST10 to receive 10% off your first subscription. You can cancel anytime.
Website: https://www.sugarsmartbox.com/
#10. Onnit Keto Box
Onnit Is a company that offers a wide range of health products, not just keto boxes. They sell supplements, foods, and apparel for the fitness minded. The Onnit keto box was designed by Onnit CEO and founder Aubrey Marcus and former UFC heavyweight contender Brendan Schaub.

What they offer: According to the website, each box contains keto supplements, foods, recipes, and snacks, but it does not say how many. Some of these items come from the Onnit collection. The website also states that Marcus and Schaub personally taste each of their items before sending them to you.

Price: The price of each box is $55.95 per month with free shipping. If you subscribe to the company, then you can get 15% off. Orders are shipped on the 10th of every month and you can cancel your subscription any time.

New Update: Onnit doesn't offer this keto box service anymore, but they've just released some delicious keto fatbutters. You can read our review here!

Where to buy: Go here!

Conclusion
Subscribing to a monthly keto box is a great way to spice up your diet. Eating the same old snacks daily can get boring and cause you to lose interest in the keto diet.

Most keto snacks vary monthly, which means that you can expect to be introduced to new snacks each month that you might not otherwise have access to at your local grocery store.

Do your research before subscribing to a box if you want to make sure that your snacks are 100% keto. We noticed that some of the snacks in the boxes mentioned above might be low carb but do not meet strict ketogenic regulations.

Boxes also tend to be pricey, just like a food delivery service, because they are delivered right to your door, but they are worth it if you are truly serious about the ketogenic diet and sticking to it for the long haul.

Disclaimer: The price mentioned in this article is the current price. Latest prices might be different. We noticed that most of the packages from Amazon do not change monthly. This means that you can expect the same snacks every time you order this product. It doesn't appear that they offer subscriptions, either. On the other hand, if you order from a company that is not on Amazon, you will be charged monthly and should expect your snacks to change with each box.