What do we need from food? Nutrition and good flavor. What don't we need from what we eat? Extra calories. When you cook our Keto Cheeseburger Casserole recipe, you will get nutrition and taste without the extra calories.
Casseroles are an excellent dish to make because of their simplicity. We recommend investing in a high-quality casserole dish and experimenting with different recipes. All you need to do is combine your ingredients, add them to the dish, and bake until golden brown!
Our primary ingredient in our cheeseburger casserole is minced beef. It is rich in various vitamins and minerals, especially iron and zinc.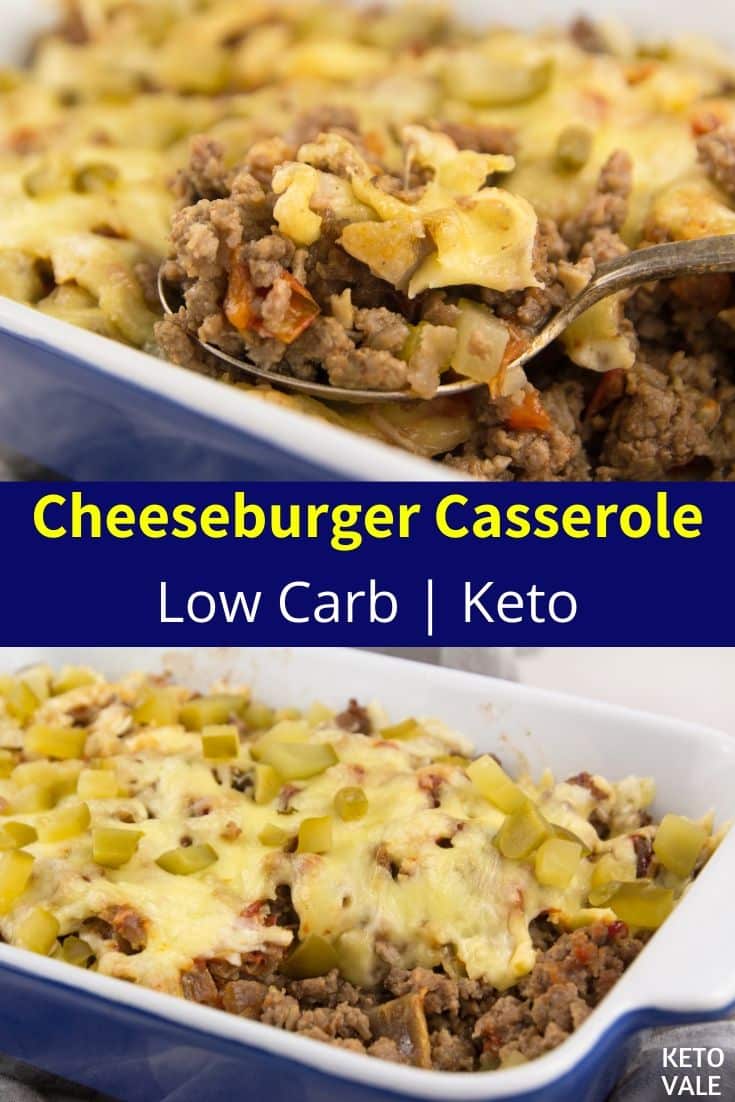 Like any meat, beef is mainly composed of proteins. It is usually of high-quality, containing all nine essential amino acids needed for the growth and maintenance of your body.
Protein has been shown to help you build lean muscle mass, which burns more calories than fat (1). It also helps keep you full so that you eat fewer calories per day.
For a truly authentic cheeseburger taste, our recipe calls for mustard, bacon, onions, tomatoes, pickles and cheese. It's everything you would normally expect from a cheeseburger in the convenience of a casserole with no bun needed!
Tomatoes are high in lycopene, which is an antioxidant pigment that has been shown to fight disease-promoting oxidative stress (2). Interestingly, the lycopene content in tomatoes increases as you cook them. Onions are a prebiotic food and positively contribute to gut health.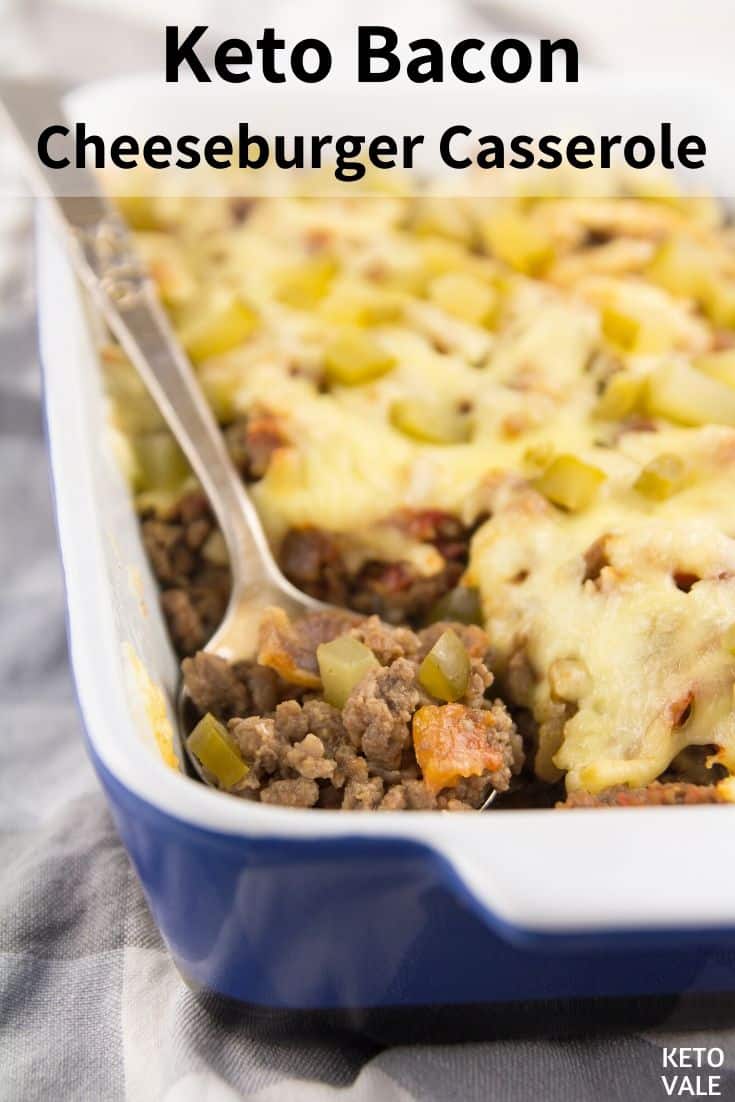 Be sure your animals come from clean sources. This means going with organic bacon that is free from hormones, antibiotics, nitrates, and added sugar. Your beef should be organic, grass-finished if possible and raised without hormones, antibiotics or chemicals.
You can serve this dish as is or pair it with a side salad. It would make an excellent low-carb breakfast, lunch or dinner idea.
---
How to Make Low Carb Cheeseburger Casserole
Heat olive oil in a skillet. Add minced garlic clove, bay leaf, ground beef, and salt and pepper. Cook for 10 minutes.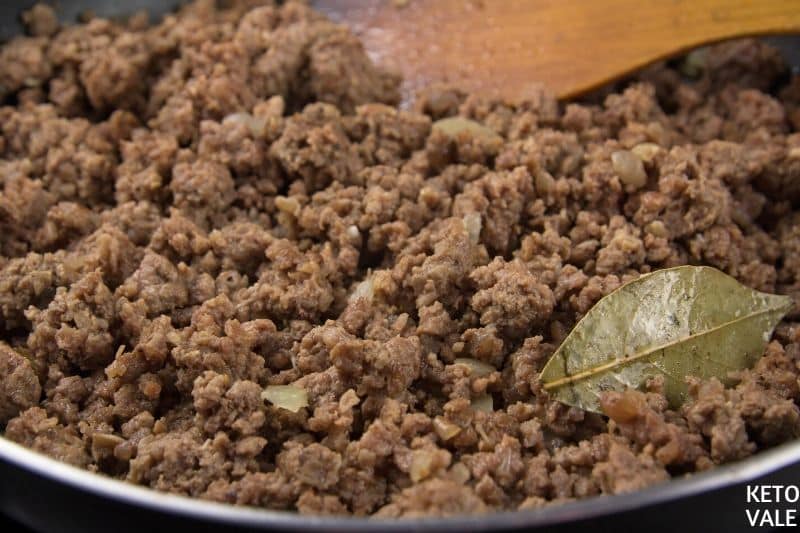 Add some tomatoes and cook for 5 minutes more.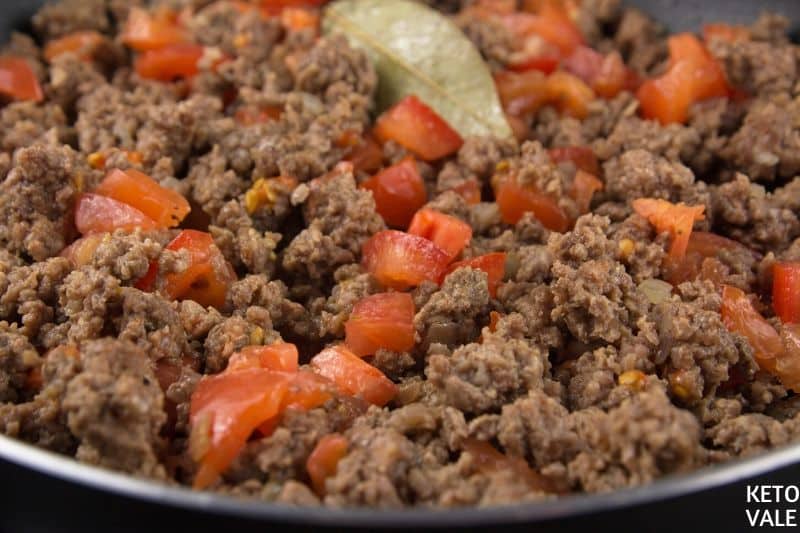 Transfer the mixture into a baking dish and sprinkle with chopped bacon. Add hot sauce and mustard.
Sprinkle with shredded cheddar cheese and transfer to the oven. It will take not more than 10-12 minutes to cook.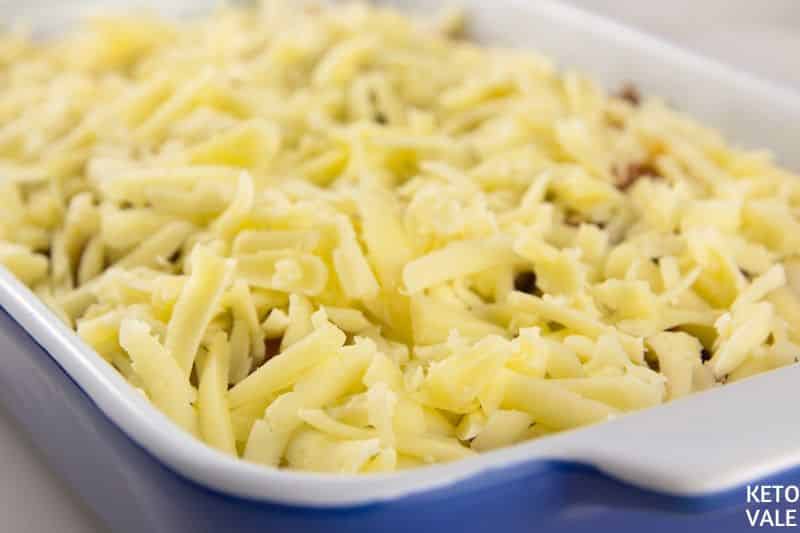 Remove from the oven. Top with pickles and enjoy hot.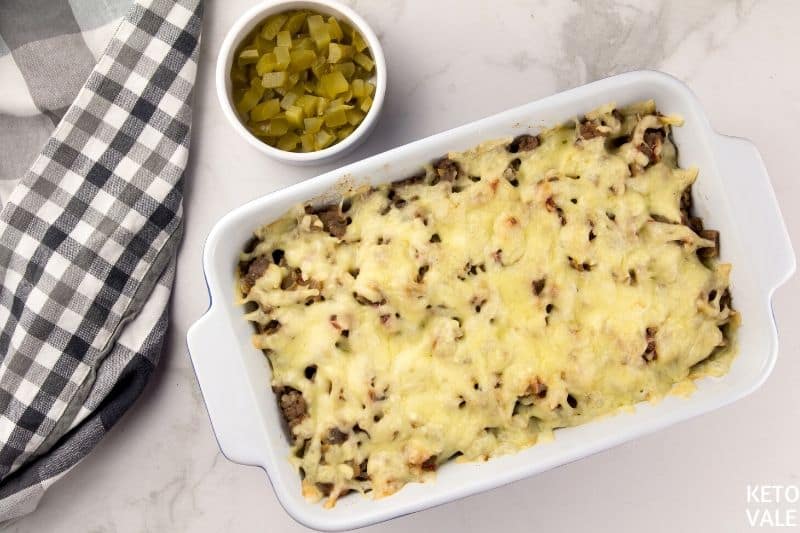 More keto casserole recipes you can try:
Keto Cheeseburger Casserole
A quick, easy and delicious keto casserole dinner that is perfect for weeknights and weekends.
Instructions
Preheat the oven to 400 F.

Heat olive oil in a skillet. Add chopped onion and cook until translucent. Add minced garlic clove, bay leaf, ground beef, season with salt and pepper. Let cook for 10 minutes and then add chopped tomatoes and cook for 5 minutes more.

Transfer beef mixture into the baking dish and sprinkle with chopped bacon.

Drizzle hot sauce and mustard over beef layer, sprinkle with shredded cheddar and transfer to the oven for 10-12 minutes or until cheese melts.

When ready, serve with chopped pickles and enjoy!
Nutrition/Macros
Nutrition Facts
Keto Cheeseburger Casserole
Amount Per Serving
Calories 528
Calories from Fat 387
% Daily Value*
Fat 43g66%
Cholesterol 121mg40%
Sodium 849mg35%
Potassium 573mg16%
Carbohydrates 6g2%
Protein 30g60%
Vitamin A 855IU17%
Vitamin C 10mg12%
Calcium 251mg25%
Iron 3mg17%
* Percent Daily Values are based on a 2000 calorie diet.
Pin To Save This Recipe