Want to get some Italian cuisine into your diet? Perfect! Because today we will be cooking a special Italian appetizer that would surely be a hit on your dinner table. It's our keto fried mozzarella balls without breadcrumbs. They are great as appetizers but go well as a side dish for wine or beer, too.
It can be your go-to snack to satisfy your cravings, a delicious way to start your low-carb party, or just a mini addition to your main course.

To make this dish keto-friendly for you, we will only make use of keto-approved ingredients so you wouldn't have to worry about gaining weight while enjoying this dish.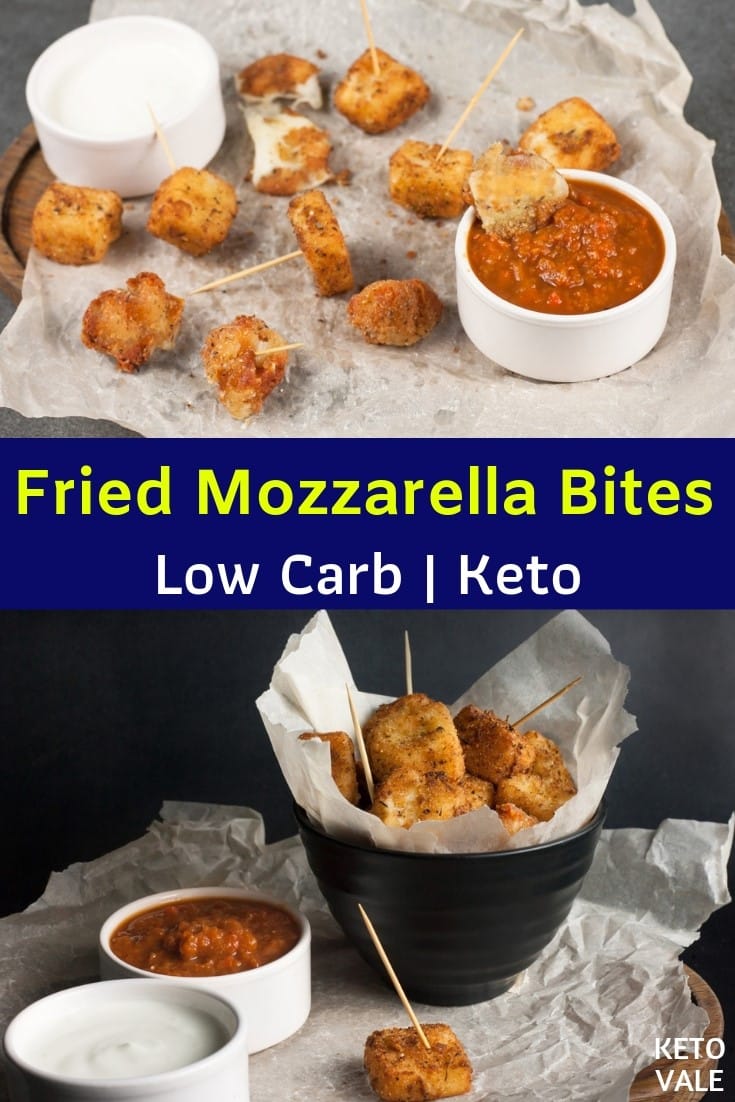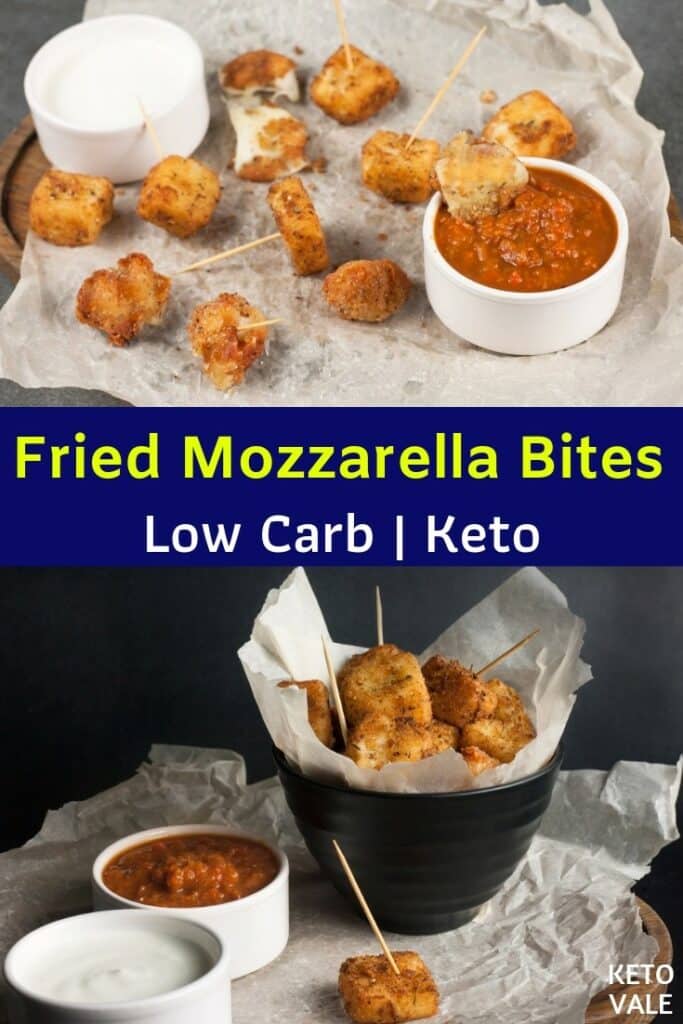 The star ingredient of our dish is, of course, mozzarella. This particular type of cheese is well-known to be the super cheese. You can shape it into sticks, squares, or balls for this recipe.
Just one ounce of this cheese contains 14% of your daily calcium needs and it has incredibly high amounts of protein that keeps your muscles going through the day.

The other ingredients used in the original fried mozzarella are replaced with more low-carb products.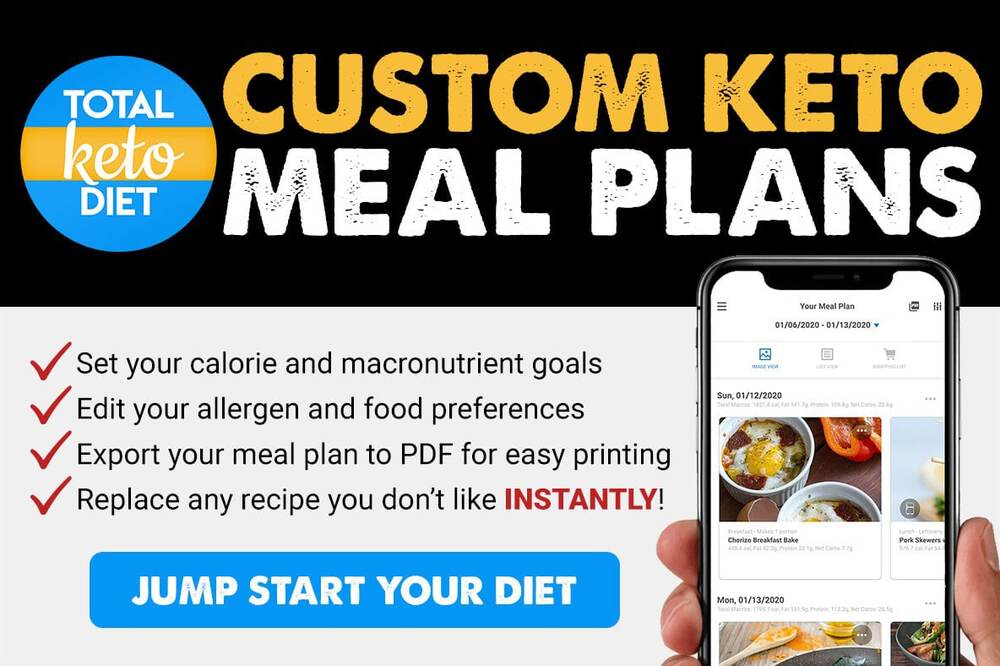 For example, the regular or all purpose flour is substituted with coconut flour. This type of flour is actually recommended for the keto diet as it is considered low carb and gluten-free. It offers plenty of other benefits as well, like boosting metabolism, maintaining healthy blood sugar levels, and lowering bad cholesterol (1).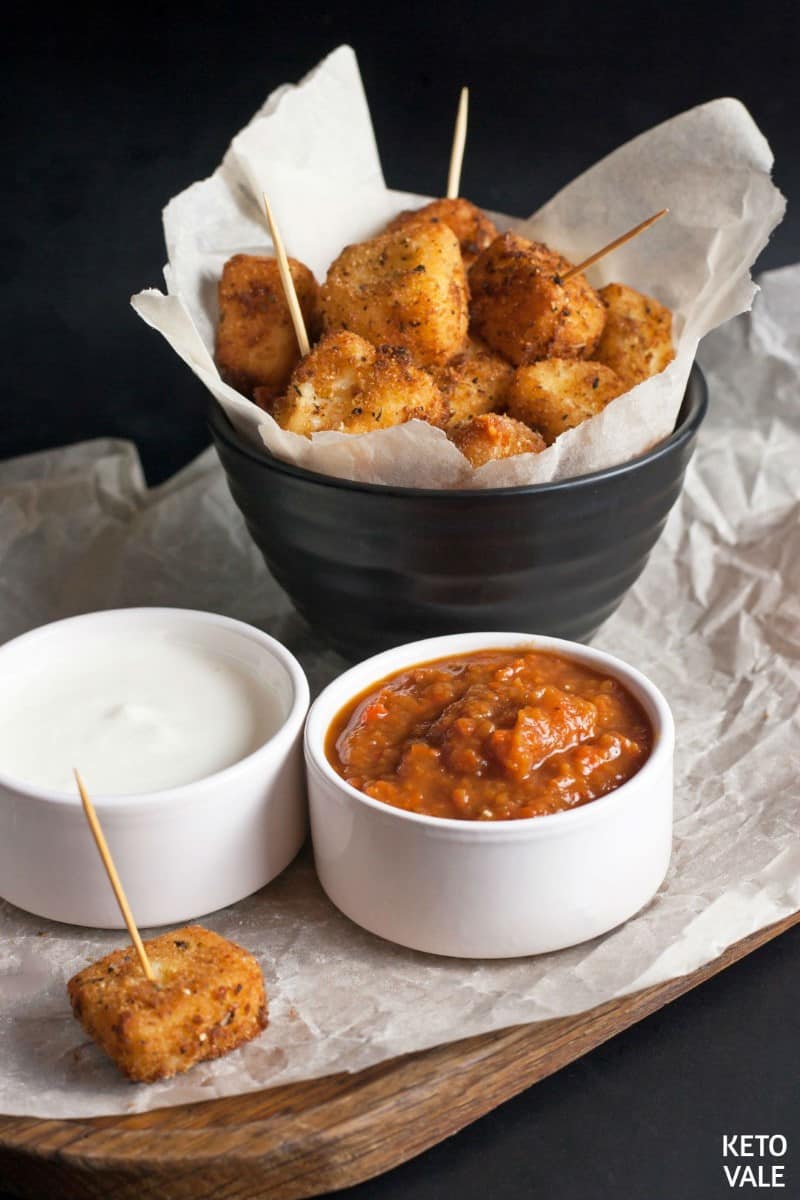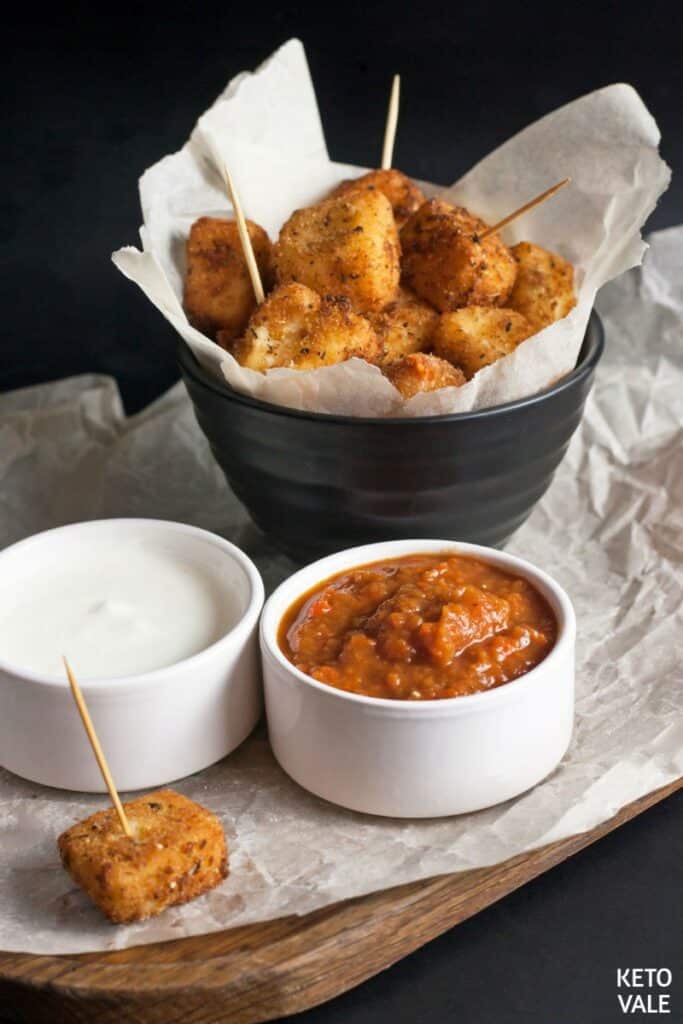 You can also use almond flour in this recipe. Many people find that mixing coconut and almond flour together provides a texture similar to that of regular flour.
Like coconut flour, almond flour is an excellent source of healthy fats and fiber. Almonds also contain vitamin E, which is a fat-soluble vitamin with antioxidant properties in the body. Vitamin E helps protect skin health by neutralizing free radical toxins caused by overexposure to the sun.
Eggs are also thrown into the recipe as they are one of nature's superfoods packed in a single shell. Add a variety of Italian seasonings in your dish to give it the European feels and voila! The result is a perfect high-protein high-fat snack and appetizer your family will surely love.
---
Let's Do It!
Cut out your mozzarella into 1-inch cubes. Combine the eggs and heavy cream in a bowl. Beat continuously until smooth.
Add the seasonings (Italian spices, garlic powder, salt, pepper) in another bowl with the coconut flour. Mix to combine.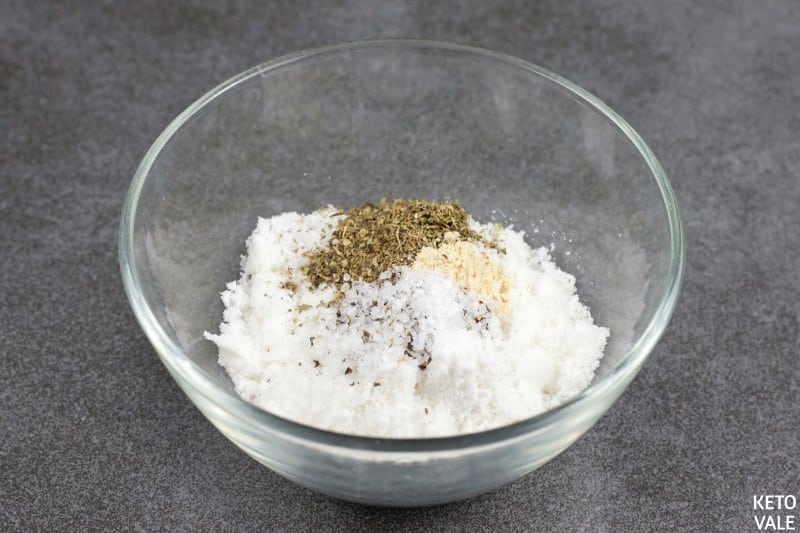 Coat each mozzarella cube with enough egg batter before rolling them into the flour.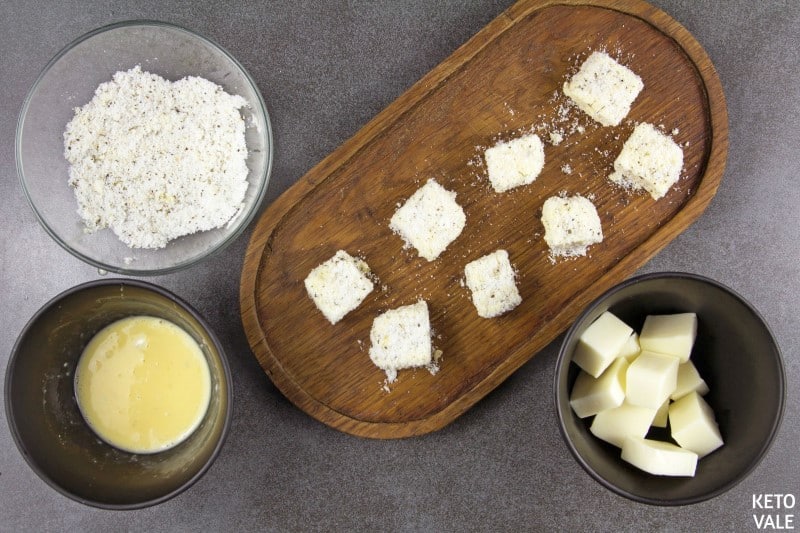 Deep fry the mozzarella cubes in about two inches of olive oil or coconut oil. Cook for 60 seconds or until the cheese turns golden.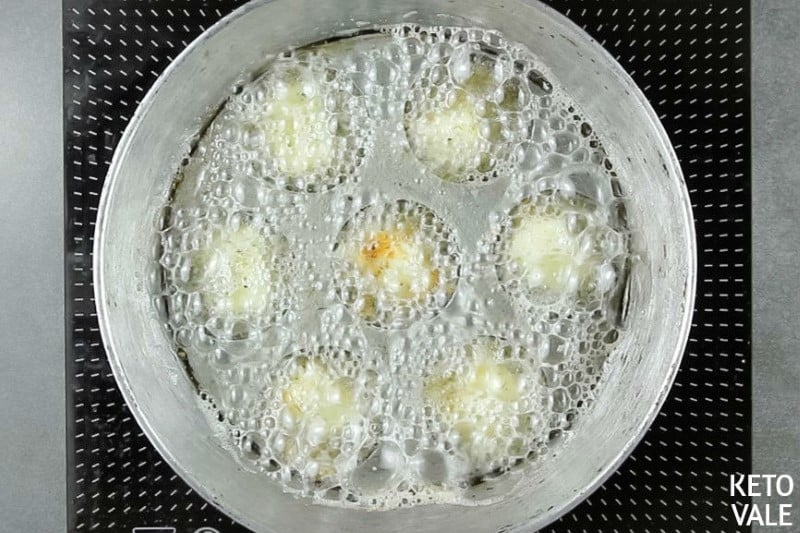 Best served while warm with your favorite dip. You can use home made marinara or mayo sauce.
Like we said before, you can use mozzarella sticks for this recipe. How long should you deep fry mozzarella sticks? About 1 minute. Make sure to check and remove as soon as the outside becomes golden. You don't want to fry it too long or it will melt.
Keto Fried Mozzarella Bites
These fried mozzarella balls are the perfect low-carb appetizer and snack that will surely be a hit on your dinner or party table.
Instructions
Slice your mozzarella cheese into cubes about an inch thick.

Beat the eggs in a large bowl together with the heavy cream. Whisk to make a homogeneous mixture.

Mix together the Italian seasoning, garlic powder, and coconut flour in a separate bowl. Season with salt and pepper.

Cover the mozzarella cubes with the egg batter then roll them on the flour.

Pour about 2 inches of olive oil in a pan to deep fry the mozzarella cubes. Using a frying pan is also ok. Place the cubes in a slotted spoon and dip it into the oil. Fry for about a minute or wait til the flour goldens. Do this for all of the cubes.

Transfer everything to a plate with your choice of sauce on the side.
Nutrition/Macros
Nutrition Facts
Keto Fried Mozzarella Bites
Amount Per Serving
Calories 316
Calories from Fat 180
% Daily Value*
Fat 20g31%
Cholesterol 160mg53%
Sodium 829mg35%
Potassium 83mg2%
Carbohydrates 13g4%
Protein 19g38%
Vitamin A 615IU12%
Calcium 312mg31%
Iron 1.5mg8%
* Percent Daily Values are based on a 2000 calorie diet.
Pin To Save This Recipe