While we always recommend eating at home using high-quality ingredients on a keto diet, Outback Steakhouse is an excellent option if you have to eat out. Since the menu is packed with meat-based dishes, staying keto at Outback Steakhouse isn't overly complicated.
Our favorite low carb Outback Steakhouse options are grilled chicken, steak, or salmon with low-carb vegetables such as steamed broccoli.
There are still a few things you need to know to avoid sneaky ingredients making it onto your plate and accidentally sabotaging your low-carb diet. Here's what and how to order at Outback if you're following a low-carb diet.
Tips for Ordering Low Carb At Outback Steakhouse
If you're new to the ketogenic or really want to make your low-carb diet work, then stick to home cooked meals and snacks.
The best way to fuel your ketogenic diet is by picking out high-quality, organic ingredients at the grocery store and preparing them at home. This allows you to have complete control over what goes in your body.
If you find yourself in need of food and a chain restaurant is your only option, then obviously it's best to pick Outback over a place like Domino's Pizza, but you'll want to follow our tips to make sure you keep it low-carb.
Top Lowest Carb Dishes at Outback
Here are the top lowest carb dishes that you can order at Outback, based on the website's nutrition information:
Grilled chicken brisbane caesar salad (0 grams of carbs)
No Rules Salad with Grilled ahi tuna, shrimp or chicken (0 grams of carbs)
Bone in natural cut ribeye or chargrilled ribeye (0 grams carbs)
New York Strip steak (0 grams stead)
Steak sirloin (0 grams carbs)
Filet mignon (0 grams carbs)
Pork porterhouse (0 grams carbs)
Lobster tail entree (1 gram carbs)
Here are some other tips you can follow to keep it low-carb at Outback.
#1. Ask for dry meat
Ordering steak at a steakhouse seems like a no-brainer, but you'll want to be careful with added sauces if you're trying to keep it low-carb. A plate full of ribs sounds like a great way to fuel up until you consider the BBQ sauce that it's covered in, which can kick you out of ketosis if you eat enough of it.
We recommend going with one of Outback's many steak options and asking to keep your meat dry by holding all sauces. Outback should be able to dry rub your steak with lots of flavorful herbs and spices in place of sugar-laden sauces. If you're worried that the meat will taste dry, then ask for an extra helping of butter to help keep it juicy.
#2. Watch out for starchy sides
Steak and potatoes go hand-in-hand, but not if you're on a ketogenic or low-carb diet. While it's important to focus on what goes on your steak, you'll also want to pay attention to what comes with it as a side dish.
In place of a potato or macaroni and cheese, ask for steamed broccoli or cauliflower (like this keto mac and cheese) or a side house salad made with oil and vinegar dressing instead (no croutons). 
Outback offers a fresh seasonal veggies mix that may include vegetables that are not considered low-carb, such as squash, green beans, or peas.
Note: if you're eating low-carb, then these veggies are just fine. But if you're on the ketogenic diet, then you'll want to stick to steamed broccoli or asparagus only and hold the squash and carrots.
#3. Don't blow it on an appetizer
It's very easy to blow a low-carb meal on an appetizer or soup that you don't need. If you ordered a meat-based dish with steamed veggies, then we recommend asking for a side salad so that you don't get tempted to share in the bloomin' onion that your party ordered, which is famous at Outback.
Ordering a side salad first gives you something to munch on while the rest of your table indulges in something unhealthy. It also gives you a good opportunity to get more greens in your diet. This is something many people on the ketogenic diet tend to forget about!
#4. Stay away from "specials"
During your next outing at Outback, try not to become tempted by one of the many special deals they have and stick with something off the regular menu instead.
Keep your portion sizes small and go with a meal that fits your macronutrient needs so you don't walk out of there feeling worse than you did when you came in. You can always check out the Outback Steakhouse nutrition menu on their website.
#5. Go with a salad
Outback offers several salad options, including a Caesar salad and a steak salad. If you order these as an entree, then they should be big enough to fill you up.
You'll want to make sure you order a low-carb dressing. We've listed out all the dressings offered at Outback below and how many carbs they have per 1.5 ounce serving:
Blue cheese vinaigrette: 8 grams carbs
Caesar dressing: 2 grams carbs
Honey mustard: 12 grams carbs
Light balsamic vinaigrette: 8 grams carbs
Mustard vinaigrette: 4 grams carbs
Ranch: 1 gram carbs
Tangy tomato dressing: 17 grams carbs
Thousand Island: 6 grams carbs
You can also ask for olive oil and vinegar as your dressing. Lemon wedges work well, too. You can drizzle them over your salad for more flavor.
What To Order at Outback Steakhouse on Keto Diet
We've studied the menu at Outback and come up with a list of the safest low-carb dishes you can eat.
We'll also tell you how to order them to make sure they are as clean as possible. You can use our lunch and dinner suggestions interchangeably or even when you just need a quick snack in between meals.
Appetizers Options
Kookaburra wings (order these wings without any sauce)
Wood-fired grilled shrimp on the barbie (get these without the bread)
Salads
Side salad (no croutons; ask for oil and vinegar dressing)
Aussie Cobb salad (no croutons; ask for oil and vinegar dressing)
Brisbane Caesar salad (no croutons; ask for oil and vinegar dressing if you're strict keto as the Caesar dressing may contain sugar)
Steakhouse salad (no cinnamon pecans, Aussie crunch, or Danish blue cheese dressing; ask for oil and vinegar instead)
Blue cheese wedge salad (hold the creamy blue cheese dressing and sweet balsamic glaze; get oil and vinegar dressing instead or eat dry)
Blue cheese chopped pecan salad (hold the cinnamon pecans, Aussie crunch and blue cheese dressing; get oil and vinegar instead)
Steaks Options
Order all steaks with a side house salad made with oil and vinegar dressing and no croutons; get a side of steamed broccoli instead of the potato:
Victoria's Filet Mignon
Ayers Rock NY Strip
Outback center-cut sirloin
Melbourne porterhouse
Ribeye
Bone-in natural cut ribeye
Slow-roasted prime rib (make sure the herb-crust contains no gluten or breading)
Roasted garlic filet medallions
Sirloin and grilled shrimp on the barbie
Filet mignon and lobster
Bonus tip: get these steaks topped with roasted garlic butter and sauteed mushrooms for added flavor. Stay away from the smoked bacon bourbon topping.
Burgers Options
Order all burgers without the bun or sauce; ask for a side house salad made with oil and vinegar dressing instead of fries:
The bloomin' burger (hold the bloomin' onion petals and spicy signature bloom sauce)
The outback burger
Grass-fed burger with aged-cheddar (hold the garlic aioli)
Steakhouse Philly (hold the steakhouse cheese sauce and stick with melted cheddar instead)
Sweet chook o' mine sandwich (no honey mustard sauce)
Boomerang cheeseburger
Dinner Options
Order all entrees with fresh seasonal veggies, steamed broccoli, or grilled asparagus; skip potato, fries, and rice:
Grilled chicken on the barbie (hold the BBQ sauce)
Alice springs chicken (hold the honey mustard sauce)
Baby back ribs or Junior ribs (ask for these dry and do not eat the BBQ sauce if it comes as a side)
Joey sirloin
Port porterhouse
Drover's ribs and chicken platter (ask for no sauce on the ribs)
Bacon bourbon salmon (this is OK to order if you hold the bourbon glaze)
Perfectly grilled salmon
Steamed lobster tails
Botany Bay tilapia
Toowoomba salmon
Grilled Alaskan halibut (only eat keto-friendly veggies)
Foods To Avoid at Outback Steakhouse
Although you can custom order just about any dish at Outback to make it low-carb, the following meals are either breaded, loaded with sugar, or come with too many unhealthy options to work with. We recommend avoiding the following dishes and sticking with something on the safe list.
Bloomin' onion and bloom petals
Aussie cheese fries
Volcano shrimp
Alice springs chicken quesadilla
Steakhouse quesadilla
Crab cakes
Steakhouse mac and cheese bites
Gold coast coconut shrimp
Sydney shrooms
Aussie signature sampler
All soups (baked potato, French onion, and chicken tortilla)
Sirloin and gold coast coconut shrimp
Chicken tender platter and chicken fingers
Queensland chicken and shrimp pasta
Hand breaded shrimp
Tilapia with pure lump crab meat (we're not sure what's in the "crab stuffing," so we're going to sit this dish out and suggest you order something else instead)
Crispy chicken sandwich
All desserts
Grilled cheese-a-roo
Mac-a-roo and cheese
All juice, milk, and soda drinks
Fresh fruit (avoid this if you're on the keto diet)
Conclusion
If you find yourself in need of food and Outback is your only option, then we recommend going with one of their many Outback Steakhouse keto steak options and pairing it with a side of steamed broccoli or grilled asparagus. For a tasty treat, ask to have your steak topped with roasted garlic butter topping to enhance the flavor.
No matter what meat-based dish you order at Outback, be sure to ask for it dry to avoid sugar-laden sauces that could accidentally sabotage your low-carb diet. You'll also want to stay away from crispy chicken dishes (there are only a few) and starchy sides, such as macaroni and cheese and potatoes.
You can also get a bunless and sauceless burger and pair it with a side house salad minus the croutons. Ask for oil and vinegar dressing instead of house dressing.
Finally, if you're new to keto, don't forget to check out our meal plans and food list.
Enjoy this post? Share to save for later!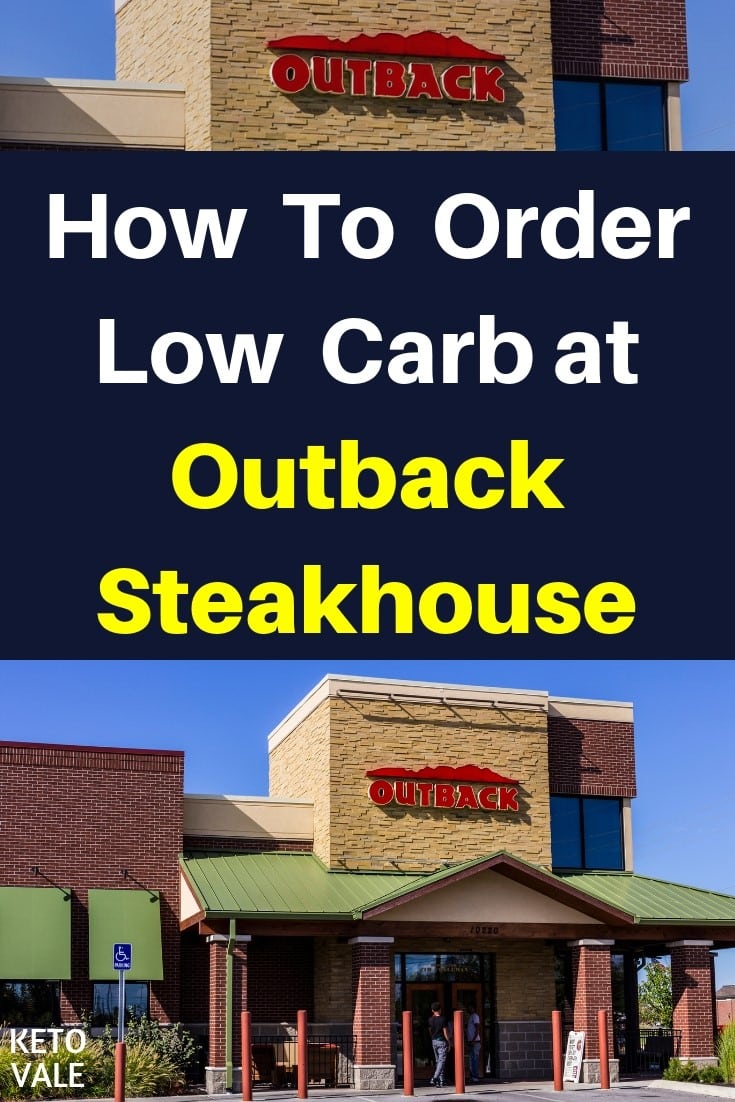 Photo credit: jetcityimage2/Depositphotos.com