These Bacon Cheese Egg Bites are an excellent addition to your lunch or dinner. They also make a delicious, easy-to-prepare snack.
Some people even eat them as a complete keto breakfast! After all, what goes better than bacon and eggs? Throw in some cheese, and you'll be full all morning.
You probably already have the ingredients for these tasty low-carb bites in your fridge. If not, you can find them at just about any supermarket.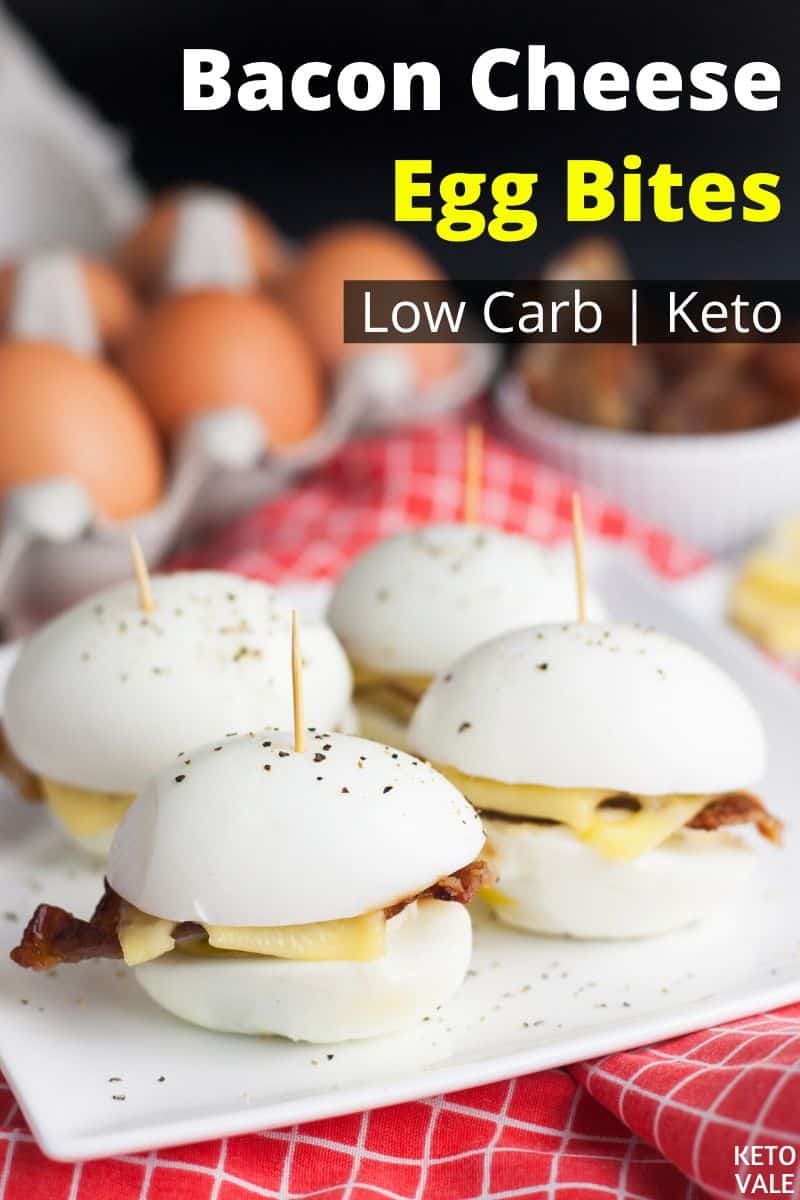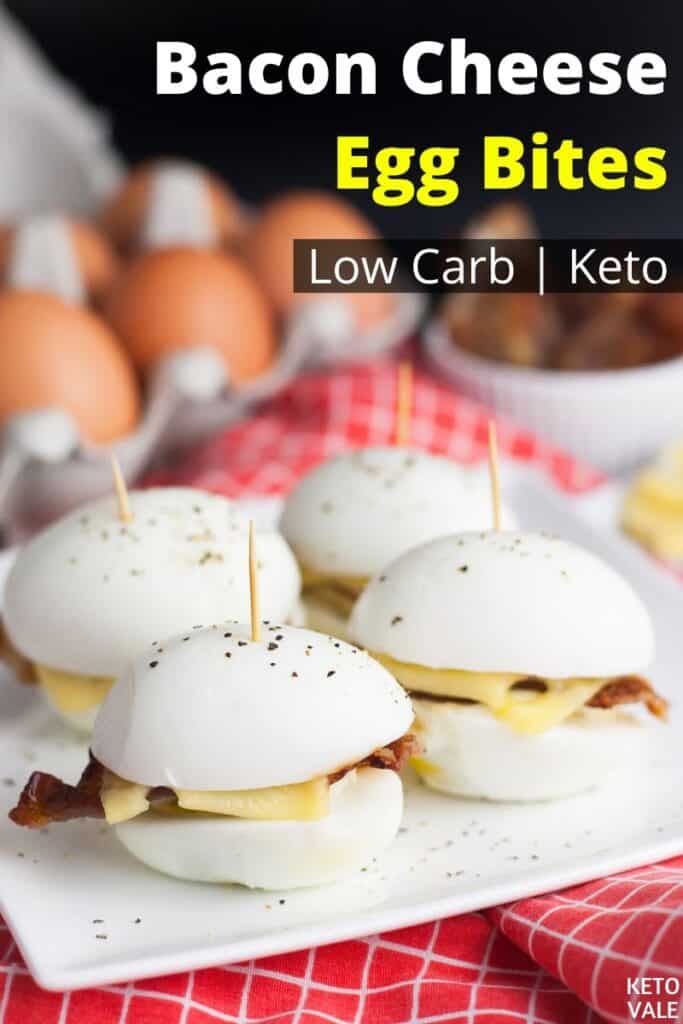 First, you will need eggs, which have several health benefits. They have been shown to change harmful cholesterol to the beneficial kind in your body, promote healthy bones, and improve vision. They are also a warehouse of many nutrients, vitamins, and protein.
We recommend that you buy pasture-raised eggs as these tend to contain more healthy fats and fewer chemicals than conventional eggs.
You will also need bacon. You can fry it in a pan or bake it in the oven.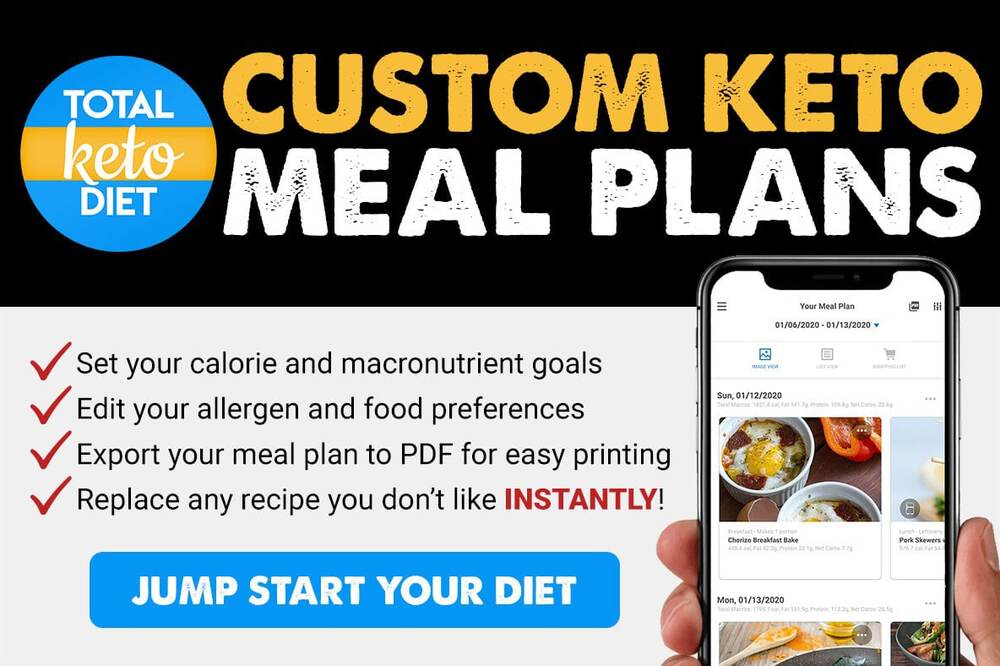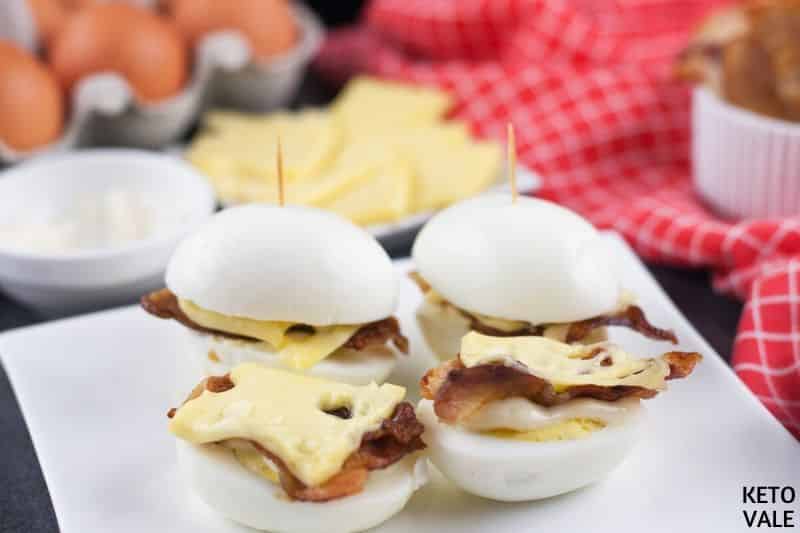 Also, bacon contains a large amount of essential fatty acids and proteins, which are very useful for athletes and pregnant women alike.
For your sauce, you should use homemade mayo. When you prepare mayonnaise yourself, you can be sure that it doesn't contain any hidden sugars and artificial additives.
A few slices of Cheddar cheese will complete our bites. Cheddar contains a significant amount of vitamins and a low content of carbohydrates. Besides, it positively influences the function of the nervous system and improves attention.
To cook this dish, you need to cool hard-boiled eggs and cut them in half. Top each egg half with homemade mayo, a slice of bacon and cheese and microwave for 30 seconds, to melt the cheese.
Close mini sandwiches with the other egg halves, secure with toothpicks and enjoy!
---
Let's Do It!
Although it doesn't take long to make this recipe, you can prepare these ahead of time and have them ready to go in your fridge when you need a snack or are expecting guests.
It's always a good idea to have hard-boiled eggs on hand. You can make these by adding eggs to boiling water and cooking for about 10 minutes. You can also bake them in the oven with the shell on to hard boil them! Some stores even sell hard-boiled eggs.
Slice the hard-boiled egg in half.
Then stuff with mayo, bacon and cheese.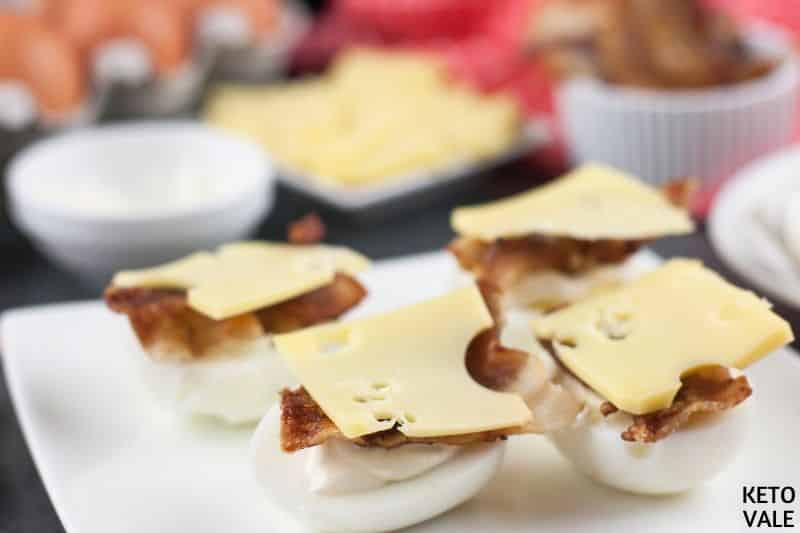 Heat the 'sandwich' slightly until the cheese melts.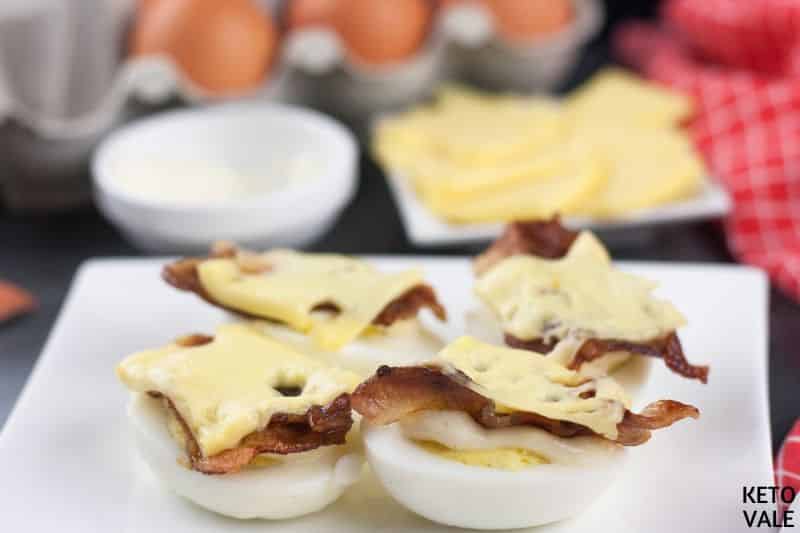 Next, top with the other half of the egg, and stick with a toothpick so it stays in place!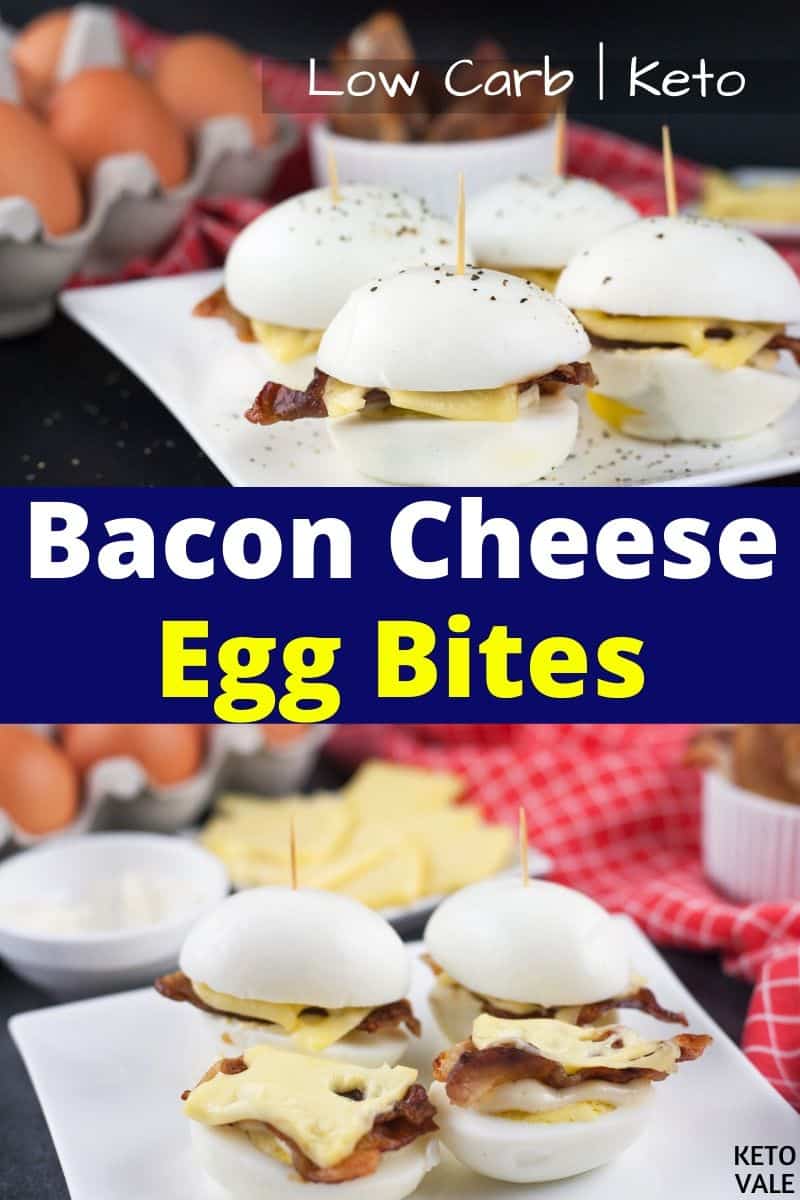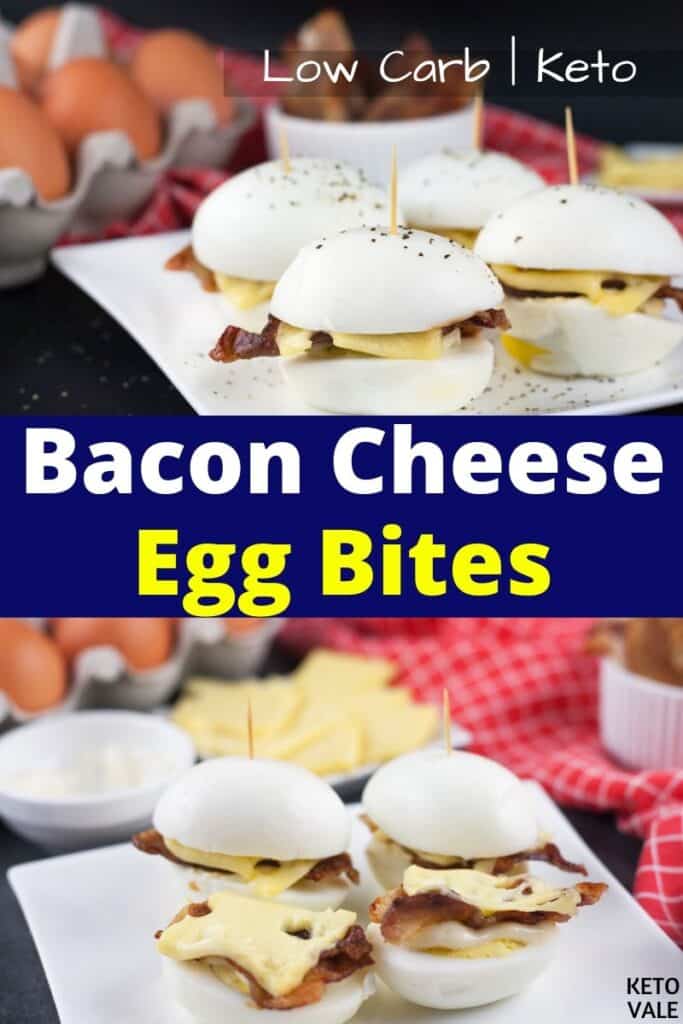 More similar recipes you can try:
Keto Bacon Cheese Egg Bites
A low-carb and keto-friendly bacon cheese egg bites recipe filled with cheddar cheese and mayonnaise.

Ingredients
4

eggs

hard-boiled

2

slices

bacon

fried, divided

2

cheddar cheese

slices, divided

4

tsp

mayonnaise

homemade, divided

black pepper

to taste
Instructions
Cut hard-boiled eggs lengthwise.

Top 4 egg halves with mayo and arrange bacon and cheese slices on top.

Microwave for 20-30 seconds, until cheese melts.

Close with another 4 egg halves and secure with toothpicks.

Sprinkle with black pepper and serve immediately.
Nutrition/Macros
Nutrition Facts
Keto Bacon Cheese Egg Bites
Amount Per Serving
Calories 222
Calories from Fat 162
% Daily Value*
Fat 18g28%
Cholesterol 340mg113%
Sodium 319mg13%
Potassium 162mg5%
Carbohydrates 1g0%
Protein 14g28%
Vitamin A 475IU10%
Calcium 56mg6%
Iron 2mg11%
* Percent Daily Values are based on a 2000 calorie diet.
Pin To Save This Recipe