Today we'd love to introduce you to Sarah Duran Villaseñor and her keto journey. Sarah started keto since February 2017 and she lost over 25 lbs after the first month! She began Keto at 210lbs and size 16/18. Today, she weighs 149lbs and size 4/6. That's over 61 lbs lost in less than 8 months!
If you have a success story to share with our community, please let us know about it. We'd love to read your success story!
If you're new to the ketogenic diet and looking to get started, please check our guide and meal plan.
In this article, you will learn Sarah's story and what she did to achieve this success.
---
Please tell us your story:
I began Keto in Feb 2017, after seeing success in in my friend Whitney. I thought I would try it out, and gave it a shot. I went cold turkey with carbs and dove right into Keto. For about 4 days I had the worst headache of my entire life. After that, it was like a fog lifted, and I dropped 16lbs the first two weeks and 25lbs the first month. I was hooked. After month one, I began tracking and weighing everything I ate. It was eye-opening to see how many carbs and sugar so many typical products have. Even cold medicine! So far I've lost 61 lbs and I went from a size 16/18 to a size 4/6. I love Keto!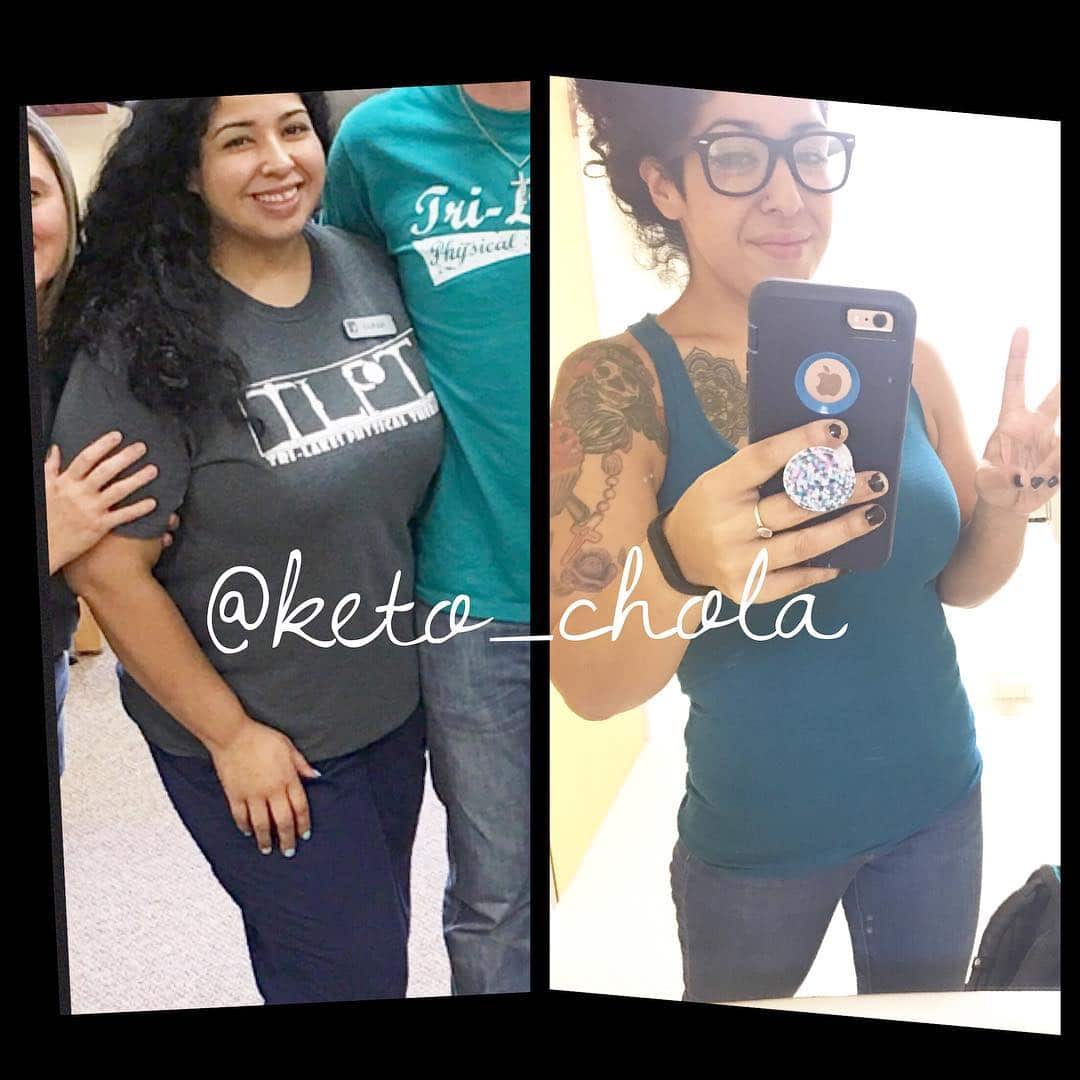 How has your life changed since going keto?
My life has been amazing since going into ketosis. My mind feels clear, and the energy is amazing! I can now play with my kids and not tire out. My kids have been my biggest inspiration.
What did you personally do in your first 10 days of keto?
The first 10 days of Keto was basically re-learning how to eat. Learning how not to serve myself bread, tortillas, cereal, coffee creamer. My relationship with food did an entire 180-degree turn in the first 10 days. It was tough, but thank God for bacon!
Do you count and track macros strictly?
The first 5 months or so, I tracked religiously. Every single day. I'm to the point now where I only track on weekdays, and I'm trying to learn to wean myself off tracking. I'm not there quite yet though. Tracking helps with accountability.
Do you exercise? If yes, what's your workout routine like?
I walk daily for 20-30 minutes, and I try and lift free weights 3x a week. I also do a yoga class for 2 hours every Friday. I'd like to add that I did not exercise in the beginning. I began after losing around the first 20lbs.
Have you ever encountered a plateau? If so, how did you get over it?
I have constantly lost weight on my Keto journey, and have never plateaued for more than a week. Happy to say it's been a steady stream of weight loss. If I do feel bloated or heavy, I cut out dairy for a few days.
What is your WHY (your drive/motivation) to keep on track and stay focused?
My kids are my drive. I want to be a positive example to them. I've always cared about their health, but never about mine. I want them to have a healthy mama who can run and play at the park with them.
What are your favorite ingredients to prepare keto meals?
Must have ingredients: Kerrygold butter, MCT oil, HWC, pink salt, Pyrue, pork rinds.
What are your favorite keto meals/recipes?
My favorite Keto meal is rib-eye steaks cooked in Kerrygold and pink salt & pepper, with a side of Brussels sprouts cooked with bacon. I practice intermittent fasting daily (18/6), and drink BPC in the morning.
Is there any book or resources that you would recommend to our readers?
I'm in a Facebook group called Adapting to Keto that has been super helpful! Also, if you'd like to follow me on Instagram, my handle is @keto_chola. I'm always open to helping others, Keto!
Finally, What advice would you give someone who is just starting out on keto?
Best advice for newbies: keep it simple. Don't try out every recipe you find online at first. Do simple Keto at first, and try not to overwhelm yourself. Trust the process!
---
We'd like to thank Sarah for sharing with us her story and tips. You can follow Sarah on Instagram at @keto_chola for more inspiration from her.