If eating chicken again for dinner tonight sounds tedious, then it's time for a different preparation. Cooking chicken legs in the air fryer might be your next fun thing to do.
Our Keto Air Fryer Chicken Legs put a twist on a classic chicken dinner. It's sure to have everyone in your family rushing to the dinner table without complainants!
Chicken drumsticks are fattier and juicier than breasts, which makes them a perfect solution for the picky eaters in your house. They are also easy for little fingers to eat!
Preparing your drumsticks in the air fryer will give them a crispy exterior with a juicy and tender interior. Best of all, it takes no time at all to prepare them in the air fryer and you can pair them with any low-carb veggie you have in your kitchen.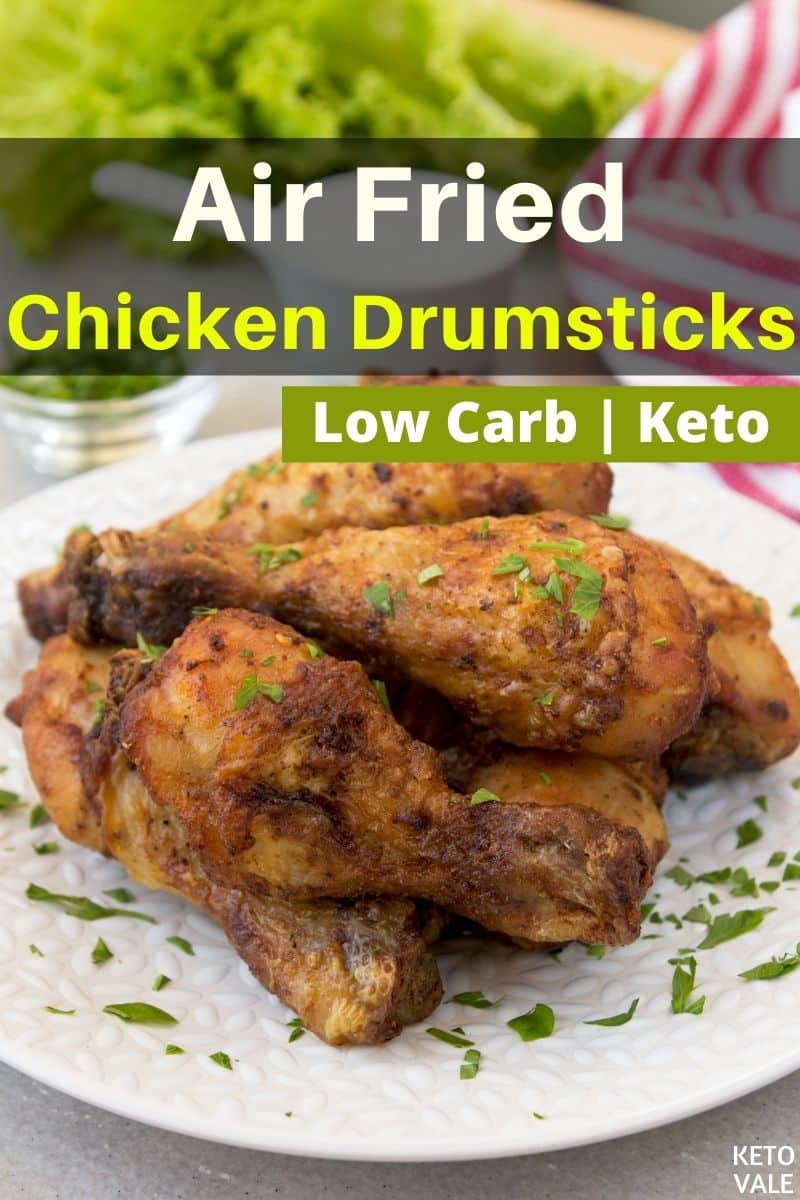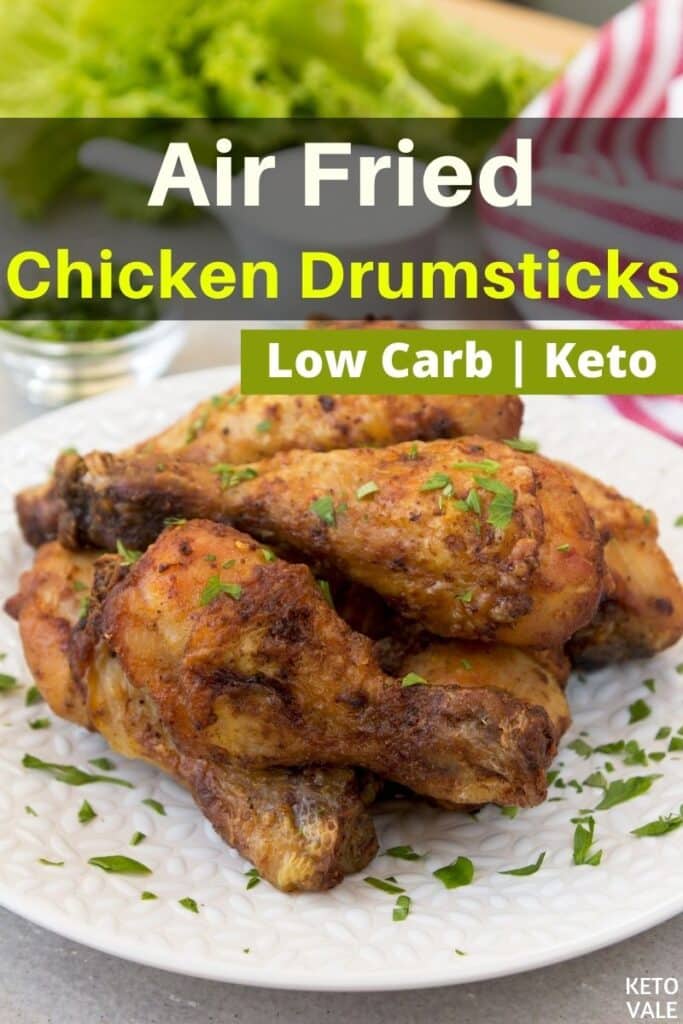 Chicken is a great source of protein and B vitamins. Most people know that B vitamins play a role in energy metabolism. However, B vitamins (especially vitamins B6 and B12) have lots of other important functions in the body, including the synthesis of the neurotransmitters serotonin, dopamine, and GABA (1). 
These neurotransmitters can help boost your mood, fight anxiety and depression, improve memory and learning abilities, and help promote calmness (2)(3)(4).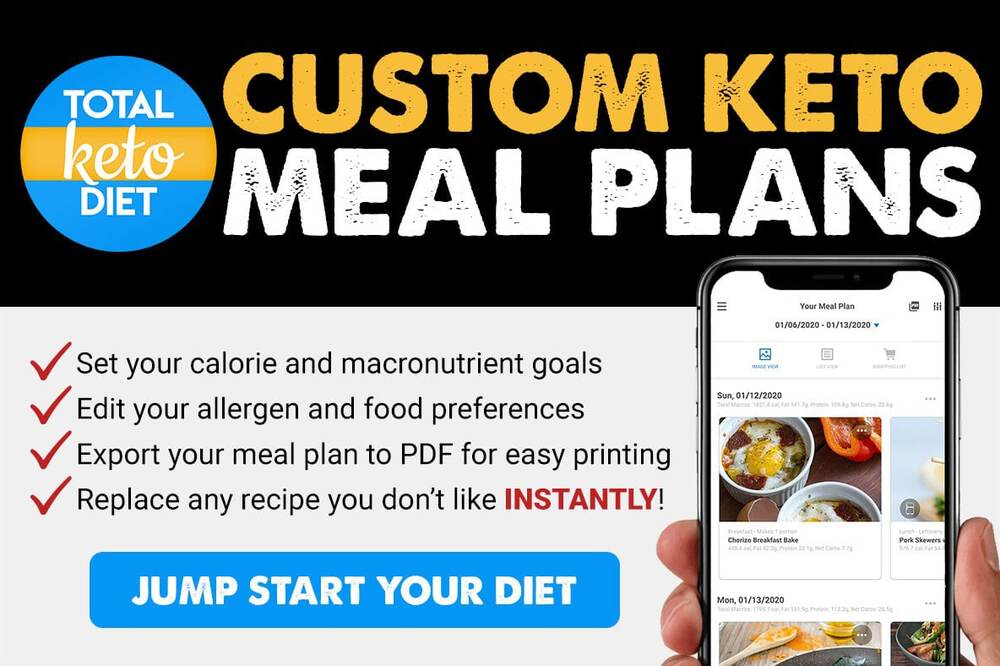 Vitamin B6 also aids in the production of melatonin to help promote healthy sleep habits, boosts immune function, regulates glucose in the brain, and has anti-inflammatory actions in the body.
These air fried chicken legs have no breading to keep it low-carb and healthy. Alternatively, you can use these low carb breading substitutes if you prefer.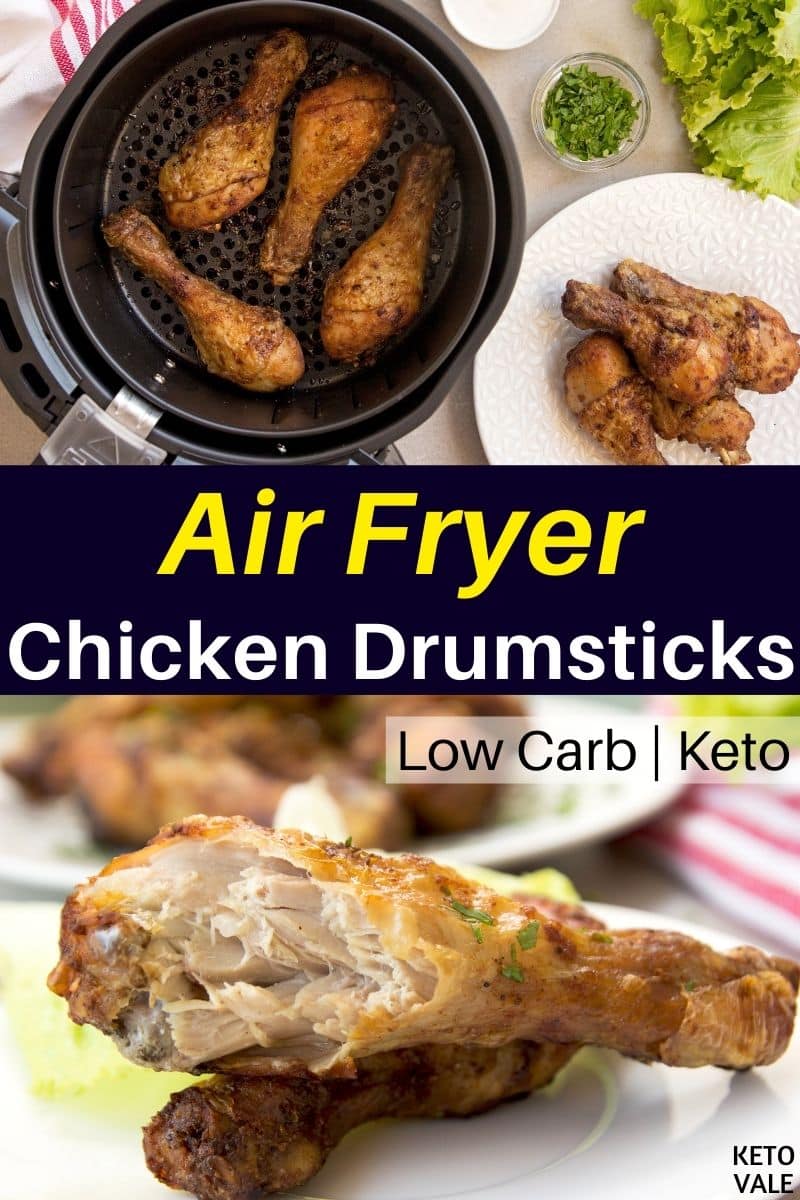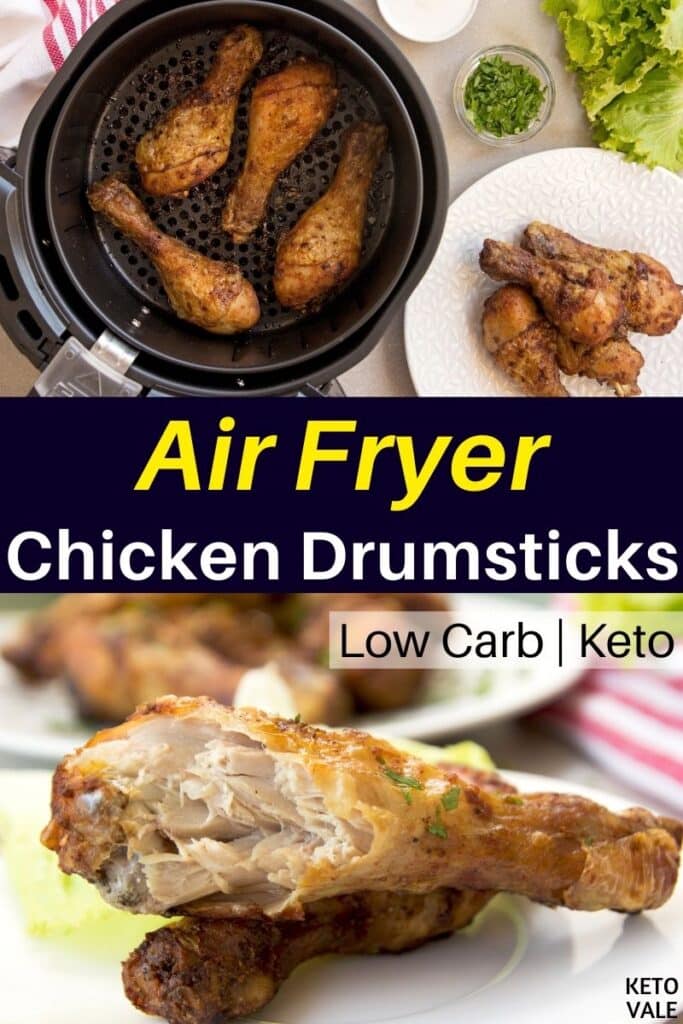 To make our chicken tasty, we need spices. Chicken is blank without spices. For this recipe, we use paprika, spicy powders (garlic, onion, chili), and a pinch of erythritol. 
You can omit the sweetener if you don't have any on hand. We also use some butter, too! We hope this air fryer chicken drumsticks recipe will be one of your favorite chicken legs recipes to make.
---
Let's Do It!
Combine the paprika, chili powder, garlic powder, onion powder, erythritol, salt, and pepper in a bowl. Mix well.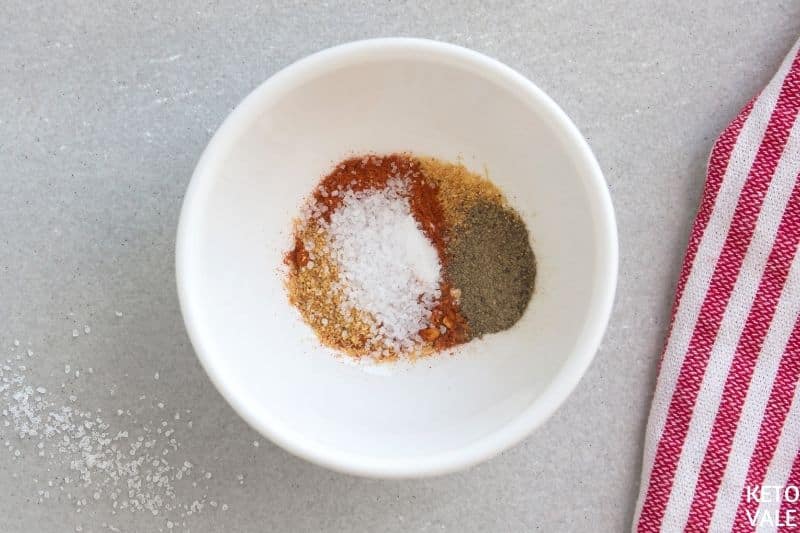 Put the drumsticks in a bowl and pour the melted butter over them. Sprinkle the seasonings over and toss to coat.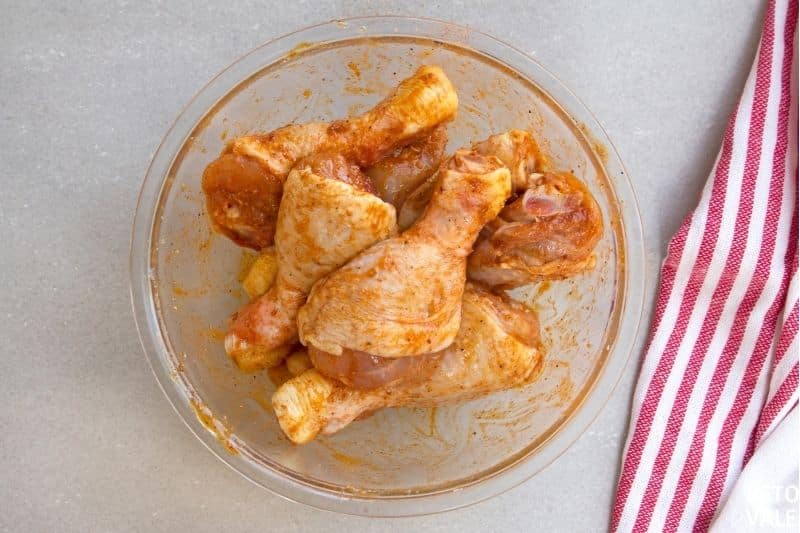 To air fry chicken legs, you first need to preheat the air fryer to 375 degrees F. Grease the air fryer basket with olive oil and put the drumsticks inside.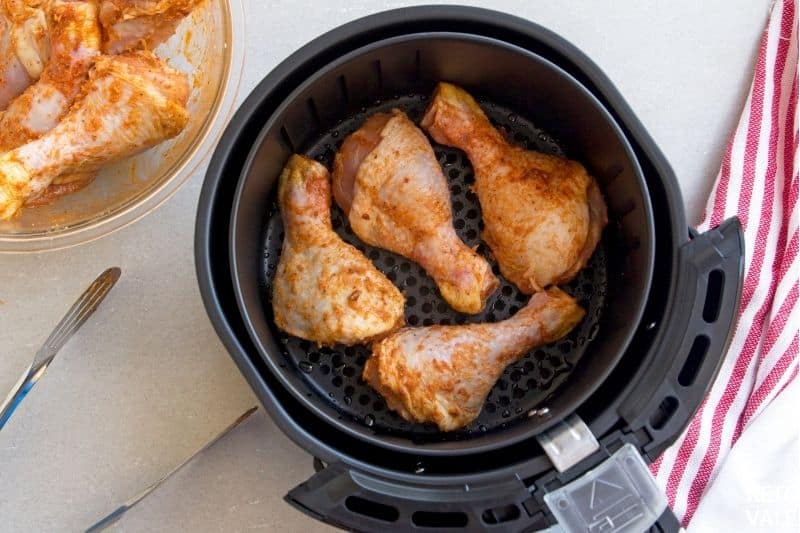 Put the air fryer basket inside and cook for 20 minutes. Be sure to flip the drumsticks half way through and cook the chicken in batches if needed.
Serve warm with your favorite low-carb veggies or green salad.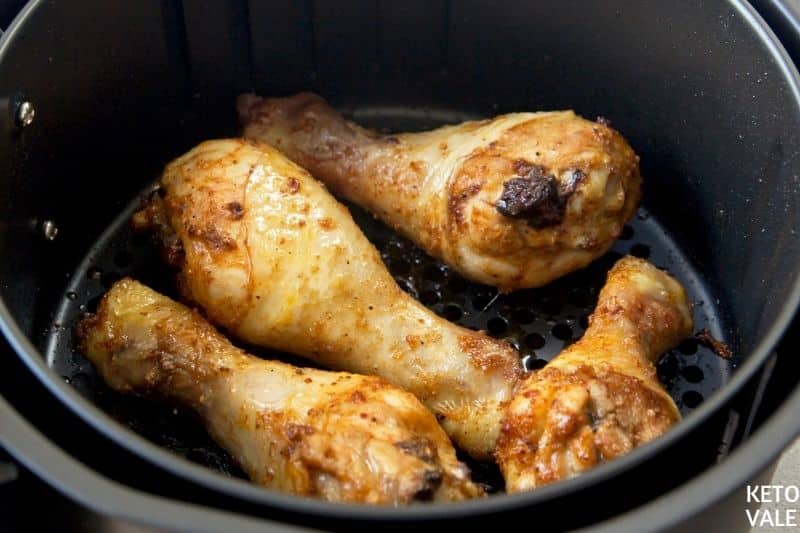 More Chicken Drumstick Recipes You Can Try:
Air Fryer Chicken Drumsticks
If you're looking for a healthy, low-carb, and keto-friendly chicken drumsticks meal using an Air Fryer, this easy recipe is for you.
Instructions
In a small bowl, combine paprika, chili powder, garlic powder, onion powder, erythritol, salt and black pepper.

Place drumsticks in a large bowl and pour melted butter over the chicken.

Sprinkle prepared seasoning over the drumsticks and toss to coat.

Preheat your air fryer to 375F. Grease an air fryer basket with olive oil and arrange seasoned drumsticks inside. Inset the basket in the air fryer and cook for 20 minutes, flipping halfway. You may need to cook the chicken drumsticks in batches, depending on the size of your air fryer.

When the cooking time ends, take the drumsticks out and serve with your favorite sauce and some leafy greens.
Nutrition/Macros
Nutrition Facts
Air Fryer Chicken Drumsticks
Amount Per Serving
Calories 319
Calories from Fat 207
% Daily Value*
Fat 23g35%
Cholesterol 139mg46%
Sodium 258mg11%
Potassium 338mg10%
Carbohydrates 1g0%
Protein 27g54%
Vitamin A 593IU12%
Calcium 18mg2%
Iron 1mg6%
* Percent Daily Values are based on a 2000 calorie diet.
Pin To Save This Recipe