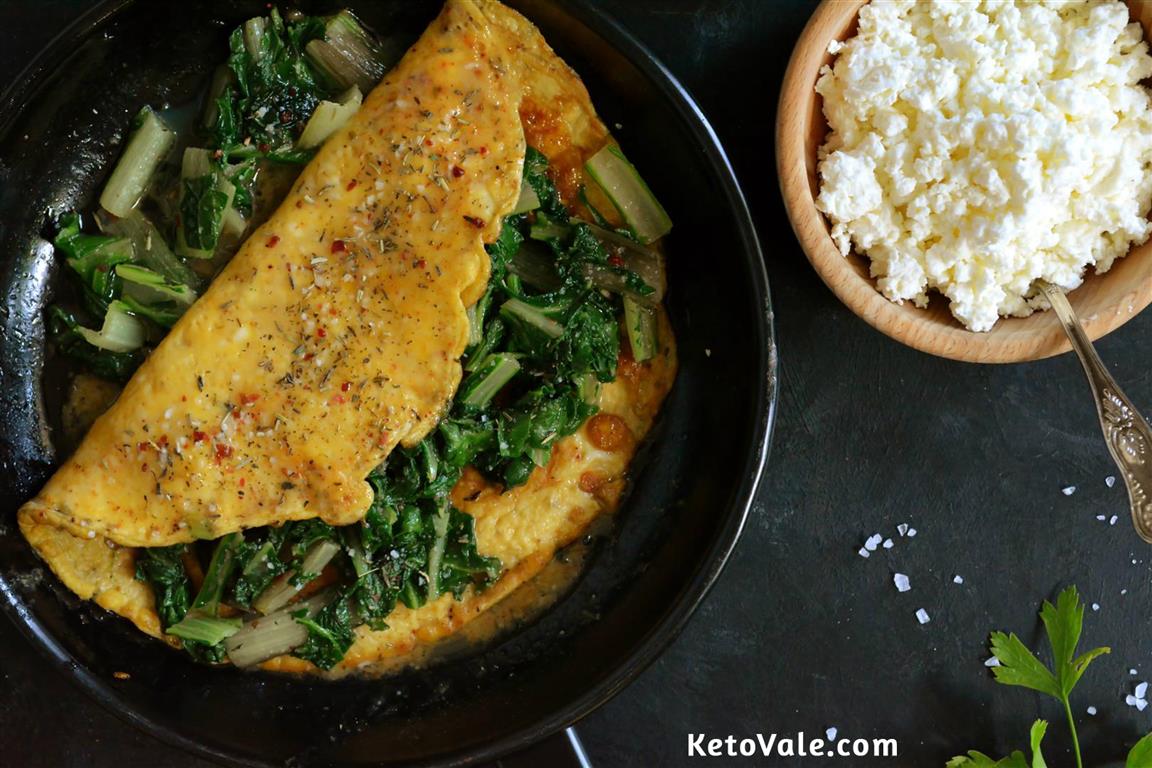 Quick and Easy Spinach Omelet For Breakfast
Breakfast is a perfect time to boost up your immune system with some valuable nutrients. This healthy recipe uses natural greens to shape a beautiful and picture on your plate. You can use any kind of greens you have on hand for even better taste and more nutrients. I have chosen a combination of Swiss chard and spinach, but you can easily add some kale, collard greens, or even turnip greens. The procedure is the same. Enjoy it!
Receive Our Free 7-Day Keto Meal Plans + Weekly Recipes
Swiss chard & Spinach Omelet
Instructions
Rinse well the greens under cold running water and drain in a large colander. Cut into bite-sized pieces and set aside.

In a large skillet, heat up three tablespoons of oil over medium-high heat. Add greens and give it a good stir. Cook for ten minutes, stirring occasionally. Season with some salt and remove from the heat.

Now melt the butter in another skillet. Beat the eggs and pour into skillet. Season with Italian seasoning, chili flakes, and the remaining salt. Cook for 3-4 minutes and remove from the heat.

Transfer to a serving plate, add greens and fold over in half.

Serve warm.
Notes
Nutrition information per serving: Kcal: 245, Protein: 8.7g, Total Carb: 5.2g, Net Carbs: 2.6g Fats: 22.3g Spinach is among the healthiest foods in the world and goes perfectly with different omelet recipes. I like to replace my regular cooking oil with extra virgin olive oil for an even healthier version of this recipe. Olive oil is loaded with omega-3 fatty acids, and if you add omega-3 enriched eggs, you've got yourself a truly valuable breakfast. Give it a try!