This delicious chicken with refreshing lemon aroma is a perfect recipe for all kinds of family get-togethers. Gently rub the garlic mixture under the skin and then roast until lightly charred for the crispiest flavor you can possibly imagine. Serve with some fresh vegetables and enjoy!
Eating poultry has some valuable health benefits that simply can't be ignored. Chicken meat is a perfect source of proteins and will increase your serotonin levels. This is exactly why eating chicken meat, especially cooked in different soups, has always been considered as a perfect medicine for sleep and depression problems.
Chicken meat gives us that comforting feeling we all love so much and protects our kidneys, liver, bones, and increases our metabolic performance.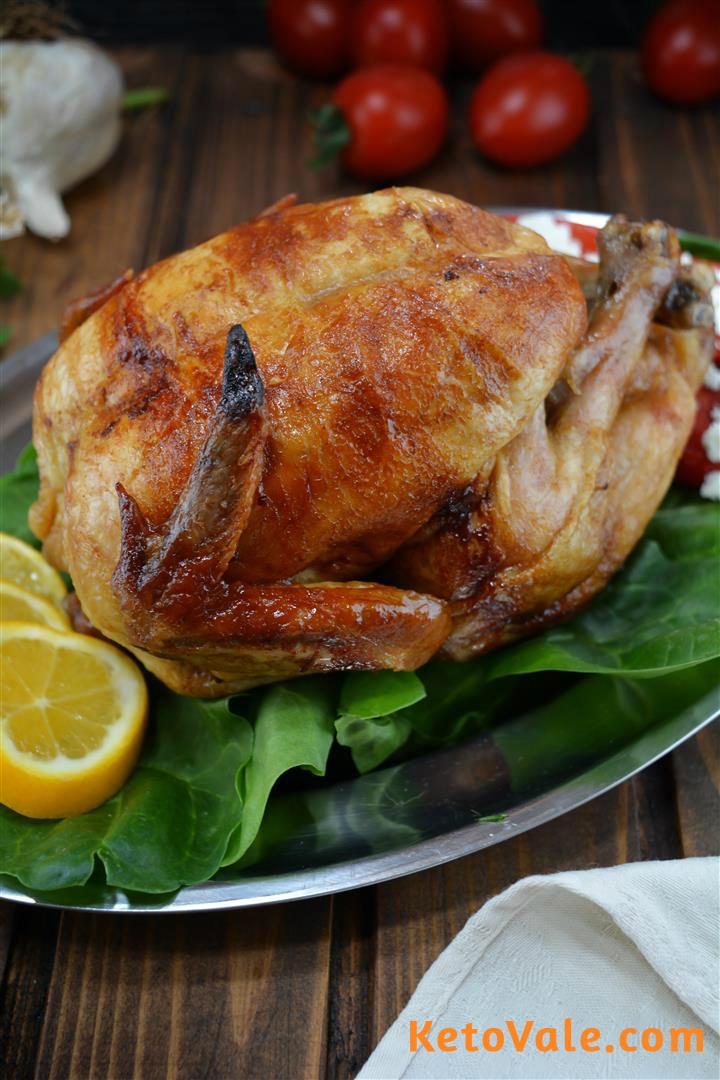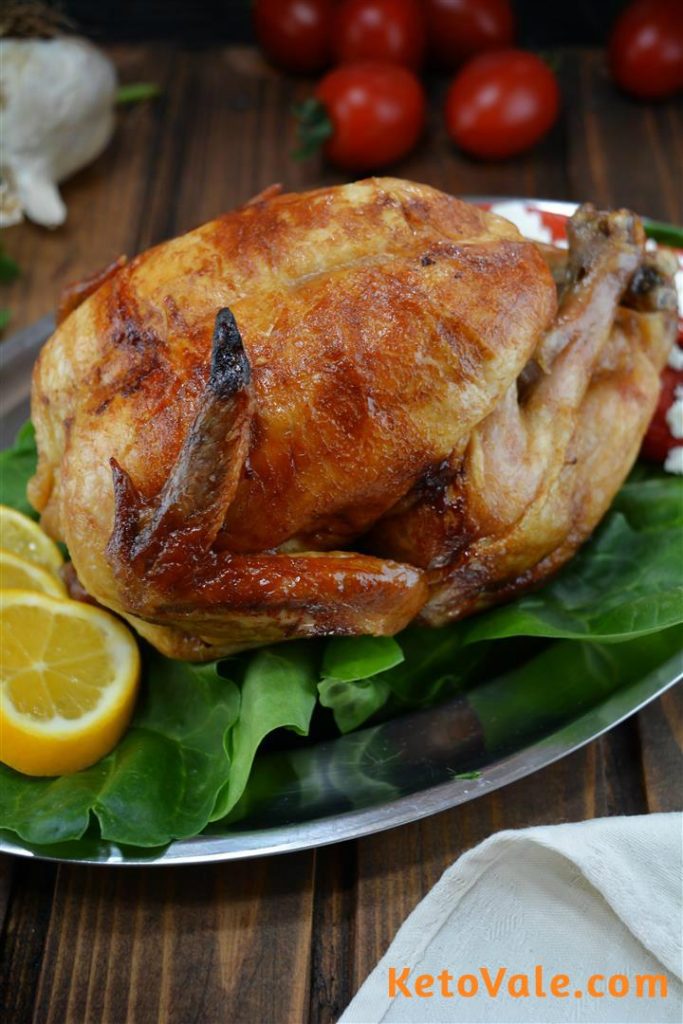 ---
Let's Ketofy It!
Wash the chicken thoroughly under cold running water and pat with a kitchen towel to dry. Put aside for later.
Prepare the mixture to coat the chicken with. Mix the remaining ingredients together in a bowl. After loosening the chicken skin from the flesh, rub generous amounts of the mixture under the skin and in the chicken's cavity.
Wrap a plastic foil around the chicken tightly and let it chill in the fridge for 30 minutes to 2 hours so the meat can absorb all of the flavors. 
Prep the oven and the baking sheet you will use. Let the oven preheat at 350°F and cover sheet with parchment paper. Take out the chicken and unwrap the foil.
Roast the chicken on the baking sheet for an hour. Serve and enjoy with family and friends.
Related:
Roast Whole Chicken
If you want to try roasting a whole chicken, this recipe is for you!
Instructions
Rinse well the meat under cold running water and pat dry with a kitchen towel. Set aside.

In a small bowl, combine oil with softened butter, lemon juice, lemon zest, salt, thyme, and crushed garlic. Loosen the skin of the chicken from the flesh. Rub this mixture under the skin and the chicken's cavity. Tightly wrap in plastic foil and refrigerate for at least 30 minutes (up to 2 hours).

Preheat the oven to 350 degrees. Line some parchment paper over a baking sheet. Remove the chicken from the refrigerator and remove the foil.

Place onto a baking sheet and roast for 1 hour – 1 hour 15 minutes. Remove from oven and enjoy!
Nutrition/Macros
Nutrition Facts
Roast Whole Chicken
Amount Per Serving
Calories 443
Calories from Fat 333
% Daily Value*
Fat 37g57%
Cholesterol 110mg37%
Sodium 2738mg114%
Potassium 274mg8%
Carbohydrates 2g1%
Protein 26g52%
Vitamin A 290IU6%
Vitamin C 9.5mg12%
Calcium 29mg3%
Iron 1.7mg9%
* Percent Daily Values are based on a 2000 calorie diet.
Pin To Save This Recipe